Igniting STEAM Learning for All Through Interactive Experiences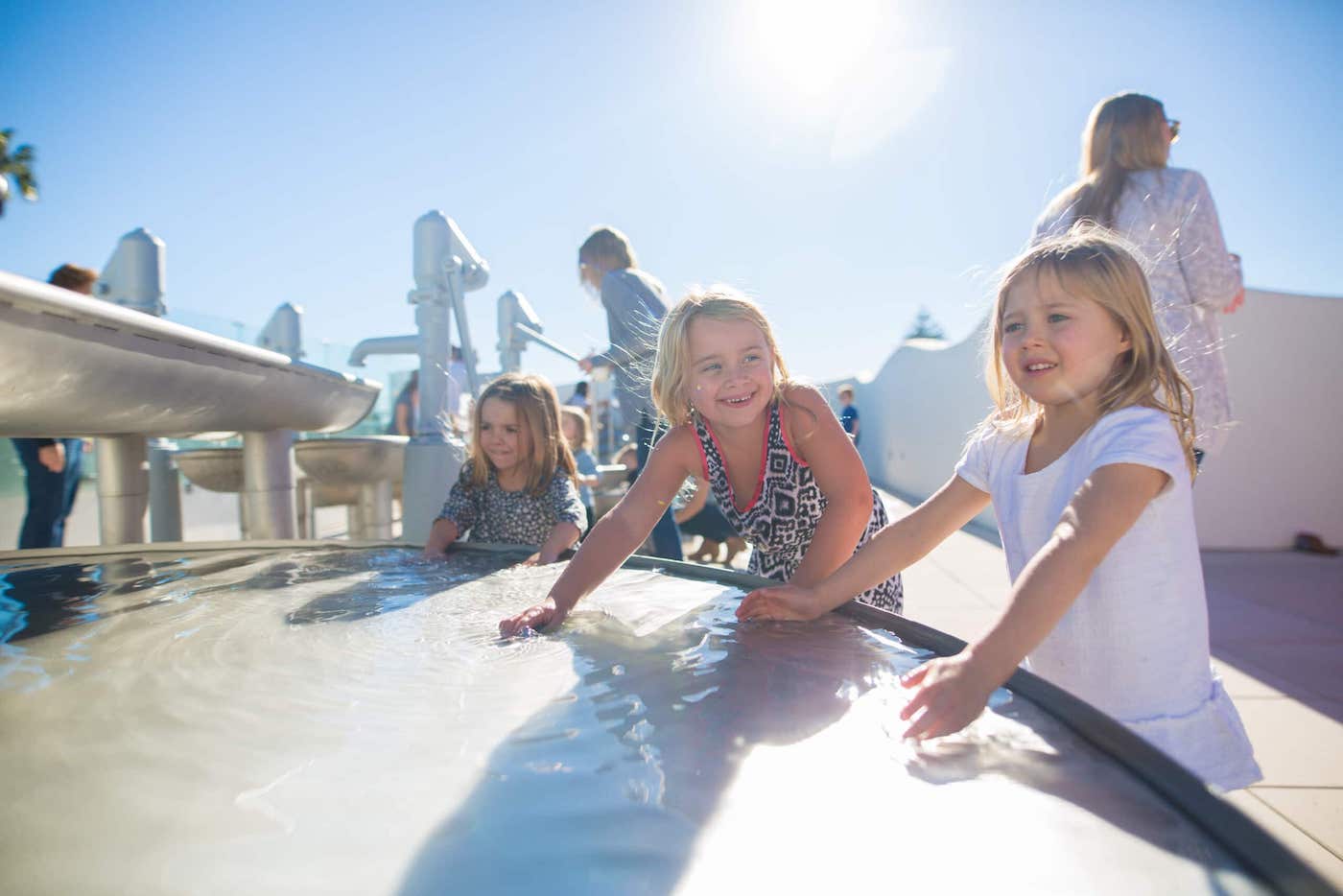 MOXI, The Wolf Museum of Exploration + Innovation, was first incorporated in the 1990s as the Children's Museum of Santa Barbara. It was the brainchild of many dedicated community leaders with Jill Levinson, Alixe Mattingly, and Nancy Sheldon spearheading the campaign to construct the sandcastle-shaped building. Groundbreaking didn't occur until 2015 and its iconic, arched door opened in early 2017. 
MOXI will celebrate its sixth anniversary this February and the museum has come a long way from a roving pop-up with no brick-and-mortar home to the fixture on State Street and top tourist attraction it is today.
The first and only museum of its kind in Santa Barbara, MOXI is working to help close the achievement gap in science, technology, engineering, arts, and math (STEAM) education. It supports local schools, nonprofits, and other aspects of the educational ecosystem by providing resources and programming for students, teachers, and families. It also trains informal science educators, providing a place for them to learn, share ideas, and collaborate. Contact with MOXI, whether virtual, at-home, in the classroom, or in-person, inspires kids to pursue STEAM careers and sparks a lifelong love of museum-going. I know it has for me.
Upon entering, I was greeted by a giant globe covered in rectangular screens. When I touched one, my hand left a glowing purple imprint. The museum is always bustling with kids who bound from exhibit to exhibit, tinkering, testing, and most of all – touching cool things. All of the museum's exhibits are designed to educate the public through hands-on experiences.
With its soaring ceiling, the three-story building provides a visually stunning backdrop for the 17,000 square feet of multi-sensory exhibits. These are divided into six focus-areas: speed, light, forces, interactive media arts, technology, and sound. I must have been in the latter – as propped up on its side, lying along the floor, is a guitar big enough to be strummed by Paul Bunyan. Director of Marketing & Communications Angie Bertucci greeted me then gestured towards the giant instrument.
"My husband is a guitarist and whenever he comes in, he can't help but tune it," she said.
Given that 15,000 students come through these doors in a normal year, it likely needs a lot of tuning.
Encouraging Exploration & Experimentation
In 1969, Frank Oppenheimer, particle physicist, dreamed up what became San Francisco's renowned Exploratorium. Since then, interactive science museums have skyrocketed in popularity. Oppenheimer and his colleagues recognized the need for museums to engage the public in learning science, technology, engineering, and math (STEM) concepts. This innovation transformed science museums from intimidating, hands-off, eyes-only experiences to laboratories where the public was encouraged to experiment.
Fifty years later, the need is still here. An updated analysis by the Bureau of Labor Statistics projects increasing growth for many STEM occupations in the U.S., particularly "epidemiologists, medical scientists, biochemists and biophysicists, and biological technicians, among others." I would add climatologists, computer scientists, and all medical professionals to this list.
MOXI's expertly designed exhibits and programming promotes the skills needed to succeed in STEAM, including creativity, critical thinking, problem solving, agency, and collaboration. As noted in the National Science Board's Vision 2030 report, "K–12 STEM education and high achievement for all students plays a critical role in ensuring that the United States is meeting the needs of the modern workforce and maintaining America's position internationally."
Unfortunately, current data from the National Science Foundation shows persistent performance gaps according to students' socioeconomic status and race or ethnicity. For example, mathematics scores for low-income students in a national cohort of eighth graders were 30 out of 500 points lower than scores for high-income students. The long-term effects of the under-representation of minorities in STEM fields, such as inequity in medical care, are devastating.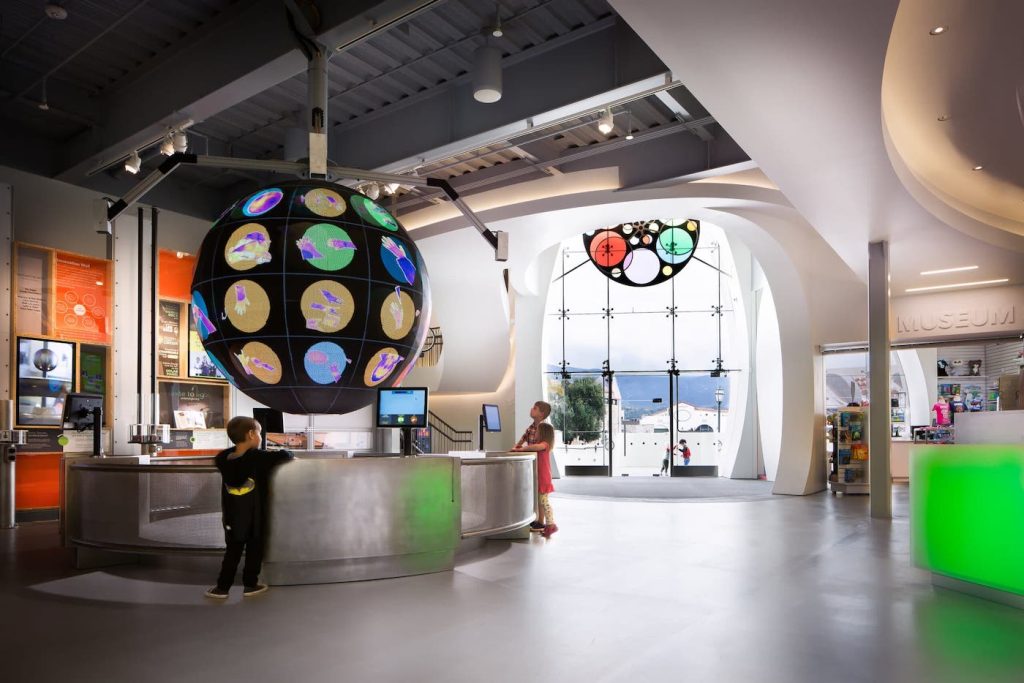 Among their colleagues, both locally and across the U.S., Robin Gose – MOXI's Ed.D., President, and CEO – and her team are respected as leaders in social justice efforts for their dedication to diversity and inclusion. The demographics of museum audiences and staff in the U.S. are out of sync with the country's demographics overall, but that's not true at MOXI, where those served mirror the population of Santa Barbara County.
"We've got partnerships with over a dozen different local nonprofits who serve underserved or historically underrepresented groups in the STEAM fields as well as adults with disabilities," said Gose.
In July 2021, MOXI and 18 other museums across Santa Barbara County rolled out Museums for All, a program to make museums more accessible for those receiving food assistance benefits. People who show their CalFresh card can access the museum for as little as one dollar.
The museum hosts inclusive events and programming, such as Mellow Mornings for children and adults with autism, as well as other cognitive disabilities. It offers support to teachers with guides and videos that supplement their lesson plans, and its various educational camps are in high demand. Its Thanksgiving camp, the Academy of Wonder and Wizardry, offers wand building and transfiguration as part of its "world of magic through science" curriculum. The camp sold out in under an hour. Their summer camp, which engages kids in the practices of scientists and engineers, sold out during early bird registration.
"That desire and demand is there," said Gose, "so that has been very exciting."
I peeked into the makerspace where kids were standing over craft tables while expertly handling rulers, wires, and colorful bits that light up. The museum has gone to great lengths to serve children who would otherwise not have access to this space, which offers kids opportunities to use a 3D printer, among other technologies. More than 60% of visiting students are from Title I schools.
MOXI's Innovation Workshop is open daily to all museum guests, offering everything from collaborative projects to engineering challenges – such as December's theme "It's Lit," which involved applying circuits to LEDs. Perhaps the best resource is the floating preceptor, who teaches visitors how to use the technology and encourages them to keep trying.
Cultivating a Climate of Change
MOXI is also among 14 members of the Environmental Alliance of Santa Barbara County Museums who have united to creatively explore the impacts of climate change through focused exhibitions, media campaigns, and educational programming. From April through August 2022, kids were challenged to create solution-oriented artwork in relation to climate change. Much of this art was displayed, along with Environmental Graphiti, a gallery of graphs as art, and images of locals working to combat the effects of climate change.
Going along on my own adventure, Bertucci then led me through a bifold glass door and into The McMillan + Kenny Families Fantastic Forces Courtyard, where I launched a quarter-sized ball in the Turntables exhibit. It's satisfying to watch it go round and round until the centripetal force breaks and the ball rolls off to the side. I resisted the temptation to launch a test flight, and we dashed upstairs.
As we headed up, we were draped with sunlight, sending streaks through the stained-glass window and lighting us up with an array of purple, pink, green, and teal. Once we arrived on the second level, we were met with a fantastical assortment of speed-focused exhibits. Taking center stage is the Muzzy Family Speed Track. In this permanent fun zone, visitors build race cars and zoom them down the three-lane coaster-like track.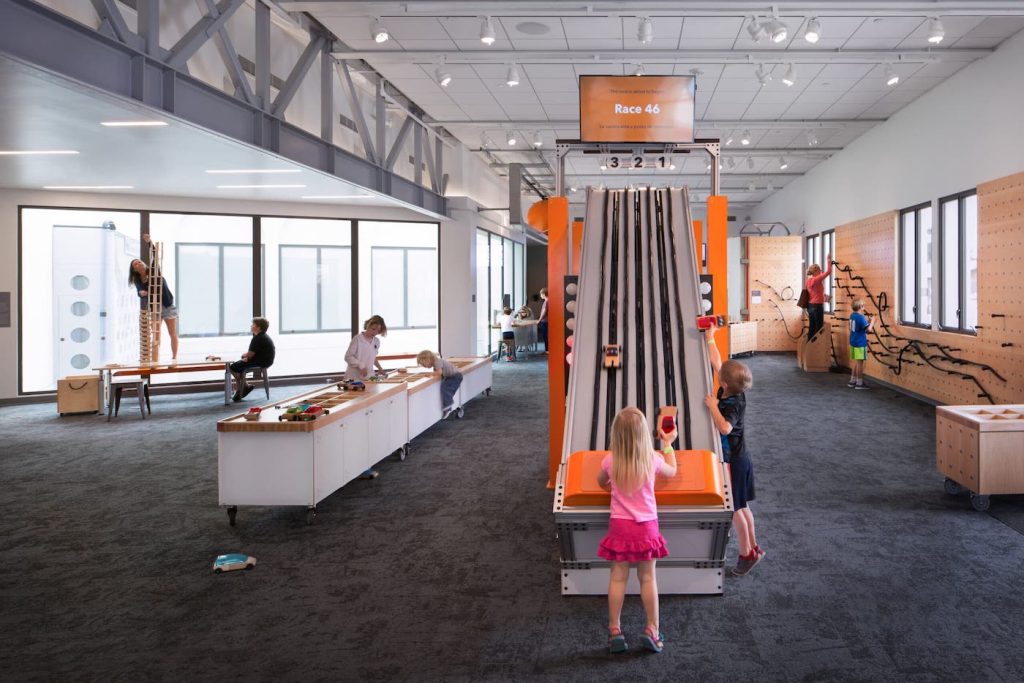 Bertucci and I paused for a moment to watch two kids race their modded-out cars. The winner cheered; the loser got busy building a more aerodynamic model. We exchanged knowing looks then strolled down a hall that opens into a game room, including a pinball machine visitors can tweak to their taste. At first glance, it looks like an '80s-era arcade piece, but is actually an open-faced magnetic board with obstacles, ramps, and targets that can be swapped mid-game. I tried it out and all too soon the metal ball dropped through my flippers.
Back in the museum's office space, I was plotting a return trip to redeem myself when Gose mentioned that her children are frequent visitors. Her nine-year-old-son, Owen, is already thinking like the next director of MOXI.
"Um, mommy," Gose said, replicating one of her and her son's frequent interactions, "Do you need advice for new exhibits? I have some ideas.''
It's a good thing Owen has ideas as MOXI is clearly going to be around for a while.
MOXI's new after-school program for the 2022-2023 school year brings the museum experience to students off-site. Museum staff will facilitate open-ended, student-centered design challenges based on different exhibit areas of the museum.
The after-school program was successfully piloted at three Santa Barbara Unified Title I schools: Monroe Elementary, McKinley Elementary, and Cleveland Elementary. It will soon be prototyped with fifth and sixth graders at six different campuses across two school districts, where it will serve about 100 students with an approximate 600 hours of on-campus facilitation that culminates with a field trip to MOXI. The program will also be tested at three Goleta Union schools in the spring of 2023.
"It's not necessarily that every kid is going to be able to walk out and know Newton's laws of motion," said Gose, "but they will be able to walk out with a keener sense of innovation, attention to detail, ability to ask questions, plus an interest and an ability to test, retest, and build and create. And have that comfort with taking risks and comfort with failure and trying it again and iterating so they can get to what feels like success for them."
If you'd like to learn more about visiting MOXI, reserving a field trip for your school, or finding ways to show your support, visit moxi.org or call (805) 770-5000.  
You might also be interested in...