Nothing Short of a Miracle: Santa Barbara's Pearl Social Transforms into the Ultimate Christmas Pop-Up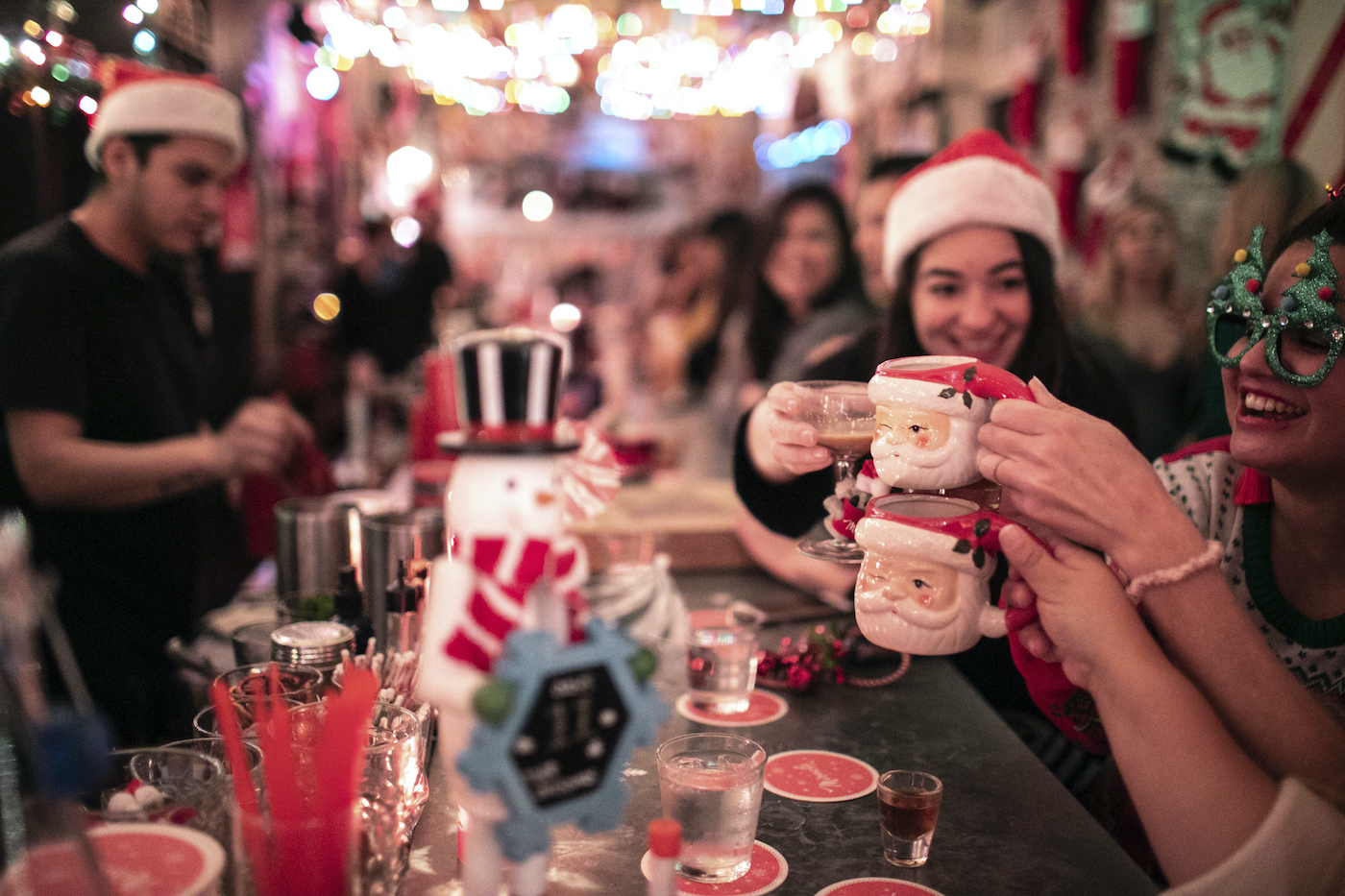 One of the sexiest cocktail bars in Santa Barbara just became the merriest.
Pearl Social — a consistently great place to sip and be seen in the heart of Santa Barbara's Funk Zone — is now part of what's become a global Christmastime phenomenon. They call it Miracle. And it officially makes Acme Hospitality's landmark destination watering hole the best place in town to get merry.
Miracle became a fluke concept in 2014, when New York City bar owner Greg Boehm stumbled upon a phenomenal concept. It was random – one of those suggestions you get from Mom that, if the stars align, you heed. He stopped construction of his East Village bar and transformed it into an over-the-top holiday pop-up. A smash hit. The industry followed suit, and in earnest. Today, the Miracle concept is emulated at locations across the U.S., as well as Canada, Europe, and Central America. Turns out, everyone loves Christmas.
This year, Pearl Social is joining the jolly movement, hosting what is Central California's exclusive Miracle engagement.
"It's delayed joy," admits Acme marketing manager Willie Simpson. As we merge from our COVID cocoons, we are "searching for it — that holiday experience we missed all of last year."
He adds, "The timing is perfect, and in a huge way."
Consistency matters here. Devotees of Miracle, it turns out, will travel.
"People go all over the world to experience the Miracle concept," says Simpson.
To that end, the experience has been standardized, with organizers – founder Boehm and his team – sharing details around things like cocktail recipes and ingredients lists, merchandise and glassware, including kitschy Santa head glassware, and famously over-the-top, colorful, flashy Christmas décor guidelines with the dozens of Miracle organizers around the world.
Like the ultimate adult Christmas list, the Miracle menu features more than a dozen holiday-inspired cocktails: the Christmapolitan is a seasonal twist on a Cosmopolitan; the Jolly Koala is a riff on the Old Pal cocktail; the Christmas Carol Barrel is, in essence, chocolate milk, but for grown-ups; the On Dasher is inspired by a Royal Fizz cocktail; the Snowball Old-Fashioned is an homage to the classic sipper, though all dressed up for Christmas; and the SanTaRex is an homage to the Midori Sour, complete with luminous cherry garnish. There's a Jingle Balls Nog on the menu, too. And depending on the mood they're in when they arrive, patrons will have the choice between the Nice Shot or the Naughty Shot. All signature drinks are priced between $14 and $18.
Between drinks, a range of vintage-inspired holiday snacks will be available: soft ginger molasses cookies, salted peanut brittle, dark chocolate peppermint bark and cranberry chocolate trifle. The Old Fashioned Cheese Ball serves two or three — sharp cheddar served with toasted pecans and artisanal crackers. The edibles are priced between $4 and $14.
Themed nights are on the calendar as well, including an Ugly Sweater Party, a perennial fave, to celebrate National Ugly Sweater Day on December 4.
"The staff will definitely be getting into the swing of things, too," promises Simpson.
Miracle is a 21-and-over experience. Proof of vaccination or recent (72-hour) negative COVID test is required for entry. Reservations for up to four people are highly recommended, and parties of five or more should email info@pearlsocialsb.com. Miracle runs through December 31 — it's closed Thanksgiving and Christmas days — and will be in effect daily (5 pm to 10pm Sunday to Thursday and 3 pm to midnight Friday and Saturday).
Miracle, located at 131 Anacapa St., will de-trim and re-open as Pearl Social on January 6. Find out more at pearlsocialsb.com.
Pearl Social is part of Acme Hospitality, which also runs destination eateries The Lark, Lucky Penny, Loquita, Helena Avenue Bakery, Tyger Tyger, La Paloma Café, and the Santa Barbara Wine Collective. The Santa Barbara-based company is branching out into the hotel business, too, with recently opened properties in Nevada County, California and upcoming openings in Palm Springs and San Juan Capistrano.
You might also be interested in...