A Product of Their Environment . . .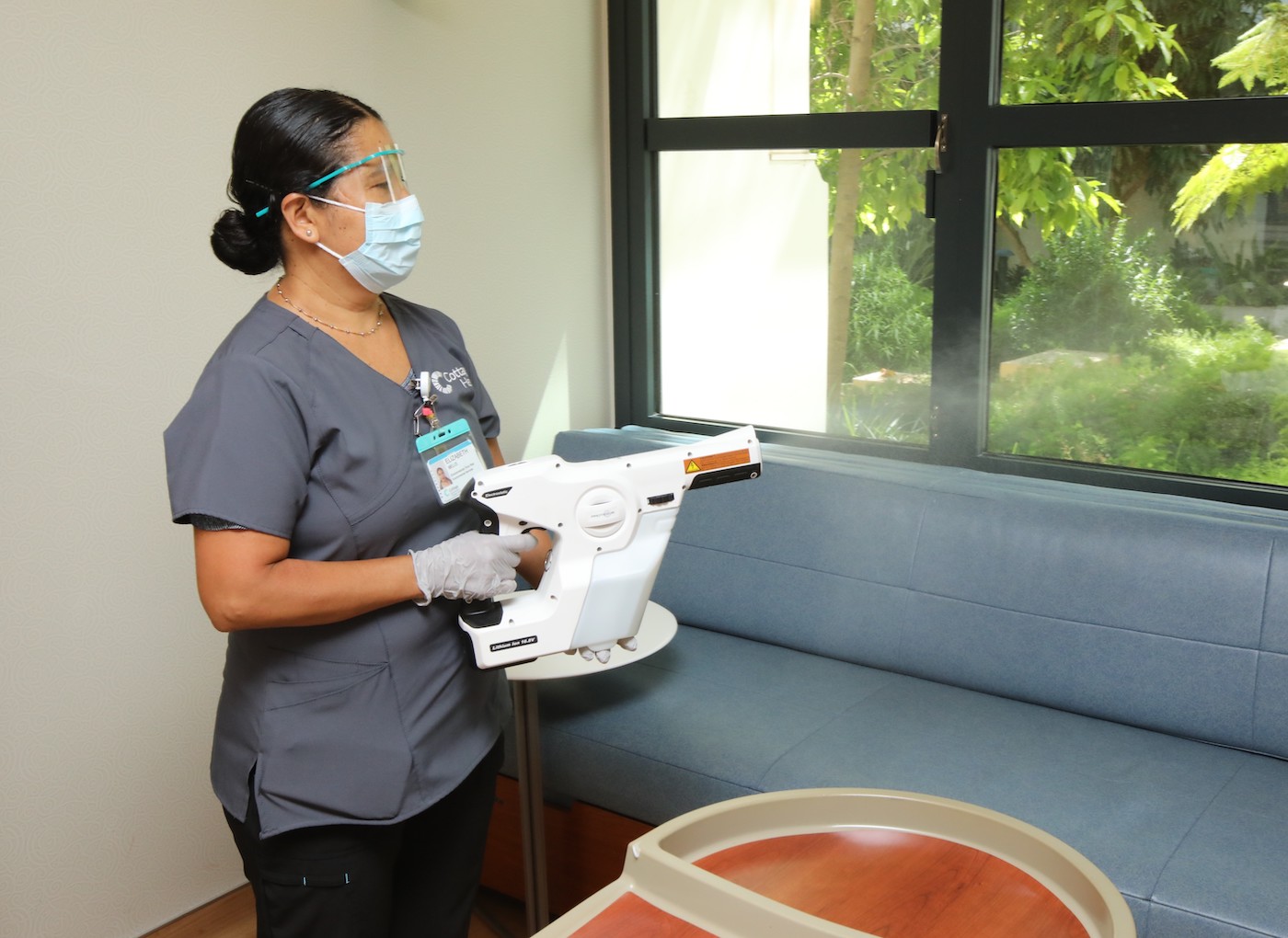 Both Giuseppina (Jo) D'Ambrosio and Flavid Montoya don't need to drop their masks for one to see their smiling eyes.
Amid an unprecedented 18 months for medical personnel across the globe, their Environmental Services team at Cottage Hospital might not be the team that is applauded on the nightly news.
But internally, they are a critical teammate, and a department that was recently awarded the Environmental Services Department of the Year for 2021 by the Association for the Health Care Environment of the American Hospital Association.
The award might be a mouthful, but the praise for the yeoman's work that the EVS team at Cottage — all 151 of them — has done is seemingly endless.
"Despite all the challenges from COVID-19, our EVS team has consistently set the bar higher to create new ways to enhance its performance for the benefit of our community," said Nick Henderson, vice president of support services at Cottage Health.
Cottage received the AHE honor in the 500-plus beds category, with the awarding criteria including "outstanding achievements of a cutting-edge environmental services team in maintaining high levels of performance in cleaning, disinfecting, infection prevention, environmental sustainability and stewardship, technology use, patient satisfaction, education, and training in critical areas."
For Montoya, Cottage's Environmental Services manager, he is most proud of the high employee retention the department sees — a key factor in the AHE award.
The staff has a 95% retention rate, losing only seven or eight employees a year — many of whom move to other departments within Cottage Health.
"We take a lot of pride in keeping our team happy," Montoya said.
According to D'Ambrosio, it's also a product of a collaborative environment — pun intended.
"Cottage has a really strong service culture in general, but each department or work group also builds a subculture. And our culture is really built on inclusivity on working with the staff, strong communication," she said. "It's not one-way communication. If there's an issue, we're going to sit and address it now and have that discussion, but the problem-solving methods we use are inclusive of the employee. We don't allow staff just to kind of say, 'Hey, I'm not happy about this, fix it.' We look at what we can all do to resolve it; it's sort of that shared governance idea."
Cottage Health approached the involvement of the EVS team in COVID-19 protocols a bit differently than other hospitals. Unlike other venues that asked nurses to also clean rooms to the best of their ability after a COVID patient was discharged, Cottage chose to have the EVS team perform this duty, utilizing an expertise and allowing nurses to continue to focus on patient care.
It took trust from senior leadership and infection control to do so, something that had been earned over time, according to D'Ambrosio.
"Pre-pandemic, we partnered so much with our Infection Control team, they understood the level of training, education, and competencies we do with our staff on how to handle these isolation type precautions on a regular basis," she said. "They had a different level of confidence of what our staff was already trained to do and that they were going to get the support from leadership on why this was important to work collaboratively with nursing.
"The fact that we were able to really provide that support to not only the patient, but also the clinical staff, was really great."
And for both Montoya and D'Ambrosio, it's critical to share out the data that shows the impact that the staff is having, particularly during COVID when numbers were on everyone's mind.
"I think even the staff forget all the wonderful things that they do and how they've impacted infection rates on the floors," said D'Ambrosio. "It shows that we are equal partners with nursing and infection control."
In a year where work can feel thankless due to the deluge of cases, the AHE award was a morale boost, from bottom to top.
D'Ambrosio was working at a vaccination clinic as a non-clinical director when she got the phone call, with her first message to Montoya to share the good news.
And with a national celebration of EVS teams slated for the second week of September, Montoya can't wait to fête the team's successes.
"The award is just not only the cherry on top, but maybe like six cherries on top."
You might also be interested in...