20-year-old's Fashion Company Comes to Life as a Pop-Up Store Downtown
From daydreaming in lecture to launching her own store in downtown Santa Barbara, Athena Wang is the queen of taking risks. The 20-year-old UCSB student is the face behind Watermelon Apparel, a lifestyle apparel brand.
Watermelon Apparel promotes comfortability, trendiness, and affordability. It began solely online but shifted into the physical realm with its opening on July 17. Its products consist primarily of casual oversized sweatshirts and t-shirts, while the "Watermelon Weekend" line caters to those seeking fun pieces to go out in.
So, why "watermelon"? Wang has plenty of answers.
First and foremost, it's linked to her father. He grew up poor and food insecure, scavenging and selling anything in order to get a meal. When he told his daughter he would sell watermelons, the image stuck. It became a constant reminder of him and his hard work.
Watermelon is also relevant to her California-inspired theme. The juicy fruit is a summer staple, pairing perfectly with the beachy feel of the Golden State. Not to mention, it's another company named after a fruit.
"Apple is doing well and Lululemon is doing well, so there's something with fruit going on out there," laughed Wang. "I don't know what, but I'm really superstitious."
Through comfortability, Wang's brand seeks to promote body positivity. Like many teens growing up in a world dominated by social media, Wang has had her fair share of body-image struggles. Despite consistently staying active and eating healthy, her body did not reflect that of Instagram models flooding her feed.
For two years she blamed herself, thinking maybe she didn't work out hard enough or eat clean enough. Stressed about college applications and new steps forward, the comfort of oversized sweats and shirts called her name. It wasn't until she sought comfort and placed less focus on appearance (no longer spending 30 minutes at the crack of dawn picking out an outfit) that she gained her confidence back. She could breathe easier, and let her extrovert personality take over. She became aware of society's beauty standards, and how damaging they can be.
"I realized when I talk, I feel more confident wearing oversized comfy clothes because my air flows better and I'm not sucking in, I'm just being myself and enjoying the space," said Wang.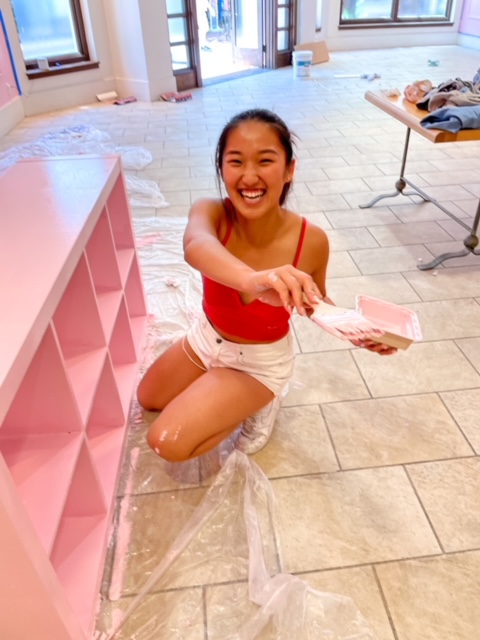 Wang says the fashion industry perpetuates "skinny" culture and still lacks inclusivity, and she wanted to help change this. Her brand focuses on bright colors and comfortable pieces that anyone can feel good in, no matter their shape or size.
From the start, Wang didn't have a game plan. Instead, she hopped on the train and let it take her. An Economics major with no background in design, she pulled up Adobe Illustrator and taught herself what she needed to know. Her friends offered to model pieces for her, and soon enough her online business was up and running at the start of the pandemic.
The concept of a physical store came just two months ago, stemming from a business strategy lecture she was virtually attending. Immediately upon leaving the Zoom call, she started doing research and reached out to a couple real estate agents. Within a week she signed a lease.
"I didn't know anything about running a store, but I just thought this is a good opportunity for me to go for it," said Wang.
Just days before Watermelon Apparel's opening, Wang's bubbly and energetic spirit radiates through the distant Zoom camera. She mentions how excited she is to meet her customers face to face to get their feedback. Seeing the store come to life motivates her further.
"I pass by it every day and see the wall we painted to pink and it's a constant reminder of what I've accomplished and how much I was supported by my friends and family," said Wang.
Wang plans to have Watermelon Apparel as a pop-up for the rest of summer and potentially bring it back next summer. Of course, if it takes off, she may think about opening a permanent standing store with employees.
Wang has run the business solo, but not without gratitude for those offering help. Her father's room once covered in Chinese calligraphy now stores her inventory, friends have picked up paint brushes to complete the bright pink colored walls of the store, and even mall employees have kept an eye out and alerted her when part of her display was stolen.
"Even though it seems like I'm doing it by myself, I was never alone during the process," said Wang.
Starting the business has taught Wang valuable lessons, including never limiting her own potential or giving herself a label. From the support given to her throughout this experience, she learned she's never alone — her friends and family will be there if she gets stuck.
Most of all, the experience has taught her to take a chance.
"When you see an opportunity, go for it. You don't have to be prepared," said Wang. "When you are prepared for something then it might be too late, someone might have taken it already."
Find products and information at watermelon-apparel.com.
You might also be interested in...