The Spoils of Downtown Living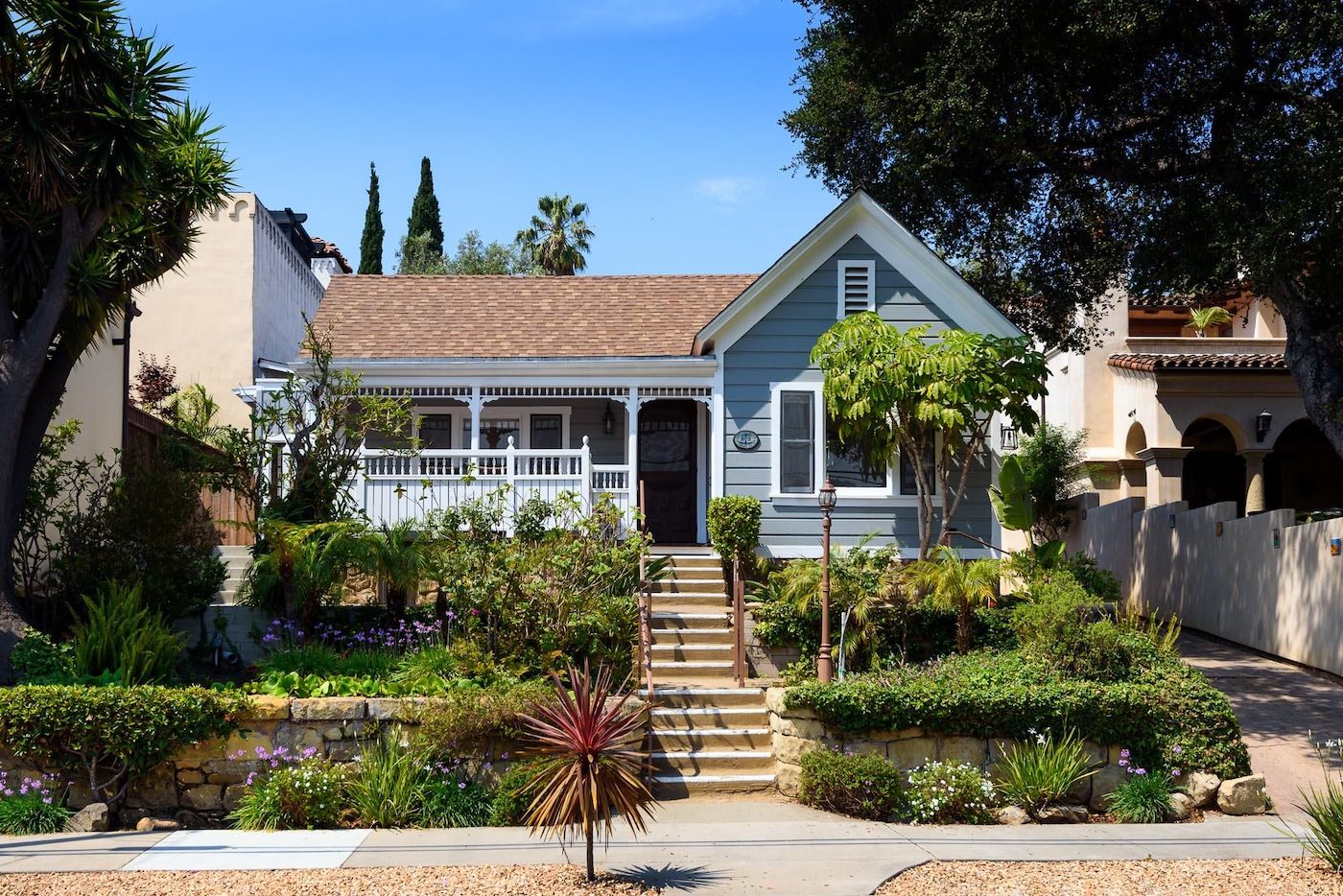 Juan Cabrillo, exploring the new world for Spain, sailed into the Santa Barbara Harbor in 1542. For the next 350 years, there was not much European contact. This changed in 1784 when the Spanish constructed the first adobe housing in Santa Barbara as barracks for soldiers. The Presidio, located between Anacapa and Garden streets on East Canon Perdido, is where Santa Barbara was born and is one of the West Coast's oldest inhabited sites.
As homes began to be built beyond the Presidio walls, Santa Barbara began to form. And although Monterey was the then political capital of Alta California, the so-called "ruling class" is said to have chosen Santa Barbara citing its exceptional climate and beauty. People, in search of paradise, have been coming here ever since.
Unfortunately for the newly arrived, it seems Paradise has always been competitive and expensive. On March 19, 1887, the Santa Barbara News-Press wrote, "Visitors who like the place well enough to take a home for a term of months, would do better to buy a lot and build a home as property prices continue to rise, for it is now cheaper here than it ever will be again. Plenty of people will live in tents this summer, as they did last summer while looking to build a home of their own."
Since the arrival of COVID, the market, always leaning toward sellers, has become even more difficult for buyers. We hear of people engaging sellers' brokers and releasing their inspection and finance contingencies in hopes of gaining an advantage, rarely a good idea. Saying that, bidding wars have been intense. The press has been describing the market for buyers since COVID as "challenging"; it has been far worse than that. And although we are beginning to see an increase in inventory, we are far below historical levels, and buyers must be prepared to move quickly and decisively to win the best properties. Identifying your first-choice neighborhood and your optimum purchase price point is essential, critical preparation for a successful purchase; if you get those wrong you will not have bought well.
As exclusive buyer agents, we never represent sellers, focusing instead on issues specifically impacting buyers. In addition to financing guidance, contract formation, price, term and condition negotiations, and escrow oversight, we spend a lot of time looking at the best neighborhoods and homes in the appropriate price range for our clients. Today we look at the Downtown neighborhood, the heart of Santa Barbara.
Downtown Santa Barbara offers a unique opportunity to enjoy both sophisticated cultural venues and a Mediterranean coastal environment with sandy beaches and scenic foothill hiking trails all close by. Not many cities can say that.
Prior to COVID's arrival, I sensed a movement away from the traditional suburban lifestyle to a more varied small city experience. With museums, historical attractions, first-rate restaurants, farmers markets, movie theaters, art galleries, wineries, holiday parades and festivals, and parks all within walking distance, Santa Barbara's Downtown community has much to offer. Yet where "close" is typically celebrated in urban settings, not so much when COVID arrived. Homes became more difficult to sell as the closure of nearly everything made "out of the city" appear to be a better choice. The present COVID variant notwithstanding, we are slowly opening up and with it the pleasures of Downtown living.
Although the exact boundaries of Downtown can be debated, Valerio to the north, the shoreline to the south, Castillo to the west, and Olive Street to the east feels about right. Here you will find an urban experience that can be enjoyed safely both day and night.
On Laguna Street at East Canon Perdido is a fully renovated 1895 Victorian duplex with a three-bedroom, one-and-a-half bath front unit and a one-bed, one-office, one-bath back unit which could be used for guests or a legal rental. Both units feature new appliances, bathrooms, kitchens and private laundry facilities. And the electric, plumbing and heating systems have all been redone, never an insignificant project on a house of this age.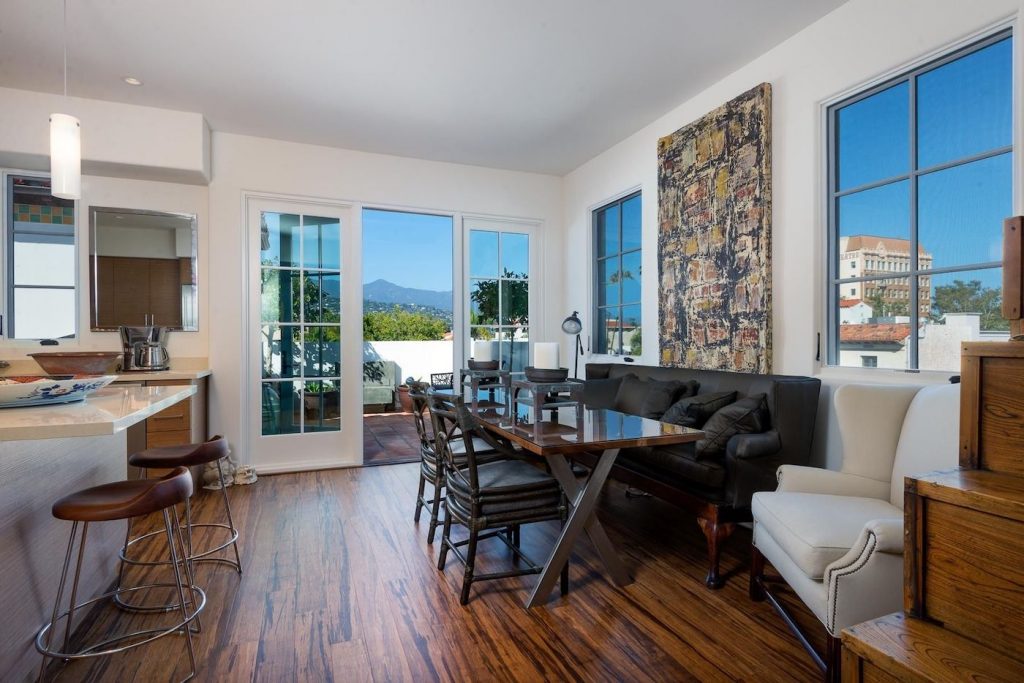 This property has been historically designated under the Mills Act and the renovation has been conducted under its guidelines. Historical designation under this act is transferable and typically reduces the owner's property taxes by an average of 50%. And in addition to a view of the Riviera from the front porch, it is a short walk to all of Downtown.
If you like historic houses, this looks like a good one. First listed in mid-June, the market rejected the original asking price of $2,549,000. The seller is now asking $2,245,000. Should its condition be "excellent" as described, and with potential rental income and Mills Act tax relief, an offer close to its present asking price should be successful.
Alma del Pueblo, at 18 West Victoria, appropriately translates to "Soul of the Town." This luxury condominium, newly built in 2014, is a one-bedroom third-floor penthouse located in the heart of the downtown theatre district — easy walking distance to restaurants, entertainment, shopping, and all that downtown living has to offer. It features an open kitchen-living room floor plan, a private patio with mountain views looking east to the Santa Barbara foothills and the historic Granada and Arlington theatres, LED lighting, top-level appliances, Caesarstone countertops and concierge services, and private guest rooms available to owners when family and friends arrive.
This is a very attractive unit and yet surprisingly has been on the market for a long time. The owners purchased when new in 2014 for $1.8 million, listed it the next year for $1.95 million, reduced the price to $1.699 million in 2016, tried it at $1.795 million in 2020, and now is offering it at $1.695 million. Although there are not many one-bedroom comps to compare, there are some and this looks like a fair price. One would guess that the owners must be ready to sell and could well entertain a lower price offer. The views alone are worth a look.
You might also be interested in...