Happy 20th Anniversary Sta. Rita Hills!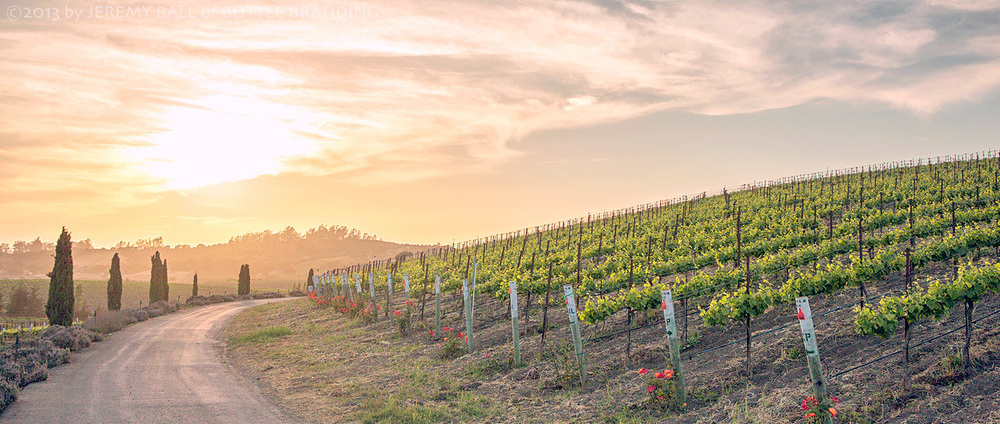 2021 marks the 20th anniversary of Sta. Rita Hills receiving its AVA (American Viticultural Area) status, and it is time to celebrate with Wine and Fire — an extra-long weekend of wine events. In addition to a grand tasting and a tasting room passport, a series of educational events are planned over four days from August 12 through 15. The event will pay tribute to the original vineyard, Sanford & Benedict, as well as honor the founding pioneers of the Sta. Rita Hills AVA, and the region.
Sta. Rita Hills is part of the larger Santa Ynez Valley AVA, located between the towns of Lompoc and Buellton with the Purisima Hills to the north and the Santa Rosa Hills to the south. The hills run east to west, which allows cool ocean breezes from the nearby Pacific Ocean to enter the valley creating a cool microclimate.
"For me, the nexus between the appellation and ocean — the proximity of the area's orientation opening due west into the sea — is paramount. Our soils are all marine based — largely sand and fossilized plankton. It's a very stark oceanic landscape which serves as a great template for chardonnay and pinot noir," says Greg Brewer, founder and winemaker of Brewer~Clifton and Diatom wines, adding, "I'm fortunate to be surrounded by like-minded colleagues, beautiful people, giving this area recognition." That like-minded group calls themselves the Sta. Rita Hills Winegrowers Alliance, they formed in 1997 to unify growers and winemakers in the western Santa Ynez Valley for the purpose of developing their own American Viticulture Area and promote the wine growing region — AVA status was granted by the Alcohol, Tobacco and Firearms Regulation Division in 2001.
Sanford & Benedict Vineyard and Lafond Vineyards are two of the initial pioneering vineyards in "The Hills."
"Sanford & Benedict Vineyard, 135 acres, was planted in 1971 by Richard Sanford and Michael Benedict. Through research and development, they determined what wine grape varieties were best suited for the area. Earthy soils, containing large deposits of limestone and diatomaceous earth, to sandy loam, coupled with daily ocean winds tunneling up the transverse valley from Point Conception created the perfect environment to grow Pinot Noir and Chardonnay," explains Barbara Satterfield, executive director for Sta. Rita Hills Winegrowers Alliance. "Lafond Vineyards and Winery followed suit in 1972 but it was not until the early 'eighties that additional plantings ensued."
Over the next 20 years approximately 1,100 acres were planted, predominantly to pinot noir and chardonnay, with the wines being lauded as some of the best cool climate wines in the world. Currently the Sta. Rita Hills is planted to just under 4,000 acres and is a premier growing region worldwide.
As for why the event is called "Wine and Fire," Barbara says, "I have heard a few different accounts of how the name came to be. One being that the event is focused on food and wine, and the method of cooking with fire over oak wood barbecue is one of the traditions of the area and a focus of the first event. We have at least three local barbecue chefs at our grand tasting so folks can get a taste of our local specialties."
Over the four-day celebration, wine lovers are encouraged to make plans to visit wineries and tasting rooms. Ticket sales are limited and range in cost from $20 to $395.
Here is the lineup:
Sanford & Benedict Vineyard Tasting at Sanford & Benedict Barn
Focusing on the first vineyard planted in 1971 by Richard Sanford and Michael Benedict in what would eventually become the Sta. Rita Hills, taste wines of multiple vintages from multiple wineries that source fruit from this hallowed ground. Casual walk-around tasting with plenty of opportunities to chat with the winemakers that produce Sanford & Benedict Pinot Noir. Due to limited parking, shuttle busses will leave from three Lompoc Hotels to transport guests back and forth. Full of Life Flatbread will be preparing fire-grilled flatbreads for your enjoyment. Participating wineries include: Barden, Dragonette, Hitching Post Wines, Ken Brown Wines, Liquid Farm, Longoria Wines, and Sanford Winery.
WHEN: Thursday, August 12 from 5 to 7 pm 
COST: $90 per person (price includes shuttle fee)
The History of Sparkling Wines in the Sta. Rita Hills
Start your morning off with bubbles! A comprehensive look at how sparkling wines got their start in the region and their evolution over the years. Why is Sta. Rita Hills an obvious location to grow sparkling wines? How does it compare to other regions and why are so many producers adding sparklers to their line-up? A one-hour discussion with winemakers followed by a table tasting where you can roam Montemar's beautiful back garden tasting bubbles from participating wineries. The moderator is Adam Lee and participating wineries and winemakers include Flying Goat Cellars, Norm Yost; Kessler-Haak, Dan Kessler; Pali Wine Co., Aaron Walker; Sanford Winery, Laura Roach; Spear Vineyards and Winery; and Strange Family Vineyards.
WHEN: Friday, August 13 from 9:30 am to 12 pm
WHERE: Montemar Winery, 1501 E Chestnut Ct, Suite E, Lompoc 
COST: $75 per person
Dinner Honoring the Pioneers of the SRH La Paulée
This event is also known as the Wine and Fire "Barn Party" and guests will gather at the Alma Rosa vineyard for a La Paulée style tasting and dinner. (La Paulée is a "convivial Burgundian fête" showcasing the diversity of the region.) A sparkling wine reception begins at 5 pm followed by a program to honor SRH Pioneer winemakers. After the program guests will enjoy an oak-grilled buffet dinner prepared by Anthony Endy and The Alisal Guest Ranch staff. Bring those SRH bottles you've been waiting to open, share wines with your tablemates and friends, and toast 20 years of the Sta. Rita Hills La Paulée style. Master of Ceremonies is Wes Hagen and honorees include Bryan Babcock, Babcock Winery; Greg Brewer, Brewer-Clifton; Ken Brown, Ken Brown Wines; Kathy Joseph, Fiddlehead Cellars; Rick Longoria, Longoria Wines; Bruce McGuire, Lafond Winery; and Richard Sanford, Alma Rosa.
WHEN: Friday, August 13 from 5 to 8:30pm 
WHERE: Alma Rosa Vineyard, 7250 Santa Rosa Rd in Buellton
COST: $140 per person
Time in a Bottle
The moment has arrived to see just how age-worthy wines from the Sta. Rita Hills can be. Join the panel of winemakers to taste older vintages and discover the aging attributes of Pinot Noir and Chardonnay from this "very cool" AVA. The moderator is Wes Hagen and with panelists including Brewer-Clifton, Gregory Brewer; Hitching Post Wines, Gray Hartley and Frank Ostini; Dragonette Cellars, Brandon Sparks Gillis; Longoria Wines, Rick Longoria; and Seagrape, Karen Steinwachs.
WHEN: Saturday, August 14 from 9:30 am to 12 pm 
WHERE: Spear Vineyards and Winery, 6700 CA-246 in Lompoc
COST: $75 per person
Grand Tasting at La Purisima Mission
Enjoy a magical evening under the oaks at La Purisima Mission sipping fine Sta. Rita Hills wines, snacking on tasty treats, and mingling with smiling faces. Sta. Rita Hills Winegrowers Alliance members and chefs are excited to welcome guests to their favorite tasting event of the year, capping off the anniversary weekend.
WHEN: Saturday, August 14 from 5 pm to 7:30 pm 
WHERE: La Purisima Mission 2295 Purisima Rd in Lompoc
COST: $100 per person
INFO: For more information or to purchase tickets for all Wine and Fire events, visit www.staritahills.com 
You might also be interested in...