Creative Characters: An Ode to Pop Culture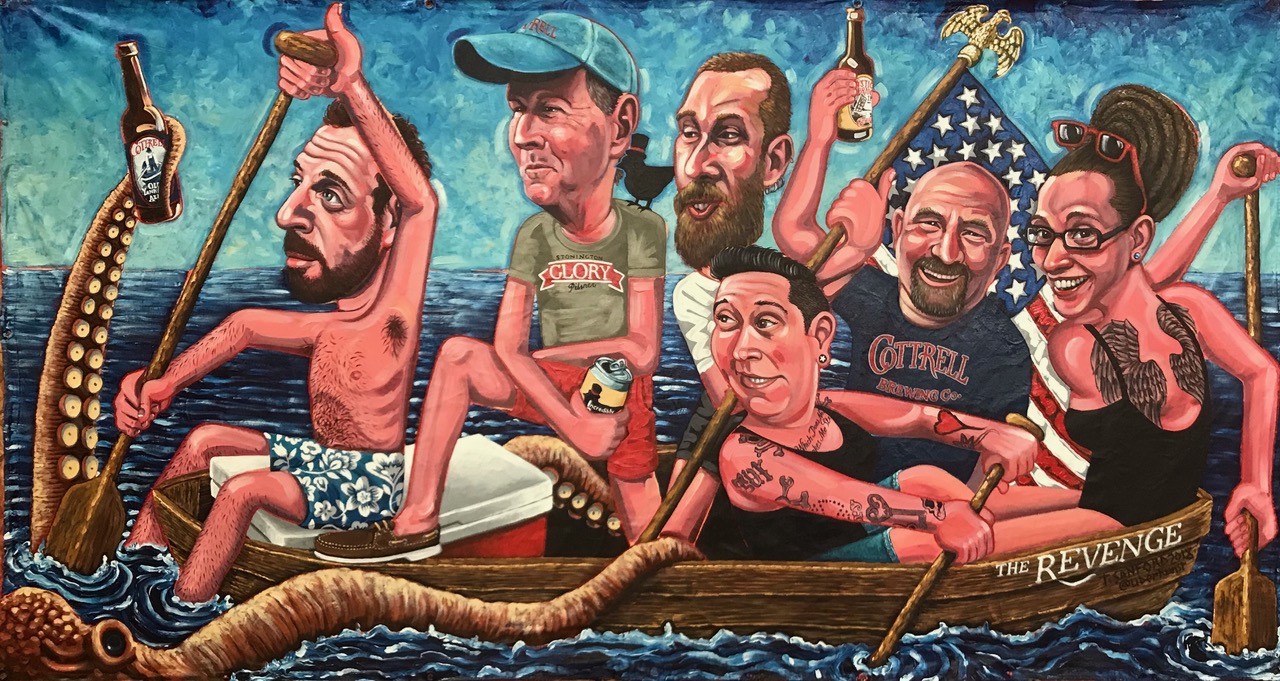 Tom Sanford is one of the featured artists from the visiting gallery, Gitler&__, that is presenting a series of shows at REH GraySpace Art in the Funk Zone. His gripping range of acrylic paintings are done with a colorful animated style reminiscent of Mad Magazine that pulls from his childhood love for comic books. He learned to draw as a kid by copying the illustrations of his favorite Marvel characters and comics. Many of his paintings reference historical events and famous artworks, incorporating pop art and celebrity elements into them. 
His earlier work had a pokier, more satirical feel, such as a meditative Steve Jobs holding a bitten apple, but about 10 years ago, he decided that he no longer wanted to bring such a critical edge to his work. Tom feels that American pop culture is one of the country's greatest exports, choosing to focus only on the celebrities whose personality and career he reveres. In the current show at GraySpace, there are several works celebrating African American icons such as Spike Lee and Patrick Ewing. The figures sit front and center with vivid radial lines and gold leafing portraying them in a Saint-like fashion.
Besides his portraiture and figurative work, Tom also paints a range of still lifes, and of note is his series of beer-themed paintings, including commissioned work for several breweries that also got him lifetime access to beer fridges there. He had previously hosted a show, 99 Bottles of Beer, for Gitler&__ where he painted the different beers that friends and visitors brought him. Two of his beer-themed paintings can be seen in the GraySpace show. Ballantine Can highlights the iconic emerald green beer can and also pays homage to his father's favorite beer in college. Nothing pairs with a beer like a burger, and a still life of one sits next to the painted brew in the gallery. In the front room of GraySpace is Tom's most recent work, a self-portrait titled Portrait of the artist at the end of the decade (2020). In it one can see a distressed Tom looking in need of a beer after this past year.
You might also be interested in...