A Wellfounded Farm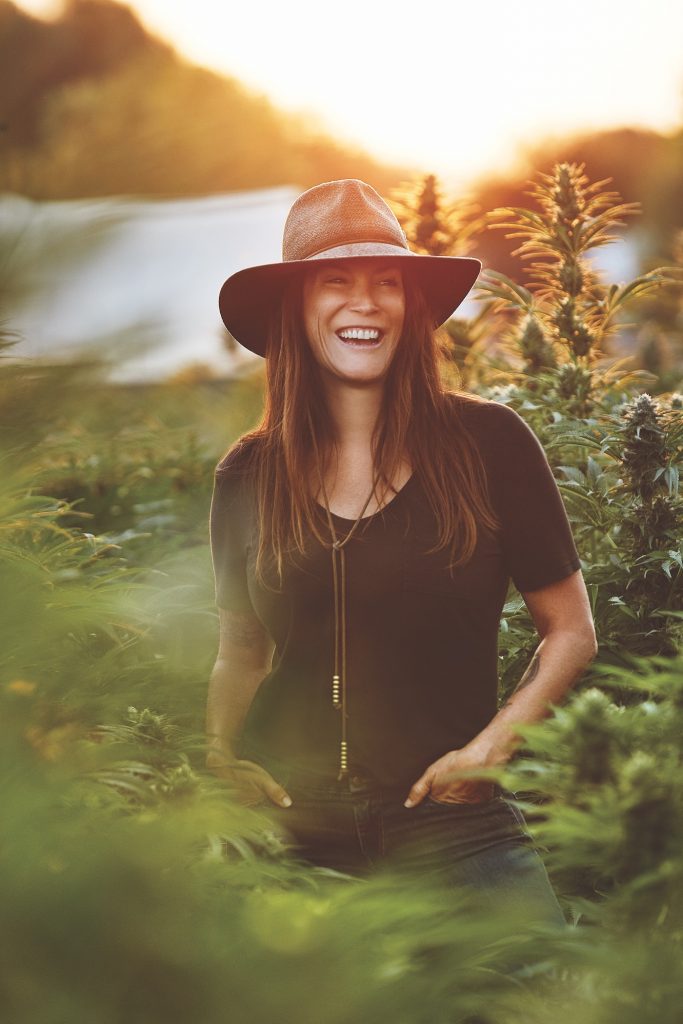 Over the years, cannabis has become acknowledged for its medicinal properties. Both of the common cannabinoids found in the plant, THC and CBD, are widely recognized for their anti-inflammatory and pain-relieving qualities, among other health benefits. For Sara Rotman of Wellfounded Botanicals, the health benefits of cannabis were truly life changing and she has put her own healing and professional experience into each one of Wellfounded Botanicals' offerings.
Originally Sara was working in the fashion, beauty, and entertainment industries for 25 years with an agency in New York and an office in Los Angeles as a revered creative director for such luxury brands as Vera Wang, Campari, and Tori Burch. Sara would play polo in the Central Coast area and in 2014 she bought a 63-acre farm in Buellton as a retreat for the horses and herself. Within three weeks of purchasing the farm, Sara found herself in the hospital for full renal failure. It turned out to be Crohn's disease that had gone misdiagnosed for years and the inflammation had gotten so severe that she spent the next few weeks being fed from a tube. They also pumped her full of morphine to help with the pain. The child of a teaching doctor, Sara began to pursue the best treatments but many of the pharmaceuticals had their own complications, including the complete shutdown of her immune system that led to a myriad of other maladies.
Unable to work and running out of solutions from western medicine, Sara began to focus on the farm, growing all her own food so that she could control what went into it. She began to take a holistic approach towards food, raising livestock and incorporating sustainable and organic farming practices. Sara notes that in retrospect, the farm was in as bad of shape as she was. As she worked to restore her own health, the land was restored as well. Nate Ryan, her husband and all-time supporter, had been doing his own research and suggested trying cannabis. Sara did not have anything against cannabis, but had also never really enjoyed it, finding the effects at odds with her fast-paced New York personality. He explained to her that cannabis didn't just have to be smoked and there were tinctures and edibles as well. They went to get a medical prescription and began to try different cannabis tinctures. For her it was almost a miracle. She immediately experienced pain reduction and eventually began to see it help her inflammation. 
Of course, cannabis products weren't being as strictly regulated as they are today and many of the tinctures were unreliable, if not simply unsafe, with some using harmful ingredients. Just as with her food, Sara wanted to be able to control what went into her tinctures and decided to grow her own cannabis. It took her longer than expected but after getting through the many layers of regulations and permits, she was able to acquire the appropriate licenses. Today, the farm has 22 licensed acres of outdoor cultivation, making it the largest independently owned female and Latinx-owned cannabis farm in the state. Sara also helped found the North County Farmers Guild and is dedicated to promoting sustainable farming practices in the community.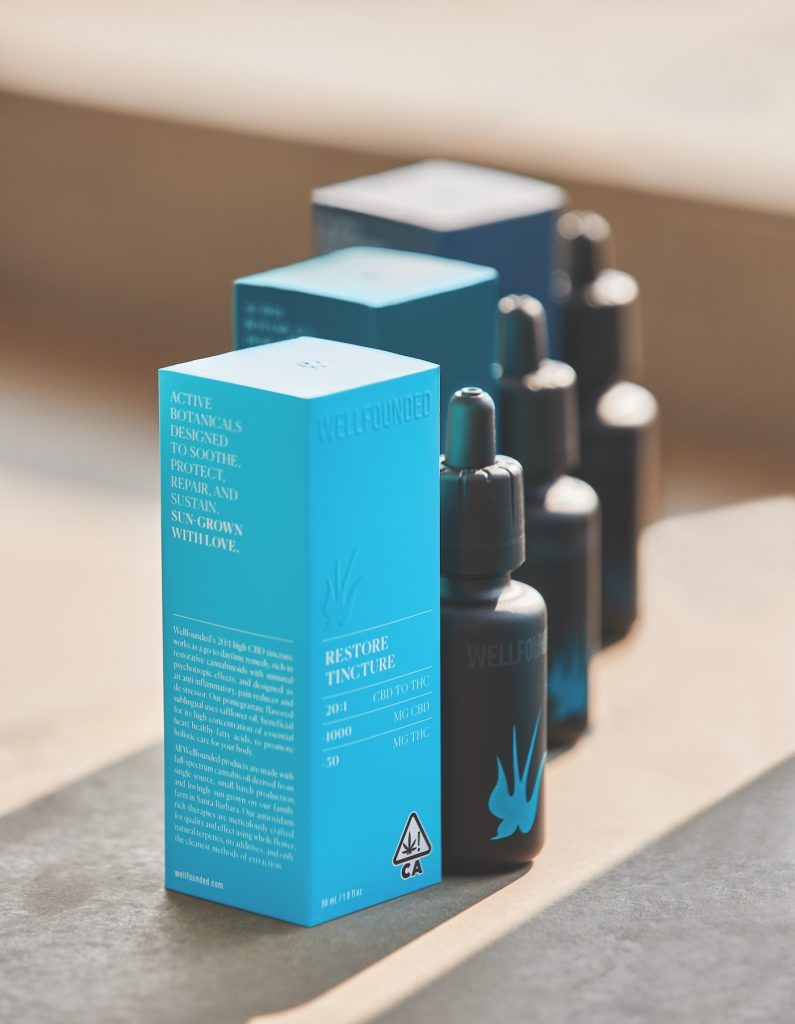 Wellfounded Botanicals' core product is centered around three tinctures, each with their own purpose. Relief Tincture 1:1 contains equal parts CBD to THC, approximately 600 mg of each per bottle, and brings a balanced sense of brain and body effects. The Restore Tincture 20:1 (1000 mg CBD to 50 mg THC per bottle) provides a more therapeutic experience with a focus on the anti-inflammatory, calming, and pain reducing effects of CBD. The Relax Tincture 1:5 (200mg CBD to 1000mg THC per bottle) has a heavier feel with stronger pain relief and sleep-inducing qualities of this blend. The tinctures all contain no additives, using safflower oil as the carrier oil and a dash of pomegranate oil to impart a gentle flavor of this distinctive fruit. The three genres are also offered in capsule form for those looking for a more controllable dosage.
Sara has also been working on a range of health and beauty products including a CBD-infused perfume, topical Relief Body Balm and a body oil that blends their distinctive pomegranate aromatics with meadowfoam seed, safflower, and sesame seed oils. The Face Oil incorporates green tea, chamomile, seaweed, olive, and passion fruit oil into the soothing and hydrating blend. The Wellfounded Botanicals line of products all come in elegant, sleek packages with a refined look that reveals Sara's extensive experience in product design. Whether it is one of these tinctures or calming topicals, one can benefit from both the health effects of cannabis and Sara's passion for quality.
Autumn Brands recently introduced their own tinctures made without any additives and using MCT oil as a carrier. Their Thrive Elixir with a 1:2 ratio (300 mg THC per bottle) is more day-oriented while the more potent Warrior Elixir blends equal parts THC (1000 mg per bottle) and the non-psychoactive cannabinoid acid, THCa. Autumn Brands is now offering a Nourishing Muscle + Joint Salve as well. The topical cream has a gentle cooling quality and a refreshing hint of lavender in the aroma.
Both Wellfounded Botanicals and Autumn Brands tinctures can be found around town at local dispensaries. Find more information at wellfounded.com. 
You might also be interested in...