Pure Gold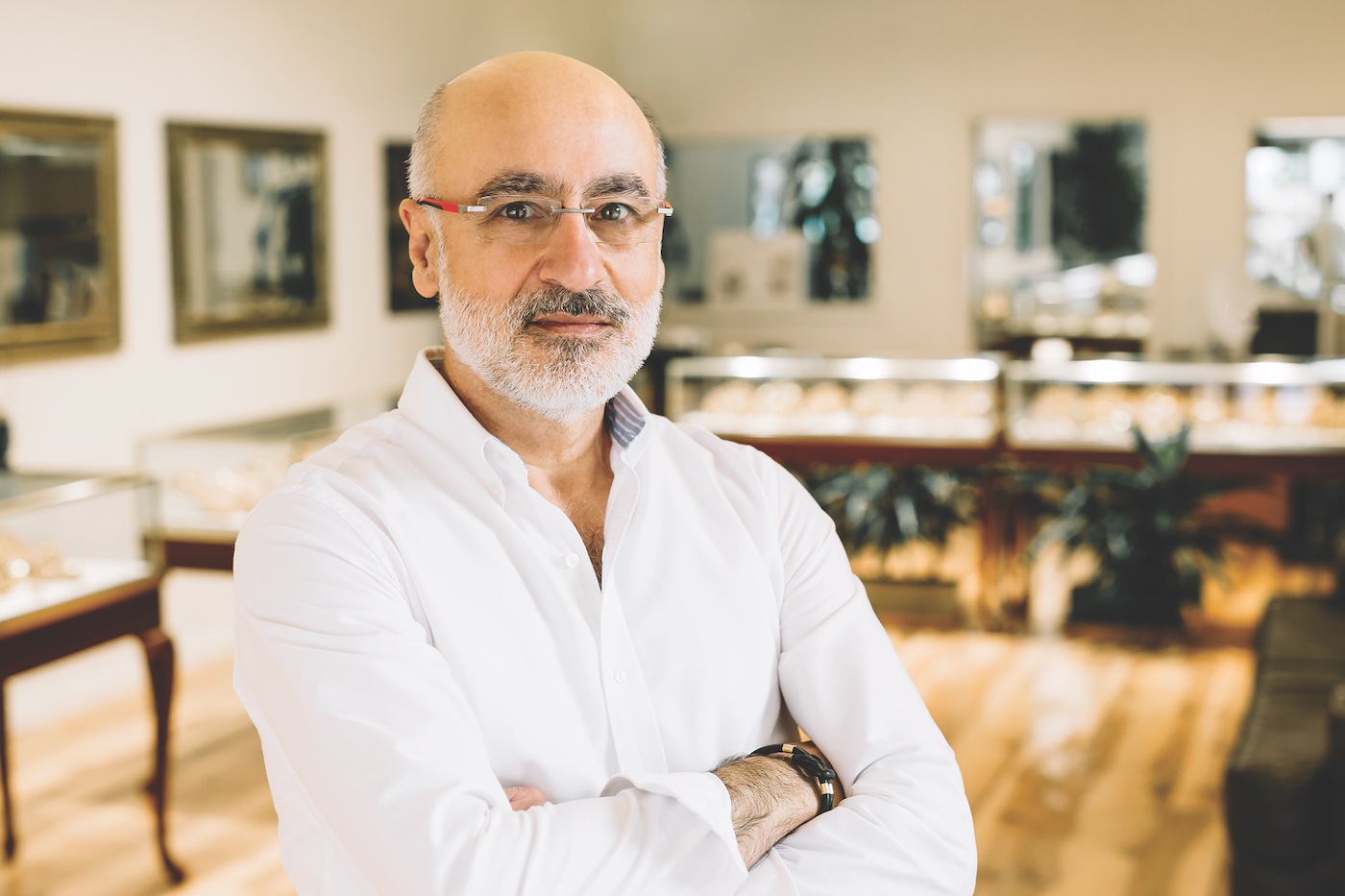 ARA 24K Collection is part of a family tradition that goes all the way back to ancient Turkey
La Hoya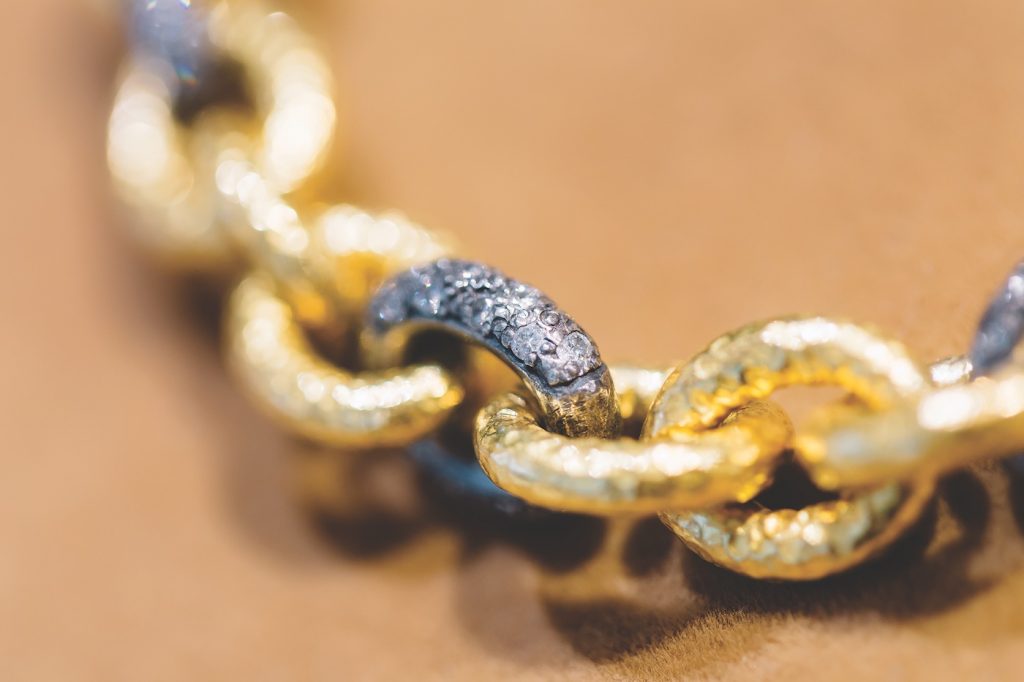 If it wasn't for a simple spelling misunderstanding, Cuneyt (pronounced "June eight") Akdolu, owner of ARA 24K Collection on Coast Village Road, might never have arrived in Montecito. It was early 2004, and Akdolu, who at the time still lived in his homeland of Turkey, was in the United States for a jewelry trade show. He was with his family, and after attending the show in Phoenix, Arizona, they rented a car and drove out to Los Angeles, where they had a friend who was also a jeweler. They asked her for advice about opening a store in the United States. "It was the first time I was on the West Coast," Akdolu said on a recent morning inside his shop. "I did not want to be in downtown L.A., so I asked her if there were any other places she could suggest. She said there were three: Santa Fe, La Jolla, and Santa Barbara. I knew the name Santa Barbara. And when I opened the map, Santa Fe was way too far away, and I actually couldn't find La Jolla."
Akdolu, unfamiliar with Spanish language pronunciations, thought La Jolla would be spelled exactly like it sounded: "La Hoya." "That's how I came to Santa Barbara," he adds, laughing. "I think I finally figured it out two years later!"
It's a good thing he did, because 17 years after arriving in Santa Barbara, where he first opened his shop on State Street, his Montecito storefront – which features intricate jewelry handmade in Turkey – is still going strong.
Turkey
Akdolu, who owns ARA 24K Collection along with his brother Ali (who manages the workshop in Turkey), was born in central west Turkey in a city called Eskişehir. "History is in our genes; the town I grew up in dates back at least 3,000 to 4,000 years," he says. "In fact, that very town, Eskişehir, was conquered by Alexander the Great in the fourth century B.C., and the town was under his rule until his death.
"My father was an artist who used to carve pipes out of meerschaum stone, which was only mined in Eskişehir," says Akdolu. "When I was about eight or nine, I started carving little figurines and brooches out of meerschaum, working alongside my father. One of his business trips was to a city called Yalova in northwest Turkey, right on the Sea of Marmara. He fell in love with the city and decided to rent out a store and move our family there. It was a big surprise for us."
There was a Turkish-American Navy base in Yalova, and American soldiers were the main customers at the store. Akdolu was carving the meerschaum pipes by this time, and at 11 years old, he was carving 20 pipes in a day – mostly designs of animals or sultans' faces. "At this time I also started cutting the meerschaum into thin slices, and carving custom name tags as souvenirs, which were very popular with the soldiers. This was how my life was all through high school – not like the other kids. I would work half a day at the store and then do my homework at night. My father did not have the money to send me to college, so I was saving up for college myself," he says. "Within five years, however, political problems between Turkey and America led to the closing of the Navy base in Yalova. The soldiers left, which effectively killed our business there."
It was Akdolu's dream to become a mechanical engineer because he wasn't seeing much future for himself in the family pipe business. In those days, there were no private universities in Turkey, only government universities. He passed the test required for admission and entered the mechanical engineering program at the university in Ankara, the capital of Turkey. "Even during those college days, I set up a bench in my home for making the custom meerschaum name tags," he says. "I would get a letter in the mail from my father because we didn't even have a phone in those days, and I would make the orders and mail them out to him."
By 1979, the family realized there was no chance for the business to survive in Yalova, so they decided to move to the southern Turkish city of Adana, where the country's biggest NATO base was located. They opened a small store on the road that led to the main gate of the base, and from the very beginning, the business did very well there. They were initially only making the meerschaum name tags because they didn't have the capital at the time to buy larger quantities of meerschaum. This soon changed, however. The business grew so fast that within two years of being in Adana, the Akdolu family's shop became the largest meerschaum pipe company in all of Turkey.
In 1980, Akdolu graduated college and decided to work in the shop full time instead of becoming a mechanical engineer because business was so good. It was during this time that he started to make really complex artistic pieces and special orders. One that he made was an extremely detailed composition of The Last Supper. "We carved with a magnifying glass," he recalls. "A face the size of a lentil would have a full beard and exquisite facial features. In the mid-1980s, I carved an entire set of all 40 U.S. Presidents (up to that time), with perfect detail of each face." 
In 1987, Akdolu came to the United States twice to see if he could open a meerschaum pipe business. He had friends from Turkey who were interested in starting the U.S. business as partners. However, the pipe business did not seem like it would work out at the time as interest in pipes was waning in those days, perhaps due to anti-nicotine campaigns. "I remember thinking at the time that I could likely have more success opening a Turkish restaurant in the United States than I would with our meerschaum pipes," he says. "Business was already good in Turkey, so there was no reason to expand abroad."
However, business started to decline in Turkey as well. People weren't buying pipes in the quantities they had before, and Akdolu had an idea to experiment with selling a small amount of gold jewelry. He took over two of the pipe displays in the shop and filled them with 14-karat gold pieces that were purchased, not made on site. This turn marked the beginning of his jewelry bench-work. "Out of necessity I had to learn sizing and repairs, and I did so quickly. I was completely self-taught," he says. "My first attempt was somewhat of a failure. By the second try I was getting the hang of it. And as I recall, by my third try I was doing quite well."
"Jewelry was selling better than the pipes, so I began making the pieces in-house, and jewelry became our primary business," Akdolu says. "I made the custom name tags with gold, just as I had done with meerschaum. I also made gold name tags in Egyptian hieroglyphics, which were so popular in those days. The soldiers at the base bought pieces to bring back home to their wives and sweethearts. Things were going really well."
In the late 1980s the Warsaw Pact was dissolving. The Berlin Wall fell. The Soviet Union split. "Without going into all the geopolitical events of the time, I can relate what it meant for us and the business," says Akdolu. "NATO was pulling troops from the bases and sending them home to the United States and Europe. These were our customers. Our customer base at the time decreased to about a quarter of what it had been. Once again, we were struggling and needed to make a move."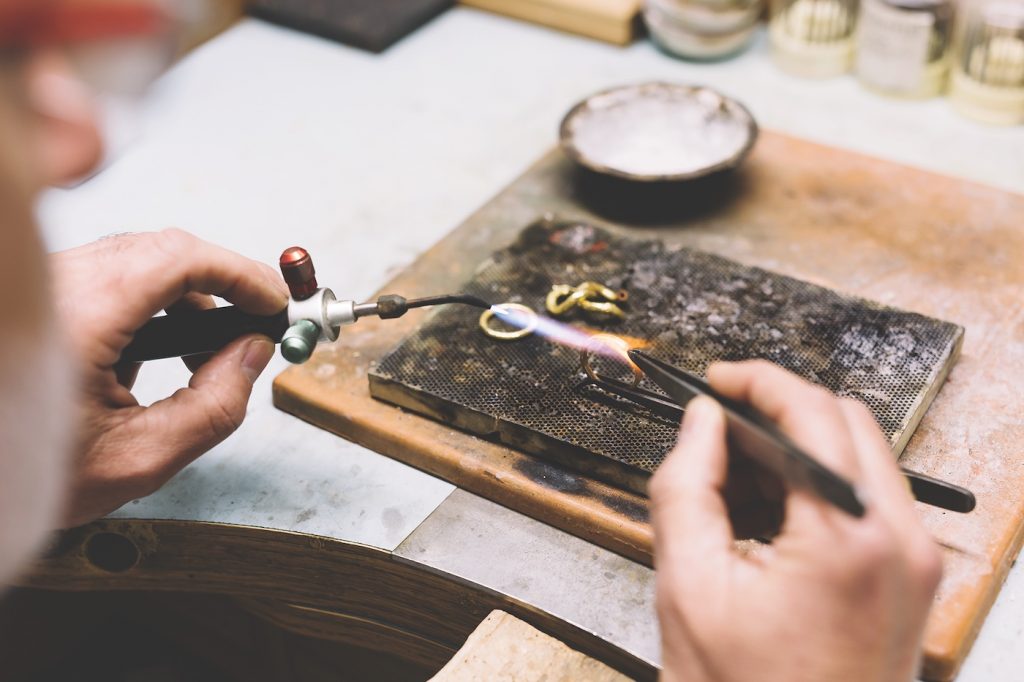 "In 1992 we moved to Bodrum, a beautiful southwest Turkish town facing the Aegean and Mediterranean seas," he says. "Bodrum is a popular tourist town, and all the cruise ships travelling around the Mediterranean and through the Greek Islands would stop in Bodrum. Our customer base was almost entirely visitors at that point, but some locals as well. Within a short time we had three stores in Bodrum selling only jewelry." In 1998, Akdolu and his brother Ali began working with 24-karat gold instead of the 14- and 18-karat gold they had been selling before. This began as a hobby inspired by the history of Turkey and by ancient cultures.
People loved them. There was a huge desire for the 24-karat gold pieces. They were not able to keep up with demand, and a short time later, they hired several goldsmiths whom they trained in their particular style. From start to finish, everything was done by hand. They even began selling their pieces wholesale to other stores because of the demand. At that time, the Akdolu brothers spent 16 hours a day on the bench. "Business was going so well," Akdolu recalls. "And then one day we woke up to the same shock as the rest of the world – it was September 11, 2001. Tourism in Bodrum stopped completely, and business stopped for us as well. We also had trouble collecting payment from the stores we had sold our pieces to."
United States
In December of that same year, several American women visited the store. They were on vacation from Aspen, Colorado. They loved the jewelry and purchased quite a few pieces. One of them who was originally from Dallas, Texas, was a designer herself. She asked Akdolu if he would be interested in doing a holiday trunk show that same month at her stepdaughter's gallery in Aspen. Since there was not much happening in Turkey at the time, he agreed. The Akdolu brothers travelled to Aspen for the show and were very well received. Two weeks after returning to Turkey, they flew back to the United States to attend a jewelry trade show – their first ever – in New York City. This was another remarkable hit – the beginning of what would be regular U.S. trade shows for the company.
"It was becoming clear at this time that we should open a showroom and office in the United States," explains Akdolu. "Florida was our first choice, because it seemed to have a similar climate to Bodrum. We flew to Florida twice within a single year – once in the winter and once in the summer. We drove throughout the entire state, hitting all the major cities. What I noticed most was the difference between these two visits. Whereas winter was nice – and crowded – summer was much the opposite. The main business season seemed too short to me."
Santa Barbara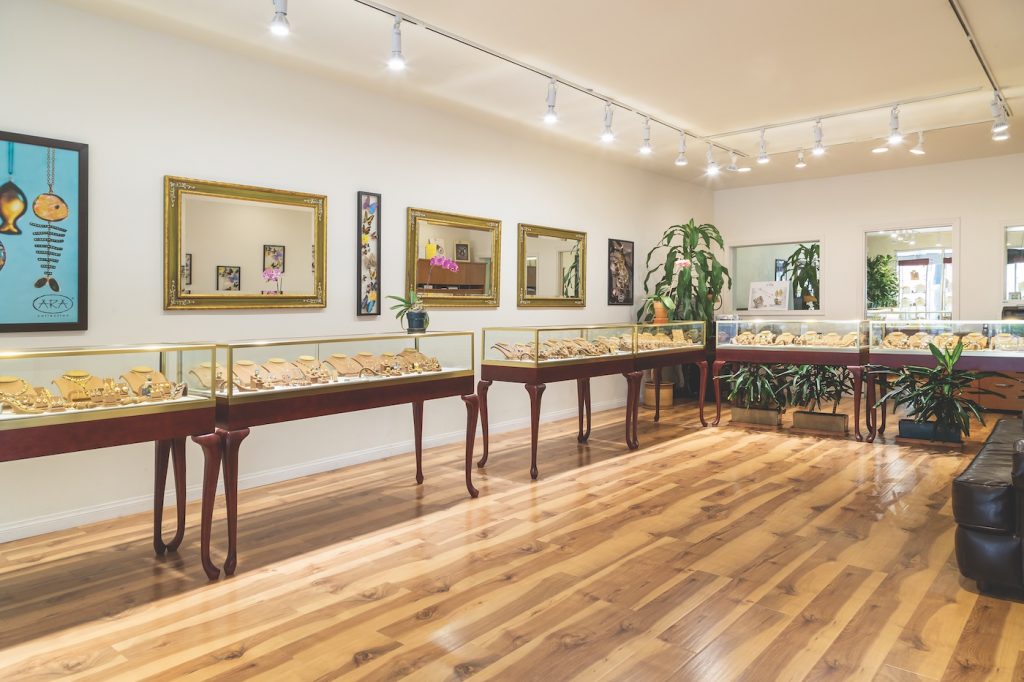 In the very beginning of February 2004, Akdolu's family arrived in Santa Barbara (having failed to find "La Hoya" on the map). "We headed to the downtown area and saw a vacant store on State Street that we liked right away," he recalls. "It was on the corner of State and Figueroa. We called the number listed just to get the info, but the man was so nice and encouraging, within a half hour of calling we were shaking hands and making the agreement. It was one of the biggest milestones of my life."
In the beginning of June 2004, the store opened on State Street. Akdolu obtained his legal investors' visa and shortly after was able to bring his family out to Santa Barbara – their new home. His older daughter enrolled at Santa Barbara City College and his younger daughter began her first year of high school at Santa Barbara High School. The family loved Santa Barbara – being right by the water, it reminded them of Bodrum in some ways. Boating and fishing (especially spearfishing), were a big part of Akdolu's life in Bodrum, and although he has continued those hobbies to a much lesser degree in Santa Barbara, he often misses the turquoise-blue waters of Bodrum. 
In 2015, 11 years after first opening in Santa Barbara, Akdolu relocated the store to Montecito's lower village – its current location. He was given a tip of a property for lease from one of his regular clients. It was similar to his first rental experience – quick and decisive. He met with the agent and signed the agreement that very day.
Today, the company has two shops open in Bodrum as well, both of which are very popular with tourists and locals alike. One is in the old town, and the newer store is located at the marina, where cruise ships dock. "Some world travelers from the United States saw us first in Bodrum before ever seeing our store in Santa Barbara," he says. "We have our workshop in Bodrum, and our goldsmiths are like family."
Indeed, some of Akdolu's craftsmen have been working with the family for decades. "They became very good specialists," he elaborates. "One guy only makes rings, one only makes necklaces, one is a stone setter. Everything is still made by hand. We sell to stores all over the country and in several other countries as well. Because of our high turnover, our merchandise at our store here is always changing."
Pure Gold
As ARA 24K's name suggests, the store sells pieces made of 24-karat gold. Every item in the collection is hammered, soldiered, and overall created by hand, never cast. The only other metal used in the jewelry is oxidized silver, which helps give certain pieces an ancient look, adds strength if needed, and makes the price more affordable. Customers have at times asked whether the store carries pieces in rose gold or white gold, to which Akdolu replies: "Twenty-four-karat gold can only be this color. This is the color of gold out of the earth."
Whereas many jewelers use prongs to set their gems, ARA 24K uses bezel settings almost exclusively, which is how most stones were set in antiquity, given that 24-karat gold is too soft to work into prongs. Many colorful stones are used as are white diamonds as well as more rustic, opaque, and colored diamonds. Some of ARA 24K's more unique pieces include various fish, octopus, and starfish designs inspired by the coastal region of Akdolu's homeland.
A Long Line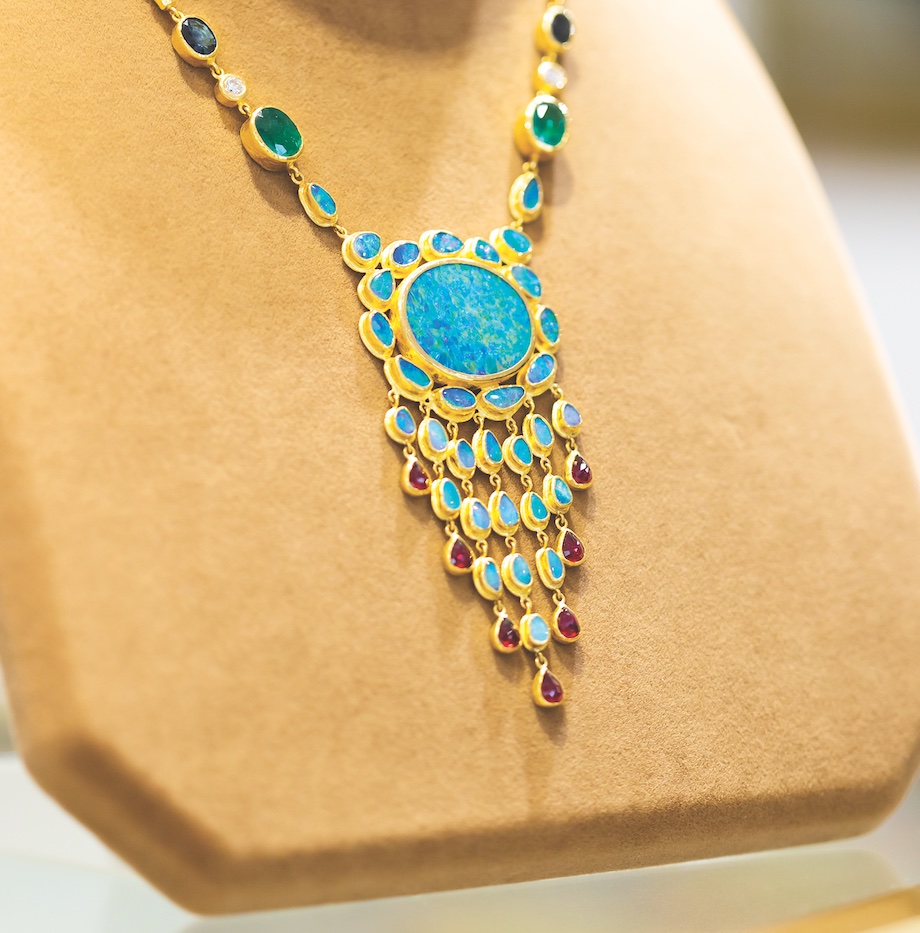 Akdolu owes his last name to his grandfather, as well as Turkey's founding father and first president, Mustafa Kemal Atatürk. Atatürk undertook many progressive reforms in the country, one of which was the implementation of family surnames. Before that time, people in Turkey were not using surnames as we know them here in the United States. Everyone used their father's name, so it was "so-and-so's" son or "so-and-so's" daughter. In 1935, Atatürk ordered everyone in the country to choose a surname, which would continue in the family from there on out. 
Akdolu's grandfather had the responsibility of choosing the name, and he did one evening – as the story goes – while sitting and drinking with his relatives. In Turkey, the most popular alcoholic drink is an anise-flavored beverage called raki (pronounced ruh-kuh), which, when mixed with water, turns a milky white. Ak means "white" and dolu means "full." "We might imagine him raising his glass while determining the surname his family would have," he says. "Akdolu – full (glass of) white."
As Akdolu related to his store manager when she asked about the meaning of his name, "I not only come from a long line of artisans, but a long line of drinkers as well!"
You might also be interested in...