James Paul Brown Turns 80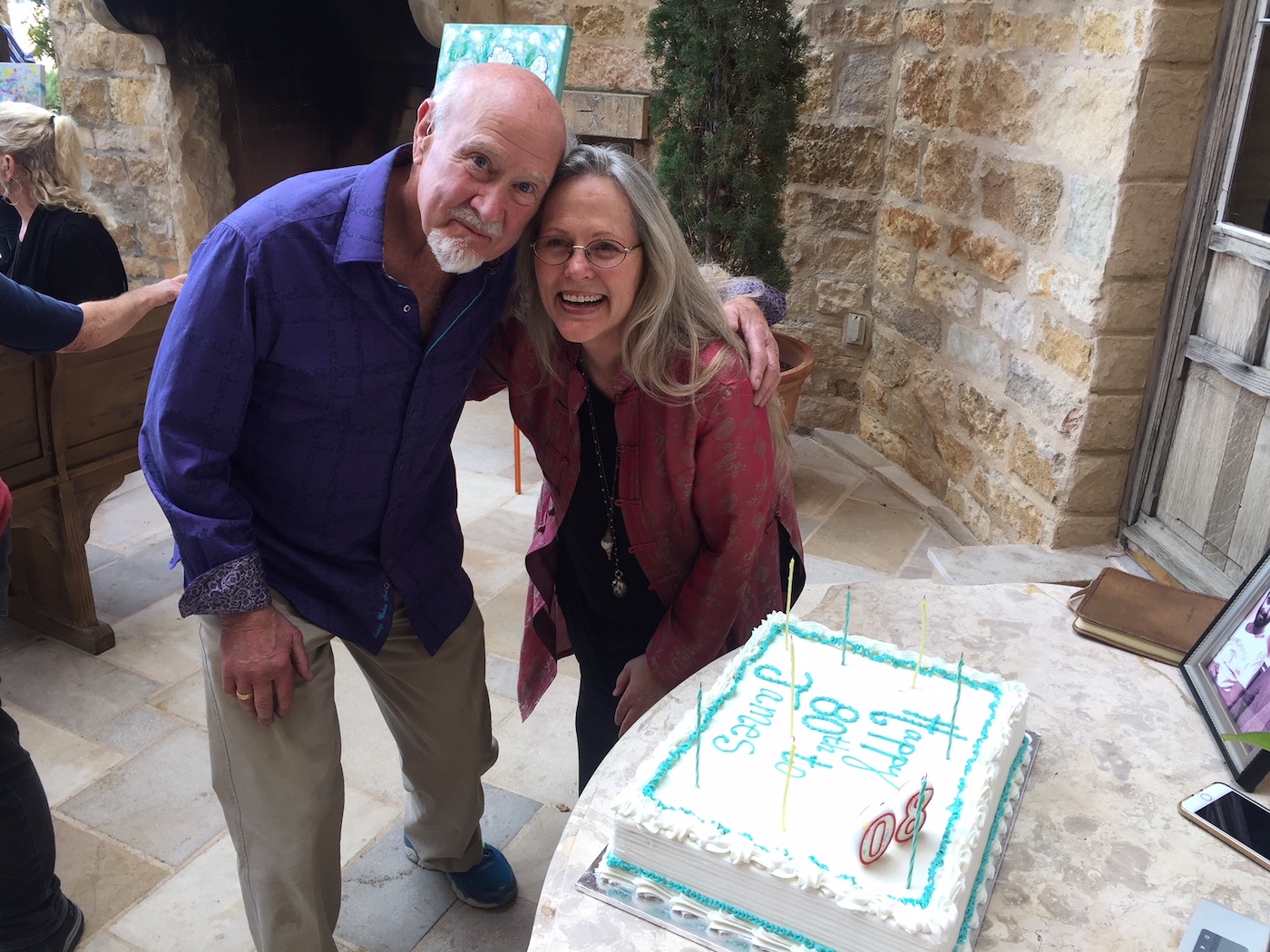 Lots of people only know the name James Paul Brown for his unique paintings that appear on bottles of Sunstone wines. But that isn't even half the story, as a short conversation with the now octogenarian Mr. Brown reveals. During our short talk at Sunstone Winery headquarters in Santa Ynez, James Paul tells me he was a marathon runner for 30 years and wasn't always a working artist. He began his career as a radio show host, whose show The Small Business Report (sponsored by American Express) was voted "best radio show in the U.S." He deejayed a classical music show, and was an Entertainment Tonight radio show host (working with Leeza Gibbons and Adam Curry); Another of his successful ventures that he also personally deejayed (heard on more than 300 stations throughout the U.S.), was Hit Line USA, whereupon the only way to get on his show was to have a number-one hit record.
Brown was also a publisher, launching Earth magazine in 1970, not long after Rolling Stone and The Whole Earth Catalog began their long runs, and created Earth News Radio and Rock News (radio) to go along with his dual interests. By the mid-'70s, however, he'd either sold or moved on from his interest in radio and publications, moved to Santa Monica (from the Bay Area), and settled into the life of a full-time artist, becoming a vital part of the Venice art community. Folks such as Cheech Marin, Kris Kristofferson, Lee Iacocca, Ray Kroc, even Frank Sinatra, and others began buying and collecting his paintings.
Brown then found more work painting the backdrop for a Los Angeles Ballet production of Raymonda Variations, a poster for the New York Philharmonic, and painted sit-down portraits of pianist Rudolph Serkin and conductor Zubin Mehta. If you saw the original La Cage Aux Folles on Broadway, you could have admired the mural of St. Tropez that Brown painted and that was on display at the Palace Theater until the show closed. James Paul was 1984's official artist for the U.S. Olympics swim team (the other official artist was David Hockney), after which James Paul worked behind the mic for both NBC and CBS Sports, delivering on-air sports coverage. Pepsi commissioned Brown to paint Michael Jackson during his Thriller tour.
James Paul was also named "Artist in Residence" for the re-opening of the Granada after its $50-million renovation. Brown, who moved to Santa Ynez with his wife, Juliet, in 1996, founded and owned Artiste in Santa Ynez until selling the business to Byron Rice of Sunstone and has been painting Sunstone's labels ever since.
James Paul says he "paints every day," and his youthful outlook belies his 80 years. So, here's a hearty "Happy Birthday" for an accomplished and vigorous man, whose paintings continue to grace the handsome labels on Sunstone wine bottles.
Night of Heroes
Autumn Noe at MUS tells us that Montecito Union School District will be hosting a "Night of Heroes" to personally thank the people directly involved with helping Montecito Union School District during the debris flow and after. "With donations, hard work, love, and support, we were able to make the best of a difficult time for our school community," Autumn says. Among those to be honored are Santa Barbara Zoo, MOXI, Santa Barbara City College, and Hope School District.
When: 7:30 to 9:30 pm; Where: MUS auditorium
Summer Camps
Mathew Morrison is just about to launch a community resource web page to list all the Santa Barbara summer camps, "where the parents can quickly and easily filter through the camps by session, age, price, location, make a wish list, and share the wish list with their friends," he writes.
This came in late, but you should log on to demo.sbkidscamps.com as the actual website (SBKidsCamps.com) wasn't quite finished, though it may be by now.
You might also be interested in...