Roe and Anderson Row On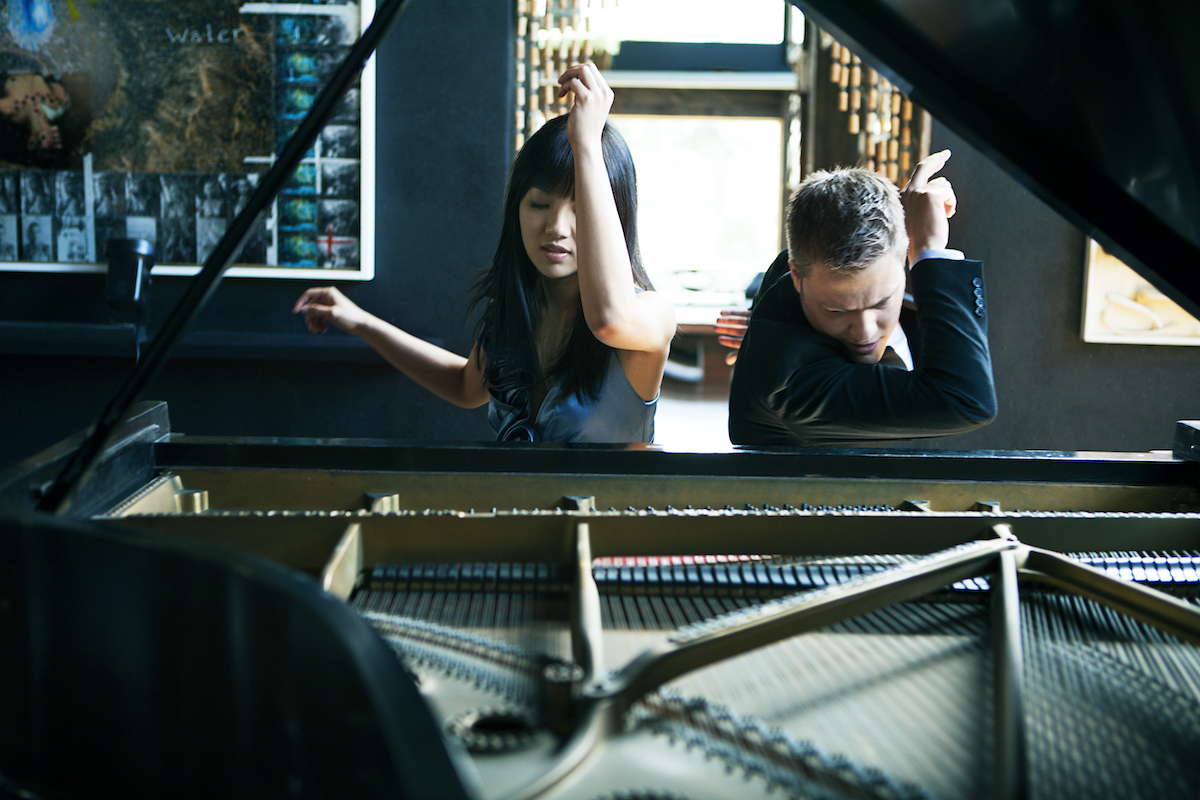 You can't fault Elizabeth Roe for expressing unbridled enthusiasm for returning to the Music Academy for her first purely public performance in town since spending the summer of 2001 as a fellow at the institute. Jerry Lowenthal was her mentor and Michael Towbes her compeer during the idyllic eight weeks, and now she's heading back as one-half of the piano duo that has been called the rock stars of the classical music world to kick off Year Two of the Mariposa Series.
It was right after that summer that Roe first partnered with fellow pianist Greg Anderson – both then only considering careers as soloists – for a recital at Juilliard, which she called "an electrifying, revelatory experience where we realized that we really had something going on." That continued connection and compatibility has seen the duo through two decades of collaboration in creating, arranging, and performing pieces that meet their shared mission to make classical music more relevant and powerful in today's society. The pair's musical marriage has led to Billboard chart-topping albums, a series of music videos that have even earned Emmy nominations, and an extensive international touring schedule.
Seeing Anderson and Roe's unbridled enthusiasm on their interpretation of Bernstein's West Side Story score on a YouTube video led one viewer to comment, "I wonder if anyone has ever had more fun playing the piano."
Probably not, Roe agreed.
"We just have so much fun on stage and off, and it's such a joy to work together," she said. "But it's also our shared desire to further the music. While the existent repertoire has many gems, it's a bit limited in piano four hands because a lot was originally written for pedagogical purposes or for children. We were both inspired to create virtuosic over-the-top arrangements that could take the piano four hands genre out of the realm of sisters in pretty dresses sharing the same bench. There's so much excitement inherent in two people coming together with our individual personalities and ideas and affinities to create something that's greater than the sum of its parts."
The Hahn Hall concert on October 26 will touch on all aspects of the duo's approach, veering from a straight reading of Mozart's "Sonata for Two Pianos in D Major" to the duo's Ragtime alla Turca based on the composer's rondo and Nocturne on Neptune adapted from Holst's The Planets, andan arrangement of Ravel's "Lever du Jour" from Daphnis et Chloé. Anderson and Roe then turn to pop music for their compositions Hallelujah Variations based on the Leonard Cohen song, and their "avant-garde dueling piano gospel version" of the Beatles' "Let It Be."
"These are all pieces that were lovingly handpicked by us to rework," Roe said. "We love feeling like we can help demystify the concert experience by making it more personal and more vibrant and true-to-life in the 21st century."
Visit https://musicacademy.org for more information. 
Chamber Players Continue 
The Santa Barbara Chamber Players (SBCP), which also began in 2022 on the heels of the pandemic and the dearth of chamber orchestra opportunities after the demise of the Santa Barbara Chamber Orchestra, is back for a third performance featuring professional-level performance opportunity for emerging local talent and affordable tickets for the community. Mary Beth Rhodes-Woodruff, the founder and conductor of the Santa Barbara Strings, will wield the baton for SBCP's performance of Wagner's Siegfried Idyll and Milhaud's La Création du Monde. Chamber Players' concertmaster Sara Bashore leads for Prokofiev's Overture on Hebrew Themes, while Dvořák's "Serenade op. 44, for Winds" will be performed sans conductor in chamber fashion at the October 21 concert at Trinity Episcopal Church.
Info and tickets at https://sbchamberplayers.org.
You might also be interested in...