The Empathy Center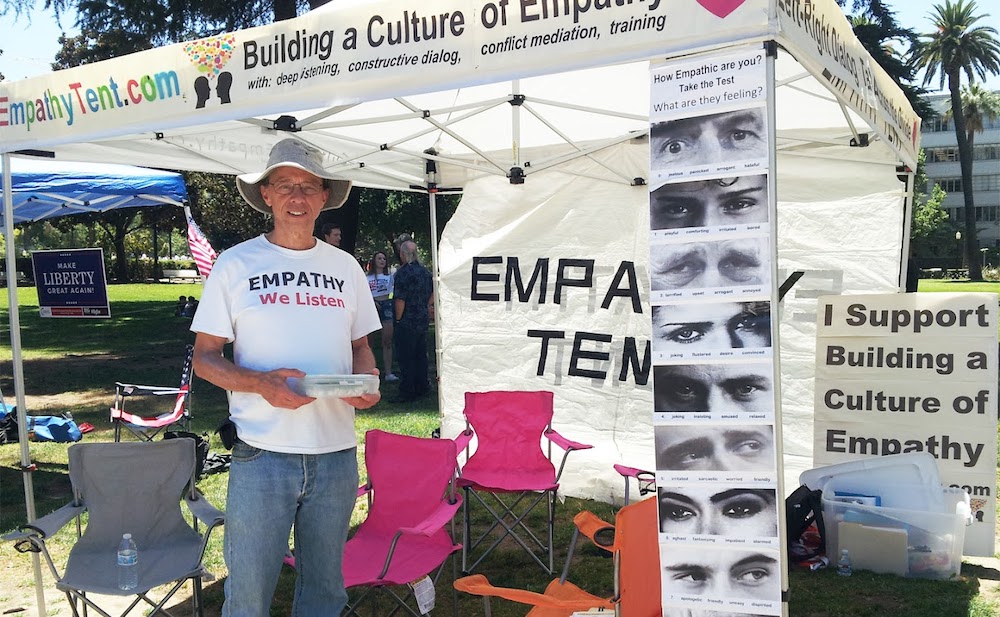 Cultivating a Culture of Empathy: The Visionary Work of Edwin Rutsch
Living in these divisive times can undermine our equilibrium and sense of community. We experience the impact whenever a casual conversation veers to issues of the day and the mood sours. In situations where people happen to disagree, it's even more dramatic as muscles tense up, adrenaline starts pumping, and we go on the defensive. Instead of connecting and communicating, the tone gets edgy and receptivity shuts down. In such a state, it's easy to distrust people who don't agree with us and hard to address common problems. For your health, my health, and the health of us all, we need to be able to listen to each other without getting worked up. Edwin Rutsch, a bright, lively man in his sixties, believes we can do this by cultivating a culture of empathy – one person at a time. 
As I sat with Edwin in the chapel of the old St. Mary's Seminary on Las Canoas Road, he shared his plans to establish a retreat center on this extraordinary property. Called The Empathy Center of Santa Barbara, this facility will offer workshops and events focused on promoting empathy as a core value. The possibilities cover a wide range of offerings, including empathy facilitator trainings, conflict resolution, personal growth, visual arts, dance, music, and yoga. He also shared how he was introduced to the transformative power of empathy many years ago on a decade-long trek around the world, living and working with people of vastly different backgrounds. Being a curious guy who wanted to get along, Edwin discovered early in his travels that listening, openly and without judgement, made it possible to find common ground. From there, it wasn't a big stretch to imagine that, under different circumstances, he could've easily been a Buddhist, a Hindu, or a Muslim. Finding common ground seemed to be the key for mutual respect and harmony. When Edwin returned home again, this experience encouraged him to find a way to heal the social and political discord that seemed rampant everywhere he looked.
"The biggest deficit that we have in our society and in the world right now is an empathy deficit. We are in great need of people being able to stand in somebody else's shoes and see the world through their eyes." – Barack Obama
Inspired by the work of Carl Rogers and peer listening pioneers, Edwin designed a simple speak- listen-reflect technique. He put this technique to the test at protest marches over the past several years – beginning with Berkeley's Occupy Cal march in 2011. Pitching a conspicuous white Empathy Tent in the middle of the fray, Edwin or a volunteer would respectfully approach people on opposing sides and ask them if they might be willing to come in and share what was on their mind. Once inside, the participants were introduced to an empathy communication process. Simple and straightforward, this entails one person taking time to speak clearly and honestly about something that's on their mind while the other person listens, without interruption or judgment. Then, the listener recounts what was heard and asks if this is accurate. If not, the speaker clarifies further, and the listener reflects – back and forth until the speaker feels heard.
These Empathy Tent encounters were revelatory. Just being in the Tent and using the back-and-forth protocol seemed to create a safe container where people could step away from their differences, share common space and communicate – human to human. Perhaps, being together in this context was a way to, not only change the dynamic, but support healing and transformation. As Rutsch and team brought the Tent to protest gatherings over the ensuing years, they noticed a particular moment in the process where the intensity in the Tent calmed down and the energy seemed to shift from contention to empathy. It became apparent that when people speak clearly and honestly rather than delivering bullet points from a podcast or rote set of beliefs, it's easier to listen to what's being said and hear the common humanity. Imagine what would happen if a climate activist, evangelical Christian, QAnon believer, and radical Islamist entered the white tent and communicated openly as individuals without the drama and dogma of the collective.
"An empathic way of being can be learned from empathic persons. Perhaps the most important statement of all is that the ability to be accurately empathic is something which can be developed by training." – Carl Rogers
Of course, an important part of any new learning is applying it to everyday life. Bringing along your empathy is a good way to increase your effectiveness in professional, public, or online interactions. It's also a great asset for personal relationships, for instance: Edwin put his empathy skills to good use when hurt feelings and old complaints threatened to undermine a family gathering. Taking a deep breath, he asked the feuding sides if they might be willing to do a little empathy listening. Before long, the whole family was drawn in, watching and listening. Just like the Tent experience, there was a certain moment when the room softened, drama dispelled, and the energy shifted. This very real, personal experience convinced everyone that there was value in the unconventional work Edwin was so passionate about. It wasn't long before his brother Charles found a way to buy the Las Canoas property and offer it to Edwin as a space where he might manifest his dream.
"Empathy, for me, is feeling, sensing, and imagining our way into our own experiences and the lives and experiences of others. The fullness of empathy is when people mutually listen and empathize with each other. It is a way of being in the world." – Edwin Rutsch, empathy ambassador and visionary.
The ability to be empathetic needs to be cultivated through example, experience, and practice. For Edwin, it is essentially part of who we are, like our muscles. And, just like our muscles, empathy needs to be regularly exercised and strengthened in order to be healthy and function well. Young children exercise their "empathy muscles" when they imagine how a playmate feels when they get hurt or scared or sad. But, judgmental, traumatic, and dysfunctional relationships can sidetrack the development of empathy. And, political, social, and economic divisions dull it. The empathy process is a way to sharpen it back up again. The goal of The Empathy Center in Santa Barbara is to promote empathy as a core practice and primary social value. It's not a big leap to imagine that if this were accomplished, it would change the way we watch the news and communicate with family, friends, and our community. On a global scale, it would be a sea change. What if we were able to come together with empathy intact to heal the rift and work for common good?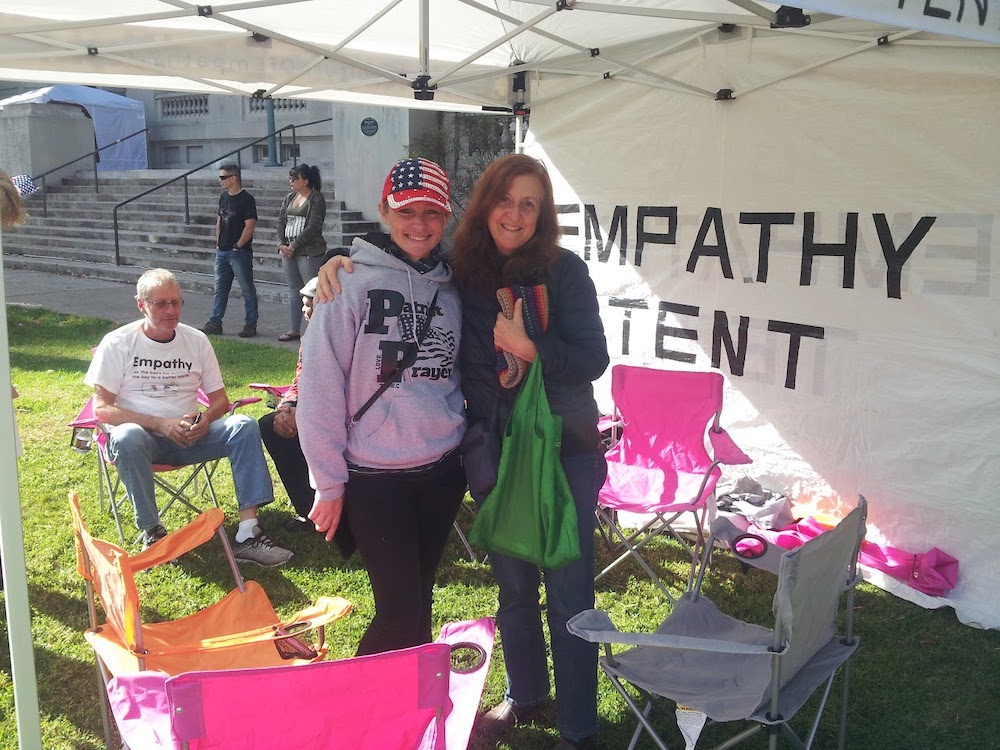 I'm impressed with the way Edwin and Charles have engaged our community over the past year in the visioning and planning process for The Empathy Center. Through a series of Zoom meetings, people I know and admire sat together to talk about the future of this Center, using the format of sharing what was on their mind and listening to each other. Walking the talk turned out to be highly effective in getting people on board and garnering support.
"The inclusive manner in which Edwin and Charles Rutsch invited neighbors and the community into their Zoom meetings – creating space for everyone to share their thoughts and ideas for envisioning this new Center – highlights their personal commitment to transparency and truly walking the empathy path." – Shawne Mitchell, author and former marketing director for Casa de Maria. 
"I can assure you that the Center's neighbors are very pleased with the direction of the project, particularly compared with the absurd ideas about the property thrown around a few years ago." – Peter Kornbluth, neighbor and plumbing contractor. 
"Edwin is on to something so very much needed at this time. He is a true believer who has spent countless hours with interviews and discussions and involvement with empathy circles and empathy training and empathy centers. I am convinced that Santa Barbara will be proud to have him and the center up at that grand old monastery." – Kent Ferguson, visionary educator and past headmaster of Santa Barbara Middle School.
As the momentum for The Empathy Center has grown, therapists, teachers, and community leaders have joined in – broadening and enriching the vision. In addition, over the past few months, the Center's facility team has been working hard to take care of deferred maintenance and get everything ready to go. Truly a work in progress, the next iteration is opening the doors in September. The first in-person offerings include:
– An Empathy Circle Facilitator Training, with the Center staff on Saturday, September 16, and Sunday, September 17. To register, see https://bit.ly/ECFTSep16
– A one-day workshop on Saturday, September 23, titled "Facing and Transforming Fear with Radical Empathy, Effortless Mindfulness, and Awake Awareness" with Radhule Weininger, PhD MD, and Edwin Rutsch. To learn more and register, visit https://bit.ly/3D9GYQU
Note: Though participation in these offerings are free of charge, donations are welcome.
Find out more about The Empathy Center of Santa Barbara at www.canoascenter.com. 
Also, consider joining an ongoing Zoom Empathy Circle to share input and interest in involvement: every Saturday at 1pm PT. Sign in at https://zoom.us/j/9896109339
The Empathy Center has the tools to address this cultural empathy deficit. They continue to address the deficit head on with deep listening for all, constructive dialogue, free speech, free empathy, conflict mediation, training, education, community building initiatives, and more. You are invited to join and support their work and get involved.
Learn more: http://cultureofempathy.com
You might also be interested in...