WRECK-QUIEM for the SANTA BARBARA NEWS-PRESS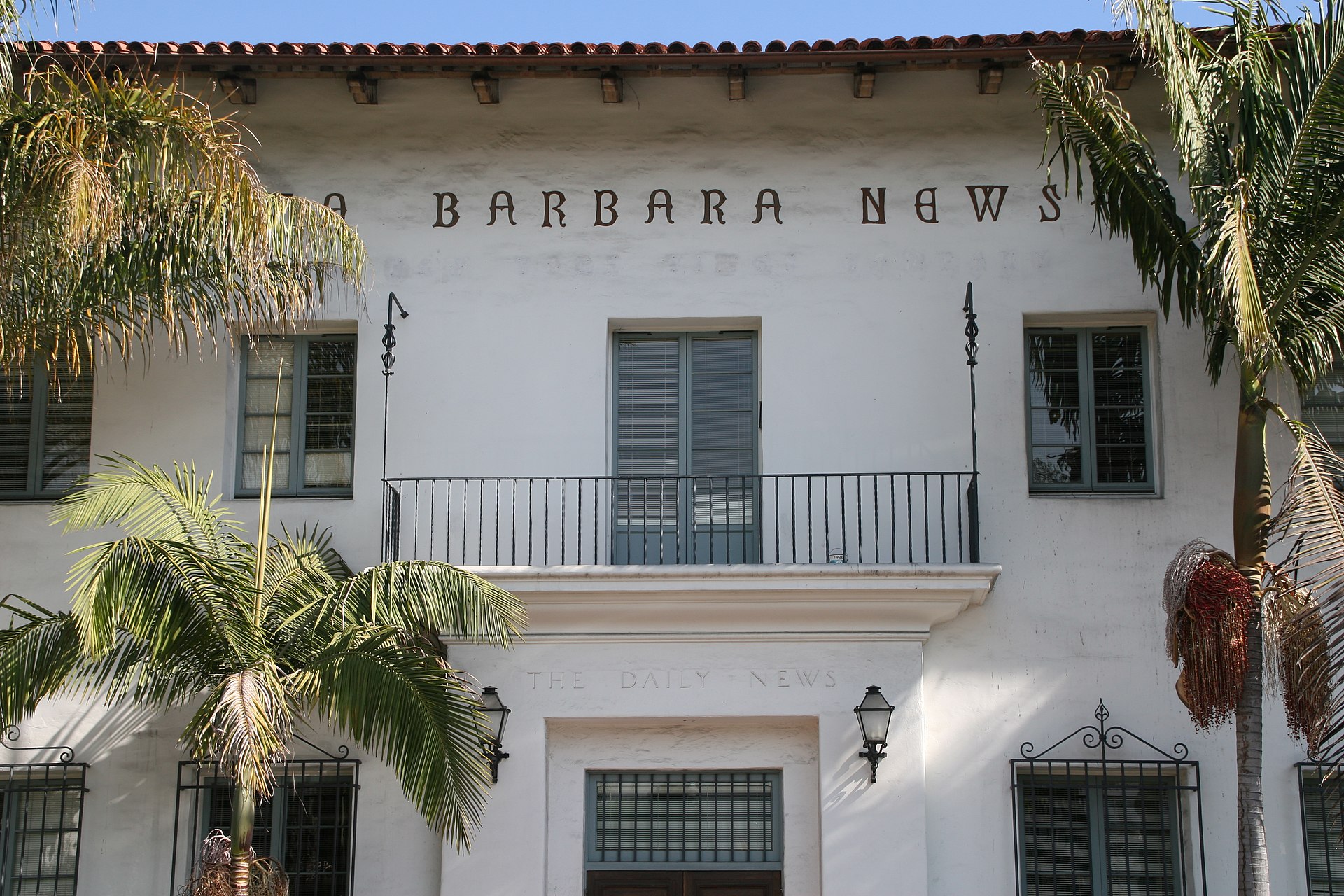 We live in this time of great schadenfreude – consider the case of the OceanGate submersible. I've never seen so many posts online from random people gloating over the misfortune of a billionaire. However, I for one take no joy or comfort in the death of the Santa Barbara News-Press, our town's only daily newspaper, which up until last week, had been publishing continuously since 1868.
I found it particularly poignant that on the same day the once venerated News-Press declared bankruptcy and ceased operations, The New Yorker published a massive story on the critical importance of local journalism in exposing corruption, citing the example of a small-town paper in southeast Oklahoma where a father-son reporting duo's series on the county sheriff led to an explosive revelation.
Ironically, the shuttering of the Santa Barbara News-Press also happened right at the time when the California State Auditor launched an investigation into the questionable cannabis dispensing practices of six counties, including the laxest with licensing – Santa Barbara.
So, what does it mean when a city loses its only daily newspaper?
Local news reports on events that are of vital local importance, whereas the
national news can ignore such issues. For example, the Flint, Michigan, drinking water crisis went largely unreported by the national media until it had reached epidemic proportions. Only then was it sexy enough to make it onto the radar of the national media, which is when you and I likely first learned about this tragedy. But local news sources such as The Flint Journal, had been reporting on this crisis from the beginning, and if it wasn't for their constant coverage, The New York Times would not have parachuted in to "break the story," and the world may never have known.
It would be easy to let the passing of the News-Press go unnoticed, and just go on thumb scrolling whatever your favorite 30-second news source is in your phone, with some catchy internet sounding name like Noozbro or Tikkertape or WordzUp.
The problem is there's a huge difference between a legitimate news organization subject to libel laws and fact checking, versus an internet platform with no named editors and no one taking responsibility for the content or veracity of reported "facts" disseminated on its platform.
People might think I'd be happy with the demise of the News-Press, but frankly I always saw it as a local institution that, despite its declined status and it being a long way from its heyday as a journalistic beacon, still held a profoundly symbolic, if aspirational, place in this town. After all, Santa Barbara is Montecito's mothership, which I think merits its own daily.
Anyone who doesn't think so, take a look at the state of downtown Santa Barbara. Smell the air when driving north on the 101 through Carpinteria. Explain to me why our City Council hired a new city manager without even posting the position? Why in the world is the head of the local Democratic party also serving as our 1st District Supervisor's Chief of Staff?
Could it be that without a serious daily newspaper with real resources, there is no one holding the feet of our elected officials to the fire? Who will do that? TikTok? Who will deploy local boots-on-the-ground resources? The Ground Zero of misinformation, disinformation, and game of Telephone known as Facebook?
Several years ago, I was handed a DVD of Citizen McCaw, the documentary film that chronicled the events since June 2006, when Santa Barbara News-Press Editor Jerry Roberts and five of his colleagues quit the News-Press, citing owner and Co-Publisher Wendy McCaw's"abandonment of journalistic ethics," which McCaw, to this day, denies. In any case, the film raised important questions about journalistic ethics, and the responsibilities that come with media ownership. What it did not portend is the end of an era for local daily newspapers nationwide, nor the advent of citizen journalism, where the masses turn to online sources for their daily news – sources mostly devoid of fact checkers, seasoned editors, competent investigative reporting, or any acceptance of legal or moral responsibilities on the part of platform owners.
Given his deep and longtime career as a journalist in Santa Barbara, including as the New-Press's one-time editor, I was curious to hear what Roberts thought about the fading away of Santa Barbara's last daily newspaper, his complicated and painful history with it aside.
"I think it's a big loss for Santa Barbara. Regardless of what the paper had become, it was the only daily paper in town, and had been so for well over 100 years. And the loss of that is kind of immeasurable. I came here in 2002 to be the editor, and I had checked out the paper, and it really was the most influential, and I think encyclopedic institution in Santa Barbara. And at that time, it was kind of the glue that held the community together, in the sense that people who were engaged with what was going on from politics to entertainment, all looked to the daily paper for the shared set of facts, and a clear understanding of what was at stake, and that's gone," says Roberts.
"And you can look at what happened, and certainly a big part of it is what has happened to newspapers across the country, which is the economic model of general audience gathering for advertising revenue has been broken. It's been broken since Craigslist started."
Roberts is referring to the fact that once upon a time, classified ads were a critical cash cow for newspapers, something that was destroyed by the advent of Craigslist.
Roberts also reflected on the changing economics that have made it difficult for journalists to survive. A huge dilemma for anyone today trying to produce a quality local newspaper.
"Being a newspaper reporter, or an editor, or a photographer, it was a good middle-class job, even in Santa Barbara. There was a reason that many of the people on the staff had been here for a long time, because they got into the housing market early, but you could have a good life with that. And all those jobs are now gone."
For Roberts, there's also a bright side, which is the pivoting and innovating in the local journalism landscape that happened as a result of the News-Press's long-shrinking footprint.
"One of the results of this in the last 17 years has been that Santa Barbara has become this interesting Petri dish for other kinds of media. You just look at the Montecito Journal and the changes that have been made, and the energy and enterprise that's been put into increasing its heartbeat. Noozhawk or the Independent didn't really have much of a website in 2006, and so they really jumped on that. And who would've thought in 2006 that the internet was going to be sustainable for another 17 years? So there's a lot of interesting post-daily newspaper organizations that have taken niche portions of the overall market, and done a very good job of serving those readers and viewers."
But is that enough? I don't think so. And neither does Roberts.
"The press, the media, is the only industry in America that is in the Bill of Rights. It's right there, freedom of the press, which is a great privilege. And most of the people I came up with always felt that that meant if we had that right, we also had a responsibility to do public service journalism. And the key word there is watchdog. We did watchdog journalism. And you had somebody like Barney McManigal watching the County and the Board of Supervisors every day. That was his job. And no, I don't think they would've gotten away with that scandalous cannabis ordinance if there had been a full-time reporter looking at it… It was left to the Los Angeles Times to parachute into town and say, 'Hey, look, what's going on here?'"
Some of it is just arithmetic. Most local publications don't have the deep pockets to hire reporters whose only job it is to follow every detail of every School Board detail, every City Council issue, every Board of Supervisors maneuver. 
"And so yes, nobody's watching. So what's going to happen? They're going to get away with stuff."
Ann Louise Bardach, journalist, book author, and passionate advocate for greater transparency in our local government, particularly around cannabis licensing, strongly agrees. 
"Santa Barbara has never truly recovered from the decline of its daily newspaper and the price has been a political culture whose priority is its own preservation, its big donors – hardly that of the community. The big change I've witnessed has been a level of cynicism that has risen exponentially. Exhibit A, of course, is the contentious Cannabis Ordinance, the most impactful game changer to the county since the oil industry set up shop in the '60s; shoved through by supervisors taking pot donations, with the bare minimum of public participation or even knowledge. That would not have happened had the News Press' dozen or so reporters been on the case… The L.A. Times financed Joe Mozingo, and that's how we found out that Das Williams had been on the phone with cannabis dealers at the very time he cast his vote. That came from the L.A. Times. Two years after the fact," says Bardach.
In its heyday, the Santa Barbara News-Press was owned by three generations of Storke family members, won a Pulitzer Prize, and was later owned by The New York Times – which built the magnificent printing press on which the Montecito Journal and other local publications had been printed for years. A reminder that even a small town can do important, world-class work. And that's the legacy of the Santa Barbara News-Press I will choose to remember. Why? Because if we don't, if we forget that journalism has long been considered a critical part of our democracy, deserving of respect and support, then I fear we will be lost forever to the vagaries and dangers of living in a world where power goes unchecked.
So please support your local paper or news source of choice. We're all working very hard, with the limited resources we have, to make sure that that doesn't happen.
And RIP Santa Barbara News-Press. May your memory be a blessing.
On September 27 there will be a public showing of Citizen McCaw, at The Marjorie Luke Theatre. Afterwards, there will be a panel discussion on the future of "news and media." Given the intelligence and the resources of this community, maybe that can start a conversation where we can figure out a model that will work.
Please also read Community Voices by the Montecito Journal founder and my predecessor, Jim Buckley, who has his own thoughts on the meaning of this moment.
You might also be interested in...