El Presidente: The Story of David Bolton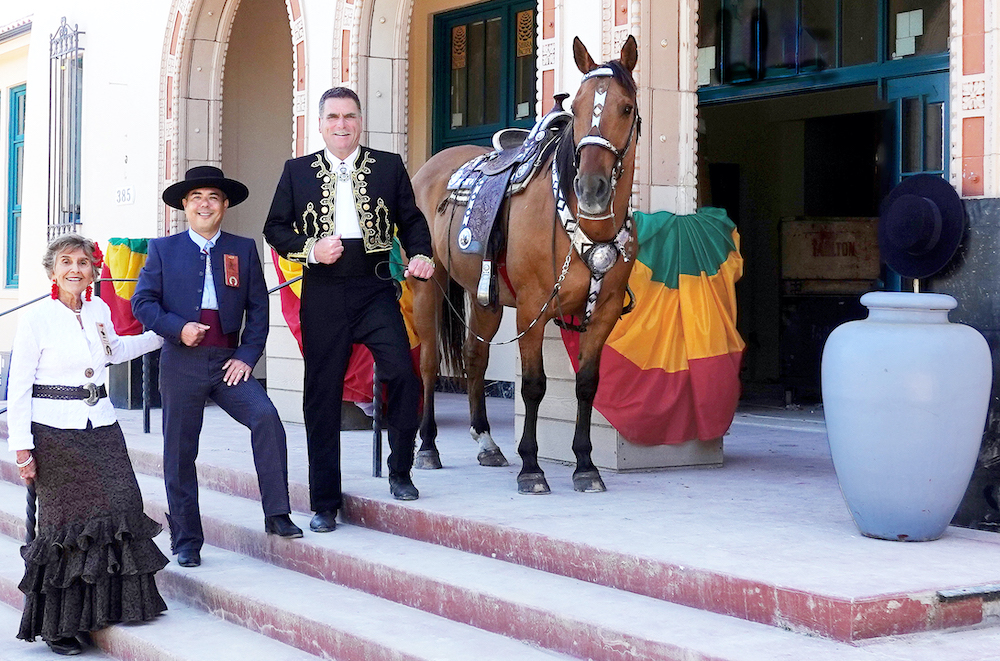 by Paul Vercammen
Long before David Bolton ascended to 2023 El Presidente of Santa Barbara's Old Spanish Days, just another lofty position and title for him, he slept in his Honda Accord.
For four and a half weeks in 1992, he crashed on a futon that replaced the removed passenger seat.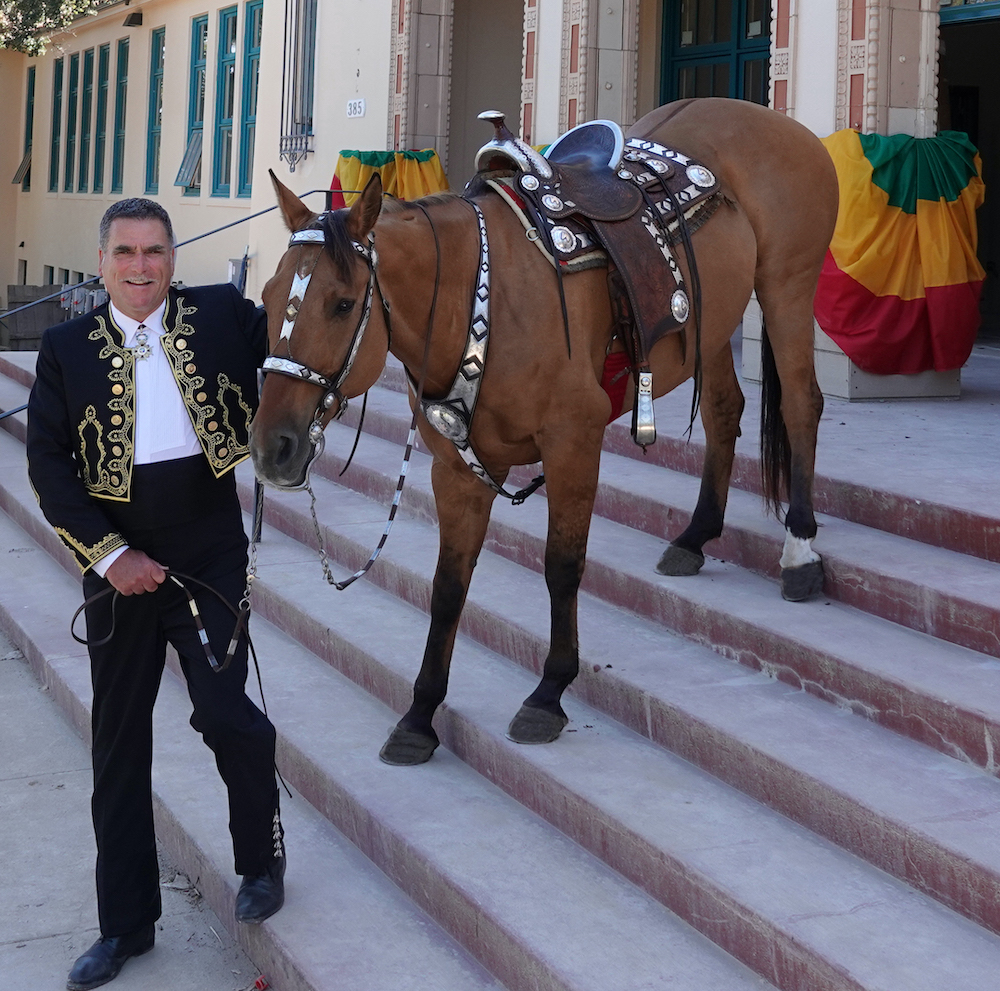 David needed to be in San Jose on weekdays to work on the broadcast side of a soccer tournament and take more baby steps to launch an international production company.
"I didn't have enough money to pay for a hotel since I was already splitting the rent on a house in Santa Barbara with my cousin," Bolton recalled. "I parked outside Red Lion, in their guest parking lot, used the pool and Jacuzzi, used the outdoor shower nearby. No one at the hotel asked me anything."
Life in 1989; few security guards, fewer questions.
Flashback to earlier that decade, when a police scanner hissed "victim with multiple stab wounds" on Santa Barbara's Eastside.
David and I ran out of the KEYT newsroom like someone was chasing us.
We had just been paired up on weekends by the brilliant news director and anchor King Harris.
"We worked fast," David recalls. "Nothing could stop us. We'd get there quickly and get the evidence, the pictures, and the interviews."
We rushed down TV Hill in a clunky white KEYT station wagon, often surprising police with our quick arrival.
David handled a bulky 40-pound camera, shot videotape, and recorded my interviews as we reported on a near fatal attack.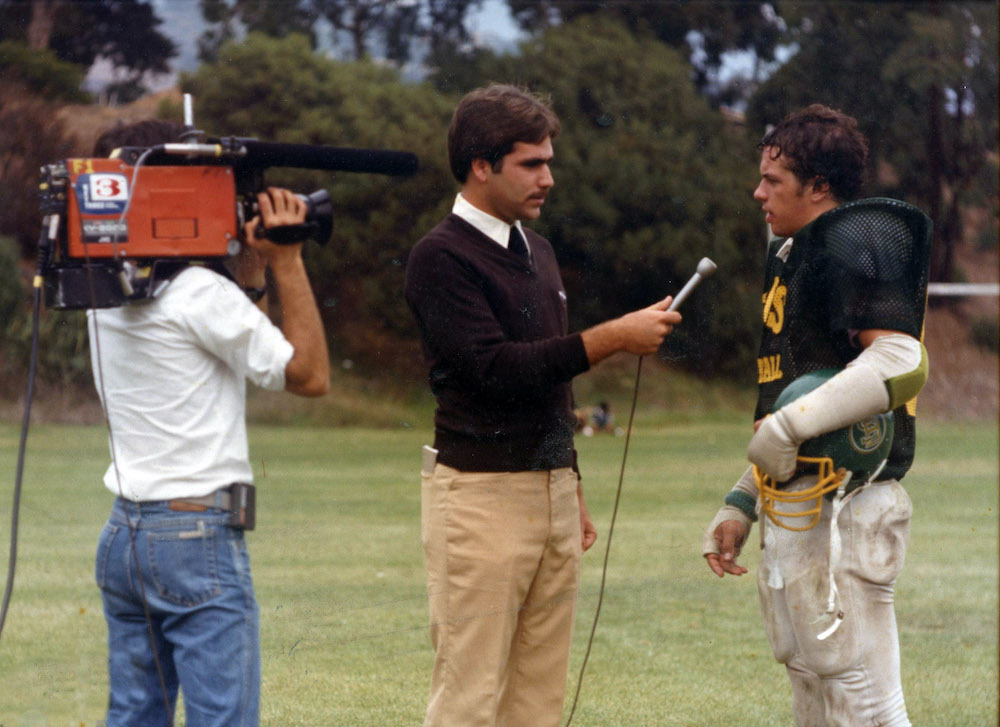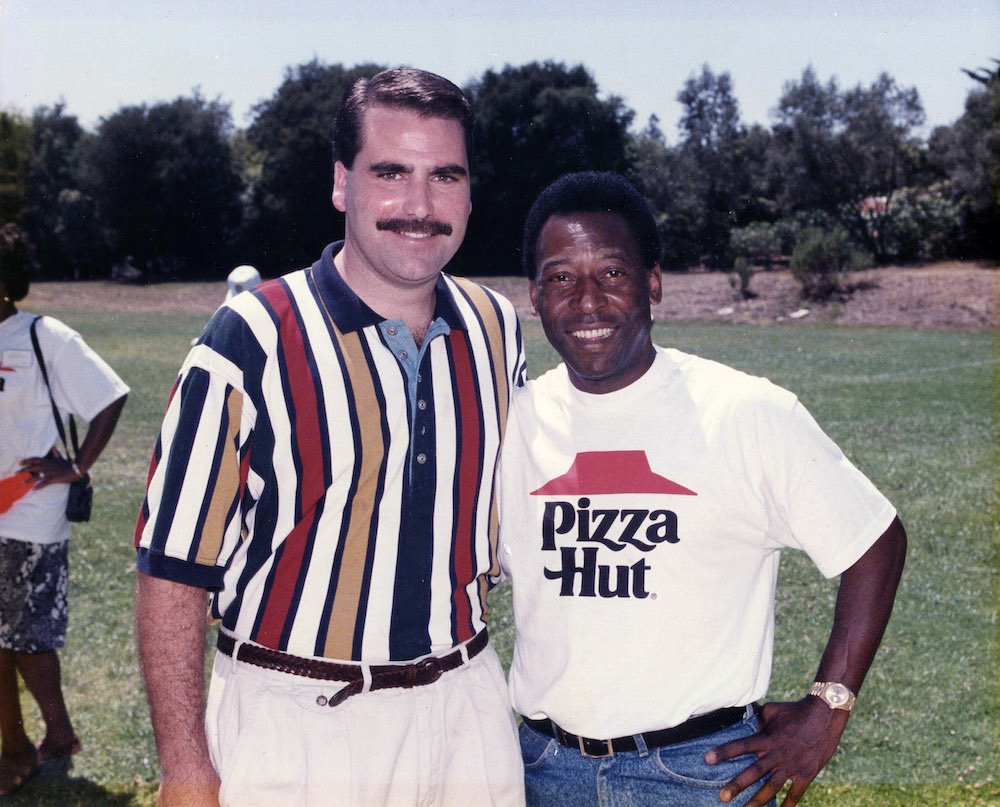 The Bolton-Vercammen alliance, teaming two Santa Barbara High School graduates jacked up on uncut adrenalin, was born on February 6, 1985.
We laughed hard, worked harder.
We often ate lunch standing up, at times a burrito because it's easy to eat with one hand and keep the other one free to shoot video or take notes.
Between bites, between long drives to gather news as far north as Paso Robles, between thwacks of the newsroom electric typewriters, we compared notes.
David and I discussed monitors, politics, camera cables, production, budgets, biology, live transmission, geography, light stands, and a lot of history.
David knew more about TV monitors, camera focus, microphone levels.
I provided more depth on electoral votes, verb agreement, and Mark Twain. Call our history discussions equal, with me chatting about Europe and David about Latin America.
David was quizzing, learning, digesting, setting himself up to become a well-rounded wizard in broadcasting.
The Goals Scored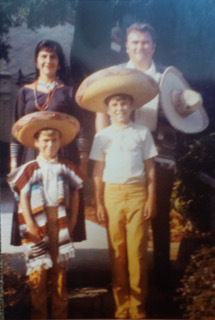 Now, David is 60 years old and drives a Mercedes-Benz S550 instead of the road-battered Honda.
With the heaviest lifting of his broadcasting career in the rear-view mirror, David has more time to devote to community service, including being named El Presidente for Old Spanish Days Inc.
He is also Fiesta's official historian and has served on the organization's board since 2015.
David is immediate past president of the Boys & Girls Club of Santa Barbara and has helped raise money for Santa Barbara High Athletics for 25 years. He's also on the board of the Santa Barbara Maritime Museum.
At his day job, David is the executive director and CEO of the California Missions Foundation, a nonprofit dedicated to conservation and restoration of the 21 California Missions. This is his 11th year at the top of the Missions foundation.
David also still runs Cultural Global Media, a somewhat deceptive title for a live broadcasting powerhouse that has produced international sports events focusing on soccer, plus eight of the last nine Super Bowls for Fox Sports Latin America.
His credits also include 11 years in the front office of professional soccer teams starting in 1989, serving three years as Vice President of Operations for the Los Angeles Galaxy.
While also developing his live producing and directing talents, David embarked on his journey to chronicle the geography, architecture, and founding of California's Missions.
David walked the grounds and recorded the history of all 21, from San Diego de Alcalá to San Francisco Solano.
He later expanded his explorations throughout the Americas, visiting the ruins of São Miguel das Missões, a UNESCO World Heritage Site in Brazil.
Miguel is so far inland and south, Paraguay is a mere 50 miles or so away as the toucan flies.
But David's road to adventure, to excellence, to leadership, was also marked by deflating sinkholes.
In the 1980s he sensed his career would implode if he didn't keep a secret.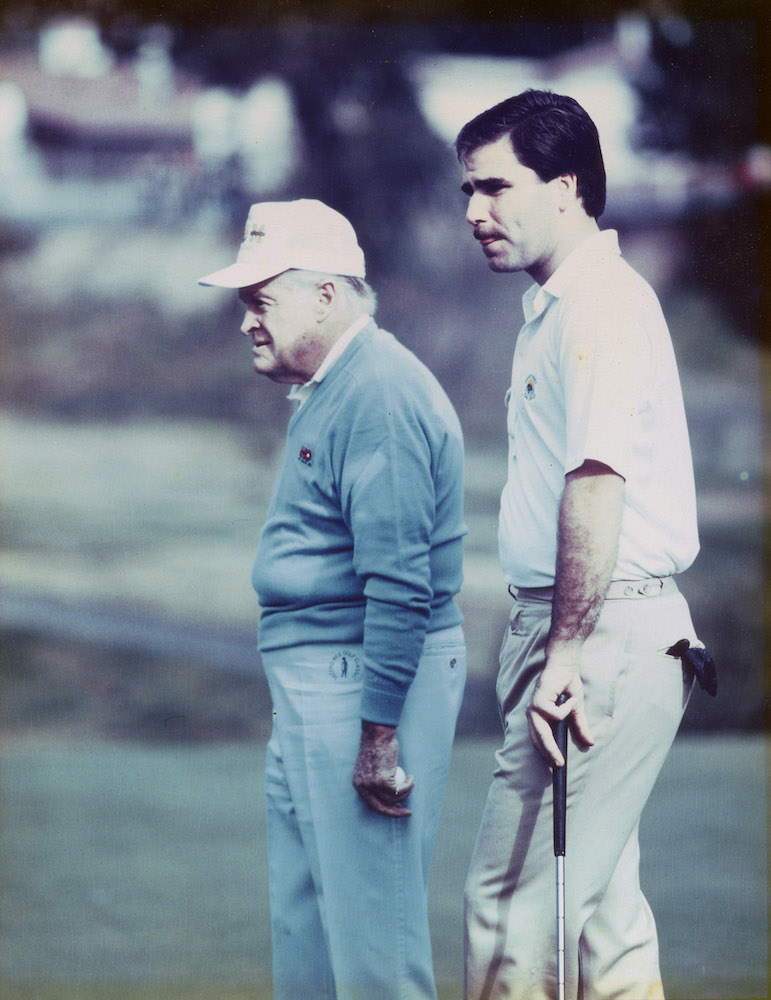 "I don't think David Bolton is straight," some snarky viewer would tell me.
I'd relay he's the straightest shooter I'd met on many levels – maybe David is too blunt.
If the snarky types pushed too hard, I'd suggest they have a romantic interlude with themselves.
I'd like to think my Belgian parents' lack of judgment about anyone prepared me to be an ally for David.
At their lively Olive Mill Bistro bar and restaurant on Coast Village Road, half the staff was gay.
Maybe David and I were forerunners to the modern buddy film. 
Let's feature the gay single guy and the hetero father of two, trying to make it in the three-ring circus of broadcasting.
We can joke about our preferences now, but not decades ago.
On the outside, David showed no emotion about his secret.
But inside he burned, too scared to come out.
David told me at times people yelled homophobic slurs at him while he stood there on the street recording his stand-ups on camera for KEYT.
"It was rough," David said. "It really hurt to hear that. Different times for sure."
How marvelous now to see that David has been married for 20 years to Gonzalo Sarmiento, from Culiacan, Sinaloa, Mexico.
They own homes in Santa Barbara and Mexico.
"We speak Spanish together at home," Bolton explains. "He has provided me with an awesome home environment, giving me the support I needed to do the crazy road shows."
Where one road ends, the Southern tip of Argentina, David gave Gonzalo his first ring in 2004 while on vacation.
Fielding a Career
The questions ring out there, a sort of rhythmic clanging of the Mission bells – how did David become so comfortable in Latino culture, so fluent in Spanish?
There's no direct link through his parents.
Bolton's late father Geoffrey was by all accounts Montecito's first chiropractor and was born in England.
His mother Donna Long, now 85 years young, traces her roots to a Bulgarian father and a Hungarian mother.
"It began in fourth grade at Montecito Union School with a great Spanish teacher, Mrs. Pacunas, from Costa Rica," said David. Followed by more Spanish at Santa Barbara Junior High and Santa Barbara High School. 
"In high school, my best friend John Diaz and I played number one and two on the golf team. I'd go to his house on the weekends and hear Spanish with his dad and uncles, enjoy the culture, the food, the family."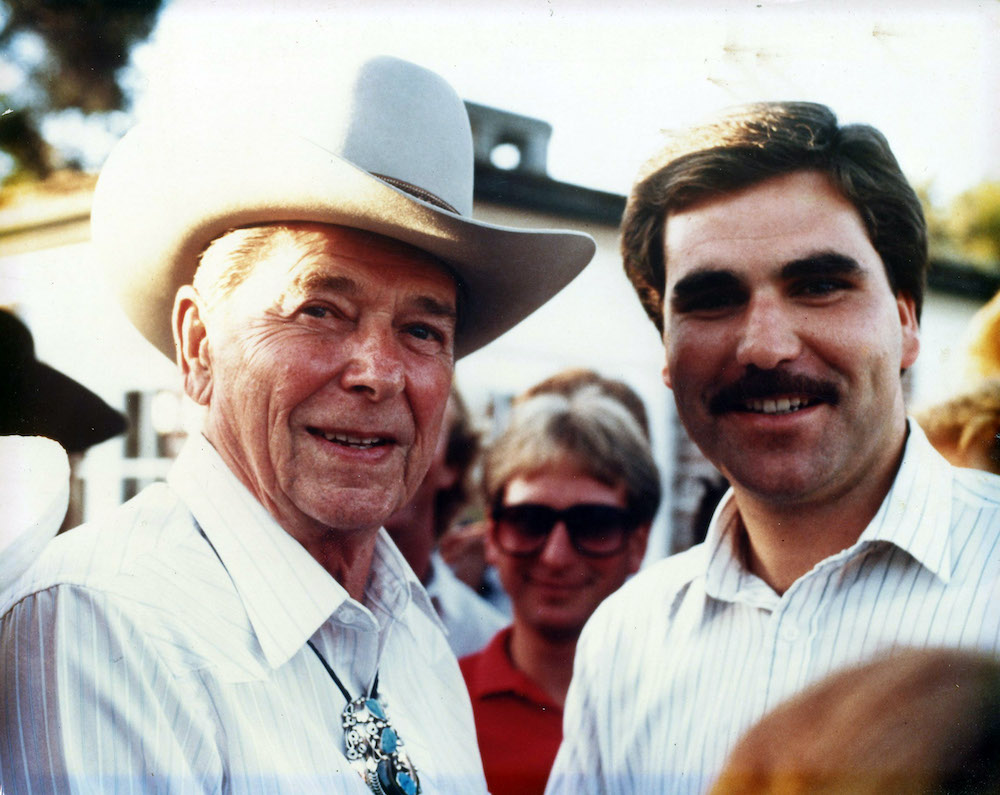 Bolton continued to learn Spanish at San Diego State University and studied alongside sizzling carne asada and al pastor on grills.
"From San Diego State, I'd drive across the border to Tijuana every other Friday afternoon and spend an hour talking to the vendors on the taco trucks," David said.
While driving home to Santa Barbara from San Diego on the other Fridays, he repeated out loud to himself the exit signs along the freeway, Los Osos, Las Virgenes, Las Posas, shining up his Spanish accent.
Later, David also received encouragement and tutorials from Carlos Cerecedo, a Spanish-language courthouse interpreter and voice of the KEYT simulcast in Espanol.
Back in the late '80s, the Argentine urged David to embrace soccer, predicting its rising popularity would lead to career opportunities.
Cerecedo successfully called his shot and David embarked on his journey after his KEYT career ended in 1989.
Working into the Knight
David eventually became a California-based host, producer, and director for a national U.S. soccer show, writing, shooting video, and editing every frame that aired.
The wily negotiator found space in a Home Shopping Network facility in the Inland Empire to finish off the show in an edit suite.
"It started slow," Bolton remembered. "One day we began work on the show while the sun was still up, it got dark, and we worked until the sun came up again the next morning."
Bolton made contacts, forged key alliances, and built lasting friendships in broadcasting and soccer.
"I started my own production company (Cultural Global Media) on one side of the garage next to the washing machine at my house on East De La Guerra Street," David said.
David became owner-operator for live soccer broadcasts, doing everything from negotiating truck contracts, to establishing satellite coordinates, to hiring the crew, to plotting logistics with the stadium, to directing and producing the show.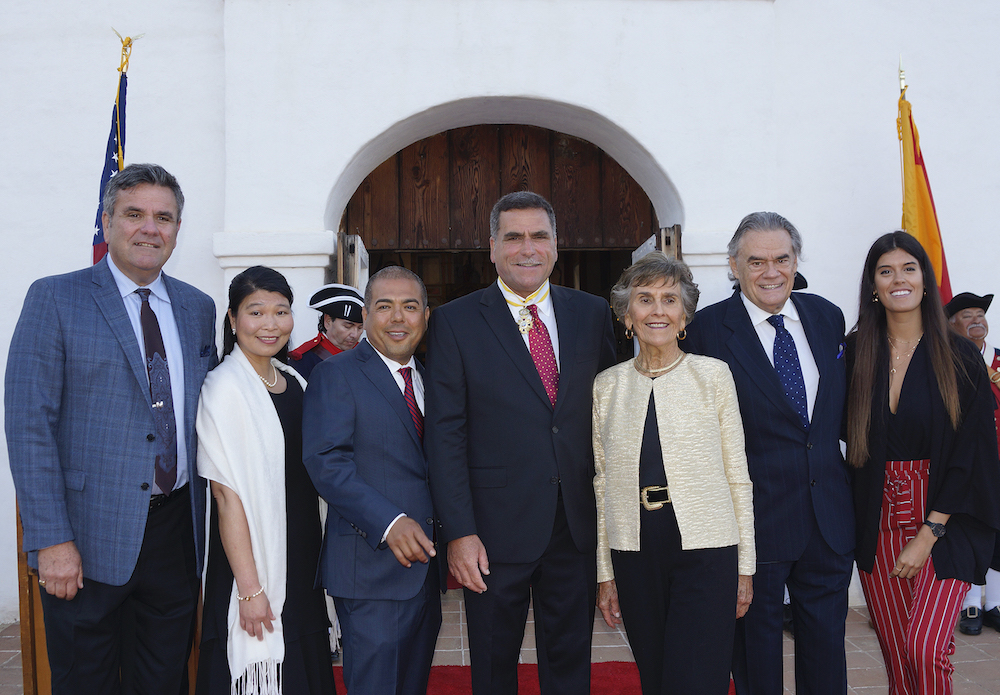 "Get the manager close up, steady, take camera two," I heard David in the production truck at an international match in Pasadena.
He conducted the moves of up to 15 cameras plus replays, while 30 monitors lit up his intense expression.
There are infinite possibilities to screw up with all of those cameras, graphics, the flow of the game, the announcers' audio.
One lapse by David would result in a disaster on viewers' TV screens, from fuzzy static snowfall to out-of-focus shots, or radioactive-looking graphics.
David gets hired again and again, proof those mistakes just don't happen during his productions.
He estimates he has flown almost six million miles on American Airlines, mostly for his soccer telecasts.
David works absurd hours that would drop most humans like a Mike Tyson right hook.
"When young people say to me after fours of hour work, 'I'm tired,' I say, 'Are you kidding me?'" David joked.
"I've always made sure I get a good night's sleep," said David. "If I get a good night's sleep I can go forever – 14, 16 hours no problem."
"I can also go forever without eating. I don't know why but I can go without food for 14 hours. But don't get me wrong, I can eat with the best of them."
I saw young David clear-cut entire buffets back in the 1980s.
Despite us being TV journalists, our paychecks seemed more like someone dropping pocket change into a coin jar.
Taking advantage of an inexpensive eating opportunity, David excavated mounds of chow mein, orange chicken, and petrified glazed beef from the buffet at a Chinese restaurant in Santa Maria.
The angry owners banned him for life for eating too much.
David remembers those stomach-churning days.
When David received one of Spain's highest civilian honors, being knighted as a Commander of the Royal Order of Isabel La Catolica, he provided a multicultural feast.
In a marvelous meal, family and friends ate Spanish, Mexican, Chumash, and traditional American food.
I emceed that event at David's request, at El Presidio.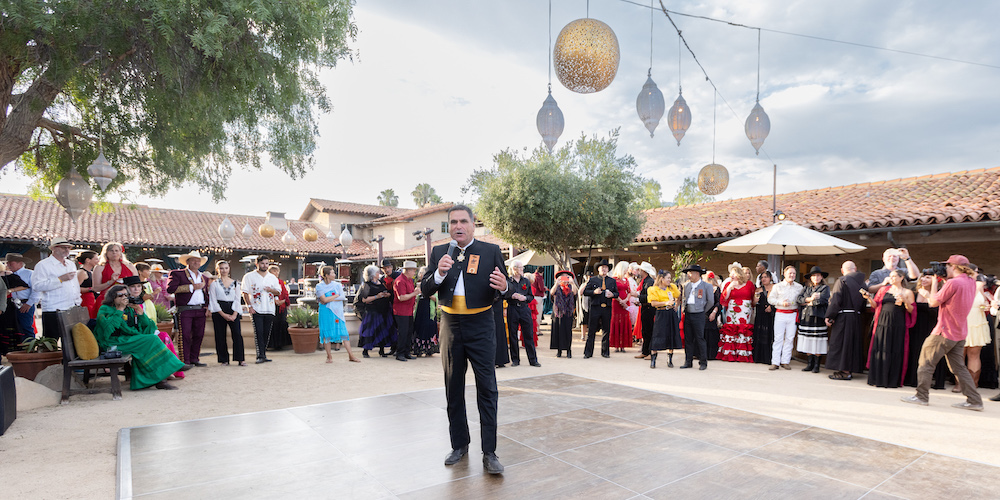 I bit hard on my lip to keep from chuckling out loud about the victory and the irony.
They waved at David with a fancy sword, the metal glinting in the fading sunlight.
We used to hold shimmering reflectors in each other's faces to add sunlight to dark spots, while we recorded on-camera stand ups. These reflectors could pan-sear your retinas.
David flashed his medal and ribbon of Spain's Royal Order around his neck at the ceremony.
He used to shave that neck and heavy beard inside the communal lobby bathroom of an inn where he never officially checked in.
At El Presidio, people in period costumes encircled David, the snare drums tapped out a beat, the national anthem added pageantry.
David once watched a tiny television in the old Honda Accord by plugging it to the cigarette lighter hole.
"When you asked me to think back that I was knighted," David reflected. "That I produced David (soccer superstar) Beckham's first game on U.S. soil. That I had three crews working for me at once on three national soccer telecasts. When I think of my Missions project. When I think of helping local nonprofits, I'm kind of like, wow! I say to myself, 'How was that possible?''"
David made it possible, crisscrossing two communities.
He swam at Miramar and Butterfly Beach as a child.
He later videotaped San Nicholas versus Cruz Azul before soccer fans screaming in Spanish at Dwight Murphy Field.
"I can be at the Montecito Club and finish playing golf, and then talk in Spanish to someone about his family, his life," David said.
"I feel I know this town's Latino community, the challenges, the good as much as I know Montecito. It's really given me a full life in Santa Barbara.
"I am thankful for everyone in Santa Barbara who helped me."
At the Presidio knighthood ceremony, David began an eloquent thank-you speech, standing upright as always, almost looking ready to deliver a report.
Cars drove by, slowed down. No one yelled anything, let alone something awful.
The drivers just showed their approval for David Bolton, with loud honks.
You might also be interested in...