Lovely Laguna and Montage Laguna Beach Eat. Drink. Swim. Nap. Walk. Get Pampered. Repeat. Not necessarily in that order.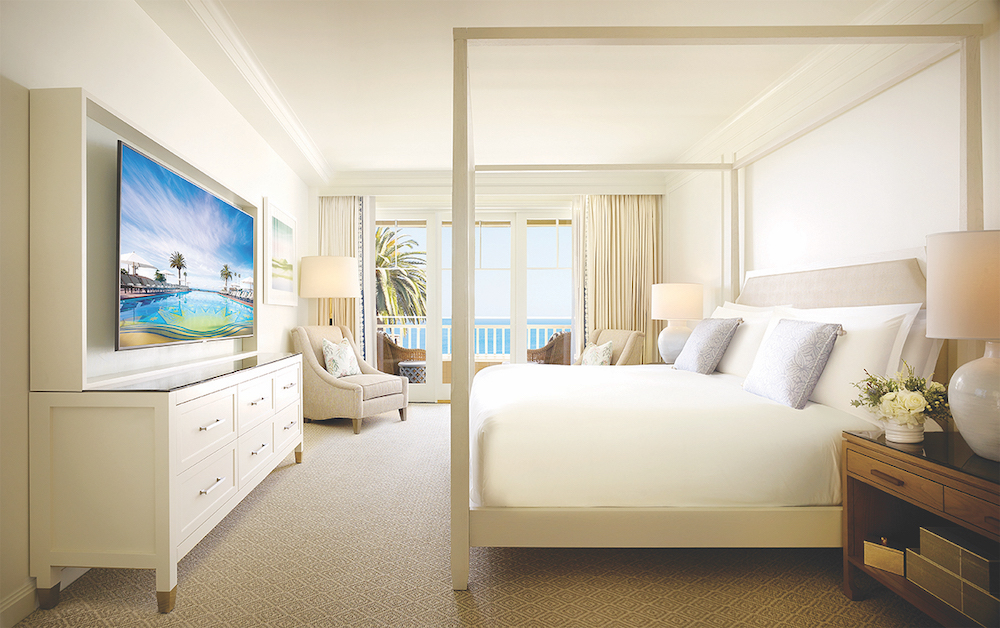 There's nothing more SoCal picturesque than cruising down the PCH (Pacific Coast Highway, in case you're not a Californian reading this story) on a sunny summer day.
I headed to one of Laguna Beach's stellar spots: Crystal Cove and Montage Laguna Beach, perched elegantly above the Pacific and adjacent to a lovely seaside public park suitably named Treasure Island after the 1934 film adaptation by Victor Fleming, and a stunning public beach.
I made a lunch stop in Newport Beach en route to visit Carpinteria poet/author Glenna Berry-Horton, then headed along the coast via Newport Beach (as opposed to the canyon route) where I passed girls in cut-off jeans and bikini tops, boys with surfboards on their heads, mothers pushing strollers, and fathers herding their youngsters. Gaggles of teenagers and skateboarders swayed along the highway lined with alluring boutiques, restaurants, and the terrific Laguna Museum of Art, which I visited on my way home and highly recommend.
Montage Laguna Beach is celebrating its 20th anniversary this year, which coincided with a 20th "friendiversary" I wanted to celebrate with my good friend Collin Mitchell. (We were also marking both our June birthdays.) A writer and teacher, Collin came into my life as an intern while attending UCSB and has been a stellar pal ever since. Collin and his seven-year-old son Henry vacayed together with me several times (reported in the MJ April 28 – May 5, 2022), but this called for "just the grown-ups," I told him while we were managing our schedules. Henry stayed home with his mom while Collin and I got to luxuriate in five-star style. (Please don't tell Henry, as it turns out, Montage Laguna Beach is a great family resort with super children's programs.)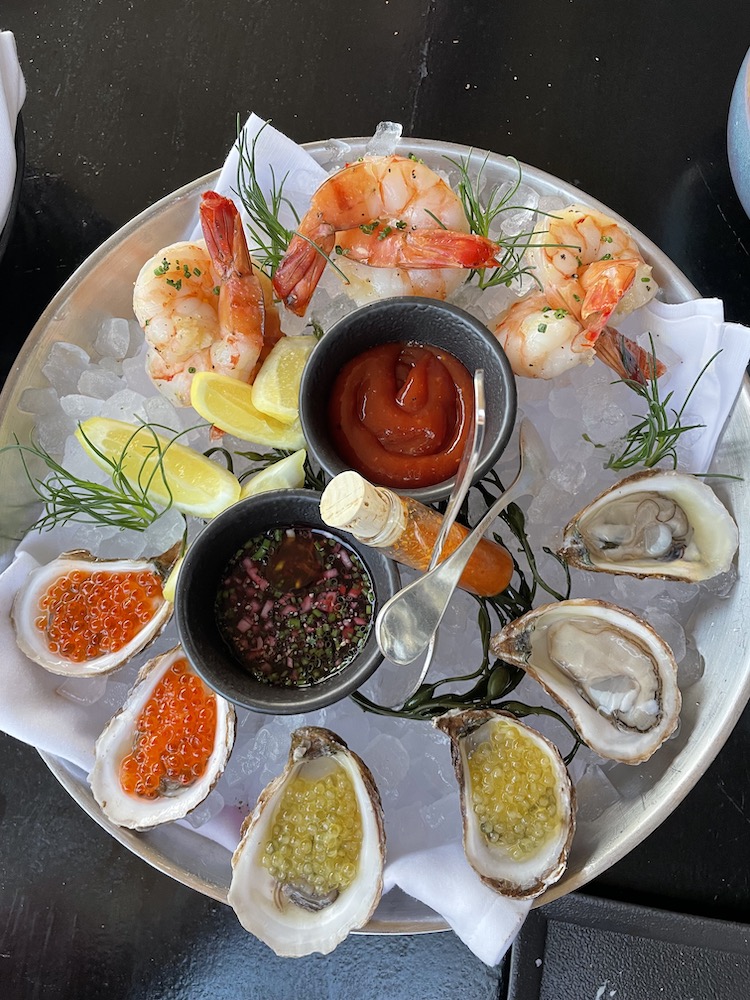 The low-key entrance to the California Craftsman-style resort is deceiving. Parking valets greet guests at the top floor of the four-story building gently built into the seaside cliffs. The lobby entrance is stunning with expansive ocean views that mimic a motionless yacht. It's understandable why guests perch here for cocktails, laptop work, or just ocean gazing. The jewel of the property's many charms is the grand pool with its signature mosaic tile design, aptly dubbed the Mosaic Pool.
Collin and I arrived at about the same time and waited for the room over an Allagash beer with complimentary nuts with marinated olives. One of the many genial staff, Amanda, showed us to our bright white second-story cottage room. Calming, and just what the vacation doctor ordered for two tired, hard-working adults, we checked out our cloud-like beds. (Nice to hear recent news suggesting that short regular naps keep your brain from shrinking.) Thank goodness neither one of us snored the first morning of our slumber party!
Every guest room at Montage Laguna Beach has an ocean view. Our room in the lovely Cuprien Bungalow (named for California impressionist artist Frank Cuprien) had a small deck overlooking the Pacific, and where we spotted several passersby pausing to take pictures of one of the many bunny rabbits that hop through the resort's 30-acre grounds. The marble bathroom was luxurious with a deep tub, double sinks, and separate shower. The property also has several multi-bedroom cottage residences popular with Hollywood celebs seeking a quick private escape from Los Angeles.
Dinner at the upscale, yet casual restaurant, The Loft (which I loved because the food was five-star, but the dress code was casual) was fantastic. Our waiter Brandon has worked at the resort for 15 years and was a perfect guide through the incredible menu. We started with the smoked Japanese hamachi with charred avocado and summer melons in a lovely cucumber aguachile broth and a platter of seafood that included sweet petite oysters from Boston topped with Kaluga, several other caviars, and savory jumbo prawns. Collin had the Kurobuta pork chop ($54) – a dinner plate version of a BLT with grilled little gem lettuce, melted cherry tomatoes, and pancetta brioche. I chose the pan-seared sea bass ($55) served with a pair of New Caledonian prawns, summer squash noodles, mustard greens, seasoned plums, and cauliflower purée. Our favorite side ($13 each) was the roasted corn kernels over corn pudding with whole milk ricotta and pickled Tinkerbell peppers. The excellent sommelier suggested perfect pairings and brought out an ice wine to accompany our not-to-be-missed desserts. Just when we thought we couldn't eat anymore, we almost devoured the generous-sized, out of this world cheesecake-like chévre crème brûlée that resembled a work of art by Miro, as well as the summer apricot tart with house-made ice cream that Collin deemed "wickedly good." Several families with children were also dining – and we learned from our waiter (father of four) that while Tinkerbell still lives at nearby Disneyland, Baymax (from Disney's Big Hero 6) has upstaged her in an evening show.
Spa Montage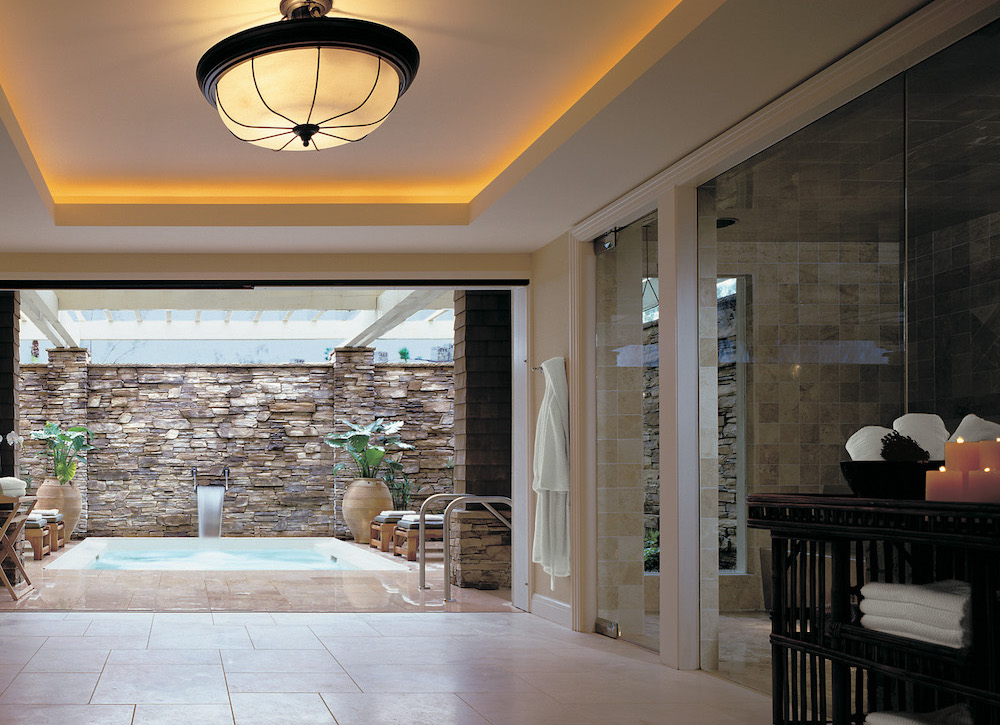 The 20,000-square-foot Spa Montage was a dream. There's a private clothing-optional tropical outdoor lounge with showers and a large warm soaking tub with waterfall to soothe sore shoulders and backs. The sauna and steam room provide the perfect prelude (or after lude) to spa services on the women's side. There's also a cold plunge, sauna, and steam room if you want to settle in for more calm. I indulged in "Pure Bliss," a 90-minute treatment that included a salt/sugar scrub (incorporating one of three fragrant oils from Lola's Apothecary, I chose Delicate Romance, a milk bath pour, and massage by Anna, who's been working as a massage therapist since high school. She sent me floating on Cloud Nine.
Collin and I lounged for the rest of the afternoon at the "adults only" oceanfront pool and spa – with a break for lunch at the casual outdoor Mosaic restaurant. A stellar poke bowl with rich avocado and lightly tempura battered calamari were just the ticket.
For our second – and last night – we discussed going off property to Drake's, a jazz supper club just down the PCH (the resort offers complimentary car service in partnership with Cadillac) but opted instead for the opening night of the "Talay" pop-up, held on property, which runs through early September. The lively outdoor, casual, and brightly decorated dinner spot has been transported from sister property Montage Los Cabos and features elevated Thai street food – some of the best I've tasted here or in Thailand. A meaty succulent chicken satay accompanied by Chef Marc Narongchai's peanut sauce made with his mother's recipe was a standout, as were the dumplings.
Collin engaged in two of the resort's complimentary morning exercise programs: the restorative Montage Yoga Ritual and SurfSET, an interval-based workout that works the core and fine balancing.
Sad to leave but especially grateful to the incredibly cheerful, pampering staff – we left our two-day celebration a bit heavier – in pounds and in our hearts – for having to end our dreamy escape.
I used to visit Laguna Beach as a child with my parents. My great aunt Josephine, who lived in Pasadena, had a summer cottage set on the beach. I even remember seeing Laguna's famous "greeter" Danish vagabond Eiler Larsen (1890-1975) as a kid. A statue of the original greeter is in town and a modern-day live version welcomes tourists by dancing, waving, and spinning at the convergences of Highway 133 and PCH.
The Montage experience was a different Laguna Beach from my long-ago childhood, but it's also now a treasured piece of my memory bank – thanks to sharing the grand experience with my dear friend Collin. Prices may not be for the faint of heart – but heck, you only live once, right? Carpe Diem, as they say.
Montage Laguna Beach
www.montage.com
Phone: (866) 271-6953
Rates begin at $1,100 and can vary up to $2,500 for a two-queen room, depending on season, vacancy, etc.
You might also be interested in...