1/9 Debris Flow Rebuilding Updates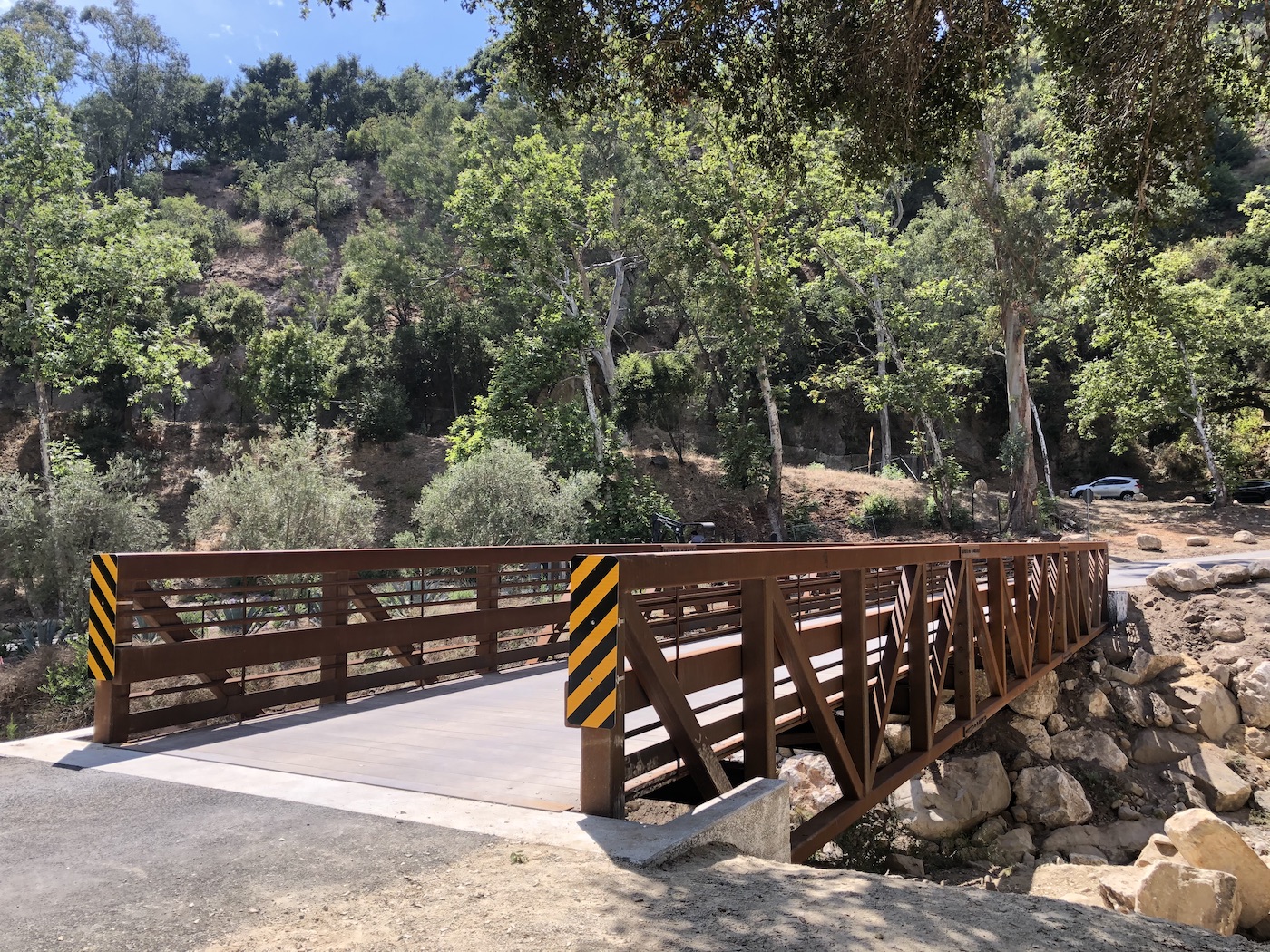 Construction concluded last week on a long-awaited repair following the 1/9 debris flow: a temporary bridge at the Cold Spring Trailhead that connects East Mountain Drive. Construction began in June to replace the bridge, and was paid for by settlement funds from Southern California Edison. The bridge will remain in place for approximately three years until a permanent bridge can be built.
The bridge project was part of a larger repair project on areas affected by the Thomas Fire and 1/9 debris flow, including 28 miles of road on portions of Montecito streets including East Mountain Drive, Brooktree Road, Irvine Lane, Riven Rock Road, Ashley Road, San Ysidro Road, Hot Springs Road, Bella Vista Drive, Romero Canyon Road, Lilac Drive, Alisos Drive, Veloz Drive, Piedras Drive, Oak Grove Drive, and Park Lane. Nearly $6 million in Southern California Edison Settlement Funds is paying for the road repair ($5.7 million) and bridge replacement ($230,000).
The bridge is considered a key connector for both emergency personnel, nearby residents, and bicyclists.
In other rebuilding news, a progress report on the residential rebuilding following the 1/9 debris flow was given to the Montecito Planning Commission at a hearing last week. Supervising planner Joe Dargel reported that of the 631 dwelling structures impacted by the devastating mudflow, only 73 ­– broken down into 39 dwelling structures, 20 accessory structures, and 14 commercial structures – remain "red-tagged" and uninhabitable. There have been 66 "like-for-like" permit exemptions submitted, with 47 of those approved. Additionally, 182 "over-the-counter" permits have been approved. There have 112 larger building permits applied for, with 102 of those approved. The remaining 10 are still in the permitting process.
Dargel reported that 12% of impacted property owners have had no contact with the County, with Case Managers attempting multiple times to get in touch. There has not been a timeframe set for requiring owners to repair their properties. "Our primary focus has been on recovery," said MPC secretary Jeff Wilson.
Seven properties are currently pending sale, but Dargel, when asked, said it's unclear if those properties are the seven remaining properties on Randall Road, which are being bought by the County in order to build a debris basin.
The County gives a quarterly presentation to the Montecito Planning Commission regarding the rebuilding process. For more information, visit www.countyofsb.org.
You might also be interested in...