Asleep at the Wheel: Ray Benson Still Driving Western Swing band's Sound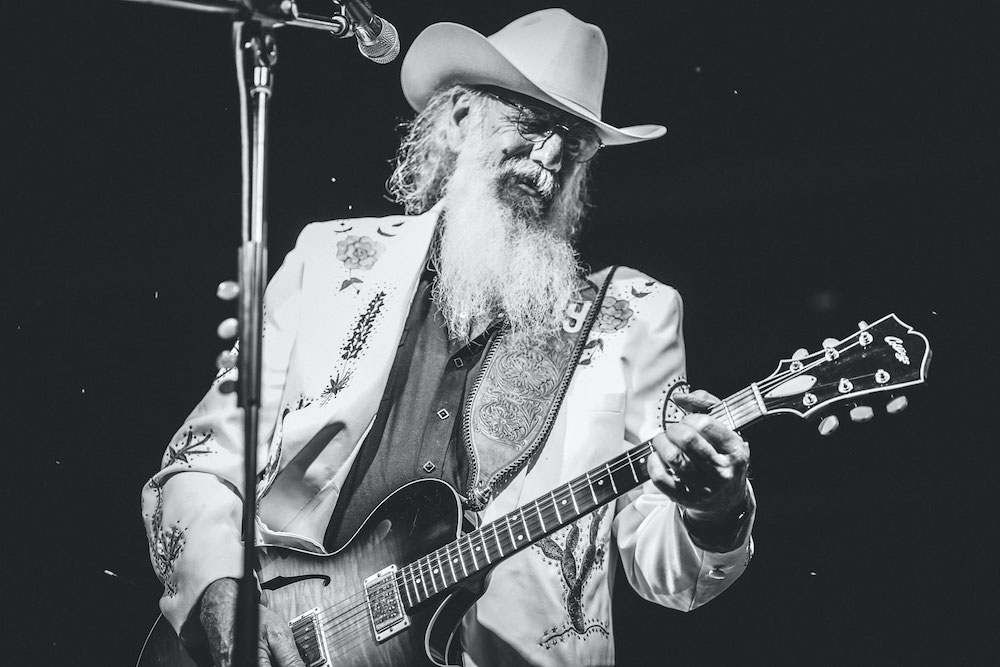 Asleep at the Wheel was just a country western band playing regular mountain music when Ray Benson co-founded the group in Paw Paw, West Virginia, back in 1970 – but after discovering Western Swing pioneer Bob Wills a few years later, the band never looked back. 
"I was 19 when we started out, but as our proficiency grew, we started to attempt more challenging western music," Benson explained over the phone last weekend. "In terms of being able to wear a cowboy hat and sing country western lyrics, Western Swing is the most advanced musical form that allows you to do that."
Half a century later, the genre still holds unfading fascination for Benson, who has long since been the only remaining original member of the band that went on to establish a brief beachhead in Oakland, California, and a decades-long tenancy in Austin, Texas, where they helped to crystallize the city as a musical mecca. Over the years, Asleep at the Wheel has collected nine Grammy Awards and 21 hit country singles, and collaborated with country stalwarts Merle Haggard, Willie Nelson, Lyle Lovett, and such later stars as the Dixie Chicks, Tim McGraw, and Lee Ann Womack, as well as singer-songwriters (Shawn Colvin), pop bands (Squirrel Nut Zippers), and gospel legends (The Blind Boys of Alabama).
As AATW's popularity waxed and waned over the years, Benson has seen bandmates move on to solo careers or other endeavors. As they rotate out, he replaces them with a new younger set of musicians as enamored by Western Swing – the Texas-born genre that combines swing band jazz, rhythm and blues, traditional fiddling, steel guitar, and harmony vocals – as he was as a teenager.
"Every 10 years or so, there's a new generation of players who come of age that are learning how to play their instruments," he said. "They hang out in places where this music is heard, and nowadays it's a well-connected world of people who can play this kind of music. When I was younger, I played music with older musicians. Now that I'm old, I play with younger musicians. Nobody cares as long as you can play it."
Through it all, Benson has never allowed the band to veer too far from the Wheel's wheelhouse of Western Swing, but that's also never limited his ingenuity: as the bearded front man has often said, sticking to your guns is different than being stuck in a box.
"How creative can you be within the structures of this form? That's what it's about," he explained. "The way I phrase my singing, the tone in my voice, the way I play my guitar, those things are creative decisions. It's what you do with the language of Western Swing, and how you employ improvisation and spontaneity that takes it beyond just a craft. I practice all the time, learning something new every day, and every night we're on the stage. I'm trying something a little different. That's Western Swing and that's what I love."
All of that is evident on Asleep's latest studio album, Half a Hundred Years. The 19-song retrospective, like all of the band's albums, features a handful of Benson originals and a few tributes to Wills alongside AATW favorites – and includes as well "There You Go Again," which was nominated for the inaugural Best Americana Performance Grammy at the 2023 awards. That's the bulk of what the band will be playing live in a tour stop at the Lobero Theatre next Thursday, June 8 – their first sojourn since effecting major repairs to the band tour bus, thanks to Benson auctioning off "Hats, boots, posters, cars, and guitars!" from his vast Austin collection last fall.
Expect the audience to look something like a cross section of America. In our deeply polarized times, Benson has played for the inaugurations of both President Bushes, as well as Clinton's and Obama's. He's proud of being able to bring together such divergent fans as the country diehards usually found at the Creekside or Maverick Saloon, swing dancers who kick up their heels at the Carrillo Ballroom on Friday nights, and roots music lovers who made the Sings Like Hell series a hit for 20 years.
"We just do what we do. We don't ask anybody who they voted for, and we don't tell 'em who we like. We're just happy they are coming to see a show with American roots music. That's what brings us together."
s the business of writing, including marketing and networking. There will be seminars, speakers, and parties. But access is now easier than ever before, as this year SBWC introduces for the first time options for attending the conference at any level – from the full six-day experience to participation in five, four, three, two and even single-day admissions. And if all you want to do is meet authors and hear them talk about their work, the speaker events are open to the public at nominal admission charges. Speaker events this year include conference owner Monte Schulz, plus five female writers, including former Santa Barbara Poet Laureate Sojourner Kincaid Rolle and four nationally known figures. Visit www.sbwriters.com for details.  
You might also be interested in...