12th Annual NAMM Report Part 2: AI tech & traditional music gear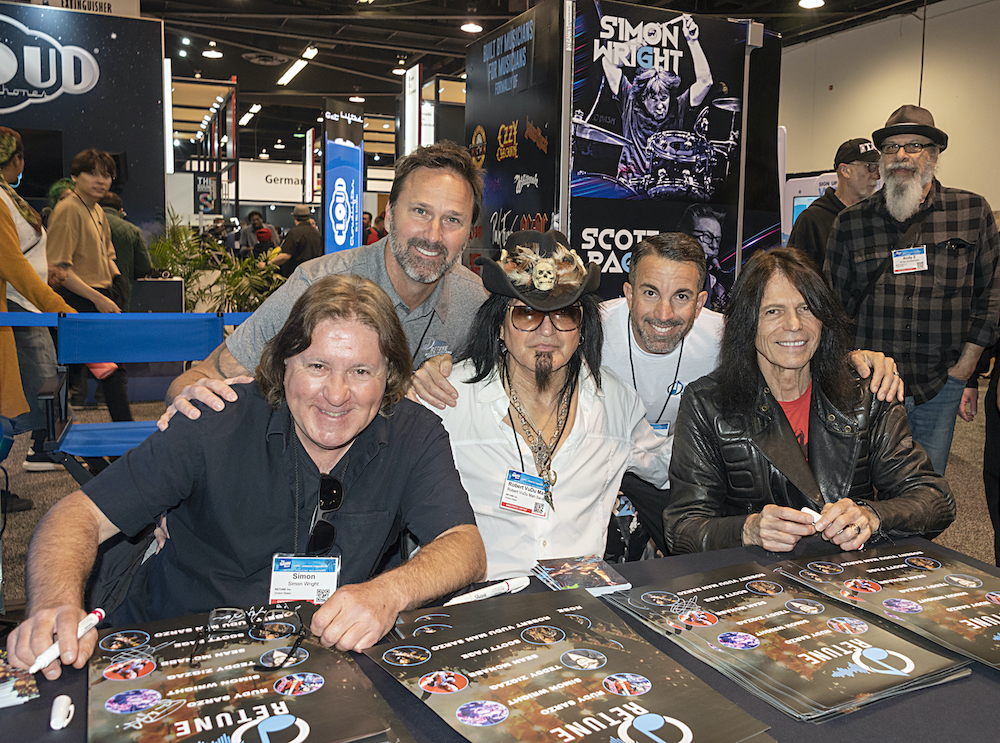 First stop, the Innovation Lounge for AI with an immersive speaker system by Genelec and hosted by GPU Audio. I went to the Neural Synthesis machine learning (ML) music-making demo by CJ Carr, head of audio research at Harmonai and band member of DADABOTS. He did live ML sampling, and to make it real he shared a Beatles song book AI synth creation, like "Don't Let Me Down."Harmonai releases open-source generative audio tools for music production. www.harmonai.org
The RealTime Portal by RealTime Audio delivers live stream Internet jamming for multiple musicians without signal delay, via an ultra-lowlatency app coupled with the portal box and other tools. RealTime Portal uses AI power-routing to locate the fastest routes between players who may be geographically separated by up to several thousand miles. https://realtimeaudio.com/realtime-portal
At one month old is Shure's GLX-D+ Dual Band Digital Wireless Mic System, and a Wireless Guitar Pedal system that operates in 2.4 and 5.8 frequency bands – a license-free spectrum that eliminates dropouts anywhere in the world and supports seamless switching. Shure also pitched two updated headphones SRH840A, SRH440A, and the sound isolating earphones SE846 Gen 2 in jade, sapphire blue, and silver.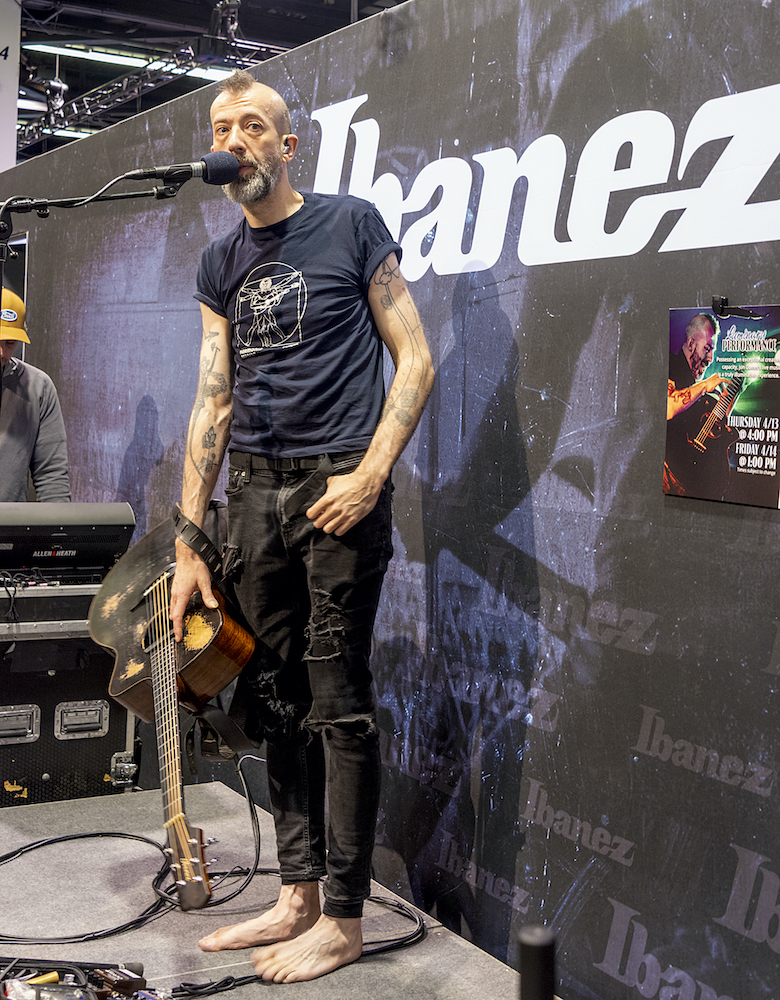 Pioneer DJ Opus-QUAD, a four channel all in one DJ system – already sold out – has a 44.1 kHz Sampling Rate and 20-20000 Hz Frequency Range, wireless, USB, Bluetooth and LAN, plugs for mics, phones, phonos and six play digital formats, with touch monitor in a boutique design. www.pioneerdj.com
Seymour Duncan's game-changing HyperSwitch is a one-of-a-kind Bluetooth-enabled five-way switch that gives the user a suite of options like coil-splitting, coil-tapping, polarity reversal, and position manipulation. Duncan was not at the show, but his trusted Custom Shop right hand Maricela "MJ" Juarez represented the brand, celebrating her 40th year with the company.
The guitar booths with the largest real estate were Ibanez and Martin & Co. [Did I hear you exhale?!] Ibanez led the pack with new limited-edition models for 35-year brand partners Steve Vai [PAI77BON 70s paisley] and Joe Satriani (JS1BKP and JS3CR Jet Black with white paisley), a Paul Stanley, and a Martin Miller model. The Ichika's ICHI00 in cream dream at $699, was the most affordable signature six-string of the show. Martin released new D18s, ukes, and bass guitars, along with a gold coin embedded in the headstock of their bitcoin guitar and the Martin D-18 StreetLegend an aged-top six-string based on its museum Kurt Cobain guitar.
Don't find a guitar that meets all your needs? Build your own custom with Shark Guitars' 3D online tool. With six patents pending, they offer an interchangeable design with two necks and two bodies providing four distinct guitars, expanding to 16 guitars with four necks and four bodies. https://sharkguitars.com/home
Made in the U.S. by hand is vintage analog hardware by Audio Scape Engineering. They have a two-year warranty and endorsements from Grammy-awarded sound engineers and musicians. Built in an antique cabinet if you want, are compressors, amps, and limiters. www.audio-scape.com
Cycle the Tour de France with the Strandberg guitar, model Boden Meloria, a collab with high end U.K. bike maker Mason Cycles. It is a bodiless guitar with titanium frame, extendable wings and neck joint designed to self-center and create added contact area secured by one bolt.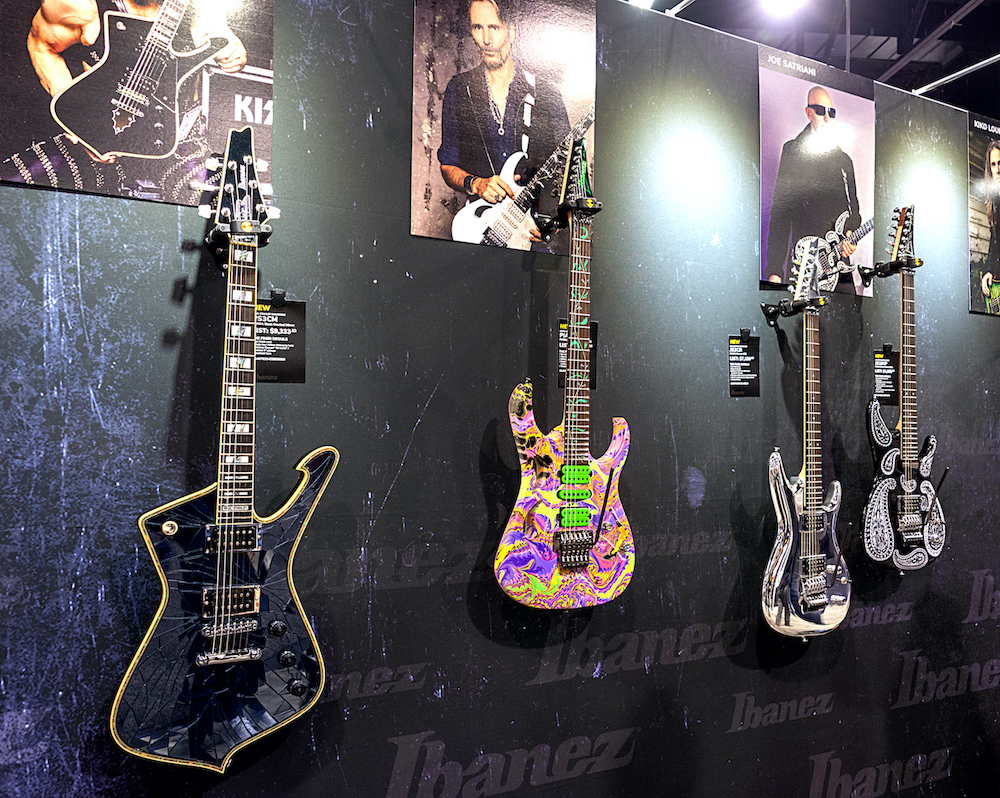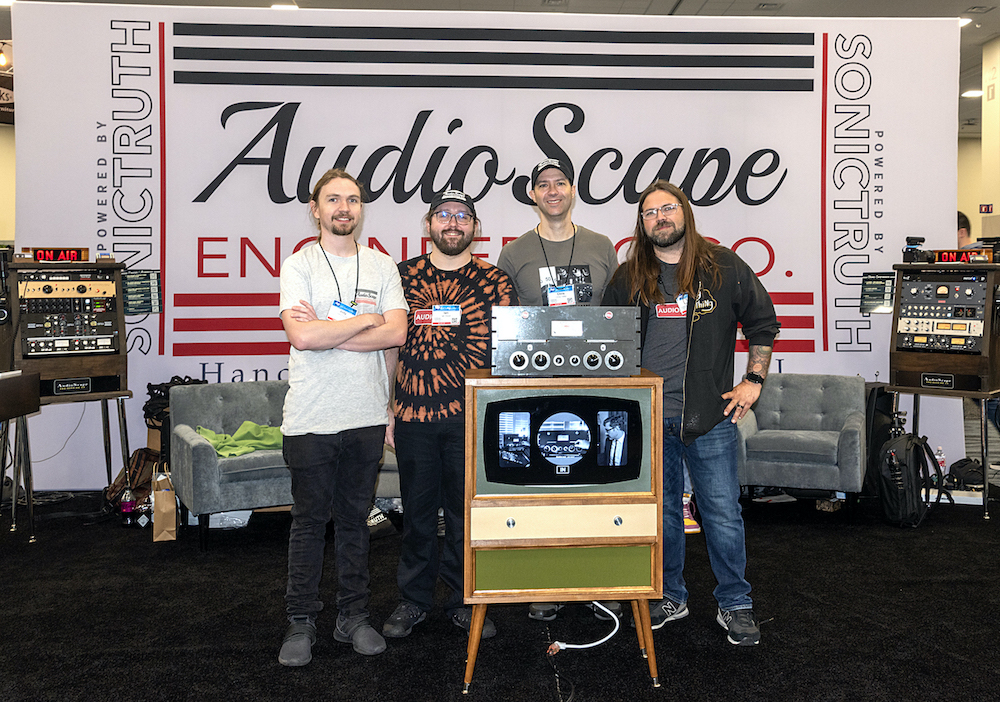 Holding court on the 3rd floor was Yamaha Corporation. Here they showcased the new P-S500 portable digital smart piano with app for learning and playing. Yamaha's CK series of portable synths sounded like a full-on stage piano with instrument effects and synth sounds – such amazing sound you would swear it's a Steinway! For other new releases – check here: https://usa.yamaha.com/namm
They held booth concerts and had their Yamaha Grand Plaza Stage set up in the main outdoor courtyard with the Rivage digital console line for mixing and music amplified via NEXO speaker systems for the live music performances at NAMM.
New CBD wellness line by Westlake Village's reTune – designed by musicians, scientists, and board-certified doctors – has products for vocal chords, sore muscles, and inflammation to keep you singing and playing. Brand Ambassadors include Rudy Sarzo of Quiet Riot, Robert "The VuDu Man" Sarzo of Hurricane and Sean McNabb of Dokken. https://re-tune.com/home
Bang a drum without the skin. Piroth Drums are made from stainless steel coated ceramic. The radial and axial run-out deviations are below 0.001 inches, for precise tone, endorsed by drummer Max Sonntag. https://piroth-drums.com
Fancy an electric violin or cello? Try a 3DVarius bowed string instrument made in France. www.3d-varius.com
Spatial Audiophiles note Lucid Motors's electric cars have a 21-speaker Surreal Sound system by Dolby Atmos x, and a projected EPA range of over 500 miles.
With so much innovation and gear at NAMM, it was another rocking year!
411: https://www.nammfoundation.org
You might also be interested in...