Colin Hay: Song Man Still at Work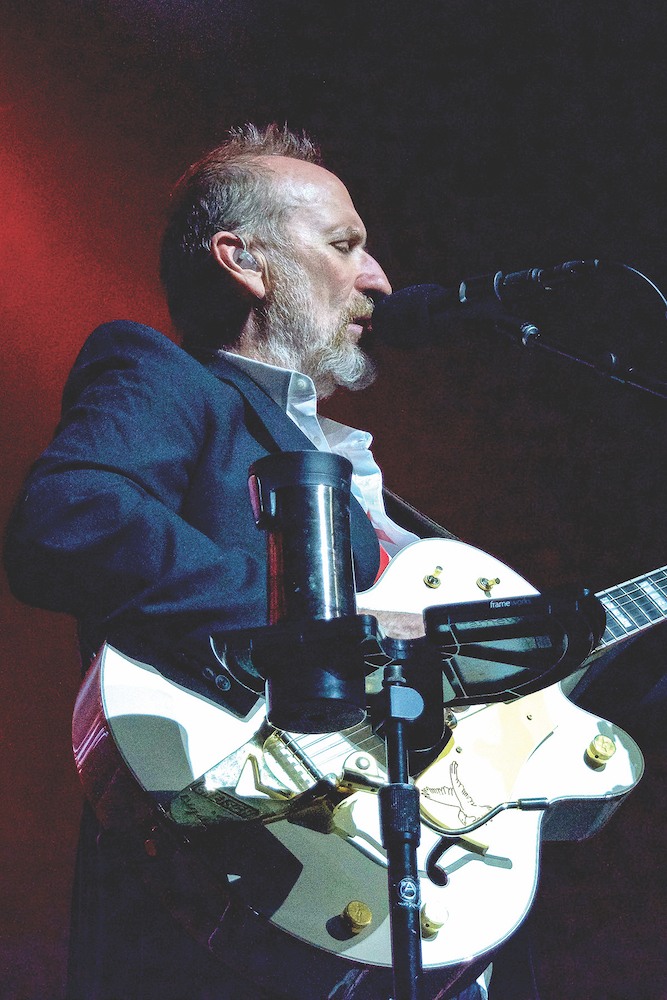 Colin Hay has had a lot of time to adjust to life as a former rock star; about seven times as many years as Men at Work actually existed as a recording act. The lead singer and co-songwriter of the Aussie band was as surprised as anyone when the quintet rose to the top of the charts in 1982-83 with its debut album Business as Usual boasting the smash hit "Down Under."
The song and album both hit No. 1 on the charts in the U.S. and U.K. in the same week, making Men at Work just the fifth act to do so. Business as Usual ended up spending 15 weeks atop the Billboard chart, setting a new record for a debut album before being finally knocked off by Michael Jackson's Thriller, which still holds the record as the best-selling album of all time. Men at Work also won the Grammy Award for Best New Artist in 1983, while such singles as "Be Good Johnny," "Overkill," and "It's a Mistake," and "Who Can It Be Now?" also resonated with rock radio. But two records and three years after Business as Usual'srun, the Men disbanded over personnel issues, leaving Hay to embark on a solo career as a singer-songwriter who has never come close to capturing the kind of success Men at Work (MAW) commanded.
"What happened to us was an extraordinary phenomenon, something that I realized as time went on was very rare and remarkable," Hay said over the phone from his home in Topanga, the same place he's been living since a couple of months after leaving Australia for the L.A. area back in 1989. "I have very fond memories of that time, but there was a certain amount of angst that goes along with it because while we were on top of the world, it wasn't a particularly cohesive and happy band by that point. It was unfortunate – and in retrospect unnecessary – but that's usually what happens to men who find it very difficult to communicate with each other on any real level."
Instead of ruminating and regretting, Hay set about creating more music, which was the whole point when he first formed the band as an acoustic duo. Hay has cut out a sizable niche market for himself as a singer-songwriter whose albums embrace the melodic spectrum – from the danceable anthems that blew up MAW to more pop-oriented, introspective songs.
Now, 35 years and more than a dozen studio albums since Men at Work folded, Hay released his latest effort hot on the heels of the pandemic covers album I Just Don't Know What to do With Myself. As the title song of the new original work suggests, "Now and the Evermore" also came from contemplating the implications of a virulent worldwide disease during the COVID crisis, and the result is perhaps his most personal record to date.
"I think most people my age were contemplating our own mortality and what that meant in the wider scheme of our lives," he said. "I thought about my parents and my family growing up, which is why things about my childhood came through where I was imagining the thing might be more horrendous than it actually turned out to be. It came back to those feelings of thinking if you love someone, you should tell them, and if there's something you have to express, maybe this is the time to do it."
The album's theme is bookended by its closing track "When Does the End Begin?", while songs such as "The Sea of Always" and "Undertow" mine some of the same territory. Hay describes finding common ground with his Topanga neighbor Michael Georgiades, who co-wrote several of the songs.
"We were just sitting around in his living room, and without even really consciously thinking about those things, that feeling of time – a melancholia came over us. 'Wait, a minute ago we were 28, and now we're nearly 70, or even older. How did that happen?'"
Hay-riders can find out when the singer-songwriter and his band play songs traversing the time span, including a few Men at Work favorites when Hay returns to the Lobero Theatre on Wednesday, April 5. Lazlo Bane– the L.A. alt-rock band that covered Men at Work's "Overkill" with Hay as guest vocal on their 1996 debut – opens the show. 
You might also be interested in...