ShelterBox Hosts Panel of Women Leaders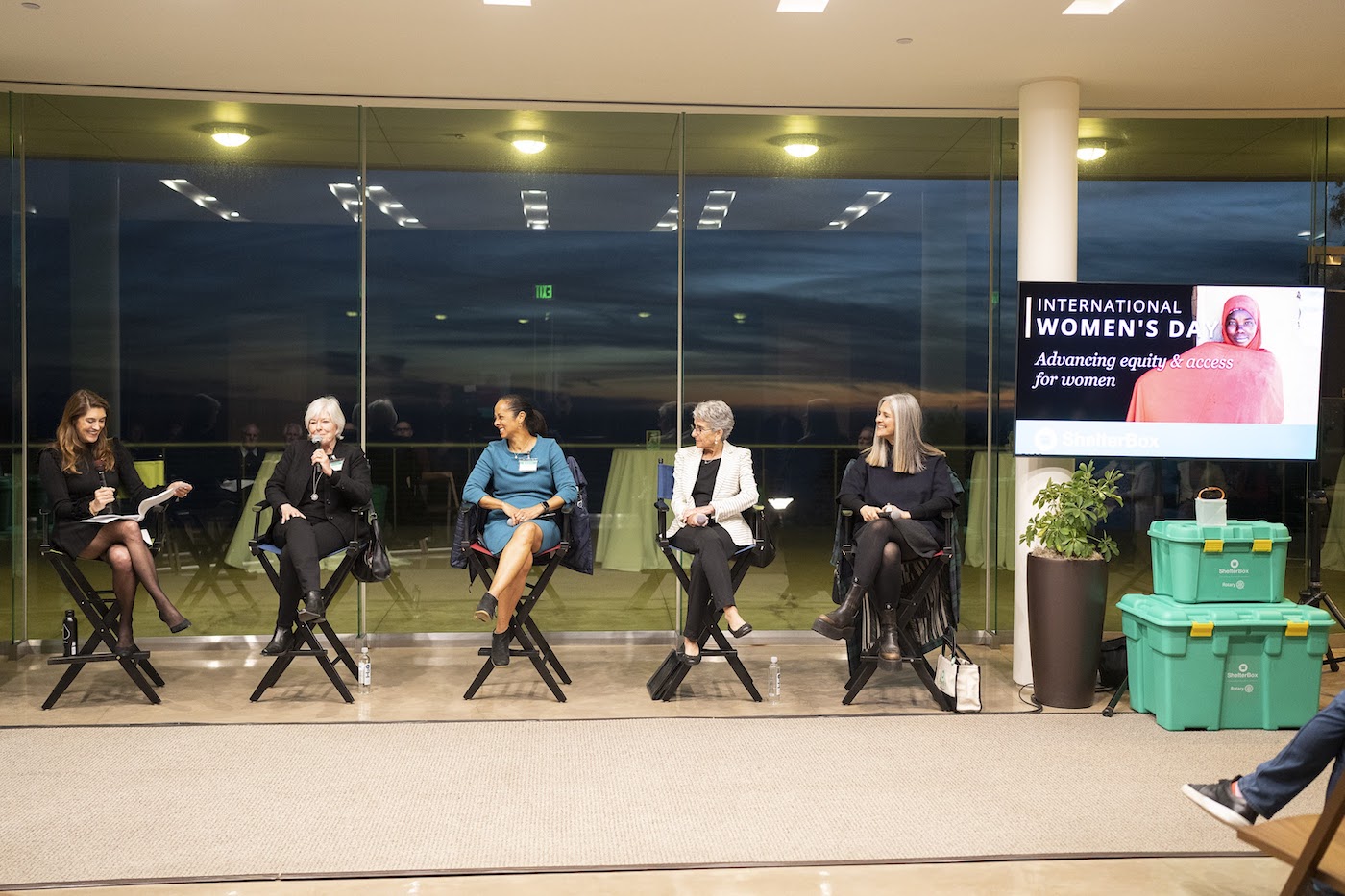 On March 8, ShelterBox USA hosted an event at UC Investments property on Ortega Hill in Summerland with more than 80 attendees to celebrate International Women's Day and recognize the social, economic, cultural, and political achievements of women. The international nonprofit organization, which provides emergency shelter and essential tools and supplies to vulnerable people affected by disasters and humanitarian crises worldwide, also acknowledged the continuing gender parity faced by women. Kerri Murray, president of ShelterBox USA, stated that women would not have gender parity for, "at least another one hundred and thirty-two years."
Murray engaged a panel of women leaders, including Kathy Odell, CEO of Women's Economic Ventures; Katya Armistead, Assistant Vice Chancellor and Dean of Student Life at UCSB; Hannah-Beth Jackson, former California State Senator and activist for women's rights; and Gwyn Lurie, CEO and Editor in Chief of the Montecito Journal Media Group.
The panelists shared their personal experiences and insights on the challenges and opportunities women face in their respective fields. They discussed topics ranging from leadership, empowerment, gender equity, and social justice. The event highlighted the importance of women's voices and contributions in shaping a better world for all.
Jackson, who has long been a champion for women's rights, emphasized the importance of gender diversity in leadership positions. "The data shows that companies that have women on their corporate boards are more productive, profitable, transparent, risk-averse, have better governance, better employers, and the value of their shares is greater," said Jackson. "I mean, what more can you ask for?"
Odell spoke about the need for resources for small business owners. "Women traditionally get 30 percent of the funding that men get," said Odell, "yet, they statistically succeed better in business."
Lurie, who has produced films that advocate for social justice, discussed the power of storytelling in promoting organizations to potential donors.
"We started the project The Giving List three years ago," said Lurie. "Someone from the Bay Area called me and said, 'Would you ever consider doing a Giving List Women?' and the minute she said it to me, it was this 'Aha!' moment." The book, with a tri-focus on intersectionality, feminism, and philanthropy, will launch in March 2024 and will tell the stories of 100 organizations around the world that are moving the needle for women and girls.
Katya Armistead highlighted the importance of youth involvement and intersectionality in addressing social justice issues. "The reality is [USCB] is still built on white supremacy," she said. "When I was a Campus Visit coordinator, I got to bring first generation, low-income students, students of color, from the Los Angeles area and the Kern County area, and I got to tell them that this was as much their campus as it was anybody else's."
Through the hard work and dedication of activist students, lay-people, and lobbyists, change is happening from the local to the state level. Jackson's historic California law (SB 826) required all public companies to have women members on their boards of directors. The law has achieved impressive results. "In 2018, we were at 16 percent of board seats. We are now at 31 percent — almost a third." Jackson's pronouncement was met with applause.
But it's not all wins. At UCSB, some of the wisdom that is passed down from senior and junior women to sophomore and freshman women has been lost. "People ask me, 'How are the students doing?'" Armistead recounted. "It's been an interesting phenomena having them come back to campus. There's always been a kind of handing down of tradition or how you navigate things from living in the residential halls to moving into Isla Vista from things like protest, free speech, navigating the classroom, knowing which professors to take, and all of that was lost because they
were online."
Many of the women noted the important impact mentorship — giving advice, guidance, and support — has had on their professional and personal lives. Lurie spoke to the value of her unconventional mentorship experience.
"I never had a teacher who showed me the way, but what I did have is mentorship in moments," said Lurie. "I feel like I have met so many people along the way who say something that changes my perspective in some small way or watching people who have lived their lives in a certain way, and that's been inspiring to me. And I've been lucky to have worked with and known and been friends with many incredible people over the years who have inspired me to go out and
take chances."
The event concluded with audience questions. Dos Pueblos senior Morgan Parisse asked, "How can we initiate change while in high school?"
Murray responded: "If there's one piece of advice I can give to young people, it's my favorite word, which is 'no,' because most people stop at 'no' and, for me, it's just the first step to getting to 'yes.'"
You might also be interested in...