The Legendary Lowenthal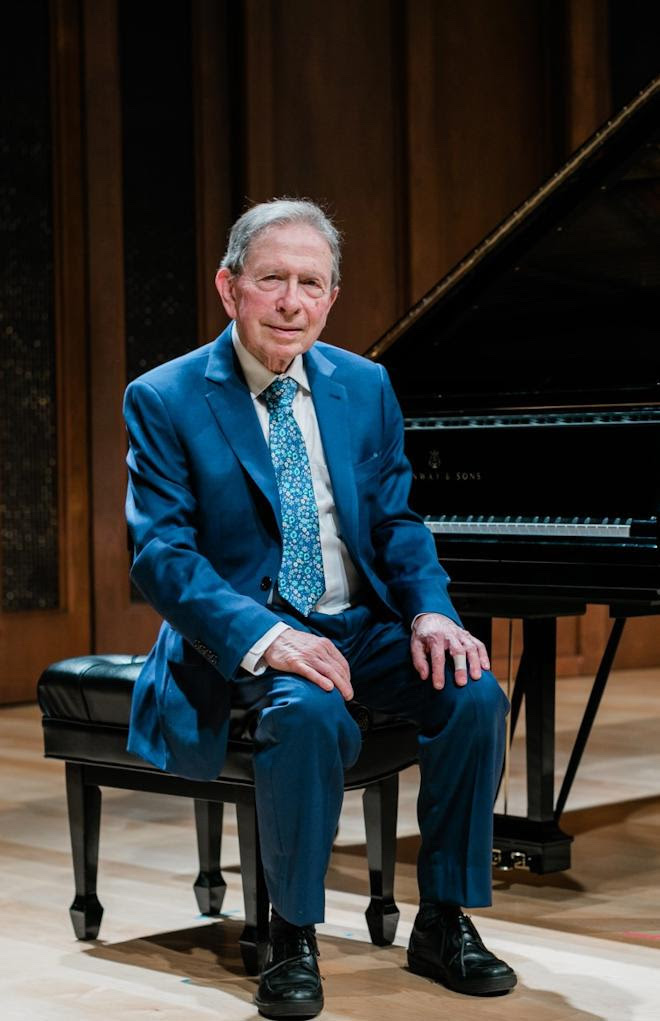 Piano faculty member Jerome Lowenthal figured he'd wrapped up his half-century at the Music Academy when he was the star of MA's 2019 Opening Night Gala, "Honoring a Legend," a densely packed evening that featured a cocktail reception, a performance at Hahn Hall curated by Lowenthal that featured a series of MA alumni pianists from his studio, and a dinner in the Miraflores courtyard with a special al fresco encore performance from the honoree. 
Indeed, the pianist has not been back to the Music Academy in his normal capacity ever since, that being full-time during the summer festival as one of the most popular presences on campus, a performer of particular precision and personal flair, and a purveyor of masterclass wizardry with pedagogue's knowledge and a mischievous panache.
It's not because Lowenthal was wanting to let up on his career, despite entering his late 80s – at that point a half-century after Maurice Abravanel first hired him at the academy as a replacement for Leon Fleisher. Indeed, Lowenthal had just wrapped up another nine-hour day auditioning another batch of the 200 young pianists vying for a spot in next year's piano studio at Juilliard, when he explained over the phone that it was more than having felt "a change in the air" with the new MA administration that the pianist had finally indulged in accepting an invitation to visit another summer festival. It was in Iceland, as it turned out, which the pianist recalled "broke the ice" on those endeavors.
"After that, we developed a different understanding of my role" at the Music Academy, he said, explaining that he only spent a couple of weeks in Montecito for the next couple of seasons, and since the pandemic hit in 2020, hadn't been back at all.
That was not OK with Teresa McWilliams, a realtor and well-known supporter of the arts in Montecito, and a patron of the Music Academy in particular who decades ago befriended Lowenthal and had produced previous concerts with the pianist outside the purview of MA.
"I hadn't seen Jerry for a while, and he wasn't playing here anymore," recalled McWilliams, whose tenure in town goes back more than 70 years as her father, the famed Polish pianist Tomasz Glinski, brought his family to Montecito back in 1949. Among other pursuits, he played regularly at the San Ysidro Ranch, and Teresa started attending Music Academy events when Lotte Lehmann was still giving masterclasses. "So, I told him I'd produce a concert here."
A planned "Jerry & His Friends" celebration with some big-name colleagues instead, by Lowenthal's suggestion, eventually turned into something smaller and more intimate, though the concert's new title of "Lowenthal's Legend" came from MA. The event on Thursday, March 9, will feature a single piano on stage played four-hands style for one selection each by Lowenthal and his longtime partner Ursula Oppens, as well as daughter Carmel Lowenthal, plus solo works performed by Evan Shinners, Vassily Primakov, and Nadia Shpachenko – each an MA alumni and Lowenthal favorite. Shpachenko will even be offering the world premiere of a new piece by Harold Meltzer called "Dribble."
Lowenthal will wrap up the night – which not surprisingly sold out instantly – performing two Chopin Impromptus, representing some of his favorite works in one of his favorite places to play on the planet, even if he now is operating on the equivalent of emeritus status.
"It wasn't my choice (to leave MA), but I'm so busy with festivals and Juilliard and other performances," he said, adding that he'll be making his off-Broadway debut performing the music for several previews and opening night of a pandemic-delayed revival of Chekhov's Three Sisters starring Greta Gerwig and Oscar Isaac, and directed by Sam Gold, later this spring before jetting off for another festival. "But I do have my memories of Santa Barbara. It is like a second home for me, and it was strange to me to think of not going back. I had such lovely friendships with my colleagues and the faculty, but also with people in the community like Teresa, as I still do. So, I'm thrilled and really very grateful."
As for contemplating actual retirement, given that he's 91, don't hold your breath.
"It's my limitations that keep me going, because I can't think of anything else to do," Lowenthal said, with his trademark understated sense of humor. "This is my life, and I still feel very happy doing every aspect. I keep doing it because I love it."  
You might also be interested in...