Santa Barbara Rock Gym Partners with Climb Out to Offer Discounted Queer Climb Nights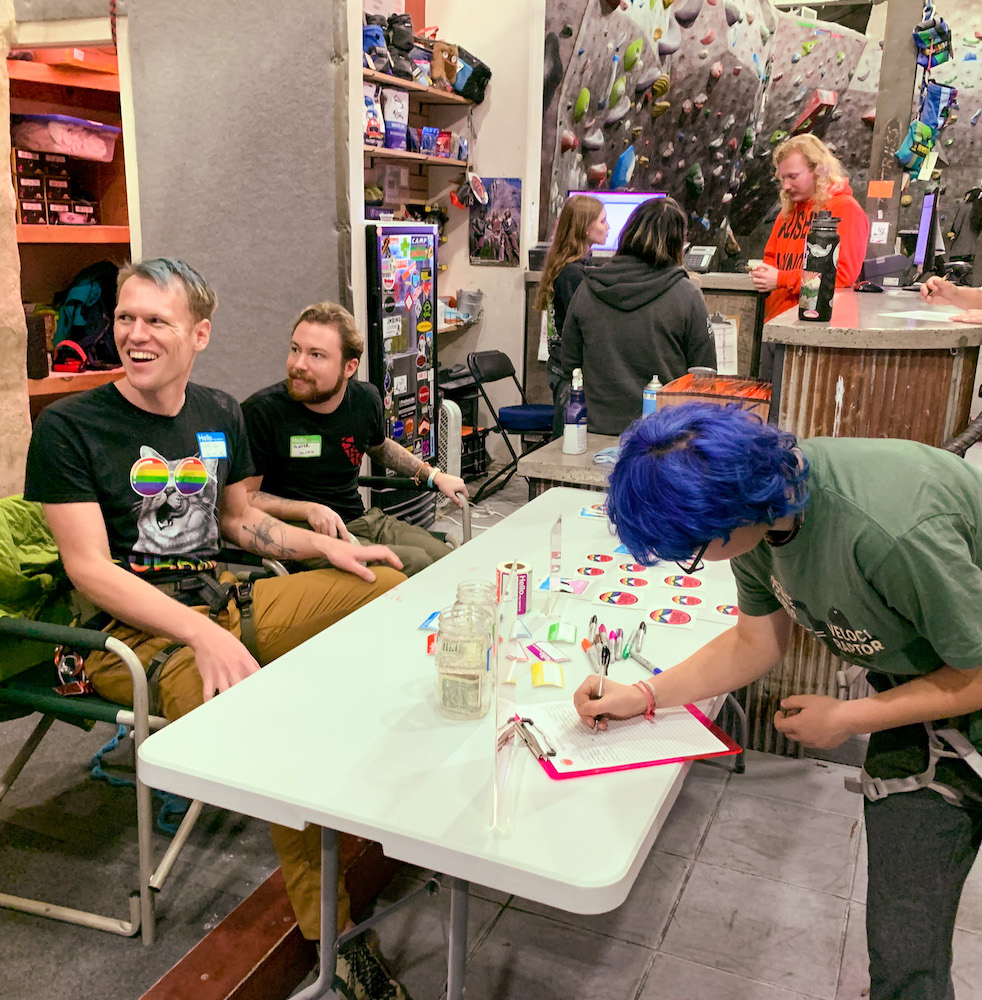 On a blustery January Saturday, I attended the first-ever Queer Climb Night in Santa Barbara, hosted by Climb Out, a newly formed group dedicated to creating community for self-identified LGBTQ+ individuals. 
As much as I enjoy the sport as an on-again, off-again pastime, I often feel intimidated when walking into climbing gyms. The walls, which have holds and textures that mimic natural rock formations, are covered with climbers whose dedication and technical know-how seem semi-professional. My first thought is always, "Why do I think I belong here again?" Quickly followed by, "Is it too late to leave?"
But I'm glad I pushed through the imposter feeling to meet Climb Out founders, and dynamic husband-and-husband duo, Leif and Hunter Johnson. They sat at a welcome table that held colorful, branded stickers, and a name tag station. Their warm welcome immediately put me at ease. I stuck on a name tag and glanced around for others, but I was the only one.
"How many people do you expect to attend?" I asked.
"Between three and 40," Leif said.
"You're our first-ever official attendee," Hunter said.
Since I signed up for membership the night before, I was also their first official member.
"Once we have enough members, we are hoping to join the American Alpine Club's Affiliate Support Network," said Johnson. This affiliation would ensure Climb Out's 501(c)(3) recognition, giving the group access to infrastructure and tools that they wouldn't normally have.
They needn't have worried about attendance. An hour into the event, and the gym was full of people wearing name tags. The atmosphere was friendly and welcoming, with climbers of all skill levels and backgrounds working together and encouraging one another. When asked about their experience with Climb Out, climbers expressed appreciation for the inclusive atmosphere and enthusiasm to participate again in future events. This was exactly what the Johnsons were hoping for.
"It's for people who want to connect with other queer climbers and don't know how to do it," Leif said. He and Hunter began Climb Out to realize their shared dream of combining social justice and their love for the outdoors.
The next day, Leif reported 43 total attendees with 22 signing up for membership – more than he expected. The duo plans to take Climb Out into the outdoors with volunteer stewardship opportunities and group trips to some of their favorite climbing spots: Wheeler Gorge, Black Wall, Joshua Tree, and Idyllwild.
Climb Out and organizations like theirs are on the rise. These organizations are doing the year-round work that makes climbing trips and outdoor spaces more welcoming and safer for the LGBTQ+ community. People of all skill levels and backgrounds are invited to join Queer Climb Nights on the second Saturday of every month, from 5-8 pm, at the Santa Barbara Rock Gym with the next one on March 11th.
If you'll humor me, here's where I'll analogize having a queer climbing community to the thick padding that covers the gym's floors – both are there ready to cushion our falls.
To learn more about Climb Out and stay tuned for upcoming events, email info@climboutpride.org or visit their website at www.climboutpride.org.
You might also be interested in...