The Pelagic Food Chain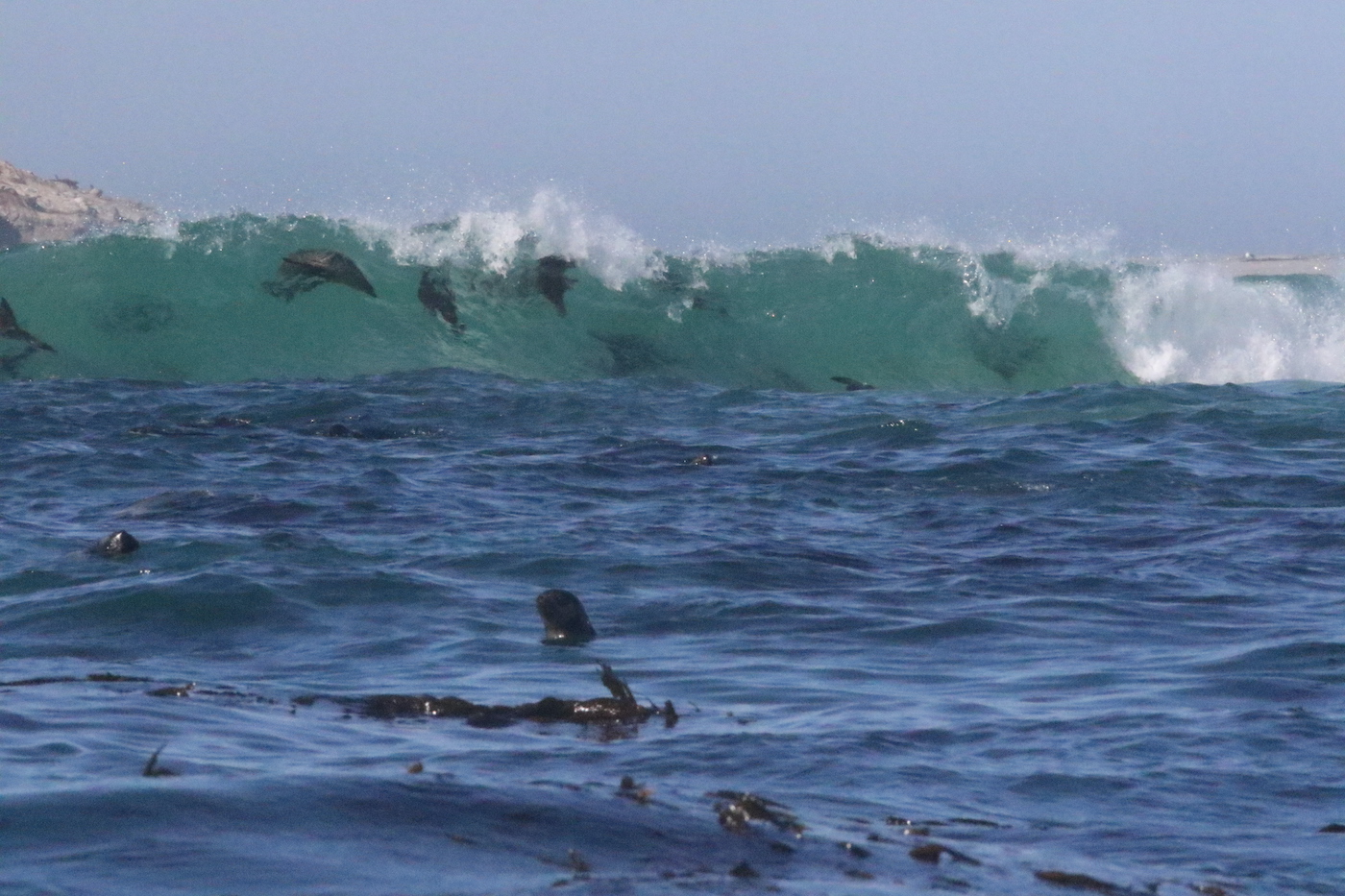 The weather window was tight. It was one day, and we took advantage of it, circumnavigating the 27 coastal miles of San Miguel Island, the most northwesterly isle in the Channel Islands National Park.
After several solo circumnavigations of this wave-battered, teeming islet, I was gratefully joined by four kayak guides who I work with at Scorpion Anchorage on the southeast fringe of Santa Cruz Island. We were about 55 miles northwest of that tranquil locale. Paddling around San Miguel Island has always had a different feel to it. It's a little vulnerable, a little exposed. The elements can all strike at once, wind, swell, fog, currents, and the food chain all factoring in.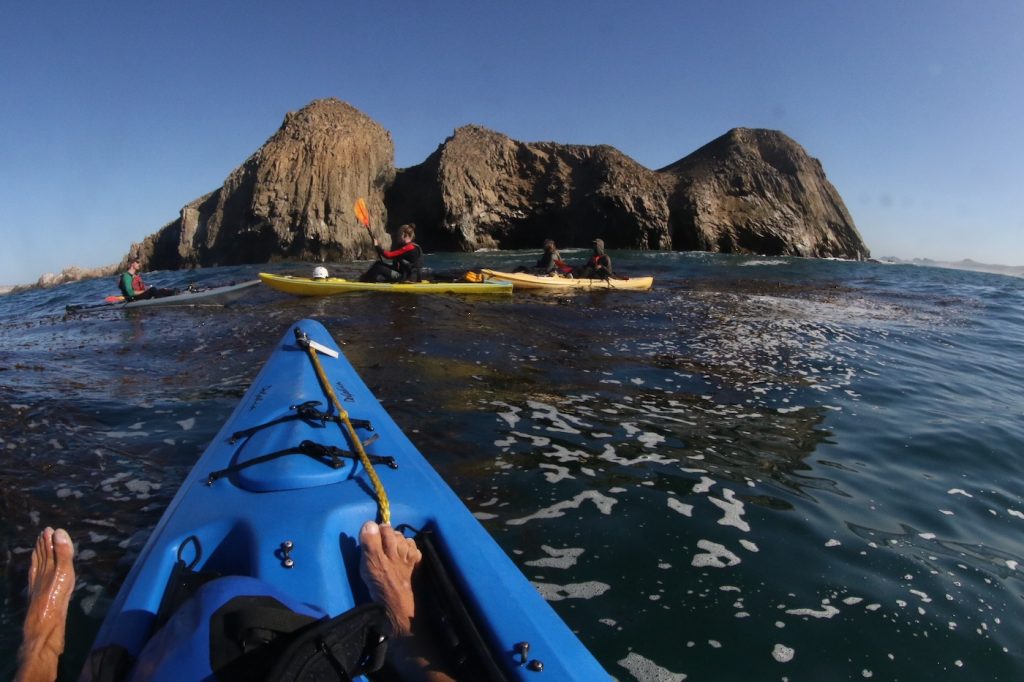 However, launching our kayaks at Cuyler Harbor on the northern edge of San Miguel Island was nothing but serene. A sunrise start has always been calming, soothing, with pink and orange hues melding across the islandscape. This day was no different as Sean, Caco, Zack, Jacob, and I paddled to the northwest, as squadrons of California brown pelicans and Brandt's cormorants hovered above us. We had an early morning pelagic audience offsetting a large northwest swell sweeping over wave-battered rocky spires and the craggy appendage that is Harris Point.
Harris Point protrudes to the northwest and has always been a great indicator of what to expect for the rest of the day. We could see at least three miles southwest beyond Castle Rock, well within what has come to be known as "Shark Park." If the northwest winds were up at that point, then we would've turned around, but up to that point my weather app was spot on, nary a wisp of any winds swirling around five wired kayakers.
Castle Rock
Nothing grows on Castle Rock. From afar, it appears like an ancient cinder cone, barren and lonely with a smidge volcanic upheaval. But I've never been alone at Castle Rock. It has always been smothered with bellowing California sea lions and precocious northern fur seals. 
Aerial views of Castle Rock revealed a massive sinkhole in its center. My last two circumnavigations, I've tried paddling into a precarious entry point to access the innards of the cave-in. However, like my two other attempts the entry point was difficult at best, and I think it's like that most days because it is so exposed to swell from the south/southwest and west/northwest. Jacob and I tried backing into it, but actual entry into this hidden grotto would have to wait for another day, maybe an elusively calm one.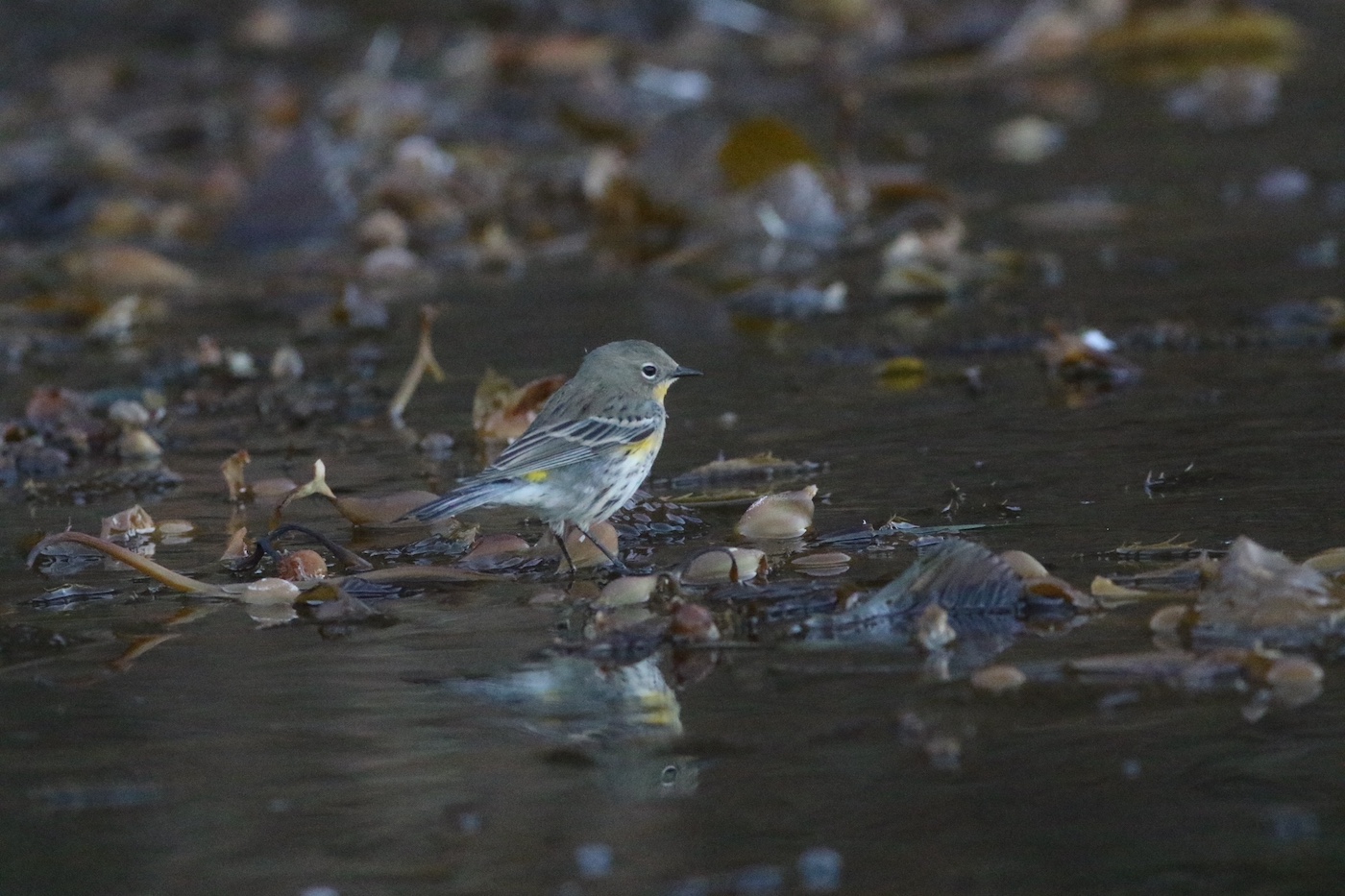 As daunting as Castle Rock was, as it appeared, we couldn't tell that to all the northern fur seal pups. At just a few months old, they played around our kayaks and atop the dense canopy of giant bladder kelp without a care in the world. Like small children, their curiosity knew no bounds. They poked their heads out of the water, their ears sticking straight out with their cute, snub-nosed faces beaming our way.
They warmed themselves on the water, by way of "jugging." While lying on the surface of the water, the pups brought their pectoral and tail flippers upward until they connected, thus creating a jug handle. Northern fur seals and California sea lions have lots of veins in the tips of their flippers allowing the sun to warm their flippers and circulating heat throughout their bodies while remaining on the water.
Point Bennett
The graveyard of wayward ships has become one with the maze of reef passages surrounding Point Bennett. It's a foul weather region that gets hammered by everything the ocean can throw at it, and it just happens to be the site of the largest congregation of seals and sea lions in the world.
Depending on the time of year there can be anywhere between 30,000 to 50,000 pinnipeds at Point Bennett. Amongst all the sights, sounds and smells, there's plenty of drama surrounding the sandspits and weather-beaten crags of arguably the most volatile region surrounding the Channel Islands National Park. 
I can't recall how many times I've paddled through and around the unpredictable reef passages of Point Bennett, but it's smack dab in the middle of the California Current, the food chain alive and well. However, I've always managed to stay in my kayak, that is, until October 24, 2022.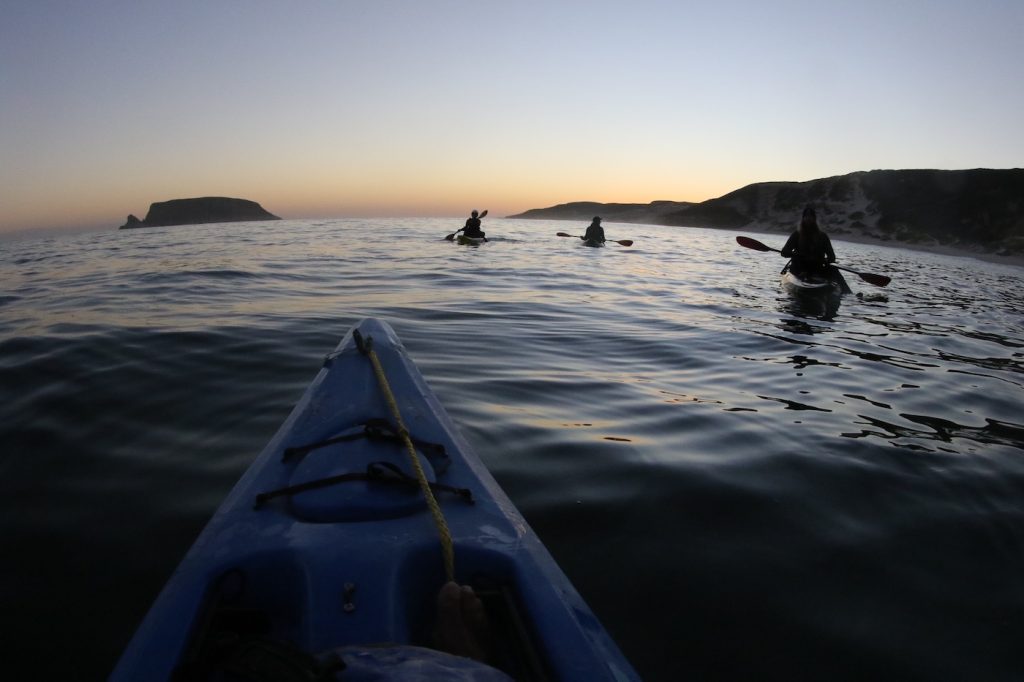 From Harris Point out to the northern fringe of Point Bennett, all I was seeing was swell running out of the north/northwest. The path I chose through the first couple passages, there were no big surprises as I kept an eye over my right shoulder for any sneaky waves from "the great north." The third reef passage totally threw me off. Southerly swell stacked off the horizon, stretching across Point Bennett. I was out in front leading the way. I knew there was no escape. We were all going to get wet with sea lions and fur seals mocking us.
I peered over my right shoulder and told everyone we were going for a swim in the food chain. I told them to hang onto their kayaks as best they could right before I plowed through the first wave. It swept me off my kayak as I successfully latched onto my dry bag holding my camera gear.
That first wave pushed me past everyone. The next wave took all four kayak guides at once. Two guides were swept past me. Over the years, I've spent many occasions around the Northern Chain swimming after my kayak. In this instance, I found myself laughing, enjoying a challenging moment in the food chain. In the water with seals and sea lions, they remained playful and curious as I looked at the guides' faces who were utterly bewildered. There were three waves in that set out of the south, and then it was calm again. We climbed back into our kayaks, and successfully rounded Point Bennett.
Once at Adams Cove out of the wind and swell and amongst hundreds of happy seals and sea lions, that harrowing moment was already in our rearview mirrors and seemed like a long time ago. Fortunately, island time is good for that.
You might also be interested in...