Filling Empty Bowls
Santa Barbara Empty Bowls celebrated its 25th anniversary at the Foodbank's Hollister Avenue warehouse when 800 supporters and 50 volunteers, including Congressman Salud Carbajal and Goleta Mayor Paula Perotte, turned out to help raise around $100,000 for the cause.
Soups From the Heart provided a selection of liquid refreshments, including Asian noodle, Tuscan whole bean, curried yam, and sausage and kale varieties, with guests receiving a ceramic bowl as well.
Danyel Dean, the ceramics expert who founded the popular event, described the anniversary as "an honor and a delight."
Between July and September, the Foodbank served 111,000 individuals in Santa Barbara County. The nonprofit is seeing record figures for people needing help given the recent high inflation.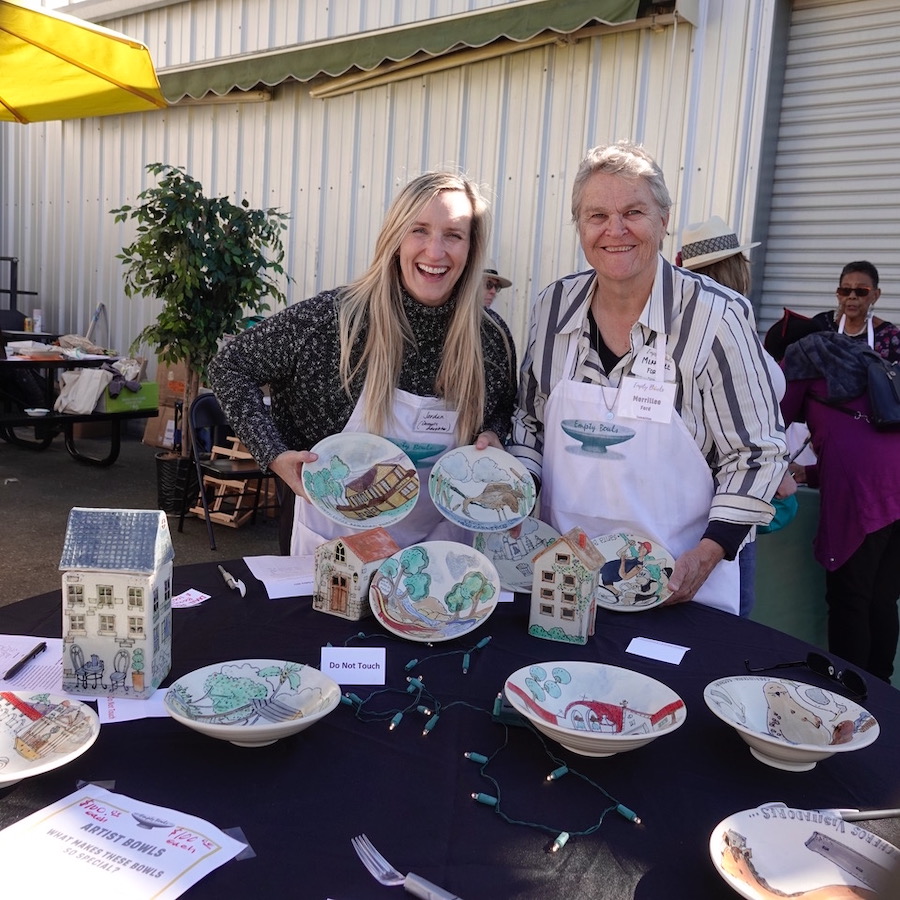 Flipping Houses
Former TV talk show host Ellen DeGeneres is selling a 1,910-square-foot cottage in the Hedgerow District for $5.8 million.
Built in 1915, the three-bedroom, three-and-a-half-bath property is a fully renovated pre-Craftsman home.
It's Ellen's eighth real estate transaction this year – a value that translates into one multimillion dollar deal inked nearly every month.
Ellen and her former actress wife Portia de Rossi acquired the cottage barely six months ago for $5.4 million.
More Michelin
The Santa Ynez Valley is now home to two more Michelin-rated restaurants after Bar Le Côte in Los Olivos and peasants FEAST in Solvang were among 37 new eateries added to the Michelin Guide California.
They join a growing list of restaurants in the area to have earned a Michelin rating.
Bell's, a beloved French-inspired bistro in Los Alamos and sister restaurant to Bar Le Côte – became the first Santa Ynez Valley nosheteria to earn a coveted Michelin star last year.
And First & Oak in Solvang was the first Valley eatery to be included in the California guide when it was awarded a Michelin plate in 2019.
Ripple of Hope Awards
Prince Harry and his former actress wife Meghan Markle are winging to New York on December 6 for a Ripple of Hope awards ceremony for their charitable efforts to be hosted by Kerry Kennedy, JFK's niece.
The top tier "Pioneer" package, including four seats at the main table where the Sussexi will be seated, sells for $1 million, with other packages costing $500,000, including VIP reception access at the 54th annual Robert F. Kennedy Human Rights Organization bash, which will also honor Ukrainian president Volodymyr Zelenskyy.
Cruising Godmother
Santa Barbra warbler Katy Perry and British actor fiancé Orlando Bloom have just returned to our rarefied enclave after a short cruise on the new $1 billion cruise ship, Norwegian Prima, from Reykjavík, Iceland, to Cork, Ireland, en route to Amsterdam.
The former Dos Pueblos High student is the 965-foot, 3,100 passenger ship's "godmother" and was checking out the new Norwegian Cruise Line's mega vessel.
New House Available
On a personal note, I see the late Ivana Trump's former 8,725-square-foot home on Manhattan's Upper Eastside is on the market for $26.5 million.
The five-bedroom, five-and-a-half-bath house, just a tiara's toss from Central Park and opposite the late Italian designer Gianni Versace's townhouse, is where The Donald's ex-wife died in July at the age of 73, after falling down the grand staircase.
I spent many enjoyable evenings at the ornately decorated property for private dinners and parties. Ivana bought the townhouse for $2.5 million in 1992, the year her much-publicized divorce was finalized.
Proceeds from the sale are to be split between her three children – Ivanka, Donald Jr., and Eric.
Sightings
Prince Harry at Pearl Harbor in Hawaii for Veterans Day… Rocker Adam Levine sporting a lavender and blue manicure, with his daughter Gio, 4, at Pierre Lafond… Singer Lady Gaga checking out the Rosewood Miramar's new Japanese eatery AMA Sushi.
Pip! Pip! Be safe, wear a mask when necessary and get vaccinated.
You might also be interested in...