Mark Okrusko: The Local Surfer Giving People of All Abilities a Floating Hope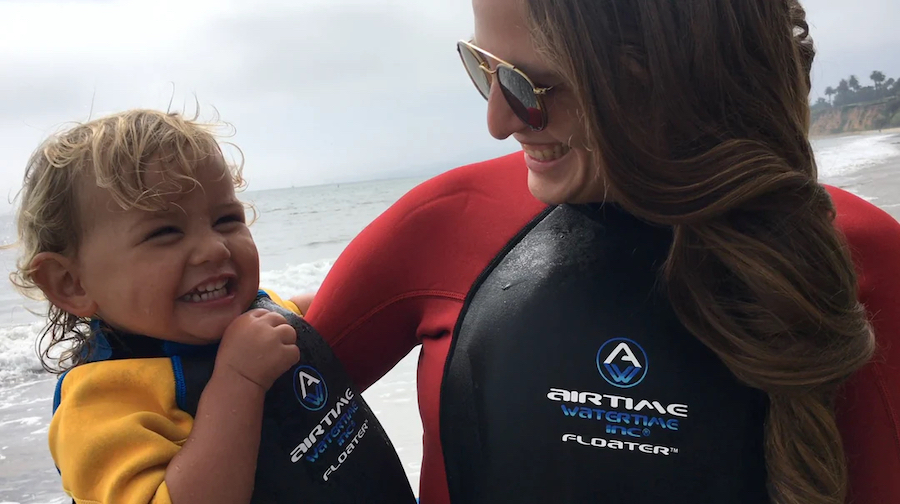 In 2010, Mark Okrusko, founder of Airtime Watertime, was surfing at Rincon Beach when he was caught in a rip current. He struggled to swim toward the surface, but his efforts amounted to nothing. Rip currents, "powerful, narrow channels of fast-moving water," catch tens of thousands of people in the United States every year. According to Okrusko, this wasn't the first time he was forced to hold his breath and wait until the current released him. It was, however, the first time he surfaced with a plan to make sure it never happened again. 
His idea, the Breathvest, a wetsuit that included a small air supply, had an unexpected benefit – it helped swimmers stay afloat. A natural innovator, Mark iterated on his original design until he landed on a suit that has since become a bestseller. He calls it the Floater, a wetsuit with a piece of polyvinyl chloride (PVC) foam that adds buoyancy fitted in the suit's front panel. In 2017, Okrusko launched a successful Kickstarter campaign, helping his idea surface and launch.
"Not only are we fundraising, but we're educating," Okrusko said. "Half the battle is getting people to know we exist."
One of their aspirational promos shows a photo of a child wearing a 2mm neoprene spring Floater wetsuit resting on top of the ocean, eyes closed. Printed over the child are the words: "Imagine a wetsuit that would let you fall asleep in the water." With a promise like this, it wasn't long before word about the wetsuit, which Okrusko believes is the first of its kind, got out.
Not long after opening, Okrusko's company began sending shipments to a water therapy service provider in Poland. Now, the product has been available for four years and is sold worldwide. In 2021, a New York Times article written by a Todd Balf, who was left partially paralyzed after a spinal cord injury, attributed his ability to once again swim autonomously to the Floater. The suit has a universal design that makes it usable by swimmers who are non-disabled and disabled.
While personal flotation devices (PFDs) can keep people afloat, they're bulky, difficult to swim in, and make it hard to blend in with other swimmers. The Floater is built for swimming in a way PFDs aren't – it allows wearers to be comfortable in a horizontal position in the water.
Okrusko, who has lived off and on in Santa Barbara since 1971, was at Butterfly Beach with his friend, Gustavo Ritterstein, who has paralysis that affects his body from the neck down, when he noticed a woman watching them. She began crying and Okrusko asked if she was okay. The woman had noticed Ritterstein swimming with the aid of the Floater. Okrusko recounted that she said, "The reason I'm crying is because my husband just had brain surgery. They told him he couldn't go in the water anymore; that he had to be watched in the shower." That's when Okrusko walked to his car, got a suit in her husband's size, and gave it to her.
To me, Okrsuko said, "I feel that emotional energy, and I want to help people find the good stuff in life." Recently, Okrusko started a water therapy program, Āpa, which may benefit veterans with post-traumatic stress disorder (PTSD).
"I tried to contact the Veterans Administration many times and left messages," Okrusko said. "No one got back to me." A few weeks ago, he reached out to Congressman Salud Carbajal.
"He called me the next day and said, 'We have a meeting with the Secretary of the Veterans Administration; you have 20 minutes to create a proposal.'"
Okrusko hopes he will get the opportunity to help the eight out of 10 U.S. veterans who have PTSD. Until then, the buoyant wetsuit will continue to benefit people with disabilities, people who fear water, children, heavy swimmers, and recreational athletes.
"The Floater offers a totally new level of security, confidence, and freedom to all who wish to enjoy the water."
Visit airtimewatertime.com for more information on the Floater and the other devices Okrusko has in the works.  
You might also be interested in...