Local Animator Graced With Award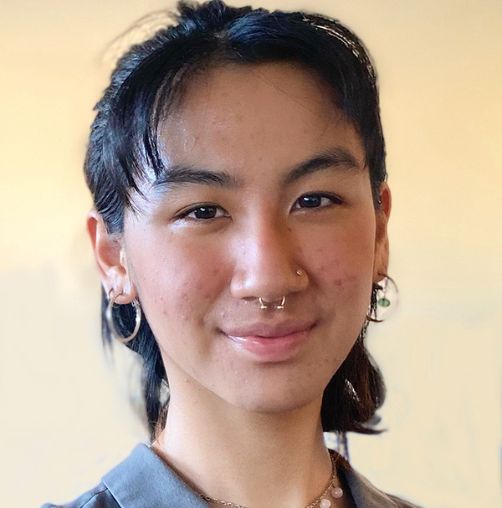 Jeanette Fantone, a Japanese Filipino animator from Carpinteria, has won a 2022 Princess Grace Award.
Her work largely stems from cultural nostalgia and gravitas towards the manipulation of textures and tactility as a way of invoking impressions of memory.
Fantone received her BFA in Experimental Animation from CalArts this year and competed three films in residence, the latest being her graduation film Fairies Inside a Tumbling Balloon.
Her works have screened in film festivals in Ottawa, Canada, and San Diego.
Fantone is a member of the After-Hours Animation Community, and volunteers with mutual aid in Little Tokyo.
She received her award from Prince Albert of Monaco, Grace's son, at a socially-gridlocked ceremony in Manhattan, which I used to attend regularly at the Waldorf-Astoria.
The Cost of Codes
The most expensive zip codes in the U.S. have just been revealed and, needless to say, our rarefied enclave of 10,000 oh-so tony residents is on the top ten list.
Atherton, California, tops the 2022 rankings for the third consecutive year with a median home listing price of $9 million, according to a study released by real estate data firm Realty Hop.
The Silicon Valley enclave, home to many tech executives, is followed by Sagaponack, New York, a small village in the Hamptons – where I used to spend many idyllic summers – where the median home listing price is $6.97 million.
In third place is Beverly Hills with its famous 90210 zip code, home to many celebrities and movie stars, with the average home listing at $6.7 million.
All told, California has 59 zip codes in the top rankings, with Montecito ranking 7th with a median home price of $4,995,000, up from $4,750,000 in 2020, a jump of 5.16 percent.
Fellows Fly Off to London
In its largest global exchange to date, Montecito's Music Academy is sending 32 fellows to London this month as part of its 75th anniversary programming.
The milestone year celebrations began with three performances of the London Symphony Orchestra in Santa Barbara in March with conductor Sir Simon Rattle.
The 32 Keston MAX – Music Academy Exchange – winners from 2019-2022 will train and perform with the orchestra and LSO principal guest conductor Gianandrea Noseda.
LSO musicians coach all finalists who competed to win the exchange and adjudicated auditions, selecting all winners.
All fellows receive a $1,500 award, plus travel, housing, and meals, spending 10 days performing and being coached.
Childhood Dreams
Prince Harry wanted to bring up his son Archie, 3, in Africa "running barefoot with local children," according to his friend, celebrated primatologist Dame Jane Goodall.
The Duke of Sussex, whose charity Sentebale helps deprived children with AIDS in the South African nation of Lesotho, has spent some of the happiest times of his life in countries
like Botswana.
His ex-girlfriend Chelsy Davy is from Zimbabwe.
Harry interviewed Goodall for British Vogue edited by Markle in 2019.
An Inspirational Walk
Oscar-winning actor Jeff Bridges worked with a trainer in order to walk his daughter Hayley down the aisle following his recent health struggle.
The 72-year-old Montecito resident was diagnosed with cancer of the lymphatic system in 2020 and was also hit hard by COVID-19, which he previously admitted left him at "death's door."
However, after being able to stand for '45 seconds' Jeff sought professional help before his youngest daughter tied the knot in the Santa Ynez Valley in August 2021.
He says he practiced taking walks down his hospital corridor while still attached to oxygen.
"My first goal was how long could I stand up, and my record was 45 seconds," he told the U.K.'s Independent newspaper. "And then – how many steps could I take?
"And it turns out I not only got to walk my daughter down the aisle, but I got to do the wedding dance as well."
Merchandise to the Future
Montecito actors Michael J. Fox and Christopher Lloyd have teamed up to launch a merchandise line from their beloved 1985 film Back to the Future.
Lloyd, 84, who played eccentric Doc Brown in the movie, broke the news on Twitter.
"Great Scott!" he wrote using his character's tagline. "Our first ever Back to the Future merchandise store that @RealMikeFox and I designed is finally here!"
"This collaboration is for the fans," Fix, 61, wrote on the line's website. "We think these items are perfect. Enjoy it."
The collection is largely comprised of T-shirts costing $29.99, long-sleeve shirts at $37.99, and hoodies at $49.99 featuring animated versions of images from the movie, as well as famous lines and phrases.
Seacrest Out
TV host Ryan Seacrest, 47, who bought his Beverly Hills estate from Montecito's Ellen DeGeneres for $36.5 million in 2012, has sold it for $51 million.
The 2.87-acre, four-bedroom, six-bathroom, 9,200-square-foot property was first listed two years ago for a hefty $85 million before being reduced to $74.5 million and $69 million.
The sale comes after Seacrest, who also hosts American Idol, purchased a massive six-story townhouse in Manhattan when he moved to New York to host the syndicated show Live with Kelly and Ryan.
Goop in the Stockings
Montecito actress Gwyneth Paltrow has just revealed her latest Goop Christmas specials, divided into 10 categories.
The 50-year-old Oscar winner's Yuletide collection includes more than 40 items in her "ridiculous but awesome" category.
In total the luxury list contains gifts worth around $900,000 with higher ticket items including a $286,000 New Zealand getaway, a $250,000 vintage Ford Bronco and a $135,000 private jet safari experience in South Africa.
On a lesser scale there's an $18 selection of six new toilet paper rolls and a $50 hair color kit for dogs approved by canine dermatologists.
Other gifts include a $2,390 Louis Vuitton surfboard, a $426 Gucci holder for the detritus of doggie sinners past, an $8,000 pave white diamond necklace, and a $29,495 Rolex watch.
Running for a Cause
Carpinteria actor Ashton Kutcher, 44, joined 50,000 other athletes crossing the finishing line in Central Park in the New York City Marathon.
The Stoner Cats star maintained a low presence in the race through the city streets wearing a black Nike T-shirt with the Team Thorn logo and bright pink running shoes.
Ashton's lengthy trek was to raise money for the charity he founded to combat the sexual exploitation of children on the internet.
Although he didn't win the race, he finished with a respectable 3:54:01, but his efforts were victorious, resulting in more than $1 million in donations from fans and friends.
He lost 12 pounds while training and said it was "brutal" on his body.
Sightings
Prince Harry and Meghan Markle noshing on Tandoori chicken at The Dutchess in Ojai… NCIS: Los Angeles star Chris O'Donnell picking up his Java jolt at Pierre Lafond before playing a round of golf at the Valley Club… Former Today Show anchor Bryant Gumbel at the Ritz-Carlton Bacara.
Pip! Pip! Be safe, wear a mask when necessary, and get vaccinated.
You might also be interested in...