Island Day Spa
It's just one of so many countless hidden nooks and crannies carved out over time by volcanic upheaval, the surf, and weather along the craggy coastlines of the Channel Islands National Park.
Most of these concealed, volcanic alcoves, corridors, and toothy grottos are only accessible by kayak. Going on foot or even by boat won't get you to these secretive denizens for viewing island fauna.
I first came upon this tucked away, emerald-green, and blue pool a year ago while working as a volunteer ranger out on San Miguel Island. Of course, like any other island trip, I had my kayak with me. So, if and when, the weather permits the goal is to always circumnavigate the 27 coastal miles of the windswept islet. Sometimes it's much easier said than done but the rewards are visually astounding.
Mostly I paddle at a steady pace but there are several locations where I stop for lengths of time and photograph one of the greatest wildlife spectacles in the world. The entire island is a haul out site for six species of seals and sea lions but navigating the teeming reefs surrounding Point Bennett offers incredible looks at the largest congregation of pinnipeds on the planet. Northern elephant seals, northern fur seals, harbor seals, and California sea lions number well into the thousands. Stellar sea lions and Guadalupe fur seals are in much smaller attendance, but they also utilize Point Bennett. I'll typically make a point of stopping at places like Castle Rock, Otter Cove, Point Bennett proper, Adam's Cove, Crook Point, and Hoffman Point to see the possibilities.
When volunteering at San Miguel with girlfriend Holly Lohuis, we usually spend at least a week there in September and October, when the northern fur seal and California sea lion pups are a mere three to four months old and very active. They are curious, rambunctious, and playful. Due to the unpredictable weather, swell, currents, and remoteness of this idyllic isle, it's highly likely these animals are laying eyes on a kayaker for the first time in their young, volatile lives.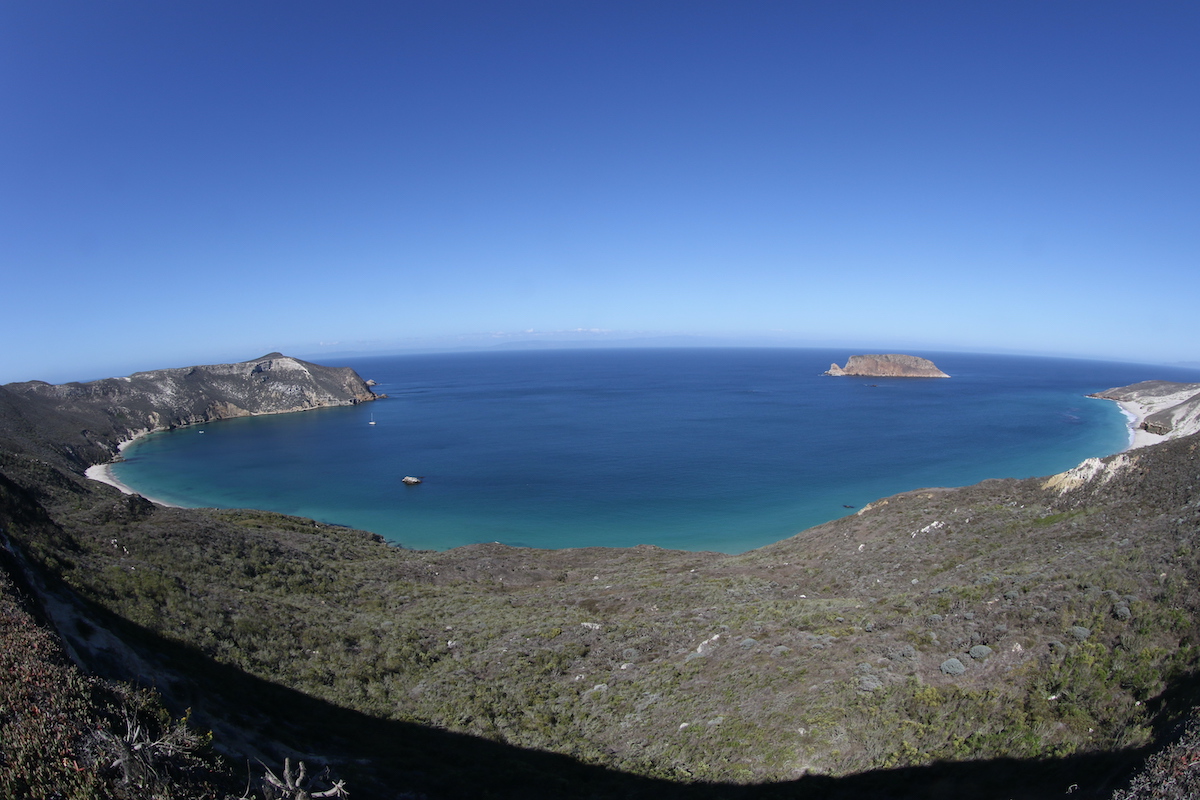 However, beyond Point Bennett are numerous pocket coves and secluded beaches loaded with pinnipeds, shorebirds, and seabirds. Because San Miguel Island endures such weather fluctuations, and is so exposed to swell, it's hard to imagine a little pelagic Shangri-La hidden within the wave-battered cliffs and weather-beaten islet, but it's there for a few northern elephant seals to enjoy.
When I first kayaked into the entrance of this sheltered pool surrounded in sharp, barnacle-encrusted crags, several subadult elephant seals were napping and sunbathing on the surface of the aqua marine-colored water. They were sticking their heads out of the water, their whiskered snouts pointing skyward as if they were worshiping the sun. Their eyes were closed. They all seemed at peace. Every few seconds one would snort, yawn, and roll back and forth in the tranquil waters as water droplets hung onto their long whiskers.
The ease of the incoming tide and its ebb and flow only enhanced the serene atmosphere. It was as if they were being lulled to sleep. However, every now and then a more curious, playful juvenile elephant seal would arrive and swim inside. He would gently bump into and jostle with its snoozing, meditative cohorts. There would be a few moments of reconfiguring everyone's floatation status in this perfect pelagic place before they all settled again.
I could've spent the whole day there watching and photographing the world's second largest pinniped lazing the morning away. The Island Packers boat was on its way from neighboring Santa Rosa Island. It was 40 minutes to the east of us. Another island trip was coming to an end. I fired off a few more frames before climbing around the fringe of the pool and back into my kayak. It's good knowing though there's so many things to look forward to, to return to because the islands keep giving.
You might also be interested in...