Faulty Hydrant Causes a Fire Safety Conflagration on Padaro Lane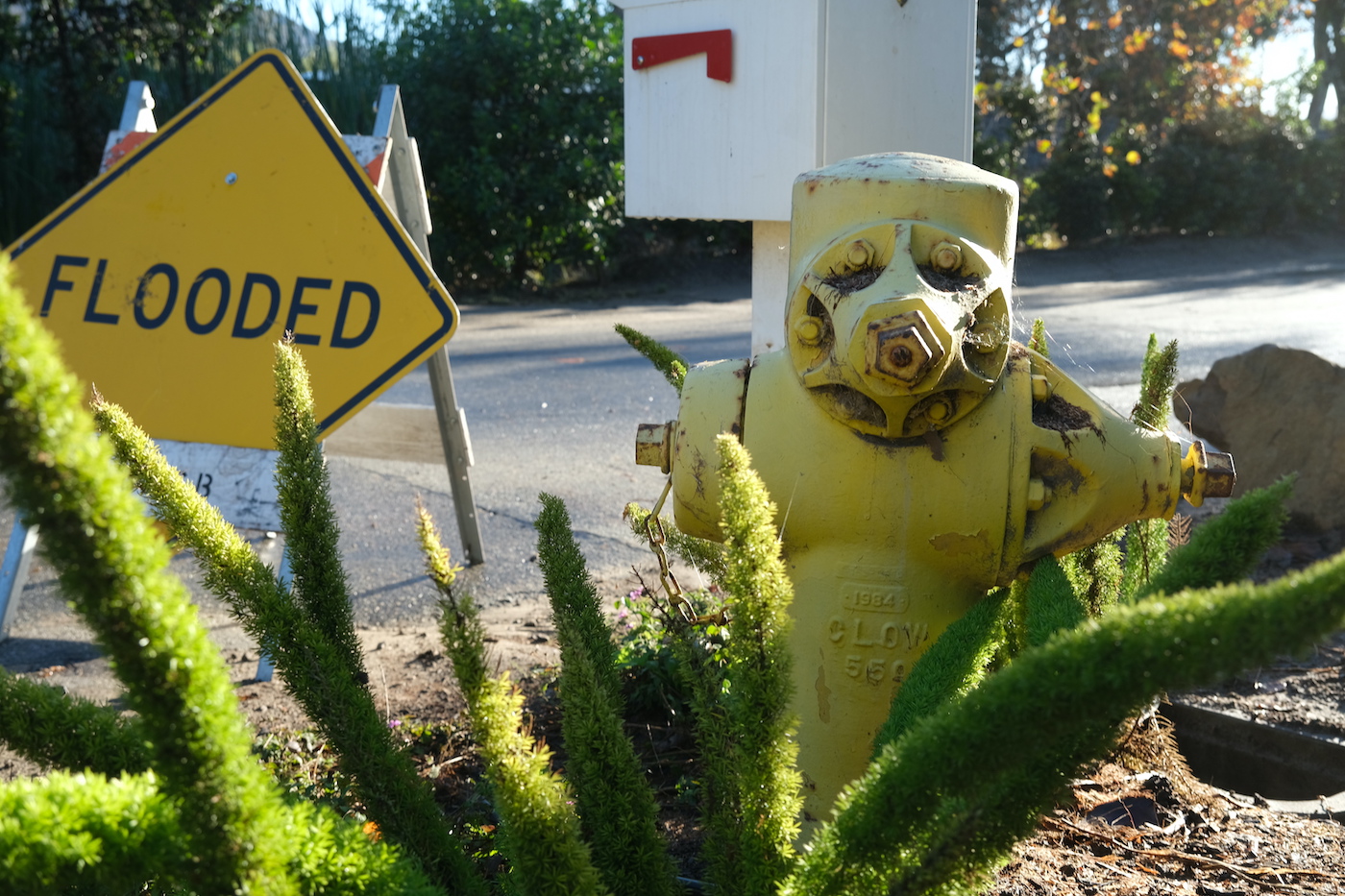 Unless you're a dog, most of us never think about fire hydrants until you need one.
Such was the case when Robin Donaldson, an architect for a residential renovation project on Padaro Lane in Carpinteria, applied for a routine building permit with the county. His plans had already been approved by the California Coastal Commission and the project's design was well in line with those of other nearby homes that had recently been built. But earlier this year, the Carpinteria Fire Department suddenly informed Donaldson that he needed to test the nearest fire hydrant for water pressure.
"We had made it through the whole permit process with the [California] Coastal Commission and everything and were about to pull the [building] permit," Donaldson recalls. "Then the Fire Department out of the blue said we need you to go do a water flow test on the fire hydrant."
Donaldson hired a contractor who specialized in the work and submitted the report. That's when the Fire Department told him that the hydrant's water pressure was too low to approve the new home project, and that if he wanted to build the home, he had to fix the issue with the hydrant. In Donaldson's view, if the hydrant wasn't working correctly, every nearby home was at risk if a fire were to occur. Wouldn't the district – i.e. the Carpinteria Valley Water District, which is responsible for the water that flows into the faulty hydrant – want to immediately fix the problem on an emergency basis?
After all, the issue wasn't really with the fire hydrant itself, as Donaldson ultimately learned from his communications with county officials. The actual problem was a 1950s-era, four-inch metal pipe that had been installed by the Water District well before Padaro Lane had experienced its decades-long building boom. In fact, the ancient pipe is connected to a total of four hapless, unsafe fire hydrants along a section of Padaro Lane that now includes some 115 residential lots.
"You'd think the Water Department would leap into action with this unsafe situation," Donaldson reasons. Instead, the Water District told Donaldson that his client – or barring that, all the other residents that were collectively serviced by the timeworn tube – would have to pay to replace the entire pipe.
"They said they are not responsible for the water supply to the hydrants, which is kind of an interesting position," Donaldson says. "They are saying, 'Tough: You have to pay for it. But we are not going to pay for it. We don't have the money.'"
Just like that, Donaldson's homebuilding project stopped dead in its tracks, the unfortunate and untimely victim of confluence of factors that had been building for years. Once a sylvan expanse of rustic horse ranches and quaint blufftop beach cottages, Padaro Lane is now populated with private gated communities and goliath oceanfront estates that are home to celebrities like George Lucas, Kevin Costner, and even, as of recent, some form of Kardashian. Vacation rentals along the charming, Eucalyptus tree-lined lane fetch up to $50,000 per month, while anyone looking to settle down would be well advised to have upwards of $10 to $20 million handy in cash. As buyers come and go, properties have flipped for double their value, while older homes have been constantly upgraded, more often than not by demolishing more modest structures and replacing them with brand new, bigger ones better suited to the tastes of the tony area's new class of denizen.
All that had happened while the district's water pipe, which connected to four hydrants along Padaro Lane including the one near Donaldson's proposed project, lay unmolested – and more to the point, unimproved. Although similar home projects had been approved in recent years, Greg Fish, Carpinteria's Fire Chief, who took the job in 2018, hadn't been involved in them. His position was that the pipe – and the potentially dangerous fire preparedness issue on Padaro Lane that it entailed – had to be fixed before Donaldson's project could be approved.
The issue all came down to water pressure, or more accurately, a lack of it, in the four hydrants on Padaro Lane.
"With the Fire Department, there are certain things that have to exist," Fish told the Journal. "A certain number of gallons have to be coming out of the hydrant." Specifically, the pipe has to allow 500 gallons per minute to flow out of a fire hydrant. "It wasn't even close," Fish said of the results of Donaldson's test. "We want to be able to put a fire out, so we are not allowing anyone to do a remodel or reconstruction until we get to the point that the water coming out is high enough pressure."
According to Robert McDonald, the Carpinteria Valley Water District's general manager, the agency maintains a database of all hydrants in the county including flow rates and hydrant condition. "The water district maintains hydrants, paints, exercises, repairs and replaces them as they approach end of life," he said. "As far as flow rate changes, the Water District also analyzes the distribution system using a computer model. Hydrant flow tests are used to calibrate the distribution system model."
Several cities in California have begun pilot projects to study the effectiveness of so-called "smart" hydrants, which are capable of self-reporting leaks or flow problems. They are yet to be commonly used in California, despite the fact that much of the state is prone to dangerous forest fires. When asked about the last time the four hydrants on Padaro Lane had been tested, McDonald responded, "We don't have the dates of testing pre-2016 in the database. The only hydrant we have flow test data with a date on or near Padaro was done on 2-24-2022. In all we have test data for seven hydrants on Padaro Lane. We recently started recording the test date in the database. However, McDonald claimed, the 1,500-foot pipe connected to those hydrants shouldn't be the entire county's responsibility to update because it only services a specific group of homes along Padaro Lane, and the rest of Carpinteria's residents shouldn't have to pay for it.
"In this situation it's kind of strange," McDonald said. "They are not out of reach of the pipeline, but the pipeline cannot service their needs." McDonald said the simplest solution would be for all the residents of Padaro Lane serviced by that pipe to vote on whether to create a special-assessment district, which would allow homeowners to make a one-time payment for a new pipe or have the cost broken down in fees owed over a period of time.
In an August 10, 2022, water district board meeting earlier this year, McDonald estimated that replacing the pipe could cost between $2.5 and $3.5 million – a number that isn't exactly music to the ears of Donaldson or his client. However, in his interview with the Journal, McDonald insisted he couldn't say how much it would cost to fix the pipe, because answering that question accurately would itself cost money. "You have to replace half a mile of pipe with a bigger pipe to meet the fire codes and whatnot," McDonald said. "It's a costly endeavor." He added that the process could potentially take a year to complete.
"Obviously these developers are anxious to get these properties developed and don't want to be stuck waiting for a special assessment district to be formed, probably on the order of a year," he explained. "We don't want to do something where people end up voting no. It would be a waste of money."
So far, however, there's little evidence that Padaro Lane residents want to pay to replace the pipe. Kaye Walters, communications director for the Padaro Lane Association, which represents local homeowners, told the Journal that she couldn't speak about the pipe on behalf of the association because it had yet to meet to discuss it. But she said she had spoken to several local residents in an effort to learn their position on the matter.
"We were told by the Carpinteria Valley Water District that the water pipe was installed in 1954," Walters said. "So, if it is not up to modern-day safety codes, it is time for the Water District to replace it. There is no reason the residents of Padaro Lane should have to cover the costs by creating a 'special assessment district.' Replacing the 68-year-old pipe is a capital improvement and should be treated as such by the Carpinteria Valley Water District."
A major complication – and potential financial nightmare – raised by the Padaro Lane pipe standoff is the issue of whether the four under-pressured fire hydrants might cause insurance companies to drop coverage for local residents. According to data from the California Department of Insurance, insurers have canceled plans for more than 348,000 residents in high fire-risk areas since 2015, including some 212,000 policies in 2020 alone.
As for Donaldson, he's simply frustrated that his project happened to be the one to spark this standoff, which now stretches several months, including a series of hearings where water officials refused to fix a pipe that the Fire Department was pointing out as manifestly unsafe.
"The odd thing about that is that you have Chief Fish saying it's so dangerous he can't allow any construction down there or replace an old house with a modern house, but at the same time they can sit on their hands and let neighbors stay there," he complained. "It isn't our fault," he said of his client whose proposed project launched the red-tape-addled impasse. "If it is so unsafe, why are they not moving everyone out of the neighborhood?"
On that point, Chief Fish agrees. The homes serviced by Padaro Lane's bad pipe would be in significant danger if a fire were to occur. "It would not be good," said Fish. "We'd have to figure out how to bring out water trucks. We would evacuate and protect the structures, but more than likely the structures would burn down to the ground."
Fish added that while he's working closely with McDonald and other water officials to find a solution as quickly as possible, the matter is ultimately out of his hands. "It's the water department's jurisdiction," he said. "I am working with the water department to see if they can get this thing fixed. I am hoping they will, whether the homeowners pay for it or not. It's all about making people safe at the end of the day."
You might also be interested in...