A Sonoma Sojourn to Healdsburg and the Marvelous Montage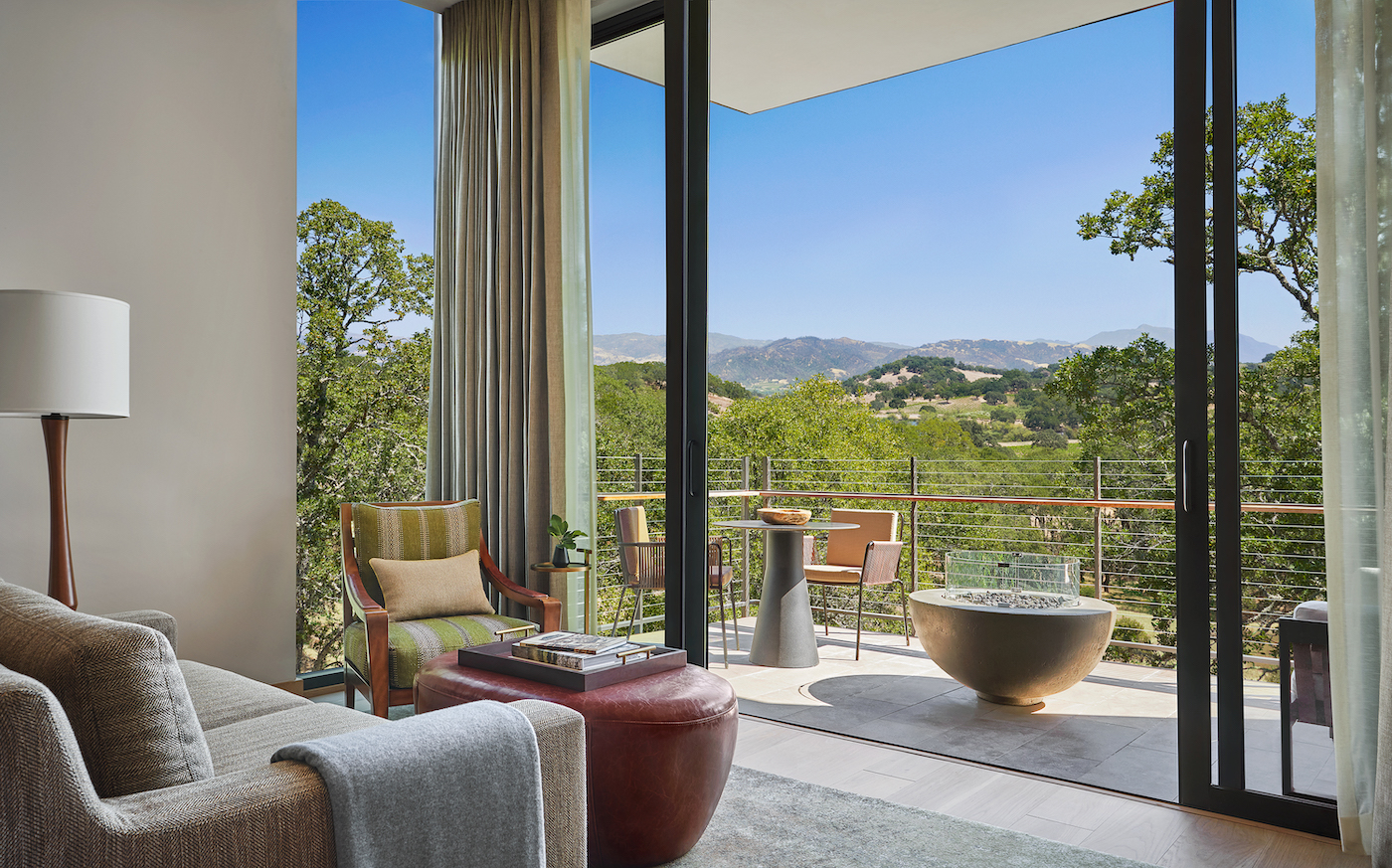 My fall trip to Northern California wine country was designed to spend a few nights during the tail end of harvest season in Sonoma. This included checking out the recently opened Montage Healdsburg resort, a stunning and tranquil retreat set on 258 acres of heritage oak forest, also dotted with manzanita and madrone trees. Vineyards have been planted on property (and an acorn planted for any oak tree removed for the resort project), 60-plus private homes are being built (mostly second or third homes) and lots are for sale, but it was the hotel's woodsy location, just two and a half miles from the town square, that makes Montage a perfect base for Sonoma wine country exploring.
Checking In with Style
Upon check-in, the most gracious and beautiful Yanet greeted me with a complimentary glass of excellent, light, and crisp Sonoma/Russian River Valley 2020 Chardonnay from LIOCO vineyards (they have a tasting room in town). An equally sweet "bell-woman" – one of two on staff – whisked me and my traveling companion off in a golf cart to one of the 130 beautifully designed and handsomely appointed tree-top view rooms in pods tucked into the forest and built on stilts. Decorated in neutral tones and natural materials, the spacious room was designed to emphasize the focus on the trees outside the massive sliding glass doors that open onto the equally spacious deck with a firepit and plenty of seating. Stargazing at night is de rigueur and there are even weather-dependent stargazing events on property, and other onsite options/activities including a terrific play area and family pool for those traveling with kids.
We dropped our bags, jumped into our bathing suits, and immediately hit the "adults only" zero edge pool and jacuzzi. Returning to our room, it was warm enough to enjoy the outdoor shower before dressing for dinner at the resort's Hazel Hill. The indoor/outdoor dining venue features tranquil views across the vineyards planted by current Sonoma uber winemaker star Jesse Katz. Mount Saint Helena in the distance turning lavender-pink at sunset was an added treat as a terrific jazz duo of guitar/stand-up bass provided a perfect sound backdrop. The feeling is casual, but the service (not only in the restaurant but throughout the property) is exemplary and guests are treated like royalty.
Food as Art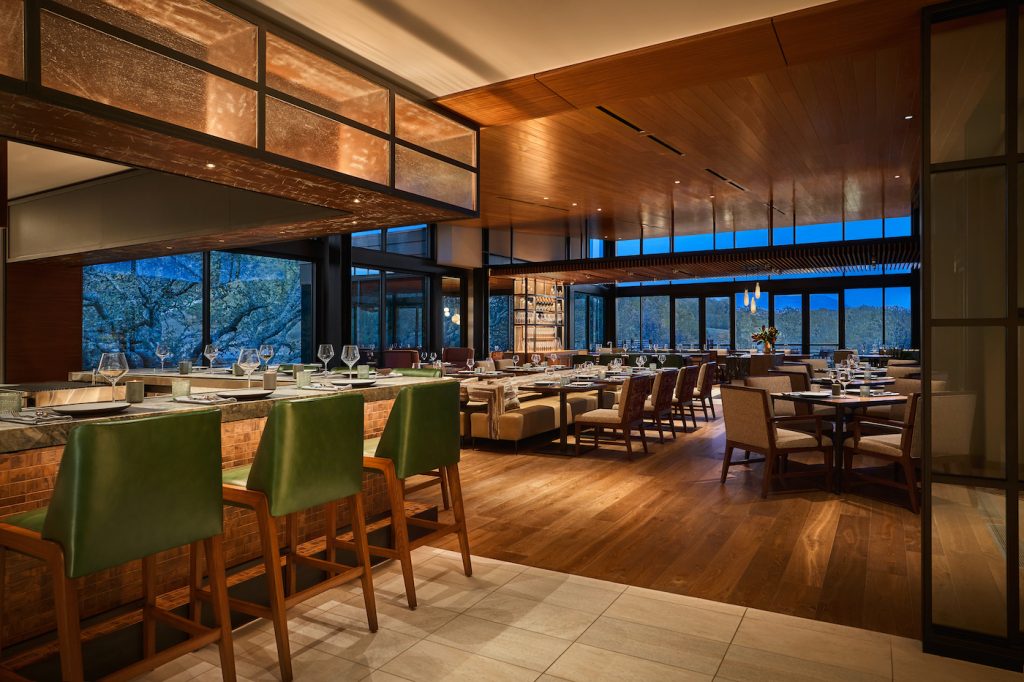 Dinner at Montage Healdsburg's Hazel Hill was as delicious as it was visually exciting. Napa and Sonoma wine country chefs all need to be at the top of their game, and Chef Jason Pringle and Chef de Cuisine Thomas Mendel are food artists, par excellence. There's even an open kitchen with counter seating if you want to watch the chefs in action.
We began our culinary adventure with a beautiful array of four different varieties of succulent raw oysters served with a Bloody Mary mignonette, cocktail sauce, and Chef JP's hot sauce. While I usually try wines of the region, I couldn't resist the Huber Grüner Veltliner from Austria, which was perfection with the bivalves. I also tried Sonoma's Arbe Garbe Malvasia Bianca and Tocai Friulano, but must admit I preferred the Austrian wine that evening. The wine list is stellar and you may have a hard time choosing what to pair with your meal.
Stick with me here, because although certain offerings may sound strange, everything worked harmoniously – from the salmon topped with a sliver of crisp pumpernickel bread to a dessert named "peas and carrots."
The highlight of our meal was a shared starter of house-made pappardelle with black truffles shaved tableside (presented in a temperature-controlled humidor). But the castellano olive bread from Goguette Bread bakery in Santa Rosa served alongside duck fat butter with fennel oil and fennel pollen was not only to die for, but more than likely contributed to my post-trip weight gain!
I had a hard time choosing an entrée between the Alaskan halibut with grapes, chanterelle mushrooms, and sauce Veronique or the Liberty Farms Duck Breast which would have been an excuse to switch to red vino – maybe the Cornell Vineyards cab? But I stayed the white wine course.
"I've eaten salmon so much," my dining companion, who also chose a fish entrée, raved, "but never like this!"
There's always room for dessert. My friend chose the "peas and carrots" – a sourdough carrot cake with a white chocolate pea mousse – and gobbled it down like there was no tomorrow. What a clever way to con children into eating vegetables, I thought to myself. I asked if there was anything with dark chocolate not on the menu and was not disappointed by a rich, gold-flecked chocolate crémeux dessert. All in all, a superb and memorable dinner presented and served with casual professionalism.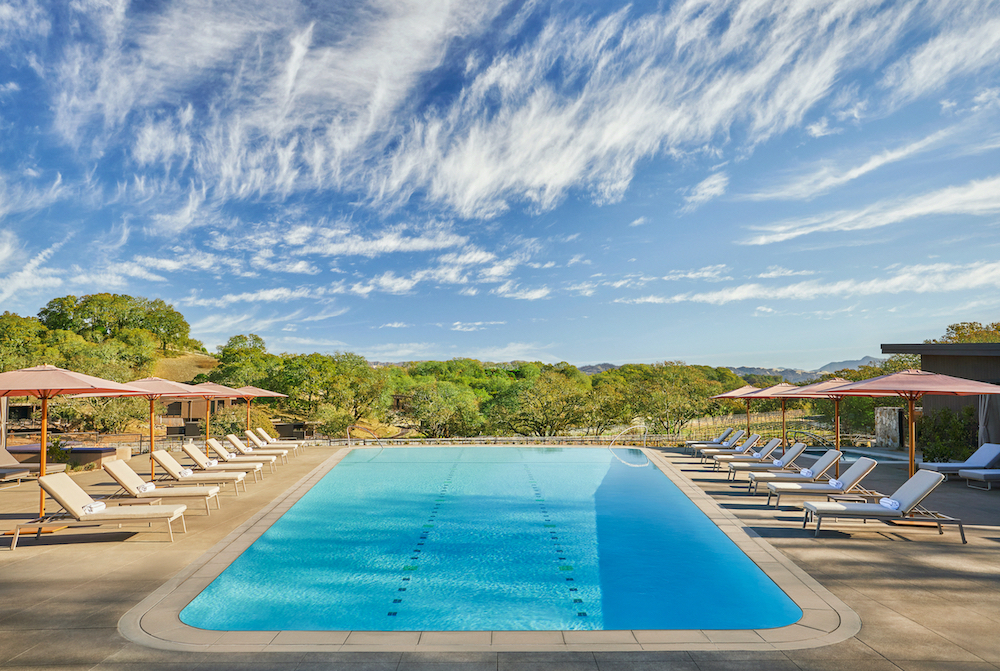 The next day was a lazy one, some time by the pool and a highly anticipated massage in the small spa did not disappoint. Brandy kneaded my muscles into bliss and I floated back to my room for another outdoor shower and relaxation time to watch the changing light on the madrone tree tops outside the room deck. There are plenty of ways to work off the calories – hiking trails, e-bikes to rent, archery, and other activities manned by Daniel, the awesome recreation manager. I was lucky to be at the resort the first night Jupiter aligned in the sky since 1963 for stargazing through the lens of a strong telescope. Daniel set the eye piece so I could see not only Jupiter, but three moons around it. It was a perfect ending to an awesome retreat.
While the rates are not for the faint of heart— and I did take issue with the music played poolside and some limited noise from my nextdoor neighbor's room, Montage delivers an almost perfect experience, mostly thanks to the setting, stellar staff, and fine cooking that also includes delicious hearty breakfast choices including eggs benedict with locally cured bacon or ham that's enough for two meals, gorgeous and tasty avocado toast, and more. The hotel's concierges, Annie and Scott, can also be counted on for excellent recommendations for wineries to visit as well as "up and coming" restaurants and more, off property.
Would I return? In a New York second! Montage showcases not only some of what's really best and beautiful about California wine country, but it's done with style, panache, and tremendous human Golden State warmth in a gorgeous setting.
Montage Healdsburg,
100 Montage Way, Healdsburg, CA 95448
montagehotels.com
(707) 979-9000
You might also be interested in...