A Not-So-Saintly Night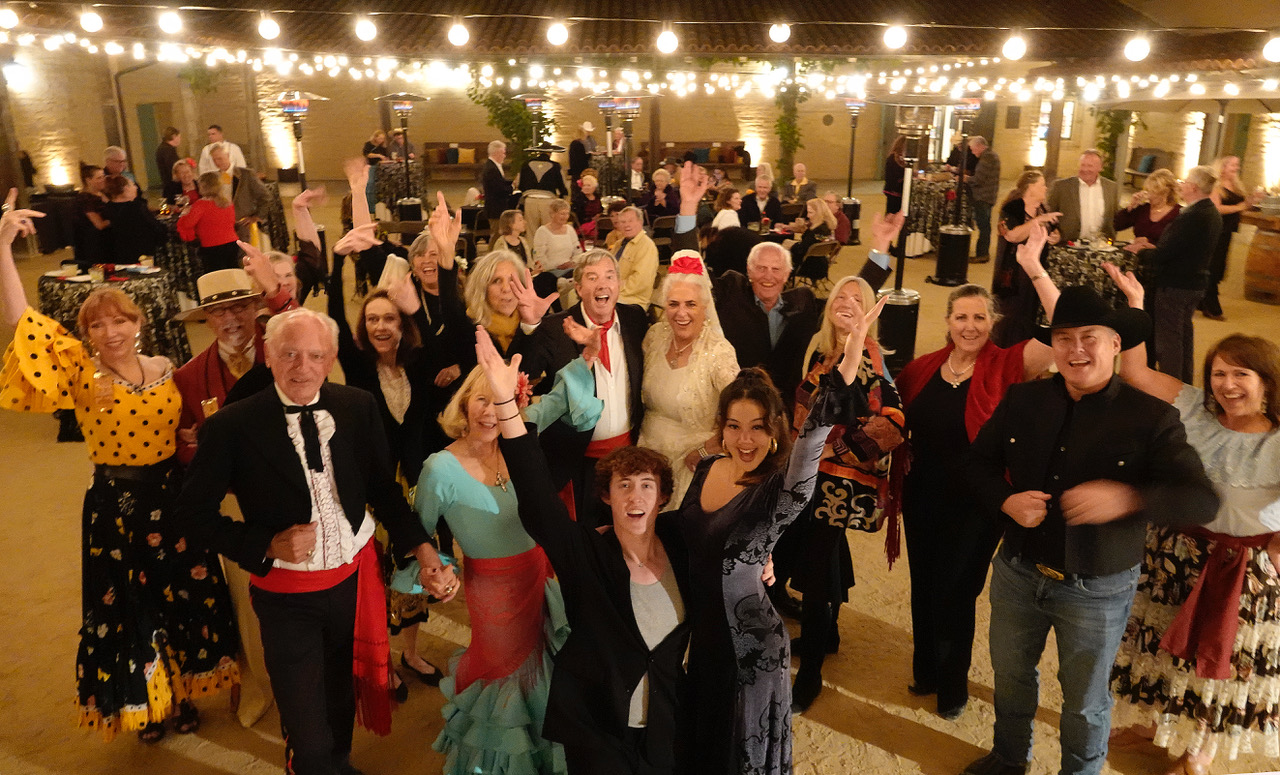 Beatification can have its drawbacks as this illustrious organ's bridle correspondent Lynn Kirst, who has been Fiesta's Saint Barbara for the last year, found out.
She has now ditched her white go-go boots and ornate gown, celebrating with a boffo bash for 75 guests at the Santa Barbara Historical Museum, a prize she won at the Fiesta del Museo gala in July.
"This was my opportunity to thank the people who have been so helpful to me in my role as Saint Barbara over the past few months, while simultaneously thanking the museum," says Lynn, a longtime Montecito resident.
One of the guests Jack Harwood showed up with his flamenco partner Bella, which led to an impromptu dance lesson for 20 other attendees game enough to try.
Among the guests noshing on jalapenos and burritos were David Bolton and Gonzalo Sarmiento, Drew Wakefield, Fritz and Gretchen Olenberger, George and Laurie Leis, KEYT's John Palminteri, James Garcia and wife Erin Graffy, Mary Collier, Dacia and Riley Harwood, Jon and Bonnie Henricks, and Marie Profant.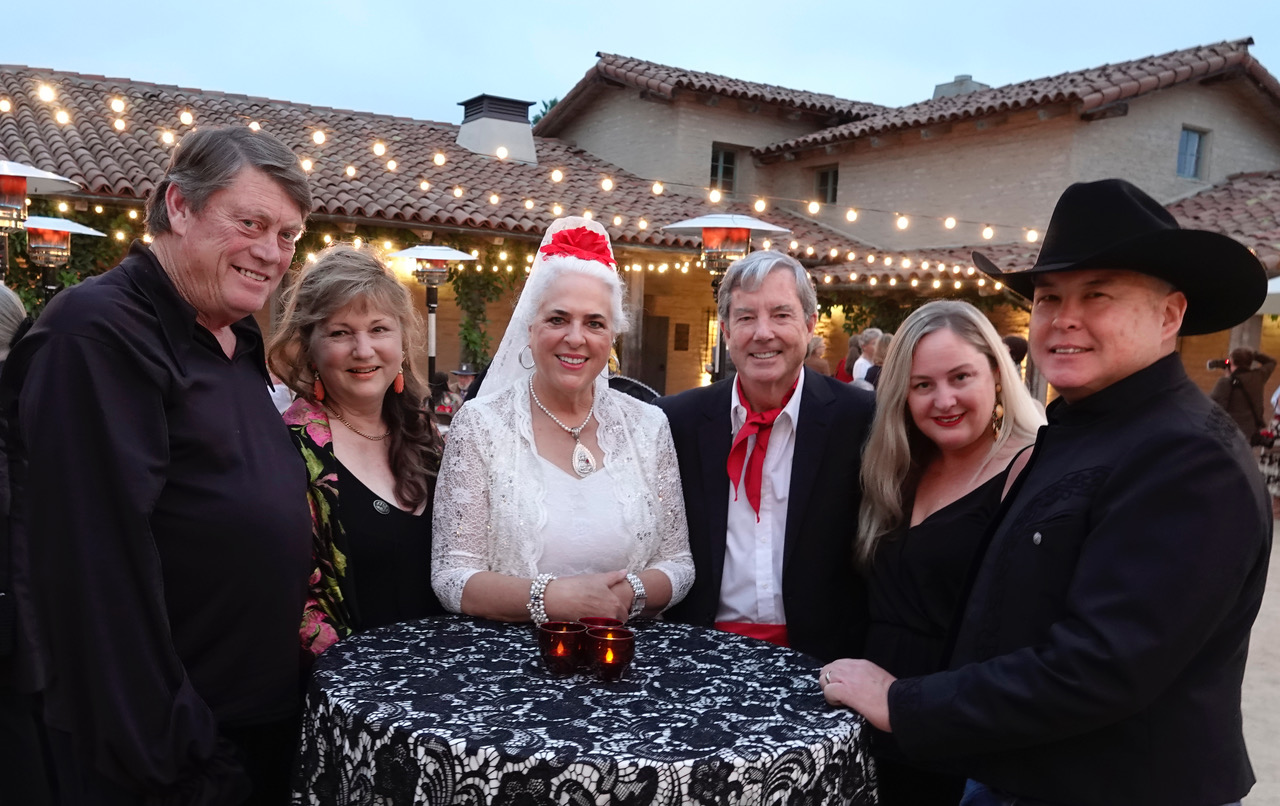 Moving Around Town
Actor-producer Larry David, who sold his 1929-built French country cottage in Montecito for $6.9 million, a $1.2 million profit in nine months, has lost no time in reinvesting in our rarefied enclave.
He has just paid $7.6 million for a 4,326-square-feet ranch home built in 1917 on a .46-acre lot close to Miramar Beach with five bedrooms and five bathrooms.
David, 75, and his wife, former TV producer Ashley Underwood, still maintain a primary residence in Pacific Palisades and have a home on Martha's Vineyard.
Commemorating Her Majesty
Beanie Baby billionaire Ty Warner, 78, has paid tribute to the late Queen Elizabeth with an iconic plush toy Elizabeth, which goes on sale at the end of this month.
The new cuddly toy is dressed in baby blue – Her Majesty's favorite color – and bears a gold embroidered crown on its chest.
It is completed with a white and platinum colored ribbon, a nod to the 96-year-old monarch's historic 70-year reign.
Ty has also made a $100,000 donation to Cruse Bereavement Support, a charity the sovereign supported for 38 years.
Unfortunately for Beanie Baby devotees, the Queen Elizabeth edition is only available in the U.K., increasing its rarity value.
Stars Reunite in the Future
Montecito actors Christopher Lloyd, 83, and Michael J. Fox, 61, who starred in legendary roles in the film trilogy Back to the Future, reunited at the Comic Con Festival in Manhattan almost 40 years after the sci-fi movie was released.
The tony twosome spoke to thousands of fans at the cavernous Javits Center about the Robert Zemeckis films, saying they both had an "immediate chemistry."
One that continues, obviously…
Life-Changing Experience
Orlando Bloom, British actor fiancé of Montecito singer Katy Perry, has opened up about a terrifying ordeal he had to go through which left him in a dark place mentally.
The Pirates of the Caribbean star, 45, referred to a horrific accident he suffered as a teenager in honor of World Mental Health Day earlier this month.
"When I was 19, I fell three floors from a window and broke my back," he recounted in a video for UNICEF on Instagram. "I was very fortunate to survive the fall because my spinal cord was just intact. I was told for the first four days that I may never be able to walk again.
"That was the beginning of what was a long and painful journey for me into recognizing and understanding some of the patterns that had been in my life that led to me having numerous accidents. And the culmination was breaking my back, which was a near-death experience."
Bloom, who also stars in Lord of the Rings, underwent spinal surgery before embarking on a complicated recovery journey when he had to wear a brace.
"I would say the moments after the fall were quite a dark time. As someone who'd sort of always been quite active in my life, it felt very restrictive all of a sudden and I was in a lot of pain."
Home Refurbishments
King Charles III will have to wait for up to five years to move into Buckingham Palace, first lived in by Queen Victoria, as $370 million in extensive renovations will not be completed until 2027.
As the world-famous London landmark continues its ten-year refurbishment, Charles and his queen consort, Camilla, will continue to live in Clarence House, just a tiara's toss down the Mall, where they've resided for 19 years after the death of Queen Elizabeth, the Queen Mother, in 2002.
They will also split their time between historic Windsor Castle, 26 miles outside the U.K. capital, and weekend at Sandringham in Norfolk, the sprawling home on 20,000 acres built in 1870 for King Edward VII by his mother Victoria.
The tony twosome also have an idyllic Georgian countryside estate, Highgrove House, in the Cotswolds, near Tetbury, which the then Prince of Wales' Duchy of Cornwall acquired in 1980 from Maurice Macmillan, son of British prime minister Harold Macmillan.
And Camilla also has her own charming estate, Ray Mill House, a short drive away in nearby Wiltshire, which she bought in 1994 when she divorced her first husband, Andrew Parker Bowles, and uses as a retreat from royal duties.
A New Leg on Life
Former TV talk show host Oprah Winfrey, 68, has revealed she underwent back-to-back knee surgeries in late 2021.
The Montecito media mogul opened up about her surgeries in her Oprah Daily video and said the treatments led to her being more active and "fully in my body" after recovery.
"When I came home the first time, I literally could not lift my leg," she said. "As I was rehabilitating, I started hiking. Every day I tried to hike more and do more. My appreciation for every organ and every limb has expanded exponentially."
Angela Lansbury Remembered
On a personal note, I remember the talented and charming actress Angela Lansbury, who has died at the age of 96 at her Los Angeles home.
Famed for her iconic role in Murder, She Wrote and Beauty and the Beast, I used to see her in New York on occasion at many a glittering gala.
Lansbury, who was nominated for ten Golden Globe awards, winning four, as well as being nominated for 12 Emmys and five Tonys, also received an honorary Oscar in 2013 in recognition of her 80-year acting career.
She also shot one of her most charming TV films The Shell Seekers, based on author Rosamunde Pilcher's bestselling book, near my cottage in Cornwall, using the Land's End Hotel owned by an old friend Charles Neave-Hill, who was a fellow student with King Charles at Gordonstoun, as the State House Hotel.
Fond memories….
Sightings
Oscar winner Jon Voight checking out the Ritz-Carlton Bacara… Actor Larry David noshing at Lucky's… Actor Ed Begley Jr. at Congregation B'nai B'rith in Goleta.
Pip! Pip! Be safe, wear a mask when necessary, and get vaccinated.
You might also be interested in...