I Finally Saw It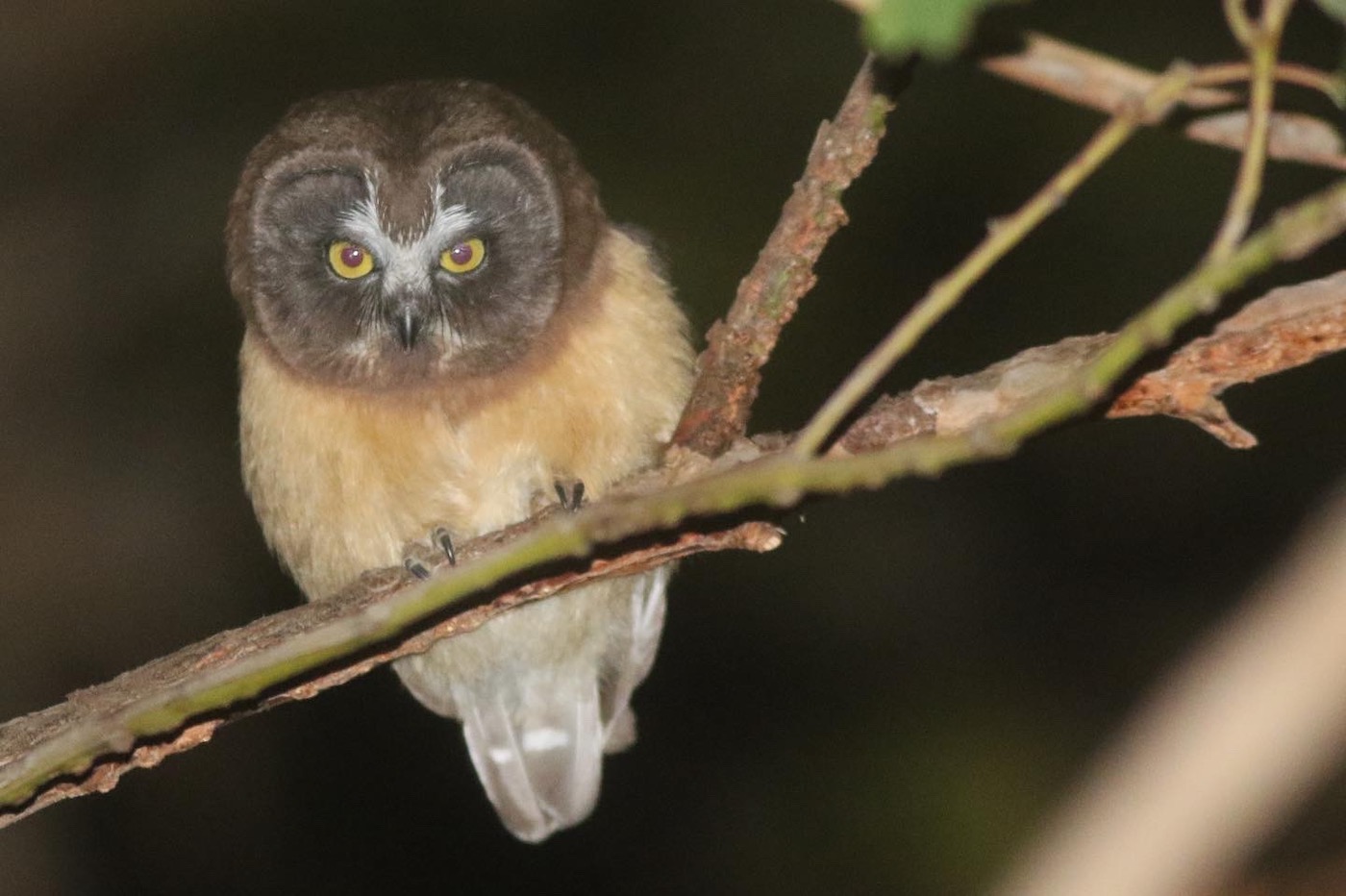 A saw-whet owl, that is. Sometimes they keep me up at night, and gratefully so. That repetitive too-too-too sounding off two notes per second at the same pitch for up to 25 whistles in a row before taking a slight break. 
Then those tiny, nocturnal saw-whets are back at it again teasing me with their distinct island serenade in the lower campground, beneath the dense canopy of the eucalyptus grove in Scorpion Canyon on Santa Cruz Island. All these years and I've never even caught a glimpse of one. That was, until recently.
For all these years, all I've heard of these little owls are the adults, mostly males, too-too-too'ing to stave off any competition and defend their precious territories. Sometimes they mix in some whines, squeaks, and barks just to keep things interesting.
This past August and September, the calls have been of a different variety, but definitely saw-whet owls. This summer, a pair of adults had four saw-whet owlets tucked away in the eucalyptus grove, just between the lower and upper campgrounds. From late August into early September, the owlets' incessant tssst calls have kept many campers and kayak guides on their toes and up at night. As evening approached, those tssst calls sounded off in different regions of the craggy canyon. The young saw-whets had dispersed, and their tssst calls were heard throughout the lower campground. Guides and campers were scrambling for headlamps to get a mere glimpse of these minuscule owls.
Saw-whet owls, although found throughout North America, have proven to be one of the most challenging to see, let alone photograph. At seven to eight inches tall and around 2.5-5.3 ounces, saw-whets are small, but they have big, round heads. Their wingspans range between 16.5-18.9 inches wide. Their small size doesn't deter them though from hunting all types of prey. Mice are on the menu. There's no shortage of them on Santa Cruz Island, but they supplement their diet with small songbirds and insects, also aplenty, on the largest, most biodiverse isle off the California Coast.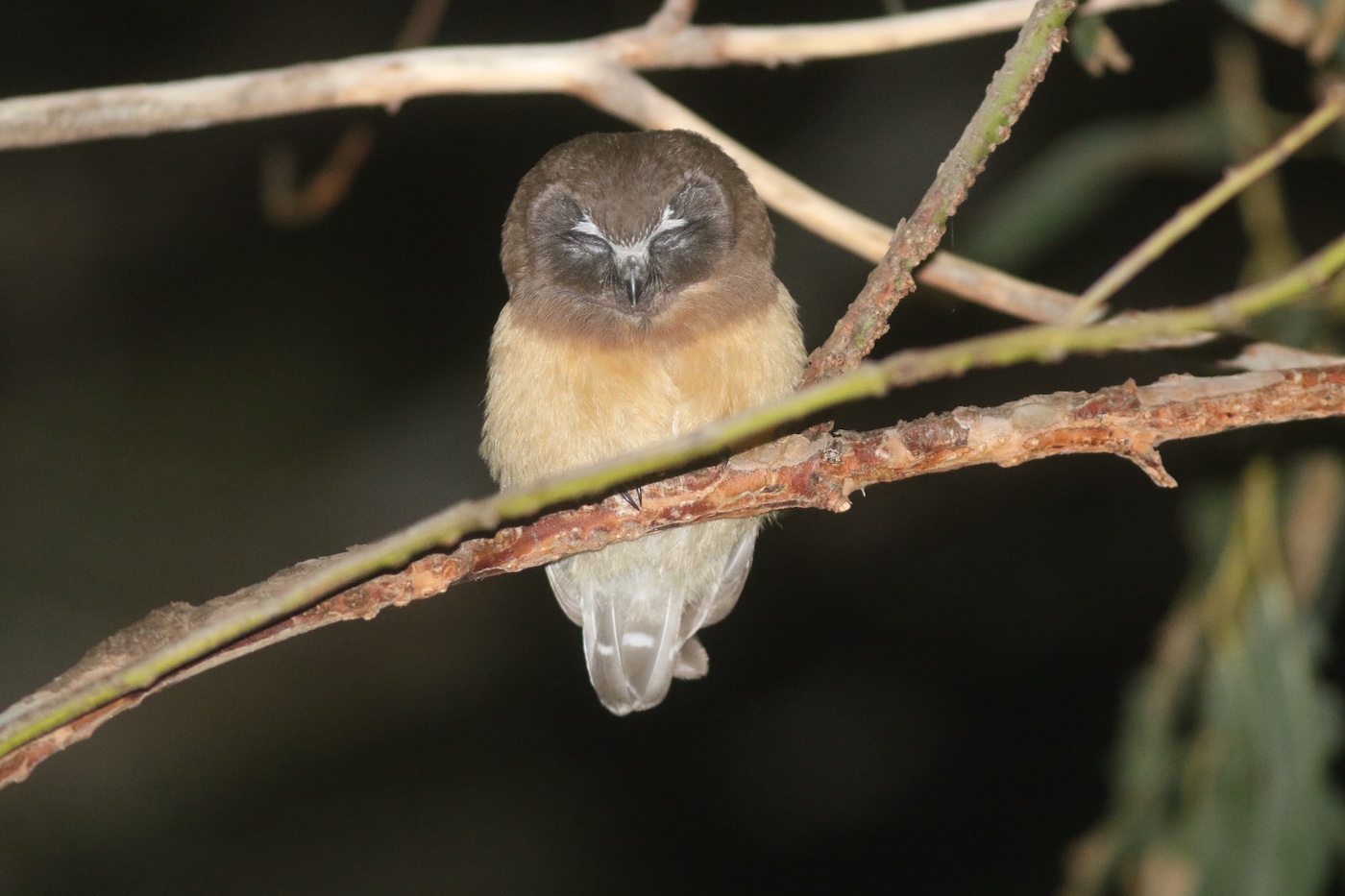 During the last week of August, usually at around 10 pm the tssst calls from the owlets grew really loud. There was no way I was going to sleep, so with my headlamp burning bright and a flash attached to my camera, I went owling for most of those nights. Those tssst calls lasted all the way until 5:30 am!
However, I did locate several saw-whets on the lower eucalyptus limbs of a tree that fell over last December during one of several strong winter storms. When I did find them, it was 11:30 pm. The owlets bobbed and weaved with their big heads from exposed perches. I noticed the juveniles had a cinnamon-colored tummy, with brown heads, yellow eyes, and a distinct white "V" between the eyes that ran down to the top of their beaks.
Maneuvering in for photos wasn't simple while attempting to keep the noise level down to a minimum and maintaining a visual on such a small subject in the dark. There was a lot of bushwhacking through thistle, coyote bush, and lemonade berry. I literally had to follow those consistent tssst calls, sometimes having to stop and listen as they would fly short distances to the next branch and continue calling out until first light.
It's always amazing seeing wildlife on the Channel Islands National Park. However, just when I thought I had seen everything there is to see of island fauna, one of North America's smallest owls kept me in check. The truth is, I'll never see enough.
You might also be interested in...