Nominated for Winemaker of the Year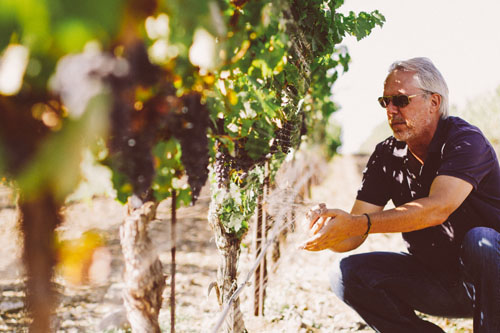 Santa Barbara winemaker Doug Margerum has been nominated Winemaker of the Year for the 23rd anniversary of Wine Enthusiast's coveted Annual Wine Star Awards, which honors individuals and companies that make outstanding contributions to the wine and alcohol beverage world.
Winners will be announced in the magazine's Best of Year issue in December.
Since the 1981 opening of the legendary Wine Cask restaurant to his launching of the infamous Wine Cask Futures program in 1984, to his partnership with Qupe's Bob Lindquist and Au Bon Climat's Jim Clendenen in 1986 for Vita Nova Winery, or to his starting the Margerum Wine Company in 2001 and Barden Winery in 2012, Doug has been an instrumental part of our Eden by the Beach's success as a global food and wine destination.
Words of Advice
Oprah Winfrey says she hopes that "burying the dead" will help Prince Harry and Meghan Markle finally make peace with the Royal Family a year after the couple's explosive interview with the former TV talk show titan.
Harry, 38, and Meghan, 41, appear to have reunited with William, now Prince of Wales, 40, and wife Kate, 40, in the wake of Queen Elizabeth's death.
The siblings' relationship appeared to fracture after the Duke and Duchess of Sussex announced they were stepping down from their royal duties and leaving the monarchy behind to relocate to the U.S. in early 2020.
"I think all families – you know my father passed recently this summer – and when all families come together for a common ceremony, that ritual of burying your dead, that is an opportunity for peacemaking," Oprah, 68, told the TV show Extra, on which I used to be a correspondent. "And, hopefully, there will be that."
Settlement Reached
Rock manager Scooter Braun, 41, who just bought a $36 million, 19,000-square-foot six-bedroom, 12-bathroom four-acre estate on Hot Springs Road, has settled his divorce with ex-wife, Yael, after seven years of marriage.
Braun, who manages Canadian singer Justin Bieber and Montecito's Ariana Grande, will pay her $20 million and $60,000 a month for child support for their three children – Jagger Joseph, 7, Levi Magnus, 5, and Hart Violet, 3, according to TMZ.
He will keep their former $65 million Brentwood home in the settlement, as well as a Gulfstream G450 jet and 100 pieces of artwork, including by Andy Warhol and Keith Haring.
New Album on the Way
Santa Barbara warbler Katy Perry, 37, is set to start work on her first album in two years after her last album Smile, sold more than 70,000 copies.
The "Roar" hitmaker has been busy with her ongoing Las Vegas residency PLAY at the Resorts World Theatre, but she has big plans for when the lucrative run comes to an end.
"I'll probably go and make another record soon and write and tour the world after this, which will be so great," she told Drew Barrymore on her TV talk show…
A Record Win
Montecito's Michael Keaton, 71, has become the first actor in history to win five major TV awards after triumphing at the Emmys last week for his performance in Dopesick.
He was awarded Leading Actor in a Miniseries or TV movie for his role as Dr. Samuel Finnix in the Hulu series that depicted the devastating opioid crisis.
On the Case
Dick Wolf, Montecito creator of the long-running TV series Law & Order, has been roundly criticized by British comedian John Oliver, 45, on his HBO show Last Week Tonight.
Oliver noted Wolf, 75, had a close behind-the-scenes relationship with the NYPD employing officers as consultants and boasting about the access he had.
He then revealed a past interview with a Law & Order writer who said if the series depicted police in a more realistic critical way, the NYPD would make it "very difficult" to continue filming in the Big Apple.
"Crucially it all makes a lot of choices that significantly distort the big picture of the police," says Oliver, adding the right offender is usually arrested midway through an episode – and justice is done by the end.
Oliver complained that not every court case is solved so quickly and about "97 percent of cases" don't go to trial.
"Obviously Law & Order cannot reflect that reality. It would be unwatchable."
Film Pioneers Honored
Santa Barbara Museum of Art trustee Michael Wilson, along with James Bond producer Barbara Broccoli, are being honored as Pioneers of the Year by the Will Rogers Motion Picture Pioneers Foundation.
In addition, they will have their handprint bronzing ceremony in Los Angeles this week.
The foundation's fund provides financial support and services to individuals in the theatrical entertainment community who are encountering an illness, injury, or life-changing event.
Roxanne Lowit Remembered
On a personal note, I remember legendary New York photographer Roxanne Lowit, who has died at the age of 80.
I met Roxanne, who studied at the Fashion Institute of Technology, when I was a gossip columnist on Star magazine through an English colleague, Robin Leach, who went on to fame and fortune as the host of Lifestyles of the Rich and Famous.
Her photos were everywhere, including Vanity Fair, French Elle, V magazine, and American Glamour. She also did numerous advertising campaigns, including Dior, Barney's New York, and British designer Vivienne Westwood.
Roxanne also became a good friend of Yves St. Laurent and was a frequent guest at his parties in Paris and his home in Marrakech, Morocco.
I remember going with her to the City of Light for a party at Le Palace for fan-fluttering German designer Karl Lagerfeld when Soraya, the former empress of Iran, was carried in on a Venetian gondola carried by six hunky escorts while French nightclub queen, Régine, sang "I'll Survive."
Extraordinary times…
Sightings
Actor Larry David and Ted Danson chatting at the San Ysidro Ranch…. Actor Chris Pratt picking up lunch at Mesa Burger… Lynda Weinman shopping at Pierre Lafond.
Pip! Pip! Be safe, wear a mask when necessary, and get vaccinated.
You might also be interested in...