Local People: Cristy Candler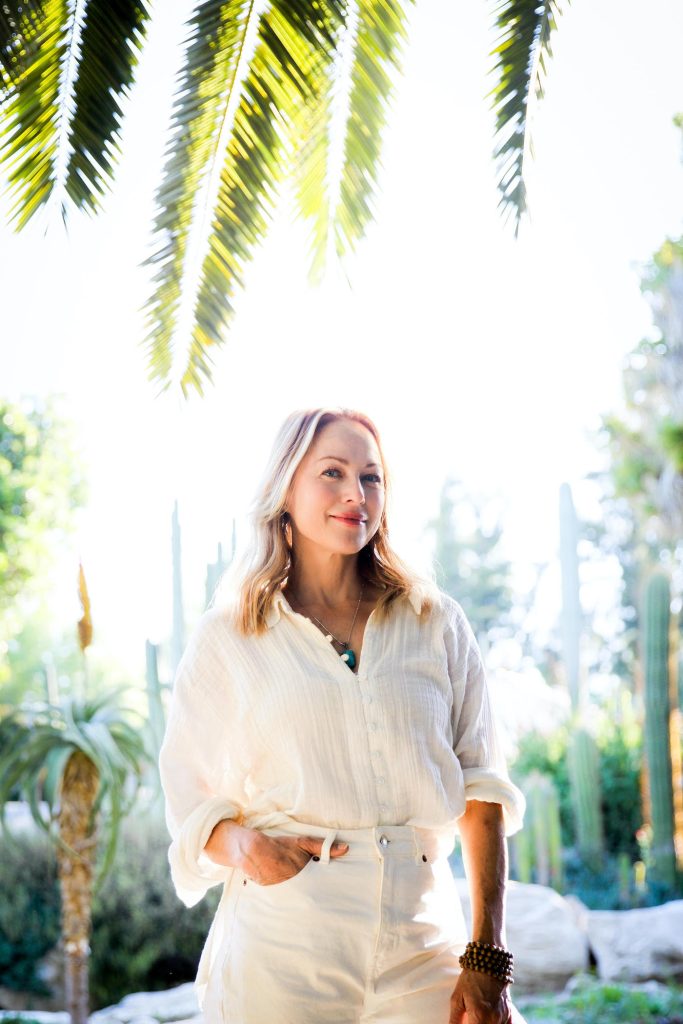 "My soul was broken and my back was broken; it was time to go," said Montecito native Cristy Candler. She recently launched her wellness business OF SOUND BODY, where she helps her clients heal using the same somatic and energetic practices that worked for her.
Prior to being an entrepreneur, Candler had a long career as a performer, presenting at the Kennedy Center, the United Nations, Royal Caribbean Cruise Lines, and in Broadway hits such as Aida, as well as the original cast of Wicked and Chicago.
But, in 2016, suffering from a herniated L5 disc and inflamed S1 joint, Candler could no longer bend over to pick up the bowl to feed her dog, much less manage a swing role in the Broadway musical Rock of Ages.
She left NYC and moved back to California, where she could focus on healing her back. Doctors recommended surgery, but Candler declined. Instead, she meticulously pieced together a treatment plan for herself. Among other things, she walked on the beach every day, listened to nature sounds every night, and received acupuncture treatment. It worked.
In 2017, she was able to teach yoga again; she instructed at Yoga Soup and the Santa Barbara Yoga Center. But healing her spine was only the beginning of her journey to health.
"In New York, I was stressed out, kind of mean, competitive… the city makes you that way, and the career makes you that way," said Candler. "I would finish my show, my ears would be buzzing because my microphone was in my wig, and all I could stand to listen to was the sound of bird song."
Living in this over-stimulating, hyper-competitive environment for so long was damaging. Candler often felt stuck on high alert. Her sympathetic nervous system, also known as the fight-or-flight mechanism, needed a reset. But how would she go from "living on ice cubes and cigarettes," to showing up for herself (rather than the stage)?
Candler kept her routine simple and practical, consistently engaging in what she calls the four pillars: movement, breath, sound, and nature. She says mindfully engaging in these activities for at least a few minutes a day was essential.
"And to recognize that missing a couple of days is part of the practice, too," Candler said, with a laugh. "I'm living proof that you can change your brain, your disposition."
Candler created new neural pathways by using the four pillars to access her parasympathetic nervous system, informally the rest-and-digest processes. Overtime, she let go of old patterns. She tapped into her higher self, creating habits that served her and her community rather than a taxing schedule or audience.
"You don't need a fancy gym membership. Doing these four things costs nothing," said Candler. But having a guide, especially if it's been a while since you've tuned in to yourself, can be helpful.
From her own personal practice, Candler understands that her clients need practical grounding tools. "Give me the nuts and bolts," she said. "What is going to help me right now?"
Candler offers a holistic approach, engaging her clients in meditative nature walks, sound healing, space clearing, and reimagined yoga classes.
One of her most popular offerings is the Heart Beat Flow, a hybrid yoga and dance class.
"I kick up the music really loud, and you can't help but to get up. We jump up and down. Getting your heart rate up is a really great way to beat depression. Then we wind down into a nice relaxation — with savasana and meditation."
By incorporating mindfulness, meditation, and physical activity, Candler's classes can benefit her clients' heart health as well as their mental health. And you don't have to be a dancer or a yogi to join in, just someone who wants to take care of themselves.
"We haven't been taught to listen deeply to ourselves," Candler said. "I'm not as interested in putting my foot behind my head as I am in asking myself how my knees feel today. I don't need to impress anyone. At some point you have to honor your body and adapt to a practice that serves you."
Candler teaches at San Ysidro Ranch, El Encanto, Rosewood Miramar, The Ritz-Carlton Bacara, Ojai Valley Inn, and is available for private sessions.
For more information about OF SOUND BODY visit ofsoundbody.com or contact Cristy at
cristycan@gmail.com, or (917) 922-7488.  
You might also be interested in...