Pup Party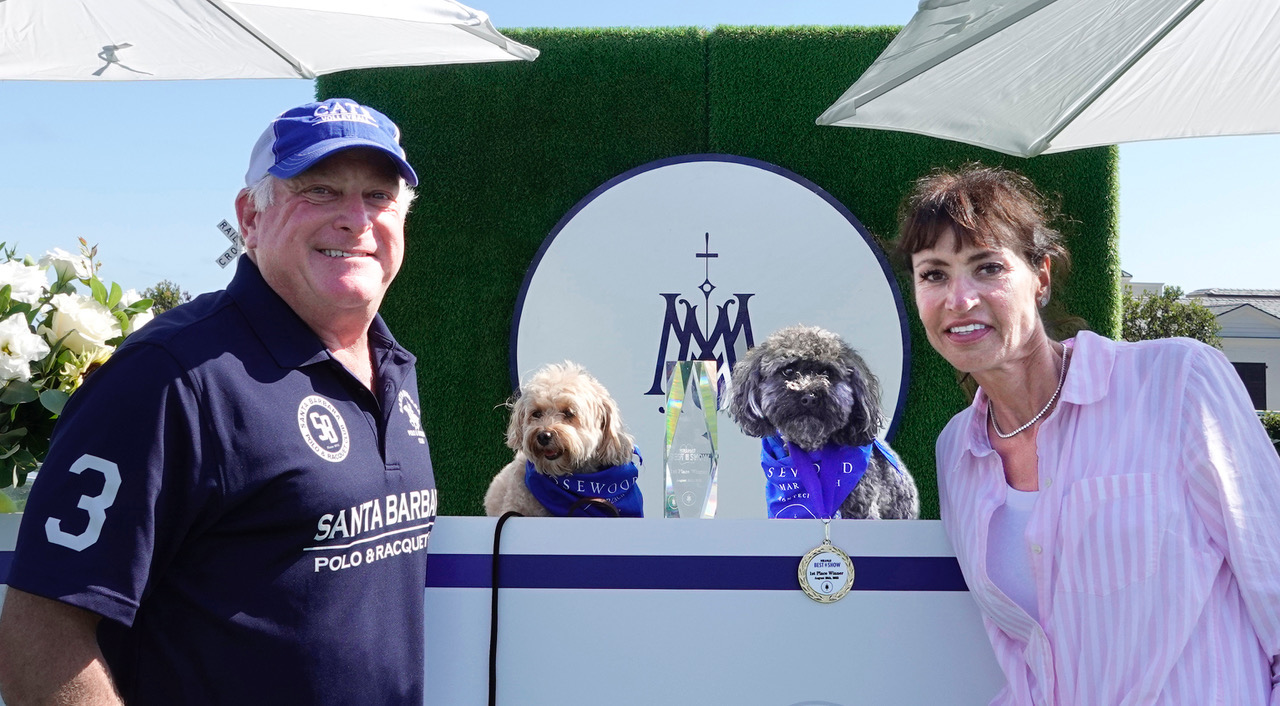 Billionaire Rick Caruso's Rosewood Miramar went to the dogs when dozens of canines invaded the tony hostelry's Great Lawn to celebrate International Dog Day.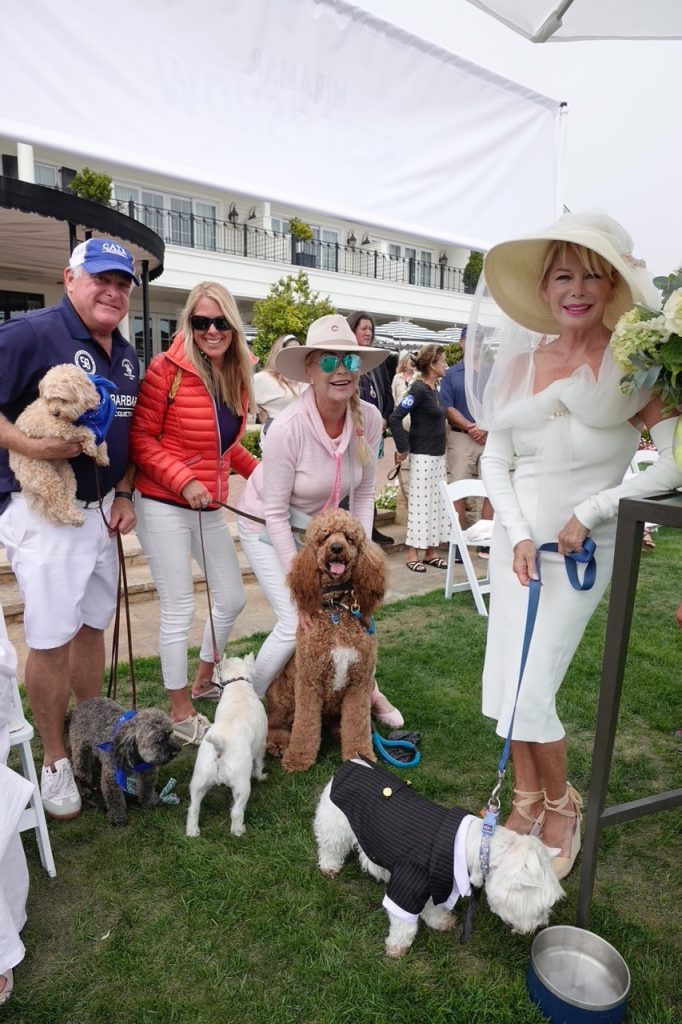 With pet owners paying $250 to enter, all proceeds benefited the local animal shelter, Santa Barbara Humane – which has two campuses in Goleta and Santa Maria – with judges looking for personality, spirit, beauty, tricks, and talent.
The first-prize winner won a two-night stay for two guests, including the winning dog, at the beachside hotel. It also included dinner for two at Caruso's, in-room dog amenities, and another dinner for two at the newly opened Japanese eatery AMA Sushi.
The pampered pooch party raised $6,000 for Santa Barbara Humane.
Vroom Vroom
The Montecito Motor Classic, to be staged at the Santa Barbara Polo Club in October, has been postponed until next year, founder Dolores Johnson informs me.
"Rather than compromise the quality of the event with challenging market headwinds and the increased cost of hosting the event, we have decided to postpone it with the hope that we may see the cost of doing an event like ours become more favorable in the future," says Johnson.
"Our intent is to hold the classic in the spring of 2023."
Top of the Charts
Former actress Meghan Markle has used the first episode of her new podcast to fire a new broadside at the Royal Family as she claims she was forced to continue engagements on a tour of South Africa despite being left in tears when her son Archie narrowly escaped a fire in his bedroom.
The Montecito-based Duchess of Sussex also hit out at those who criticized her for being "ambitious" when she started dating Queen Elizabeth's grandson, Prince Harry, during a wide-ranging discussion on the new episode of her long-awaited 'Archetype' podcast on Spotify.
And Meghan, 41, recited the experience involving the fire in autumn 2019 during a conversation with close friend, tennis great Serena Williams, 40.
Talking about her guests, the former Suits TV star said: "They've all in some way bore the brunt of labels we'll be picking apart, and, of course, I know a thing or two about labels myself."
Despite harsh reviews from critics on both sides of the Atlantic, Meghan dethroned Joe Rogan as the streaming site's most popular podcast.
In other Sussexi news, the tony twosome have added a seven-year-old rescue beagle, Mia, to their Montecito menagerie to join their other Labrador canine.
She was one of 4,000 dogs rescued from a breeding facility in Cumberland, Virginia.
Paws for thought, indeed…
Among the supporters turning out were Dana White, Nancy Schlosser, Robert Weinman, Eve Bernstein, Simon Williams, Joan Rutkowski, Sybil Rosen, Dan and Meg Burnham, Janet Garufis, Meredith Baxter, Mary Dorra, Lynn Kirst, Peter and Gerd Jordano, Mercedes Millington, George Konstantinow and Helene Segal, Kathryn Martin, and Stefan and Christine Riesenfeld.
Logging Off
Limiting her social media usage during the past month has improved Montecito actress Gwyneth Paltrow's mental health.
After spending time relaxing at her Montecito estate, the Oscar winner, 49, says she spent less time online making her less uneasy and more present.
"I haven't been on social sites much for weeks, that felt pretty good," the Goop founder revealed to her 1.8 million Instagram followers.
"When I got off the phone for a week or so, I noted good changes in my mental state, more presence, less anxiety," she added.
Wedding Bells
Sarah Hyland and beau Wells Adams have tied the knot.
The Modern Family actress, 31, and the Bachelor in Paradise personality, 38, exchanged vows at the picturesque Sunstone Winery in Santa Ynez.
Hyland, who was on the ABC series from 2009 to 2020, was supported by 150 guests, including co-stars Sofia Vergara, Ariel Winter, and Jesse Tyler Ferguson, who officiated the ceremony.
They were scheduled to wed in August, 2020, but delayed the proceedings because of the COVID-19 pandemic.
A Fateful Day
It is hard to believe it is now 25 years since Princess Diana's life was snuffed out in a tragic car accident in Paris aged just 36.
I had been sailing with friends in Penobscot Bay in Dark Harbor, Maine, when I returned from a dinner party to find 80 calls on my host Marshall Field heir Maldwin Drummond's answering machine.
The first one was from NBC anchor Tom Brokaw asking me into the studio to talk about the death of the Princess of Wales who I had last spoken to two months earlier at a socially gridlocked reception at the New York auction house, Christie's, to promote the sale of her evening gowns for charity, an event I covered for ABC Network News and CNN.
In the following six weeks I did nearly 90 TV appearances, a personal record, as I criss-crossed the nation appearing on programs in Los Angeles, Chicago, San Francisco, Boston, Miami, Philadelphia, and New York.
I also covered Diana's emotional funeral at London's Westminster Abbey with an old friend, veteran ABC anchor Barbara Walters.
An extraordinary moment in time…
Sightings:
Ellen DeGeneres and actress wife Portia de Rossi noshing at Tre Lune… Rob Lowe sailing in St. Tropez… Prince Harry, scoring an impressive five goals, in a Sentebale charity polo match in Aspen, Colorado.
Pip! Pip! Be safe, wear a mask when necessary, and get vaccinated.
You might also be interested in...