San Francisco or Bust! Travel life in the fast lane…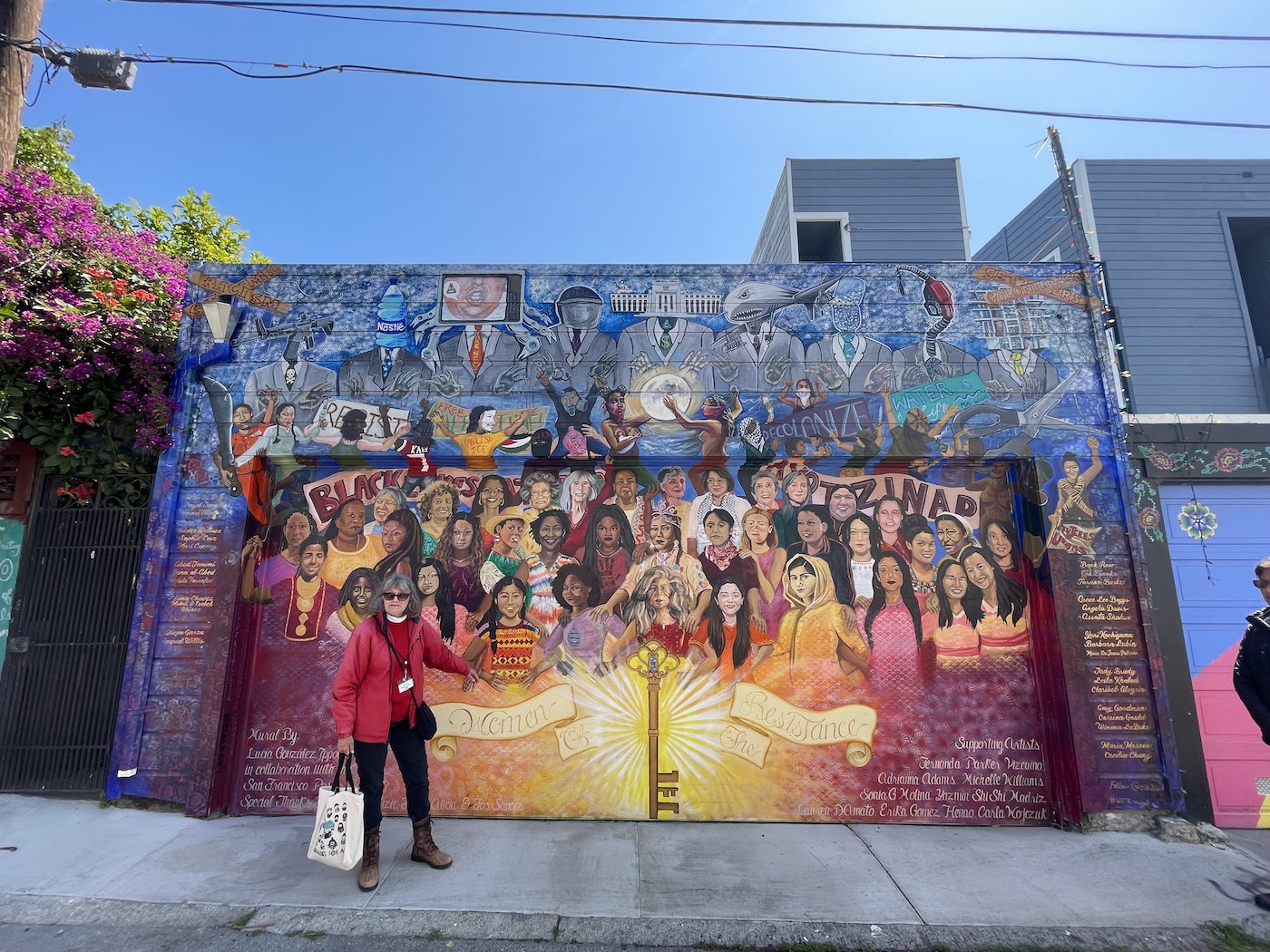 My weekend trip to San Francisco began with a bang. I was bopping along in the fast lane of the 101, when just north of Gilroy and south of Morgan Hill, I heard a loud "clank" at the front left of my car. A few light, rain-filled moments later, I realized I had blown a tire. I attempted to ease my way over to the right and to an exit – just missing hitting a car in the next lane – and hobbled off the freeway to a spot seemingly in the middle of nowhere. Cars – including a highway patrol officer – whooshed passed me as I waited for a tow truck to come help me change my tire. An hour later, the "helpful" tow truck driver told me, "You should watch a video on how to change tires." Guess I need to add that to my repertoire. Fortunately, there was a small rural tire store not far away and I was soon back on the road and smoothly, if nervously, cruising into the city by the Bay.
My excuse to travel north? A Modern Elder Academy reunion of some 400 people at several fun venues in the city, including a lively food truck area and poolside at the Phoenix Hotel, built by noted former San Francisco hotelier Chip Conley, who founded the Joie de Vivre group of hotels, authored a few books, then beat it to Todos Santos/El Pescadero, Mexico, and Santa Fe, New Mexico to reinvent himself and create the Modern Elder Academy (MEA for short). Conley, along with his partners Jeff Hamaoui and Christine Sperber, have created an incubator for those on the later side of their life journey to figure out where they are headed and where they are at, in a playful, soulful atmosphere. If you've never heard of the Modern Elder Academy, here's the Cliffs Notes: An awesome organic gathering place of beauty, grace, and learning on Pescador Beach, not far from the "Pueblo Mágico" town of Todos Santos (which translates to the magic village of all saints), that is the creative vision of this whip smart, playful, energetic visionary. If you are a 30-something to 80-year-old in transition, I suggest you get your firm to sagging asses South of the Border.
But back to San Francisco and the other reason for my visit: lodging for the weekend at the historic Clift Hotel. The downtown hotel has gone through a few iterations and is now branded The Clift Royal Sonesta Hotel. The high rise on Geary Street was renovated just before COVID hit and now sparkles with a modern, neutral palette of interior design upgrades. A number of super long-time, delightful employees who have worked here 10, 15, even 50 years, remain at the ready. 
The hotel's famous Redwood Room, one of the city's prettiest and certainly most historic bars, is open once again for drinks and nibbles. The Redwood Room bar was installed in 1933 and paneled with wood from one redwood tree. The stunning room has been re-adorned with copies of paintings by Gustav Klimt unearthed after 30 years in storage. Klimt oversaw the re-creation by his students of the romantic works. The drinks were flowing when I popped in and the hotel's Executive Chef Daniel Corey, who has a trail of Michelin stars following him, has created unique plates of "elevated bar food" to nibble on with your cocktails.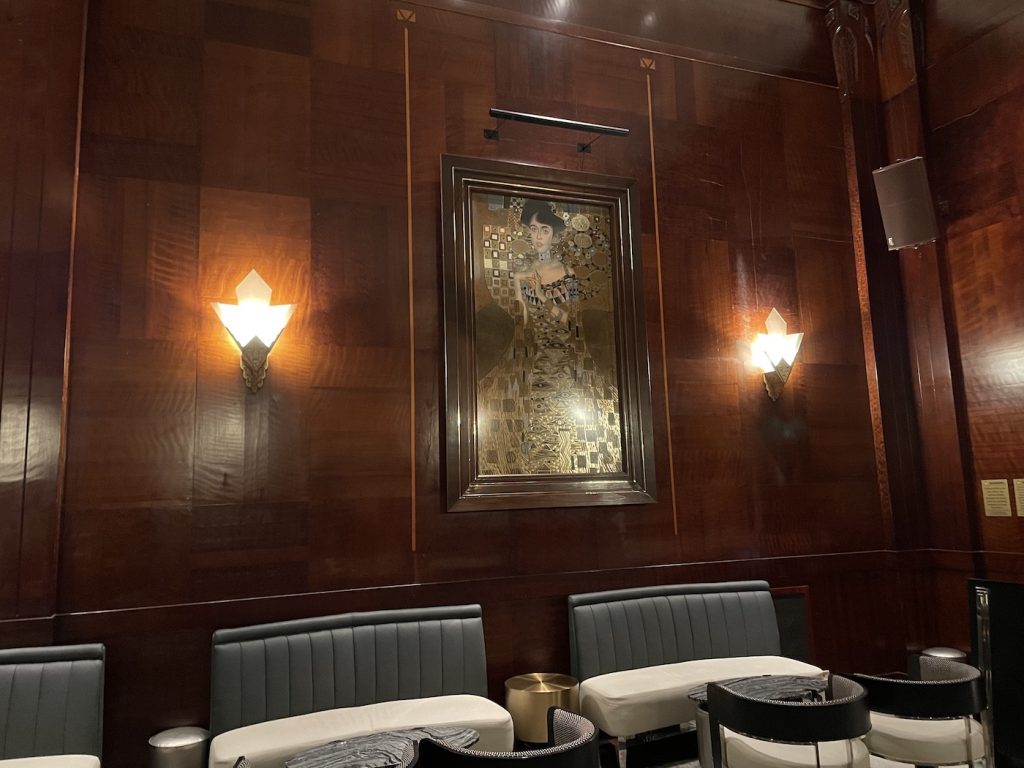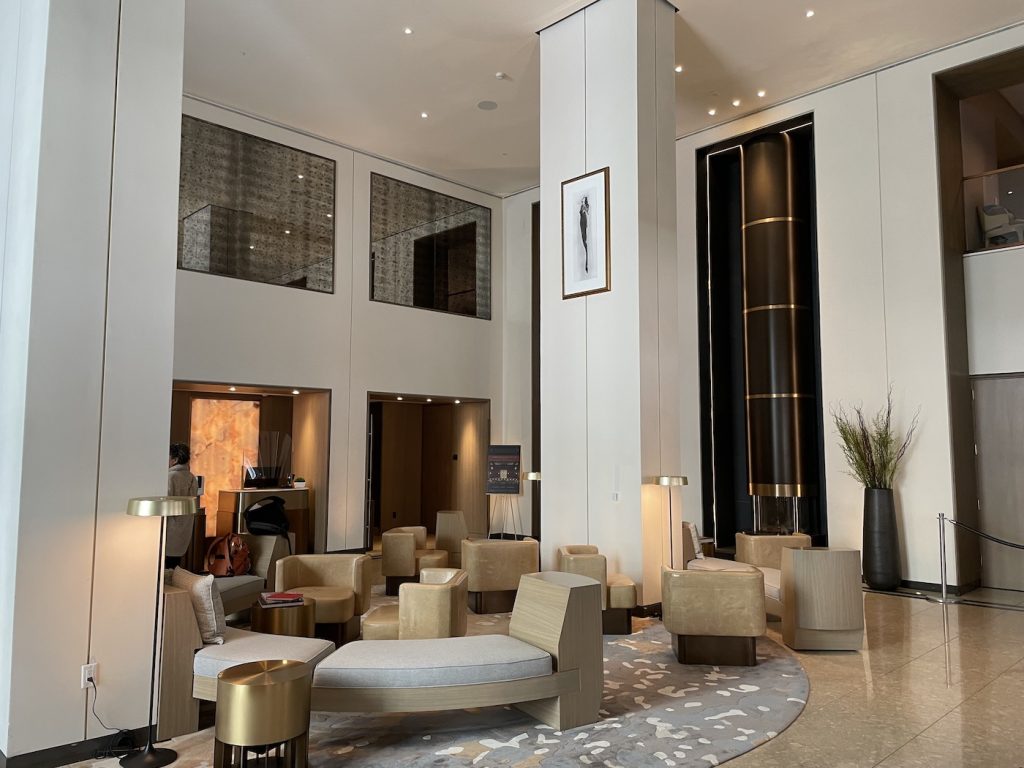 During my weekend stay last spring, only breakfast was offered in Fredericks (also on the ground floor of the hotel) – and no room service – so I cannot opine firsthand to what's on the Redwood Room bar menu, including one of those $25 double cheeseburgers or fried chicken sandwiches.
My real interest and curiosity in staying at The Clift Royal Sonesta was spurred by a historic Santa Barbara connection. First built and open during the Panama-Pacific Exposition of 1915 in San Francisco by the hotel's namesake Frederick C. Clift, the Beaux Arts-style lodging was later bought by a former owner of the Biltmore hotel in Montecito, Mr. Robert Odell. The Clift was the largest hotel in the state in 1924 – and said to be fire and earthquake proof, which I found reassuring since I was staying in a suite on the 19th floor.
Odell, who also owned the Santa Barbara Biltmore, was famous for his strict suit and tie dress codes at both hotels, and a rule that "long hair" on men could not hit below their shirt collars. Odell became even more famous when he took his own life at The Clift in 1973. Much of that history is scrubbed from, or at least not included in, any online searches.
"It was a gun in the Spanish Room," a bellman told me, mimicking a pistol raised to his neck, sounding like and reminding me of Colonel Mustard from the old board game Clue. The bellman also informed me that the hotel, located at Geary and Taylor and just two blocks from Union Square, is haunted. Night shift workers have reported ghostly sightings. While I did hear doors banging in the night and footsteps on the staircases during my stay, they were from earth beings, not ghosts.
The ghosts of yesterday are visible in pictures hanging in the hallways and in my room; a ghostly woman was depicted in a print hanging over the bed.
The hotel is located not far from Union Square. A car park around the corner charges $35 overnight vs. about double for valet parking (you can drop your bags ahead of time). I'd be remiss if I didn't mention the sad state of street people/houseless not far away in San Francisco's Tenderloin District if one walks in that direction, as I did. I did a ton of strolling over my weekend visit (tens of thousands of steps daily) and wove between the two worlds: those of the more fortunate and the unfortunate, including street folks smoking pot and what I assumed was crack on the street and safer, more scenic cultural sites in the city.
I thoroughly enjoyed exploring the Mission Dolores neighborhood on a terrific City Guides of San Francisco free walking tour. Led by one of the many volunteer guides who provide fascinating historical and architectural city tours (tips at the end support the nonprofit organization), my friend Thea, who lives in Marin County and turned me on to these tours, joined me on a Murals of Mission tour. Our guide, Christine Giordano, a retired teacher, was knowledgeable and passionate about the history of the murals and the area. Other free tours include Billionaire's Row and Alfred Hitchcock's San Francisco among some 80 options. I only wondered why I hadn't signed on to one of these fun tours previously.
I ended my stay the next day with a visit to the de Young Museum for the phenomenal and enlightening Alice Neel: People Come First exhibition that runs through July 10, and a casual Sunday lunch of sizzling, scrumptious chicken mango "Hot Stone pot" large enough to share, which I did with another friend, Mary, who lives in the city. I wish someone in our town would recreate that newly discovered dish from the menu at the bustling "American Thai" restaurant Blackwood in the Marina District.
All in all, it was a perfect weekend getaway. With inexpensive (under $200 round trip), a little over one-hour direct flights on United Airlines from Santa Barbara to San Francisco, there's no excuse not to take off for a fun-filled weekend in San Francisco, with or without ghosts… or scary interruptions like flat tires in the fast lane.
You might also be interested in...