Mining Memories in Nevada City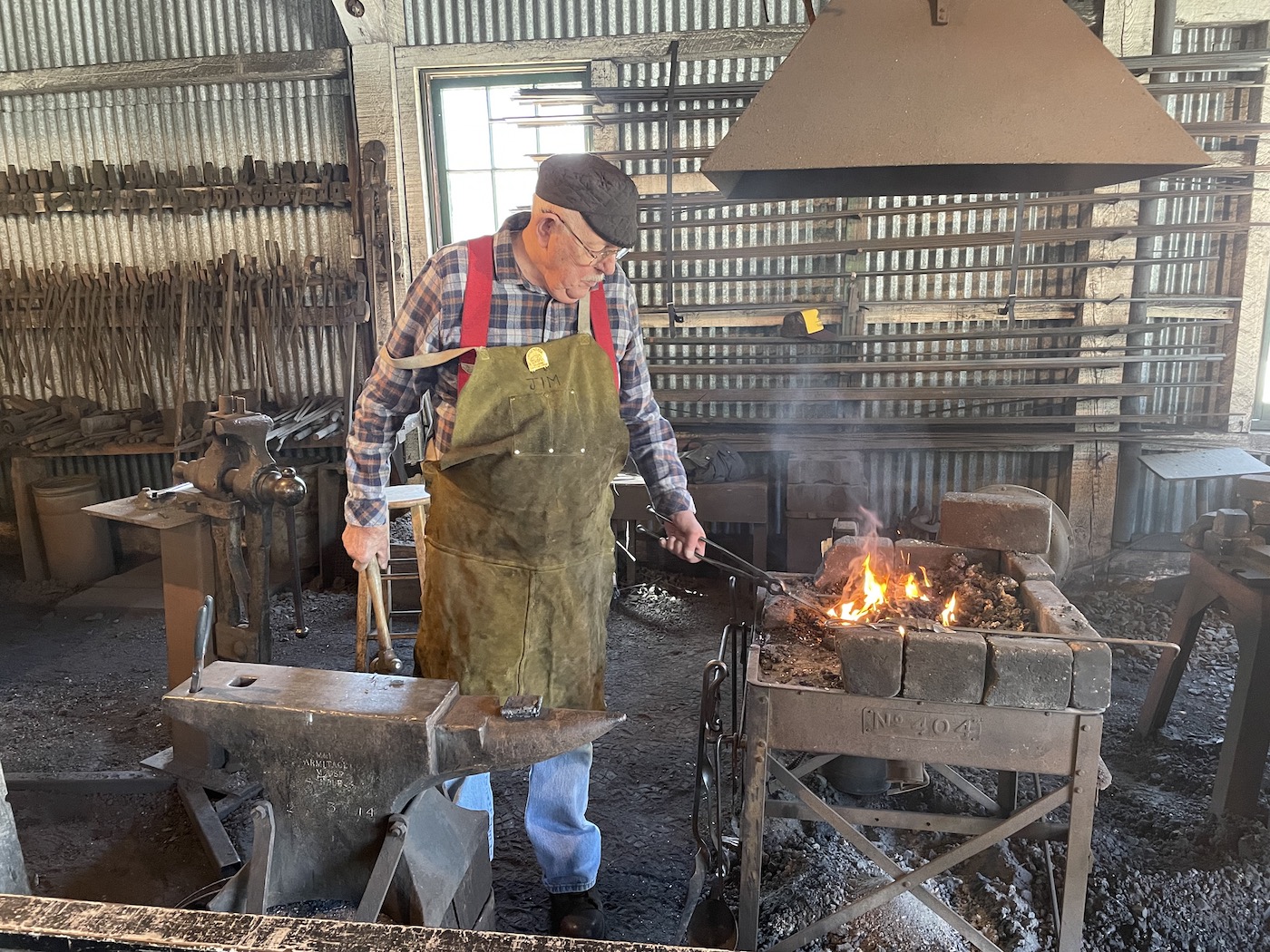 It's an eight-hour trek by car from our parts to Nevada City, but if you love history, historic hotels with a hip edge, and mountain scenery, it's worth the miles. Located approximately 60 miles northeast of Sacramento, Nevada City was once a booming mining town – and they play off their past. A recently restored historic hotel – one of the oldest continuing lodgings west of the Rockies – has undergone a major facelift and is a mix of 21st century style and comfort with a huge nod to the past. All this is thanks to Santa Barbara's talented Sherry Villanueva of Acme Hospitality Group, who seems to like historic venues and menus (think La Paloma restaurant, formerly the Paradise Café).
The highlight of my two-night visit (one at The National Exchange; another at sister property, the Holbrooke Hotel, reported on previously in this column) was a visit to Empire Mine. This California State Historic Park has beautiful gardens and fascinating exhibits, including a living history moment where a volunteer blacksmith forges metal items over hot flames (bought myself a triangle to ring the dinner gong!) as part of a demonstration for visiting schoolchildren.
You can get a real up close and personal feel for life at the gold mine – and even sit in a tiny bucket that carried miners deep below the ground down the mining shafts. If you're familiar with Filoli Historic Estate and Gardens in Woodside, this mine was owned by the same couple, Mr. and Mrs. Bourn. You can peek inside their "summer cottage" and stroll the lovely grounds. The Empire Mine State Historic Park site, one of the largest, richest, and longest operating (1850-1956) gold mines in California, produced more than eight billion dollars in gold by today's standards.
Growing up in So Cal, we visited California Missions, but for kids in gold country who get to learn a really interesting part of our state history and visit what was once California's richest gold producing mine, I recommend you do the same and take the kids and/or grandkids – or borrow some.
The National Exchange
The authentic lobby at the National is a bit dark and wallpapery (William Morris designs nonetheless) and an 1857 clock hangs on the wall that's as old as the building – but the rooms are just as lovely and bright and welcoming as those at Villanueva's sister hotel, the Holbrooke Hotel, five minutes south. A glass fronted case holds all the original guest registers filled with well-known John Hancocks of the past including Mark Twain, Black Bart (thief and poet), and Lola Montez, the much-married courtesan famous for her naughty spider dance, whose checkered past seems to capture the interest of locals wanting to share the area's history. In fact, the National Exchange's onsite restaurant, Lola, is even named for her.
My room was white and cheerful with high ceilings and décor that was a mix of modern with historic touches that worked nicely together. Intriguing contemporary art and photos by local artists hung above a velvet tufted couch with a modern coffee table. High windows in my third floor room afforded lots of light (but didn't open). An oak armoire (look ma, a full length mirror) was a nod to the past; the king size headboard accented by modern linen.
The second floor "grand lounge" (described by a staff member as "1920s does Victorian") has a couch big enough to seat 100; complimentary buffet breakfast with house made muffins, fruit, coffee, hard boiled eggs, is set out at the small adjacent bar.
The hotel's very atmospheric and popular saloon with a hip edge has a showcase wall of cocktail shakers preserved behind glass and several little carved out seating sections. The Saloon also has special events – burlesque show anyone?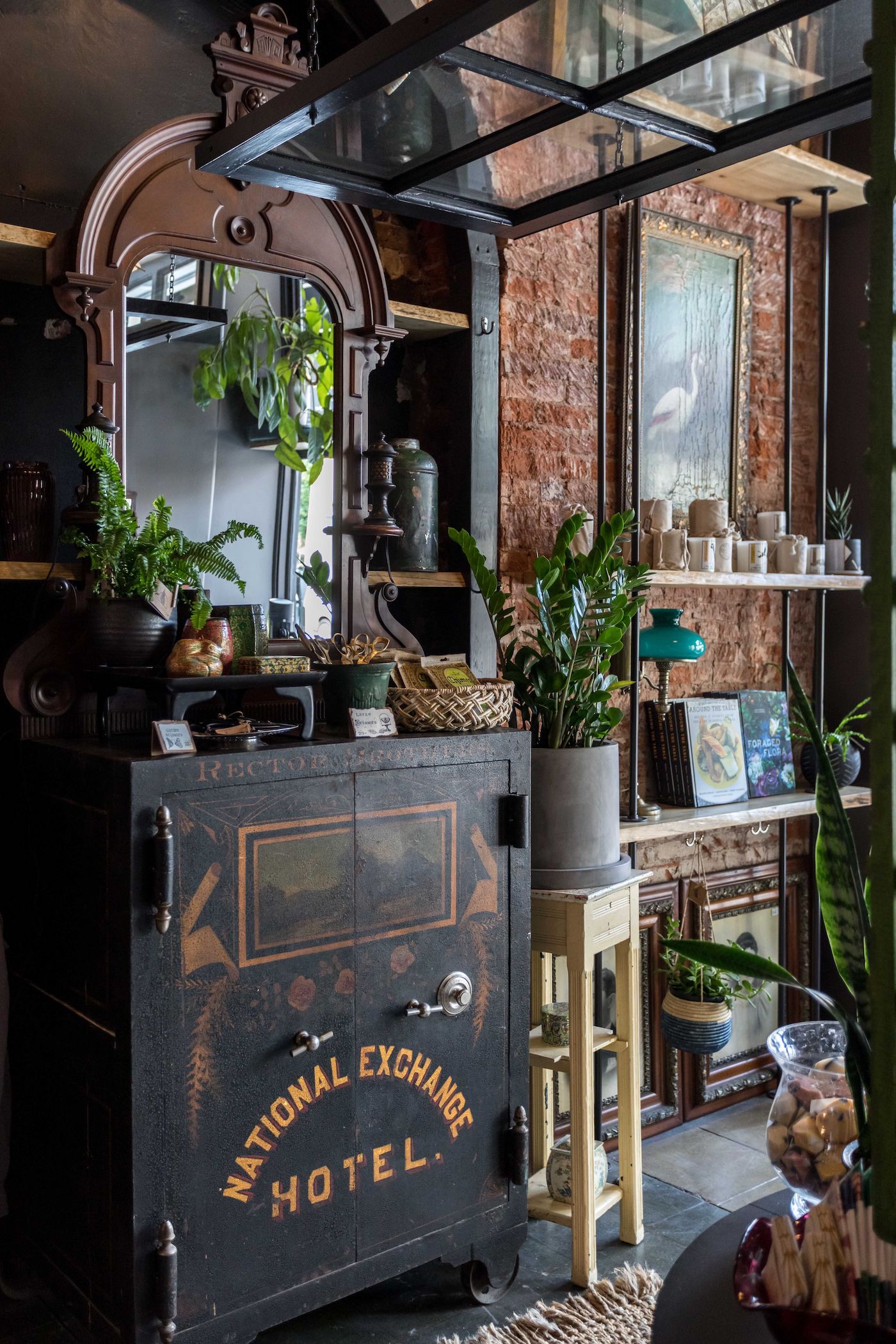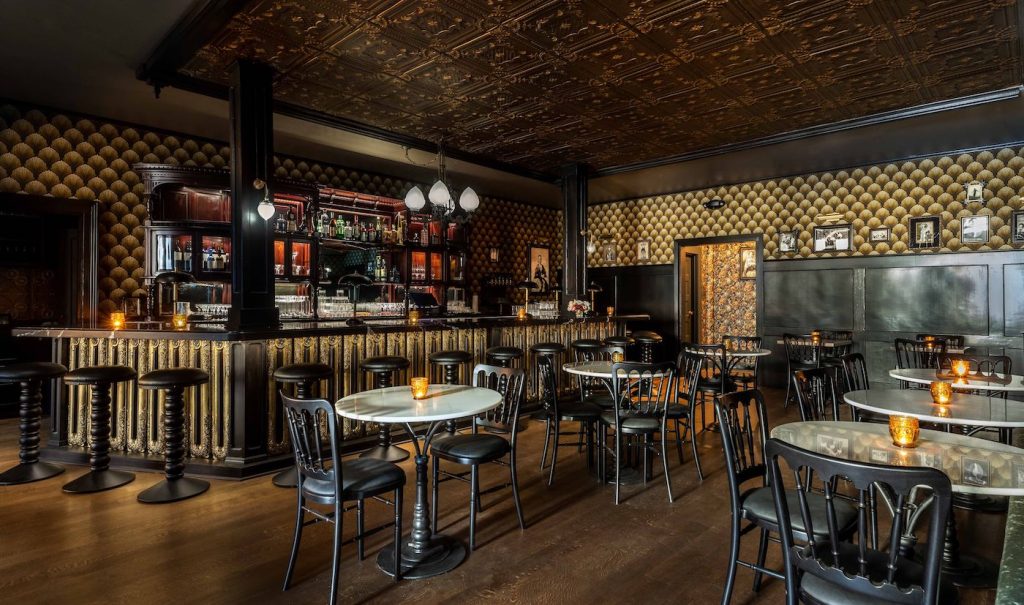 The open and airy dining room at National Exchange named Lola (the courtesan who met a sad and early ending in New York from syphilis) has a modern design edge. On the menu the gnudi (heavenly little pillows of gnocchi-like ricotta cheese puffs) with asparagus, peas, and arugula with parmesan and butter was definitely a standout dish. Overall, I preferred the dining room menu/food at the Golden Gate at the Holbrooke, five minutes south in Grass Valley, and recommend you dine there.
Nevada City's main drag and historic downtown is similar to Grass Valley: cute gift shops and boutiques (I especially liked Lobos Del Mar, owned by a couple who divide their time between Nevada City and Oaxaca, Mexico), cafés, wine tasting rooms, etc., but the real highlight of this short visit was a drive out to the picturesque south fork of the Yuba River (partially dirt) and over a historic bridge, where a friend and I walked an easy trail and watched river rafters and sunbathers splayed out on rocks who scaled down to the water's edge from the bridge.
Getting There
It's a helluva haul from Santa Barbara. The good news is that Southwest Airlines is launching new inexpensive direct flights from Santa Barbara to Sacramento starting June 7 ($89 one way as of this writing) so if you don't want to make the eight-hour driving trek, it's just an hour drive from our state capital. Or break up a road trip, as I did, with a couple of nights in San Francisco or another stop of your choice – you could even fly to SFO and rent a car to explore the Bay Area and beyond.
Where to Stay
The National Exchange Hotel, Nevada City: Built in 1856 and listed on the National Register of Historic Places and a California Historic Landmark, the hip-ly re-done (semi-Goth meets '70s disco meets wallpaper city) 38-room refurbished, from top to bottom, hotel is one of the oldest operating hotels west of the Rockies. Lovely rooms and a fun town.
211 Broad Street
Nevada City, CA 95959
530.362.7605
thenationalexchangehotel.com
Note: Sister property, the Holbrooke Hotel, five minutes south in equally charming Grass Valley, has old-fashioned, original clawfoot tubs that require climbing into (there is a little wooden stepstool); the National Exchange has spacious showers, much easier to navigate but sans soaking. The two-story Holbrooke has a small elevator and stairs; the three-story National has stairs only.
Empire Mine – don't miss a visit to this fascinating piece of California gold mining history. Admission is $5.
You might also be interested in...