Families in Paradise: "Are we there yet?"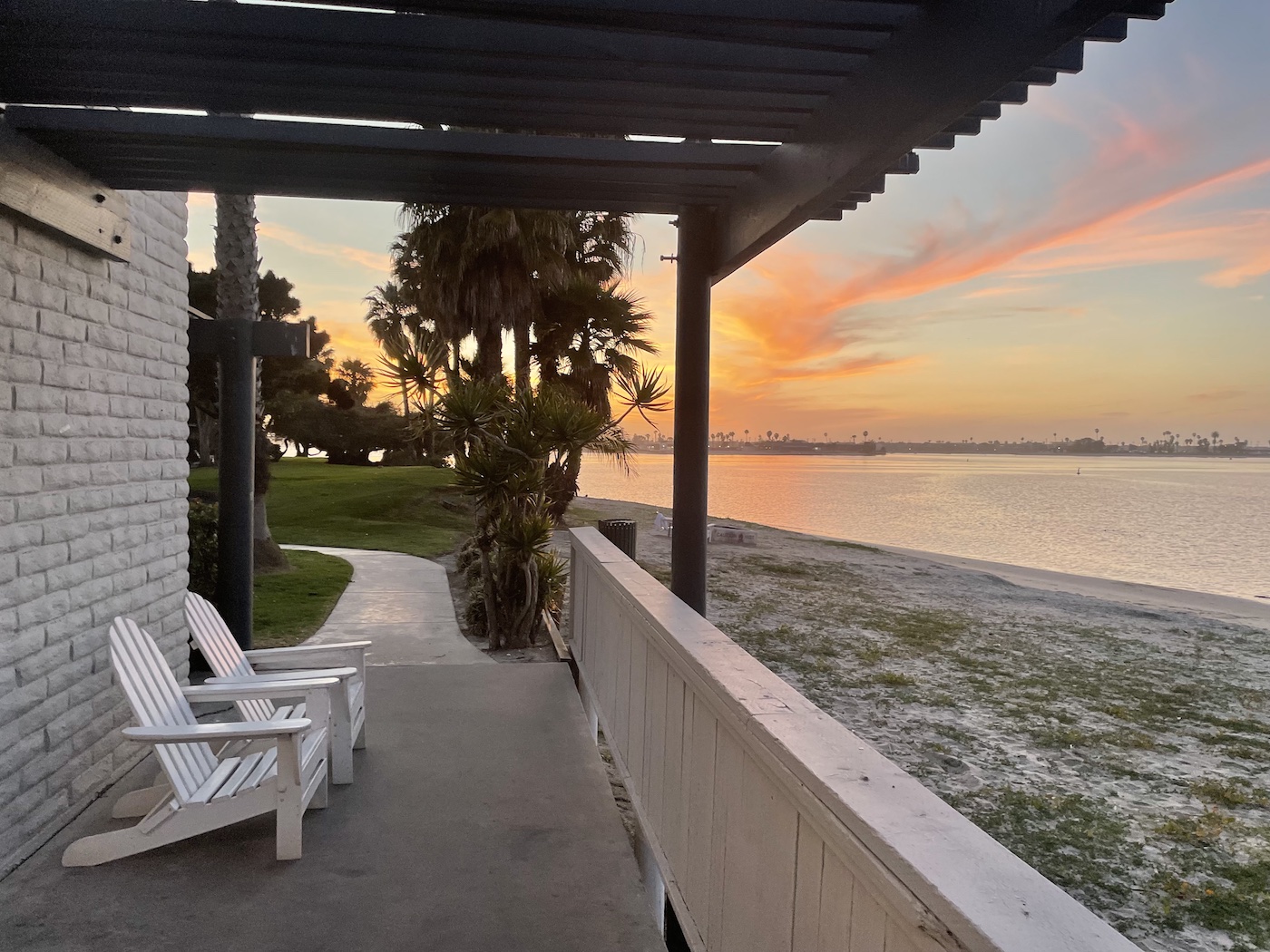 How can you — or your kids — not be happy when the GPS navigational voice instructs: "Make a left on Vacation Road." Especially after that relentless, age-old question: "Are we there yet?" Even a high school friend of mine's face lit up when I told him I was heading to San Diego's Paradise Point. "I used to go there as a kid!" Gary Karrass reminisced, "It's like Hawaii… without the weather!"
I was really looking forward to a couple of nights at this family-oriented resort on an island on Mission Bay. I also knew that this was the kind of vacation best shared with kids, so I invited my former UCSB intern/dear friend Collin Mitchell (who morphed into a book reviewer and author) and his adorable six-year-old son, Henry, to join me for a taste of Paradise Point, billed as "San Diego's Island Paradise." I checked in ahead of their arrival and settled into my delightful bungalow with a view of Mission Bay.
The resort, originally called "Vacation Village," was developed in 1962 by movie producer Jack Skirball with the help of architect Ted Spencer. Over 600 plant varietals, including over 1,000 palm trees and 900 birds of paradise, were imported to create the tropical, Hawaiian feel on the island's self-contained 44 acres.
Collin and Henry arrived not long after and we discovered there would be a lot of activities to choose from. Should we go to the onsite Island Market and buy food to feed the ducks and fish in the resort's pond? Rent a surrey or a sailboat? Try the onsite restaurants? Swim in the huge party pool or climb the tower? All of the above, we decided.
"What's there to do, Daddy?"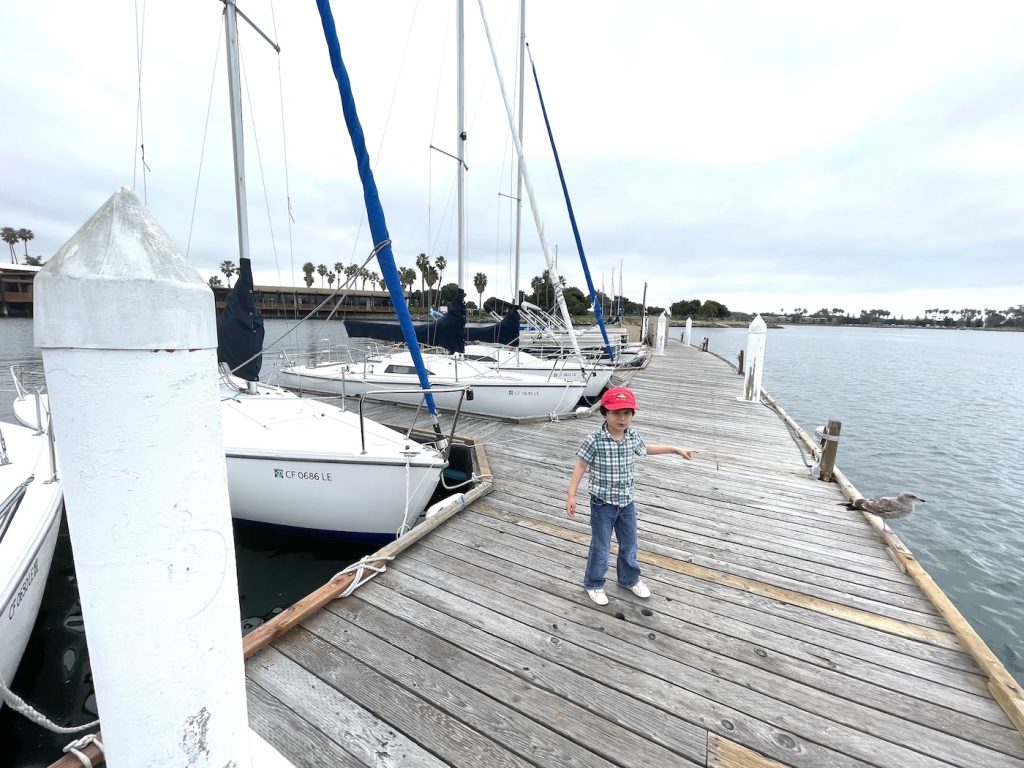 The list was long and there was plenty included in the daily resort fee ($36) including ping pong, corn hole, putt putt, volleyball, basketball, football, tennis, bike rides, and even painting seashells or rocks. We could climb the 81 steps to the top of the Observation Tower or take a yoga or meditation class. For additional fees, there's SUP yoga, Yin + Sound meditation/Chakra balancing for stressed out moms and dads, and a pampering spa to retreat to while the kids make a tie-dye t-shirt or take a skateboarding lesson! The Marina offers sailing, fishing, and more.
Collin and Henry ventured out for a nighttime climb of the tower while I watched the almost full moon rise over the bay. After tasty room service burgers and fries (delivered hot and with a smile) for dinner the first night, we all settled in for the next days' activities – but not before a pajama party with sparklers on the bay to celebrate our good fortune!
Henry opted for a slumber party with lucky me! The next morning, I was grateful for my bungalow's two rooms and two TVs: Henry watched cartoons in the living room; I watched the news from the comfort of my bed – while his dad had a well-deserved sleep-in in their adjacent bungalow just across the path, but well within view. Henry also mastered the electronic key system and bounced back and forth between our two bungalows, when not bouncing up and down on the beds.
The stylishly decorated front room had a dining table, wet bar with small fridge, microwave, sink and coffee maker, a sofa bed couch, and TV. The separate bedroom also had a huge screen TV and a cute-as-a-button bathroom with a spacious shower.
The next morning, after breakfast snacks, we wandered down to check out the onsite boat rentals and tried to sign up for a sailboat rental and lesson, but turns out 24-hour notice was required. Instead, Henry and his dad hit the miniature "putt putt" golf course. Soon after, Henry proudly reported back that he won! The score? "6,000 points to one!" he cheered.
Take note: once landed in "paradise," it's hard to leave. There are two restaurants on the property; bungalows have microwaves and decent size minifridges, so you might want to pack in treats of your own choosing and picnic supplies (there's no glassware, utensils, or plates), especially if you are cost conscious. (For example, instant organic ramen costs $8 at the onsite market.)
We drove off property for tacos/burritos and quesadillas at the nearby Red Rooster followed by a walk along the marina to ogle the boats. Bird Rock and La Jolla are also up the road; tasty sandwiches and fab loaves can be found at Wayfarer Bread and Pastry.
As luck would have it, I had a few minutes to surf the internet one afternoon and came across my neighbor-friend-videographer Larry Nimmer's charming and clever video of his "Nimmer Family Summer Olympics" at the resort. Larry and his wife, Tara O'Reilly, recently took their blended family on a uber vacation with activities at the forefront, with six of their adult children and 11 grandkids ranging in age from newborn to 11 years old. "Our vacation was a great way to have all ages of the family play together and share a common experience," Larry told me.
Five pools are open from 6 am – 10 pm and yes, there's an "adults only" pool. Collin and Henry opted for the huge family pool and jacuzzi – in full swing at 5 pm; I met a native San Diegan friend for an early "grown-ups" dinner with views of the bay.
A super tasty three-course dinner was enjoyed thanks to the talent of the resort's new Chef Eddie Zamora at Paradise Point's upscale but casual restaurant, Tidal. Lured by the alluring espresso short ribs in the smoker out front and the delightful setting, real estate agent Kathleen Westwood joined me for the fine sunset prix-fixe meal ($49 per person) consisting of a delicious starter of shrimp tostadas with a punch sent out by Chef Zamora, followed by a tasty spring chilled shrimp salad with greens and strawberries, "bread fries" with a crab dip, and entrees of sea bass and the short ribs. The sides excelled as well: roasted forest mushrooms, flavorful citrus farro with fennel pollen and lemon-scented creamy polenta — all topped off with a lemon cheesecake with strawberry coulis that was as tasty as it was pretty.
Kathleen reminisced that she used to hang out at the beach at the resort with high school friends after football games. Later in life, she'd bring her children to feed the ducks and walk up the tower. "Now I do it with my grandkids!" she noted.
Extending the Stay
I spent two nights at the resort, but I think three would be perfect to allow enough time to take in some of San Diego's great off-site offerings like Balboa Park and the San Diego Zoo, Old Town, the great music scene (I am a huge fan of the Wednesday night free jazz led by Gilbert Castellanos at Panama 66 and the Young Lions Jazz Conservatory kids, age 11-18, who will blow your mind!) and terrific restaurants, ranging from walk-up taco joints to upscale fine dining spots, located up the road in San Diego's many cool neighborhoods, like Hillcrest and Little Italy as well as La Jolla.
When I checked out the next day, after a quick morning swim in one of the smaller pools on property I had all to myself, I told the front desk clerk that I felt like I was leaving Disneyland. For a brief moment in time, Paradise Point certainly felt like "the happiest place on earth" for Collin, Henry, and me.
"It was fun!" six-year-old Henry told me on a follow-up Facetime call. When I asked what his favorite part was, he quickly replied, "Being with YOU!" which not only warmed my heart but cemented a future invitation to a kid-friendly place.
His dad, Collin, was more matter-of-fact: "It's an easy spot to unpack your stuff, have fun, and just enjoy simple pleasures," he said, adding that he appreciated the very good service at San Diego's memorable, family oriented island paradise.
For Paradise Point Resort and Spa rates, and special packages, visit paradisepoint.com or call (855) 463-3361
You might also be interested in...