Tessmer Talks de Forest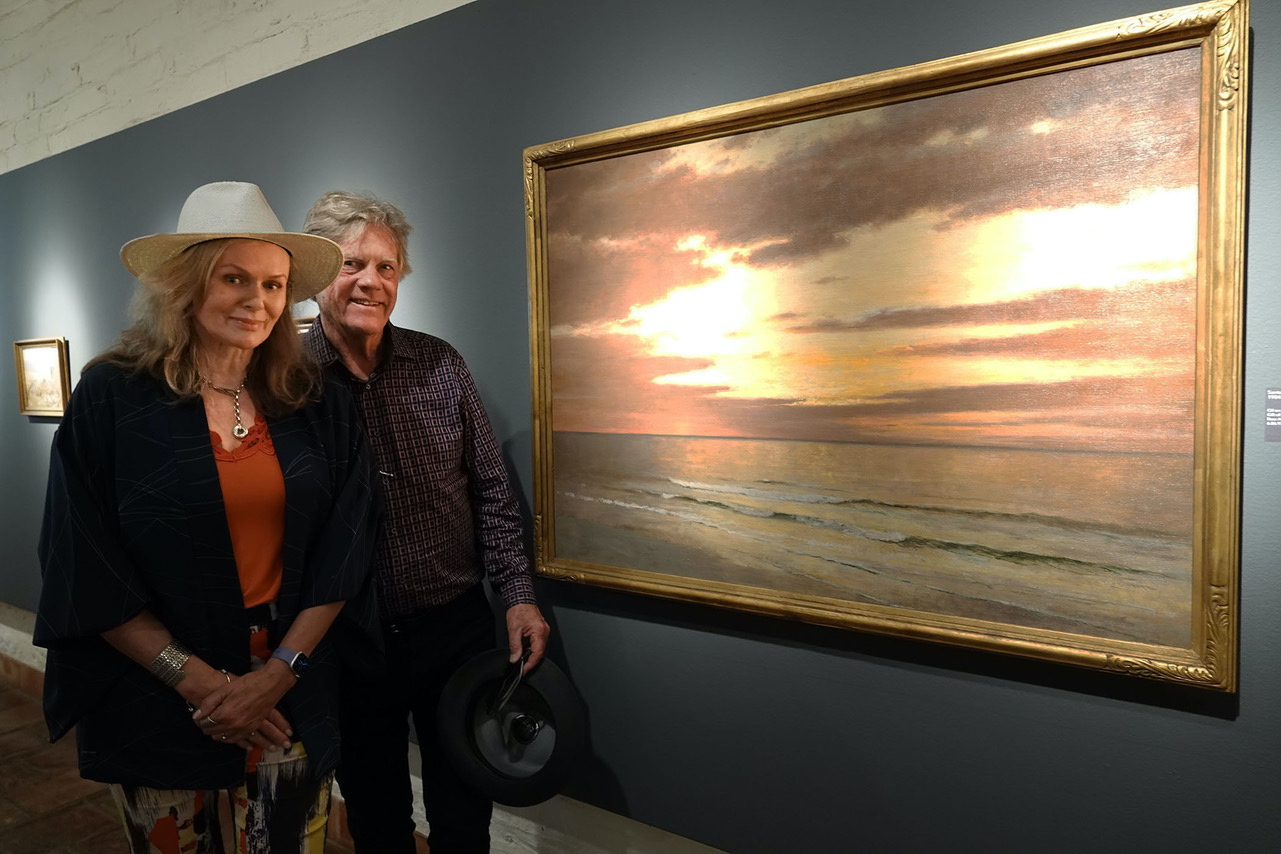 Social gridlock reigned in the courtyard of the Santa Barbara Historical Museum when Jeremy Tessmer, gallery director of Sullivan Goss, spoke on the life and works of Lockwood de Forest, 50 of whose paintings are currently being displayed through May 12. De Forest, who died in our Eden by the Beach in 1932, was not only a talented artist, but also an architectural and furniture designer, whose work is in New York's Metropolitan Museum.
He began his stellar career in 1879 working in the decorative arts with Louis Comfort Tiffany, before starting his own decorating business for 30 years and moving to Santa Barbara in 1902 for winter vacations, making the move permanent in 1915. De Forest, whose late grandson Kellam was a good friend, took lessons at the Hudson River School with Frederic Church and became a key figure in the Aesthetic Movement, introducing an East Indian craft revival using teak to Gilded Age America. He was extraordinarily prolific, doing more than 3,000 paintings in his lifetime, said Tessmer.
Among the art aficionados attending were Journal bridle correspondent Lynn Kirst, Jeanne Buchanan, museum director Dacia Harwood, Missy DeYoung, Stefan and Christine Rosenfeld, Katie Van Horne, and John Woodward.
Looking at Manhattan
The Duke and Duchess of Sussex are looking for a second U.S. home in Manhattan, according to reports. Harry and Meghan have been checking out suitable accommodations near the United Nations overlooking the East River. The dynamic duo visited the U.N. last September and were photographed with Deputy Secretary-General Amina Mohammed. Stay tuned…
Perry Narrates Podcast on Taylor
Montecito singer Katy Perry is slated to host a new podcast on the life and career of the legendary actress Elizabeth Taylor in which the Tinseltown icon will be portrayed as the forerunner of modern influencers. Entitled Elizabeth the First, the podcast will have 10 episodes. The series will be produced by Katy, 37, as well as the House of Taylor, which retails the famous jewelry she designed, and the entertainment company Imperative.
Her Majesty's Wheels
Queen Elizabeth, who celebrates her 96th birthday later this month, has an $80,000 golf buggy to zip around in given her recent mobility issues, which includes the installation of a new elevator at Balmoral Castle in Scotland.
The four-seater vehicle, complete with a refrigerator and entertainment screen, is built by Danish manufacturer, Garia, and has a range of 50 miles before the battery needs recharging. Her Majesty's buggy has decided car-like elements, including 14-inch alloy wheels, a drive mode selection, Bluetooth speakers, and a heated windshield. It has a top speed of 43 mph.
The long reigning monarch, who celebrates her Platinum Jubilee in June, has been spotted using a cane of late, but adamantly refuses to be seen in a wheelchair, mindful, no doubt, of the photo her late sister, Princess Margaret, at a birthday celebration for the Queen Mother at London's Clarence House, now the home of Prince Charles and Camilla, when HRH was wheeled out by the late Billy Tallon, page of the backstairs. Both Margaret and the Queen Mother died in 2002 within months of each other.
Sightings
Former TV news anchorwoman Maria Shriver at Pierre Lafond… Jelinda DeVorzon celebrating her birthday with a gaggle of gal pals at Ca'Dario… Actress Laura Dern checking out Bettina.
Pip! Pip! Be safe, wear a mask when required, and get vaccinated.
You might also be interested in...