Inspiration and a Second Chance are on the Menu: Santa Barbara Rescue Mission Launches a Culinary Program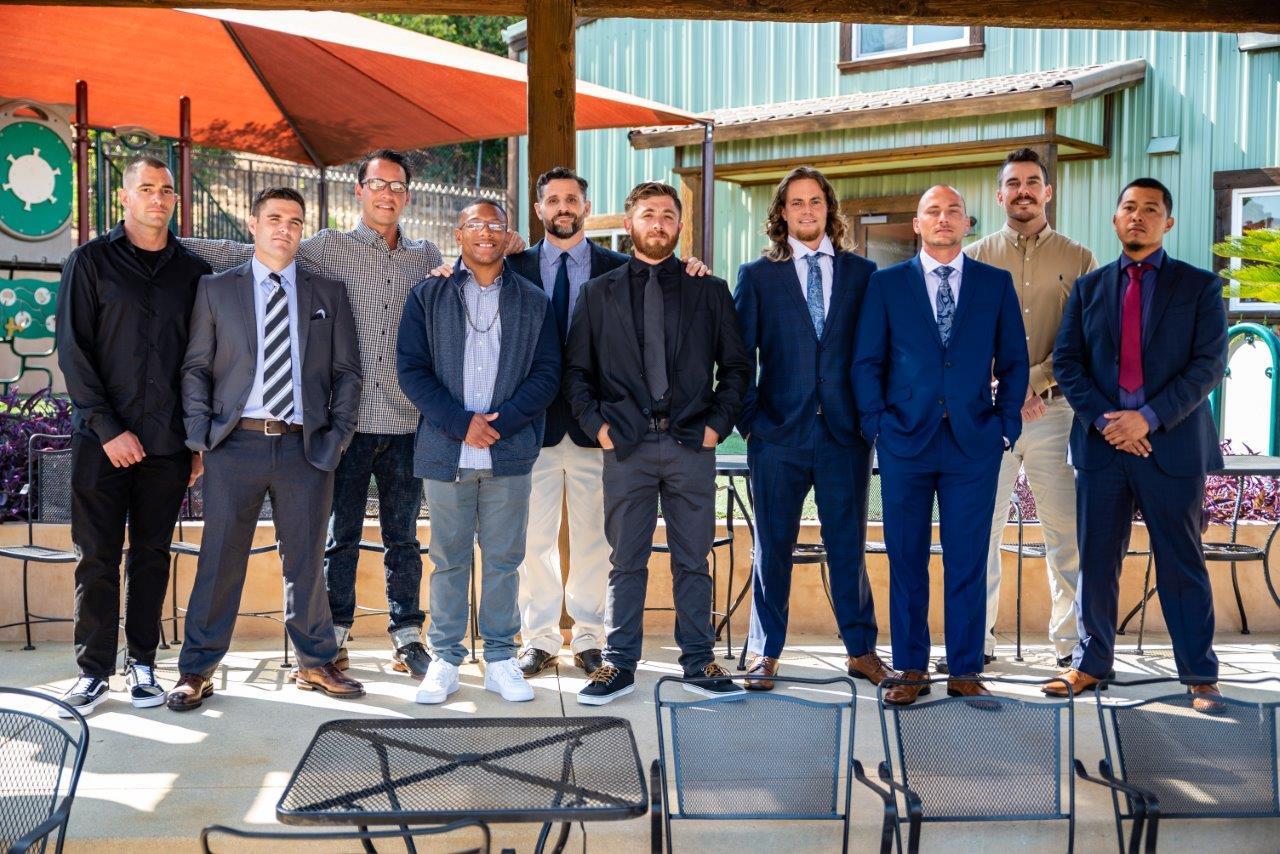 Rick H. is getting a second chance to make it right. The Santa Barbara Rescue Mission (SBRM) resident, whose full name is being withheld to protect his privacy, stands over a cutting board slicing pan-seared chicken breast. He neatly places slices on a pool of tomato feta sauce before garnishing them with chopped sautéed peppers. He adds a medley of sweet potatoes, Brussels sprouts, and seared asparagus, then dresses the dish in a spicy tomatillo chimichurri sauce.
Rick had already begun acquiring culinary skills before coming to the Mission. He took classes at Santa Barbara City College then moved to Maui, where he worked in the kitchens at Tommy Bahama and the Fairmont Kea Lani. "It was a culinary adventure out there," he said. "I was living the best life I could in the kitchen. I discovered new cuisines like Asian fusion and was serving flavorful proteins with all kinds of vegetables."
It was a chef's dream. He prepared fresh fish daily: ono, ahi, mahi. Fishermen in flip flops would drive up to the dock and carry the daily catch from their boats into the restaurant, he said. "We didn't want to overcook it; we tried to respect the fish as much as possible," he said. "We wanted to bring out the natural flavors of the fish. We used grilling techniques but mostly pan-seared it, and we served raw fish as well."
When Rick returned to the mainland after seven years living on Maui, he had a difficult time adjusting to the move and things took a different turn. "I had difficulty dealing with life on life's terms," he explained about his struggles with substance abuse. "I had unresolved issues that I needed taking care of. I needed to seek help to better my life for myself and the people around me."
For Rick, the road to sobriety wasn't just a culinary path, it was also a spiritual journey. He was referred by a friend to Santa Barbara Rescue Mission and immediately embraced the ideals of the program. "As daunting as it was at the time, I was committed to changing my life for the better," he recalled. When Rick finishes the program in nine months, he'll be ready to start a culinary job search. He is one in a handful of graduates hoping to earn a living in a local kitchen or restaurant.
The Kitchen Crew
On a recent afternoon the lively sounds of a busy kitchen fill the air: dishes clattering, food sizzling in sauté pans, and men chatting jovially. With so much to do, the men quickly get comfortable and get to work, and that's all part of the plan. SBRM offers a year-long residency for 30 men in its recovery and sober living program. They're not called patients or residents, they're referred to as "clients," and what they all have in common is the strong desire to get their lives back on track.
The program is separated into four phases of treatment. During the first three phases, the men adhere to a rigorous schedule of daily meetings and group sessions as well as counseling. During the first nine months of the program, they're responsible for all kitchen duties, which include feeding three meals daily to 40 program members and staff as well as providing some 225 meals for the mission's breakfast and dinner programs to help feed the homeless.
The culinary program is spearheaded by Leo Rios and David Fletcher, SBRM's learning center supervisor and food services supervisor. They both share the responsibility of preparing the culinary team for life outside the facility. Rios and Fletcher envision a culinary program that provides clients with hands-on experience that includes mentorship by local chefs. "We want to promote a safe environment for clients to cultivate and develop their abilities into a professional skill set that can lead to gainful employment after graduation," Fletcher says.
Some of those skills include food prep and inventory, and training in leadership and management. Fletcher says he tries to be as hands-off as possible, allowing clients to enhance their problem solving as well as social skills. This approach boosts morale and builds a family environment inside the house, he said.
Teamwork and stress management are skills learned within the program's perimeter. There are six cooks needed throughout the day — two for breakfast, one for lunch and three at dinnertime. "Depending on the mealtime, it can be a fast-paced environment, and our kitchen consists of many roles with each being important in their own way," Fletcher said. "They're learning the basics of each role and how they all work together to produce some great meals," he adds.
Even with all this support and instruction, stress is one of the most difficult things to deal with in daily operations at the mission because the menu is not set and every day is different, Fletcher said. "We encourage the culinary team to bring recipes from home. I believe that the opportunity to let the cooks experiment and learn techniques from each other is something that they may only experience once in a lifetime."
When he's not in the kitchen training new clients, Fletcher's on the phone – calling local chefs and inviting them to the Mission to perform cooking demos and share their stories and passion for cooking with his culinary team. He said his goal is to schedule two or three guest chefs per month. Fletcher said the personal interaction allows chefs to see the clients' culinary talent and could possibly serve as a gateway to job opportunities at local restaurants. Word is getting out to Santa Barbara's culinary community. So far the program's notable visitors include executive guest chefs Travis Watson from Hotel Californian and Bruno Lopez from El Encanto, a Belmond Hotel. Both have committed their time and expertise to the Mission's culinary project.
"It is an honor to merge a personal passion project of mine with my professional life here at El Encanto," said Executive Chef Bruno Lopez, who recently recruited a SBRM graduate for his culinary team. "Members of the Santa Barbara Rescue Mission are such wonderful individuals and eager to learn, so it's my greatest pleasure to introduce them to the culinary career path and help them realize their talents."
The Road to Independence
Once clients reach the fourth phase of the program, they are given the opportunity to work outside the facility. The clients are still responsible for completing group sessions and attending regular meetings as well as adhering to curfew regulations. When they reach 365 days of treatment, clients are encouraged to enter an on-site sober living facility where they begin paying rent and transitioning into leading their new lives.
Each year the SBRM arranges job placement for all of its graduating clients, and approximately 20-30% of those graduates pursue jobs in the food industry. Using the Corrections Workforce Partnership Agreement, a return-to-work program for men and women, and the Department of Rehabilitation for substance abuse as a framework, Rios and Fletcher are doing what they can to help clients make the transition back to work viable. Approximately 45% of the mission's clients are in some form of judicial supervision, Rios said.
"I have found that the best way to approach uncertainty is to contact the employer directly and share who we are, what we do, and our mission," says Rios, who previously worked as a career counselor at Los Angeles Trade Technical College before relocating to Santa Barbara to study law. He is a second-year student at Santa Barbara College of Law.
A portion of the program focuses on job preparation and how to address specific questions concerning their criminal background, Rios said. "Above all, I encourage honesty," he said. "They must face their new challenges with a determination to stay on the right path that they learned at the Mission."
Rios, who previously spent time as a lecturer at California State University at Los Angeles' Sociology Department, added: "Because they live on campus, clients are held accountable for their attendance and job performance. It prepares them for the same level of expectations employers will have after they graduate."
Hotel Californian Executive Chef Travis Watson was impressed during a recent visit. "The [culinary team] asked some great questions, and the passion the team showed was palpable," he said. Back in the kitchen, Fletcher and the other culinary team members were taking inventory. Local grocery stores such as Trader Joe's, Vons, Whole Foods, and Montecito Market donate proteins, baked goods, and pantry items such as flour, sugar, and spices. Some fruit and vegetables are donated by local farmers.
There's plenty of ingredients and talent to work with here, Fletcher said. Along with booking chef visits, Fletcher is working on providing clients access to food safety training so that they can obtain their food safety cards for entry-level employment. Providing an opportunity for the clients to interact with working chefs is inspiring to them. The clients appreciate the face-to-face interaction with chefs and mentorship so they can decide if it is the best path for them."
As for Rick, he had taken a break from his culinary aspirations, but his time at the Mission rekindled his passion for cooking. He said he's ready and eager to get back in the kitchen. "I'd like to continue this path of preparing food, making people happy, and going in a direction God sees fit for me."
You might also be interested in...