South of the Border, Down Baja Sur Way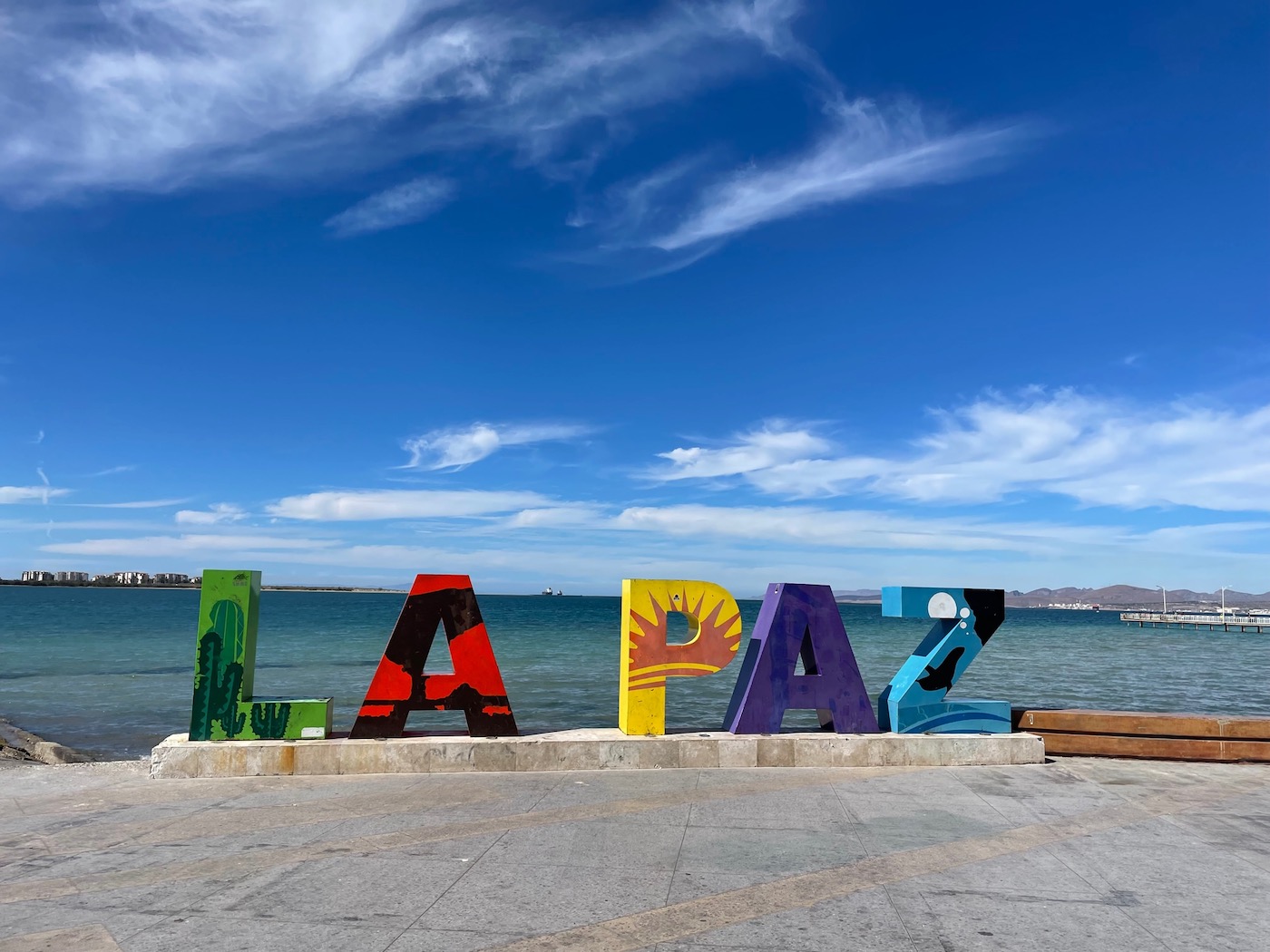 La Paz, Baja California Sur, México. Sometimes, just getting to your travel destination and safely back home is good enough. But when you return and can brag about snorkeling with the biggest fish in the world, which have 300 rows of teeth and don't eat humans, that's something. Whale sharks (which are neither whales nor sharks) are mega fish, found only a few places in the world. I recently returned from one of these unique places, beautiful La Paz, Baja California Sur, Mexico and had just such an experience.
I've visited the tip of the peninsula – Cabo San Lucas and San José del Cabo – numerous times over the decades, as well as charming Todos Santos, but had never ventured to the scenic east coast side of the peninsula, along the Sea of Cortez. My sojourn also included whale watching, a kitesurfing lesson, glamping, and more.
Named "the world's aquarium" by renowned French marine biologist Jacques Cousteau, La Paz is considered home to one of the world's most internationally prized ecosystems, boasting more than 900 species of fish and 5,000 species of micro-invertebrates. And I came face to face with one of the biggest ones! I wonder what took me so long to get there?
Despite my brief visit – five days total, three nights in the city proper and two glamping at a very cool spot called Rancho Cacachilas, about 30 minutes from town – I fell in love with the area. If you haven't been there—and if you love Mexico half as much as I do—I believe you will also be charmed by the region's offerings, both natural and manmade.
I strongly advise visiting before 2023 if you want to take advantage of the reasonable costs. Average room rates are $90, but at Baja Club, a new "Baja chic" hotel across from the malecón, it's $330 per night. I predict things will change – not necessarily for the better if you like the "real Mexico" – when the new Chablé Resort and Spa (I love and highly recommend Chablé Resort and Spa in Mérida, Yucatan) and a Fairmont Hotel open their doors in the not-too-distant future.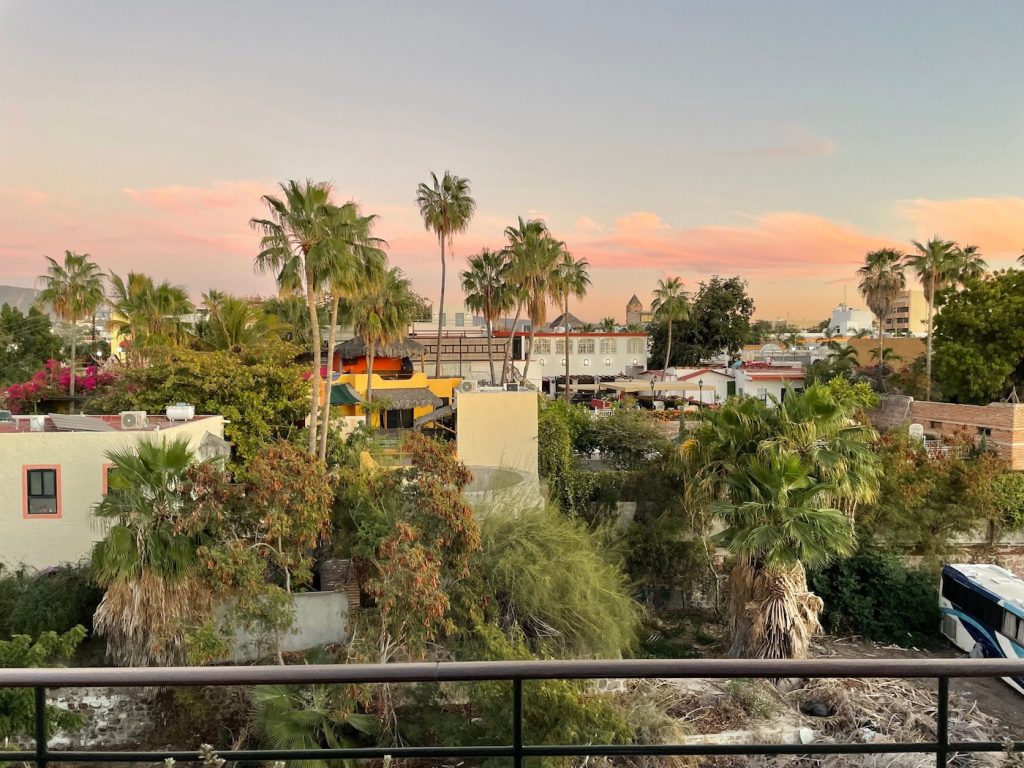 My Baja California Sur, Mexico welcome included what may have been one of the longest and most spectacular sunsets in recent memory. Mother Nature's abstract painting was mesmerizing. The wide South of the Border sky-show of pink and black striations stretched across the sky on the hour-long drive to my destination after a delightful late lunch stop in Todos Santos, at the aptly named El Mirador, and followed us all the way on the road during the ride to the capital, La Paz, population just over 200,000. 
Before I knew it, our guide and driver for the next few days, José, delivered myself and a few other travelers safely to the stylish new Baja Club Hotel, a "Baja chic" lodging situated directly across from the Sea of Cortez and the inviting malécon for seaside strolls.
The palm tree-fringed boardwalk was bustling that Sunday night with shiny "freshly washed" cars slowly cruising the boulevard. I could have been in the South of France – or our very own Cabrillo Boulevard – but the Latin music with a groove emanating from miscellaneous speakers was a dead giveaway that I was not in Kansas anymore. My lodging for the first three nights was perfectly situated in the heart of the seaside action, and just a short uphill walk from the zócalo – which always makes me wonder, why we don't have more main squares in Santa Barbara, Montecito, or Carpinteria? They are such wonderful gathering spots for people watching, reading, and relaxing. Is it because our lives are too hurried and harried?
Diving Del Sur
We checked in and, despite being full from lunch, went straight to a very tasty Greek dinner of moussaka, fried cheese, and chicken souvlaki (who knew?) in the hotel's outdoor restaurant. I woke up way too early the next morning, rising from the comfort of my third-story room in the four-story hotel to the gentle sound of rain and church bells. The bed was perfect and comfy; the doors slid open to a long veranda. A light breakfast of papaya, pineapple, an orange muffin, and café (be prepared for slow service, typical of Mexico) and it was time to forge ahead.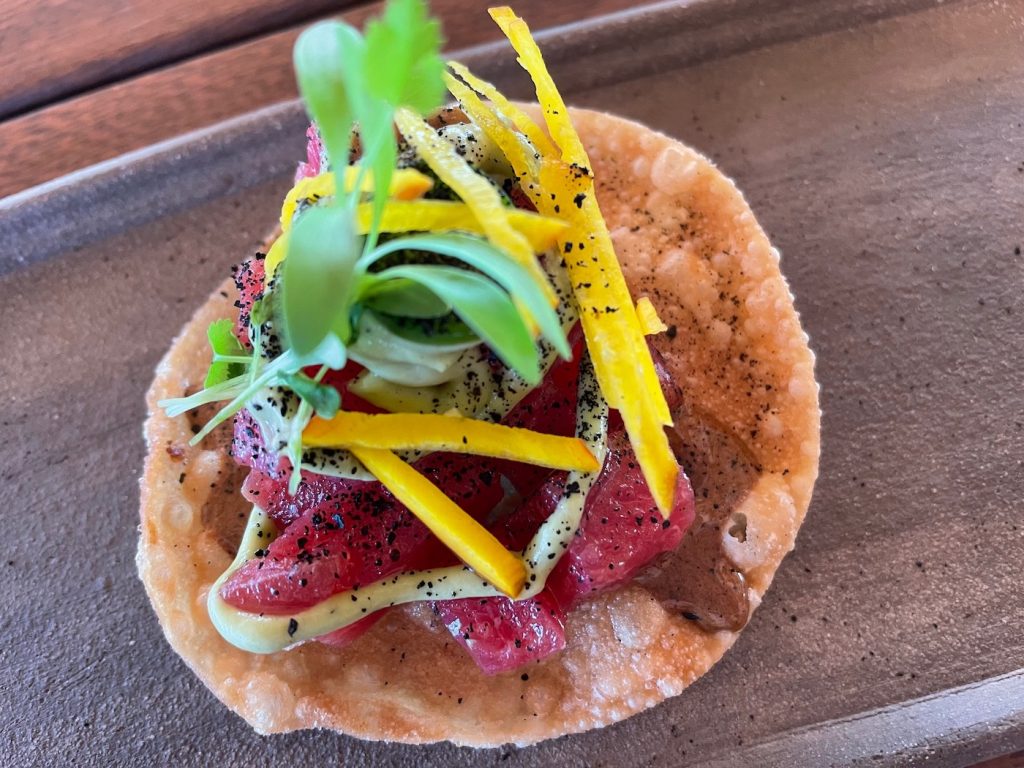 La Paz's harbor, Marina Costa Baja in Puerta Cortés, is stunning. Fitted with wetsuits, fins, snorkels, and masks for our sea adventure with Baja Adventure Company, and picnic at the pristine Balandra Beach, we took off in the small boat, big enough for six, plus our boat captain and guide. Snorkeling near the world's largest fish was VERY intimidating. They are ugly, they are scary, very slow, and ominous. They have a long, wide oval mouth that reminds me of those funny wide-mouthed animal ashtrays. These carnivores can grow to 40 feet or more, about the size of a bus, and can weigh up to 20 tons.
I dove eagerly into the chilly February blue waters after our sighting and swam towards the giant beast. I wasn't sure if a human or if the fish brushed up against me – we were warned not to swim in front of the whale shark's huge ugly mouth – and I got out of the water and high tailed it back to the boat about as fast as I'd dove in! At least I can add this brief accomplishment to my list of otherworldly experiences.
Thankfully, we were richly rewarded for our bravery with a picnic of fresh ceviche tostadas at La Balandra, a curving beach with clear green waters that has been rightfully dubbed the most beautiful in all of Mexico. The following day, another sea-faring adventure to visit the gray whales was cancelled due to weather conditions. I was delighted to stay on land for a historic city tour that included the main square and town cathedral, a fantastic new contemporary museum of art – MUABCS (Museo de Arte de Baja California Sur) – and some of the town's 80 murals, which held a personal interest for me since I recently launched a Latinx mural project in Carpinteria.
We devoured an amazing array of tacos at Tacos Los Claros after our city tour, savored leisurely dinners at local restaurants, including a feast at HAMBRUSIA with more variations of fantastic, super fresh ceviche than I can recall. I am a refreshed fan of this tasty, marinated seafood delight served on tostadas.
Kites and Glamping, Rancho Style
We moved on after two days in the city to a world-famous kitesurfing spot, where we were as charmed by the colorful kites in the sky as the skills of riders gliding on the waves on their boards, some raised with fins exposed! Sunburned and having partially acquired a new skill, my instructor, who has taught little kids to 80-year-olds this sport, commented that I looked as happy as a kid while handling the kite. I replied that it reminded me of flying kites with my father as a child.
Two amazing nights of glamping in posh safari tents at Rancho Cacachilas, a 44,000-acre preserve in the Sonoran Desert, began with a warm welcome and a tasty, ranch-made goat cheese tasting paired with wine, a visit with the goats, and continued with dreamy safari tent lodgings, ranch-to-table meals from the gardens, warm bucket showers, and stargazing. Mule rides, guided hikes, and mountain biking – or just lazing by the pool – round out a stay at el rancho. Travelers can also visit for the day and take a mule ride and feast on a ranch-to-table lunch for around $110 USD.
"You should come and stay in La Paz for three months – or six," my new friend José had said to me, as we strolled along the malécon to dinner at a new restaurant and boutique hotel called Origen with a quite unique "bringing the beach to the hotel" twist (a sandy entrance) where we gobbled up duck tacos, ceviche, and kampachi, a delicious sustainable fish raised in the bay. I have taken Jose's words to heart, despite my close encounter with the world's largest fish. Who knows? I might even dive back into the rich waters for another go… especially if I had a few months to work up my courage for a second time.
Leslie A. Westbrook is a third generation Californian and Lowell Thomas award-winning travel journalist. Leslie assists friends and clients sell high end art and collectibles at auction. She is also a proud graduate of the Modern Elder Academy in Todos Santos, Baja California Sur, Mexico who wears her "Modern Elder" label proudly. Follow her Travel Gal posts on Facebook or Instagram.
You might also be interested in...