Going SLO in Spring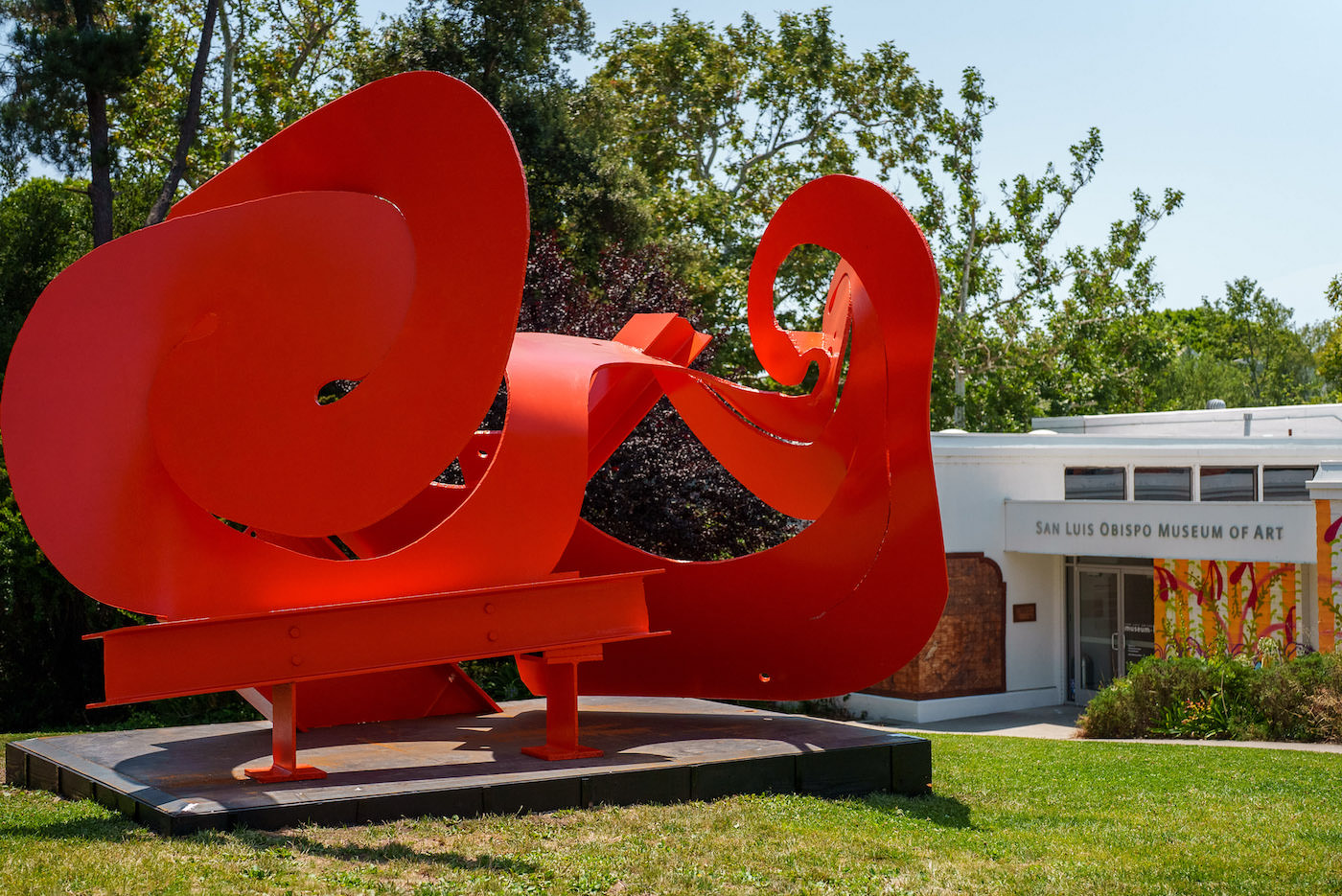 Rome, Italy. Postponed.
Las Vegas, Nevada. Posponed.
Loreto, Baja, Mexico. Posponed.
Spring 2020 — this was my dilemma (as a longtime travel writer with several assignments in place), when a nasty little virus called COVD-19 began wreaking havoc with the world. It was a year the world remembers well – and not particularly affectionately.
Italy, being a COVID hot spot, was the first to be crossed of my itinerary. Ciao! Sofitel Rome Villa Borghese, the Borghese gardens, the Raphael exhibition, Princess Rita Jenrette's villa and her sexy Caravaggio!
My doctor told me not to go anywhere near large crowds – due to my lungs being compromised (asthma) and my (aha) "advanced age." That put LAX off limits for the (then) new direct flights on Alaska Airlines from LAX-Loreto, Mexico. Even a car trip to Vegas that, by my estimation with all the cancelled conventions, probably wouldn't be too crowded anyway, was also deemed unsafe to visit. Additionally, my germophobe best friend bailed.
C'est la vie.
Roma's loss, and no "aquarium of the world" Baja (per Jacques Cousteau) or the new Mexican restaurant in the Wynn Hotel that I was dying to try.
Those destination's losses would be San Luis Obispo's gain.
My old friend, Barrie Lynn Krich (aka The Cheese Impresario, R.I.P.) even went so far as to laugh hysterically when I told her that the sleepy town of SLO was my replacement for Rome.
Laughter be damned, I thought of "My California" which I love so dearly, as I wandered up the coast a couple of hours to check out two cool new hotels, tried, true, and new watering holes and places to eat, over a few lovely, rainy days in mid-March, just at the cusp of the pandemic lockdown.
My Roman holiday, Baja dive, and Vegas roulette spin would have to wait for another day.
I was on a San Luis Obispo exploration.
Besides, who wants to hassle with LAX, when heaven is just up the road a piece?
Small town SLO has a vibrant downtown, a college crowd (as well as professors), and other professionals, as well as retirees and working folks who make up its population of less than 50,000 residents. It's Central Coast cool at its best. There are nearby towns on the sea and hot springs in Avila. There's Edna Valley Paso Robles vineyards. She boasts (doesn't SLO feel like a she?) a plethora of hiking trails, exciting restaurants (dining creekside at Novo is always a pleasant respite or Italian at Giuseppe's is another favorite stop) and watering holes, both tried and new. There is also the lovely San Luis Mission, nearby art museum, cute shops, great dining, and more.
Snazzy New Hotels at a SLO Pace
My first stop was the new (at the time), four-story Hotel Cerro (first reported by Jim Buckley in these pages, July 15, 2021). Set in the heart of SLO, with a gorgeous rooftop pool and bar with mountain views, this stop exemplified a delight of modern taste. Contemporary art, lots of white and light colors, and a welcoming staff greeted me upon arrival. My modern, tastefully furnished room for two nights at the hotel located in the heart of downtown San Luis Obispo was a welcome and calming retreat. Despite the state of global affairs, a glowing fire in the fireplace, pleasing contemporary art, and a sweet view of rain softly falling on the edible garden (where I nibbled on some arugula) through my patio shutter doors made everything right, in my last hotel cocoon for some time.
I posted a video on Instagram of the crazy shower ceiling waterfall and then enjoyed a terrific lunch on site followed by a quick nap and downtown stroll.
Even better? An amazing deep tissue massage, lovely eucalyptus steam and down time in the on-site Spa Cerro, where I flipped through a magazine in the relaxation room surrounded by a wall of soothing water bubbles that seemed to wash all the woes of the world away.
SLO may not have the Vatican, but it does boast a lovely historic mission at its core – and it's a heck of a lot less crowded. In fact, San Luis Obispo might not have existed if the Mission Friars who founded California's Missions had not gotten lost en route to Santa Cruz. The 18th century Mission San Luis Obispo de Tolosa was the fifth mission in the chain and thanks to water, ye olde Friars plunked down here, perhaps to the dismay of the Chumash. Much to my delight, this is one of the few missions/churches that still has real candles to light in remembrance.
I also checked out another new hotel with a more rock and roll vibe: Hotel SLO. There's the sweet Sol Spa on site; I didn't get to try the hotel's meat-centric restaurant Ox + Anchor, as I was beginning to feel a bit nervous about COVID and decided to retreat to my hive for what turned out to be a long, long winter in the spring and summer of solitude. The Garden Street Inn has recently been refurbished – I hope to check them out on a future stop in SLO.
Besides Mission San Luis, and the town's infamous bubblegum alley (leave your tired, your poor, your huddles of spent bubblegum here!), the town is surrounded by picturesque wine country. Just outside of downtown is bucolic Edna Valley with wineries to visit that range from the super slick and fancy like Edna Valley Winery and Tolosa, both known for award-winning chardonnays and pinot noirs; to the more down home Wolff Vineyards. I am a fan of their excellent 2018 petite sirah and have saved a bottle I bought on that visit two years ago for a special occasion – like freedom from masks soon?
SLO may not have Rome's Trevi Fountain or Tiber River, but the San Luis Creek that runs through town is flanked by public art and hosts the occasional heron and other bird life. The tiny, but mighty San Luis Obispo Museum of Art has a new mural, a stunning Mark di Suvero outdoor sculpture and terrific new SLOMA Executive Director Leann Standish is mounting exciting, cutting edge, and even interactive exhibitions.
Did I miss gambling in Vegas? Nope.
Instead, I gamboled down SLO's main drag, Higuera Street, where, on Thursday nights, locals enjoy the bountiful Farmers Market. The food at Mistura was as good as I have had in Spain or Peru; the cocktails were as good as any served in Vegas at Sidecar Cocktail Co.
Laugh all you want, SLO is a terrific, nearby town and region that makes for a great little getaway to take it slow and easy, all without the jetlag.
Going SLO'r in Spring
I was so excited to revisit the area after the long COVID hibernation, and in such a hurry to get to Sycamore Mineral Springs in Avila Beach, that I forgot to pack my nightgown and bra. (Oh hell, we burned those years ago, didn't we?) Who needs PJs anyway, unless there's an earthquake or fire in the middle of the night? I hadn't been to Sycamore in many years and was eager for a repast.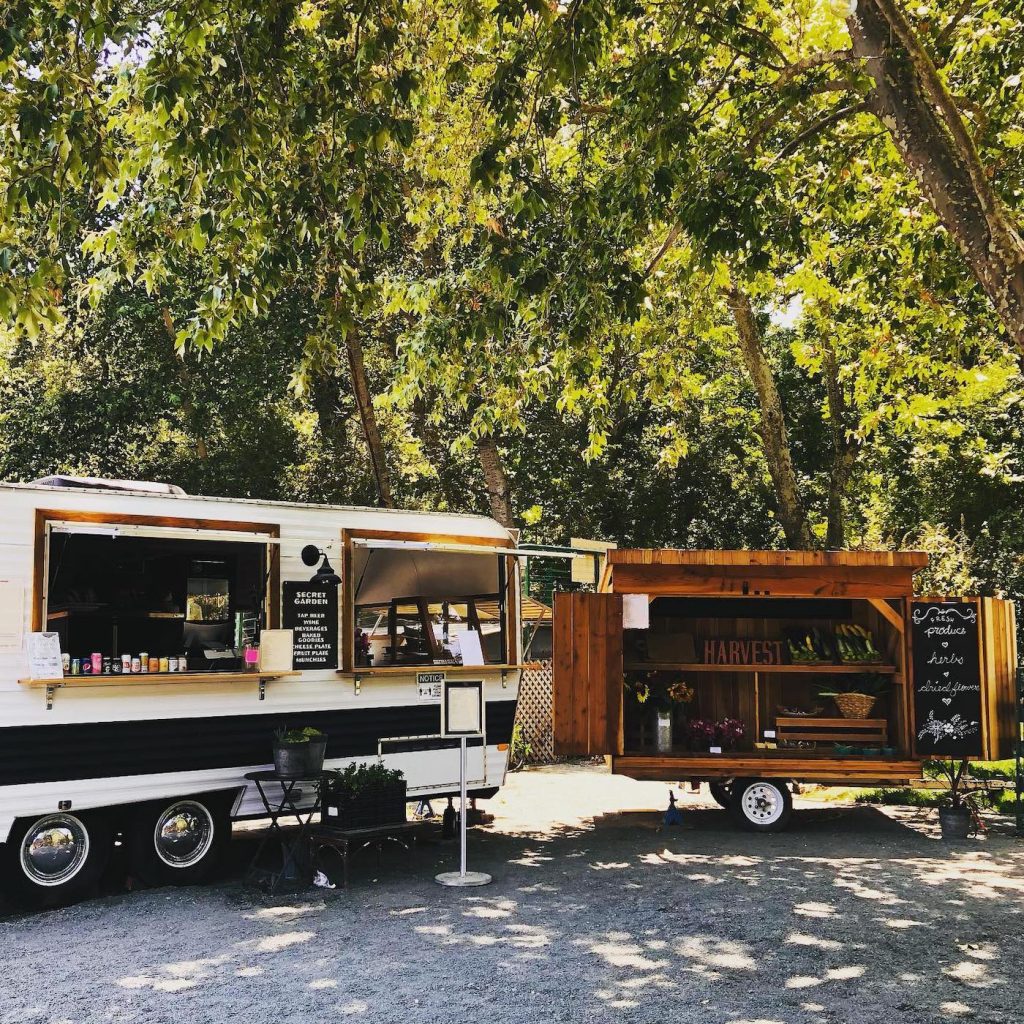 I come for the peace and quiet, soaking in the waters and the rustling of the sycamore leaves in the wind.
The resort was bustling on a Thursday afternoon when I checked in and I hightailed it across the lovely walking bridge to my cottage that I enjoyed for some quiet privacy – including a deck with its very own mineral spring water soaking Jacuzzi and a "flick-on" fireplace in the living room. What else did I love? The spaciousness of the two rooms in each cottage, the high ceilings, big closets and lots of drawers, double sinks in the bathroom, and double shower heads. There's a mini bar and fridge to store and chill your wine purchases – since you are in Edna Valley wine country.
On the other hand, should the resort undergo a redesign or remodel, I'd like a fireplace in the bedroom, a full-length mirror somewhere, better art (instead of photos of the resort, I AM here, after all!), and a less Bakersfield-y/cowboy furnishings style. (Think brown, brown, brown color scheme – on the floors, the walls, the leather tufted couch, and furniture.) These cottages would be super fantastic if they were lighter and brighter, IMHO. (The prices, which vary depending on day of the week/season/etc. have gone up by about $150 a night since my last visit six years ago.)
The resort recently added the Secret Garden, accessed via the Green Sycamore Bridge or off the Bob Jones Trail. This outdoor hang out spot is open to hotel guests and the public. A concession stand sells beer, wine, and munchies; the harvest stand sells fresh produce from the one-acre garden. Four-legged friends are even welcome with their humans.
A fantastic massage at Sycamore's spa – I meant to relax, but had so much fun chatting with Carol, who shared wild tales about her son's tattoo experiences, one so scary that it was taped for an HBO show I've never seen about tattoos run amok, I felt like I made a new friend.
Sip and Shuck!
I could have just crashed and read a good book (took Ann Patchett's new book of essays These Precious Days that I picked up from our beloved Tecolote Book Shop in the Upper Village with me), I drove down to the Avila Pier for wine at Sinor-LaVallee, a local winery with a tasting room one block from the San Luis Obispo Bay. Savor a wine tasting ($20) with Morro Bay oysters by the dozen for a nice afternoon or pre-dinner appetizer. I shucked and shot the breeze with amiable winemaker Mike Sinor and the terrific team there. Tasting room manager Brette Schneiderman (her folks live in Montecito) is adorable and Sinor is a passionate winemaker whose handcrafted wines are made with love. I enjoyed everything I sipped and swirled, but the Pet Nat (pétillant naturel shortened is a French term and method to make sparkling wine that dates back to the 16th century) was especially fun and tasty for sparkly occasions.
Give Me Seafood, Mama!
Dinner time was seafood time at Mersea's, a lively, casual place on the Avila Pier in Port San Luis. I enjoyed the audio ruckus from the resident barking sea lions before coming upon the restaurant's outdoor patio. I missed sunset and it was too cold to eat outside but discovered a few indoor tables and small bar with a spot next to what turned out to be a rather soused sous-chef and other friends visiting with great bartender/Cuesta College nursing student Summer (who's going to be a fantastic nurse). She fixed me up with steamed clams, garlic bread, and fries and the conversation was lively. It was just what the doctor ordered at the "Cheers" of Avila Beach.
The next day, after checking out of the hotel, I moseyed up to SLO, collected my dear friend poet/author/former Cal Poly English professor Glenna Berry Horton, who recently moved from her avocado ranch in Carp to SLO, for a delightful lunch of paella (one big enough for two and leftovers) at one of my fav SLO restaurants, Mistura. We were also happy to discover amazing desserts and pastries within the restaurant space made by creative master baker Chloe Fertel. Run, do not walk, to the Creamery Marketplace and discover Joliene Bakery if you love fine baking that is as tasty as it is beautiful.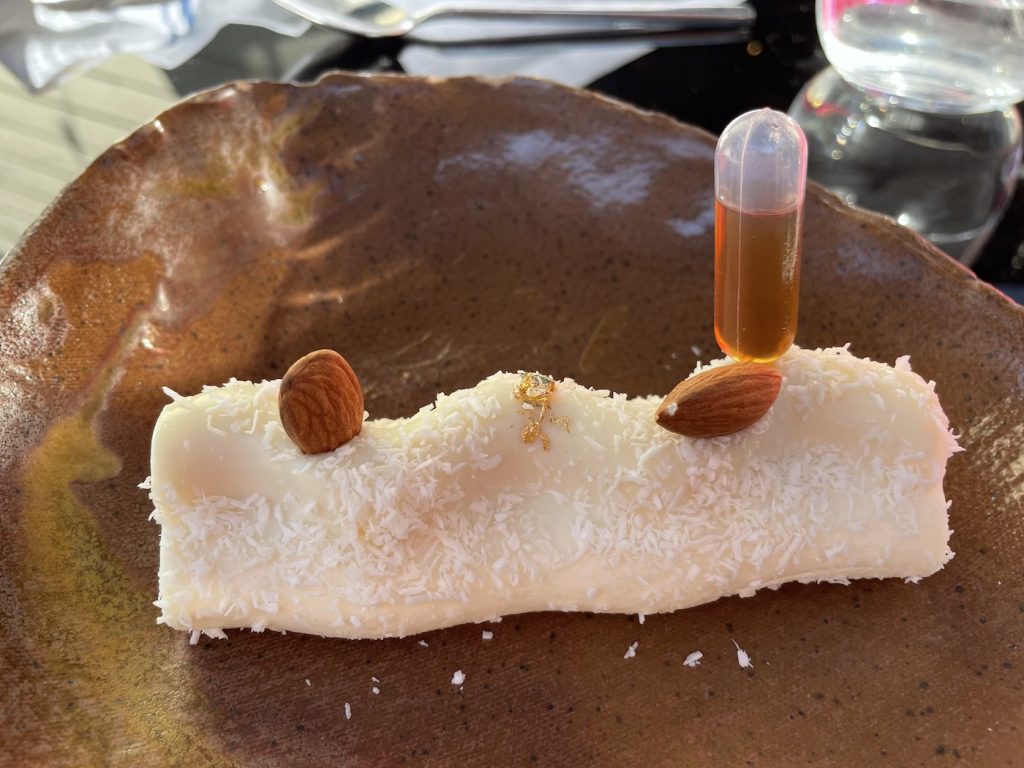 Glenna and I also popped into the tiny, but mighty San Luis Obispo Museum of Art before I said adieu and headed north to Paso Robles for a couple of nights and to check out Sensorio – which remains all the rage – is open and worth the trek, especially if you take the kids.
I'm heading South of the Border to Baja and making up for lost time and opportunities. Will see you when I'm back from Mexico: goddesses, airlines, and good health willing!
The Road Less Taken
Highway 1 Discovery Route is a road less taken and well worth turn offs and detours for a more leisurely route. I've driven different sections on separate forays up the coast, always wanting to linger longer in some of the small towns I've passed through while savoring a few new exciting stops and discoveries along the way.
Heading back south home to Carpinteria from Paso Robles (after a fantastic night at the uber-cool Geneseo Inn at Cass Winery and a dusk-to-night visit to Sensorio, the outdoor light installation that folks have been raving about since it opened, also in Paso), I took the super scenic Route 46, towards the coast to seek out Wayward Baking (www.waywardbaking.com) in Los Osos owned by Tim Veatch and Jeriel Sydney. The married pair traveled to Italy and came back with the idea to start their businesses, the sourdough bread bakery and Fable Soap Company. There's much more to report on SLO County and Paso Robles, but I will have to save that for a future visit. www.Highway1DiscoveryRoute.com
VISIT SLO – Restaurants, hotels, and sites are all easily accessed at visitslo.com
Avila Beach
Sycamore Mineral Springs – The new cottage garden at Sycamore Mineral Springs is open daily, weather permitting. Open 11 am to 4:30 pm to April; spring and summer will see longer opening hours, Avila Beach. www.sycamoresprings.com
Sinor-Lavallee – Wine tasting in Avila Beach. www.sinorlavallee.com
Mersea's Seafood – Avila Pier, Port San Luis. www.merseas.com
SLO Stop
Mistura and Joliene Bakery at The Creamery, San Luis Obispo. www.misturarestaurants.com / www.jolienebakery.com
You might also be interested in...