Fashionista Alert! My Roman Holiday, Part 3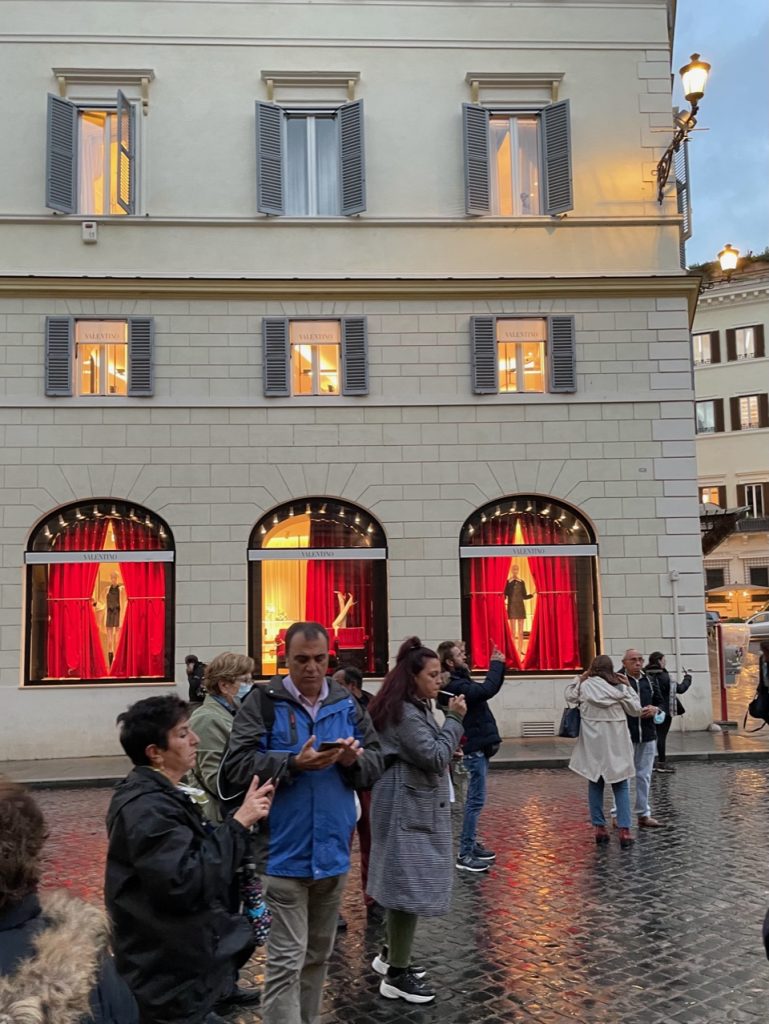 Pucci, Gucci, Prada, and Armani. Valentino, Versace, what will you score?
Dolce & Gabbana? Shop the Via Condotti? Marni or Buccellati? More, more, more!
Just two and a half days into my Rome explorations and I was beginning to know, understand, and fall in love with one of Europe's most beautiful capitals spread over 500 square miles. I questioned why I live in a small town in California, despite it being one of the most beautiful places in the United States, as it pales in comparison in so many ways to the Eternal City.
Italy is world famous not only for its food, art, history, and architectural delights, but also as a fashion leader. Famous shoe designer Salvatore Ferragamo (1898-1960), founder of Ferragamo, had Santa Barbara connections: he came here from Italy to join his brothers who had a shoe repair store in town, before moving on to Hollywood and becoming a shoe designer to the stars.
Queens of fashion around the world and in history have gravitated to Italian designer fashion. Lady Gaga is a big Valentino fan; Jackie Kennedy wore her love on her sleeve (and head) with designs by Oleg Cassini and Valentino. Even the Medici were no fashion slouches.
The Medici collar that stands upright on the back of the neck and opens in the front was a type of ruff that was introduced to France by Marie de Medici in the 16th century. For Medici, worthy fabrics for gowns or drapes, many handwoven in Venice, I discovered the fantastic Lisio Tessuti d'Arte, the "artistic" fabric shop on the Via Sistina where you can order the most extravagant and beautiful loomed yardage.
Historically, many are Roman-born designers, while others moved to Rome from other parts of the country. Elsa Schiaparelli was born in Rome in 1890 and was a leading couturier of the 1920s and 1930s. The famous Fendi sisters were also born in the capital. Many early houses are now part of huge multinational companies, leaving their founding roots in the dust.
Roman native Valentino Clemente Ludovico Garavani, the 89-year-old designer, stepped down in 2008 yet his name is part of fashion history as is "Valentino red," which graces his window displays. Valentino's windows and location on the Piazza di Spagna are among the most stunning. Founded in 1960, the company beat goes on.
Even if like me, you aren't a die-hard fashionista, exploring Italy's fashion expressions like Margaret Mead on an anthropological expedition, can be enlightening and fascinating, depending on your level of patience. A day-long search with a friend for the perfect Christmas gift was more exhausting than enlightening. (Give me a church, a museum, a ristorante!)
Thanks to the Sofitel Rome Villa Borghese's dream concierge team, I was off for an exploratory, exclusive shopping tour with Italian fashionista blogger/influencer Selvaggia Capizzi, who has lived in and "loves" Los Angeles.
Selvaggia led a small group of us, including new best friends Walter and Art who live in the Hollywood Hills, on her behind-the-scenes tour to some of Rome's high-end trendy designer boutiques. The private tour included blue-chip, well-known designer boutiques ranging from one exclusive and snazzy new showroom with a private entrance and dressing room for royalty, movie stars, and the super-rich who require privately curated shopping experience to artsy Marni (if you are not familiar with Marni Creative Director Francesco Risso's work, check out his Milano apartment in a Vogue.com video), as well as the atelier of couture and prêt-à-porter designer Jamal Taslaq.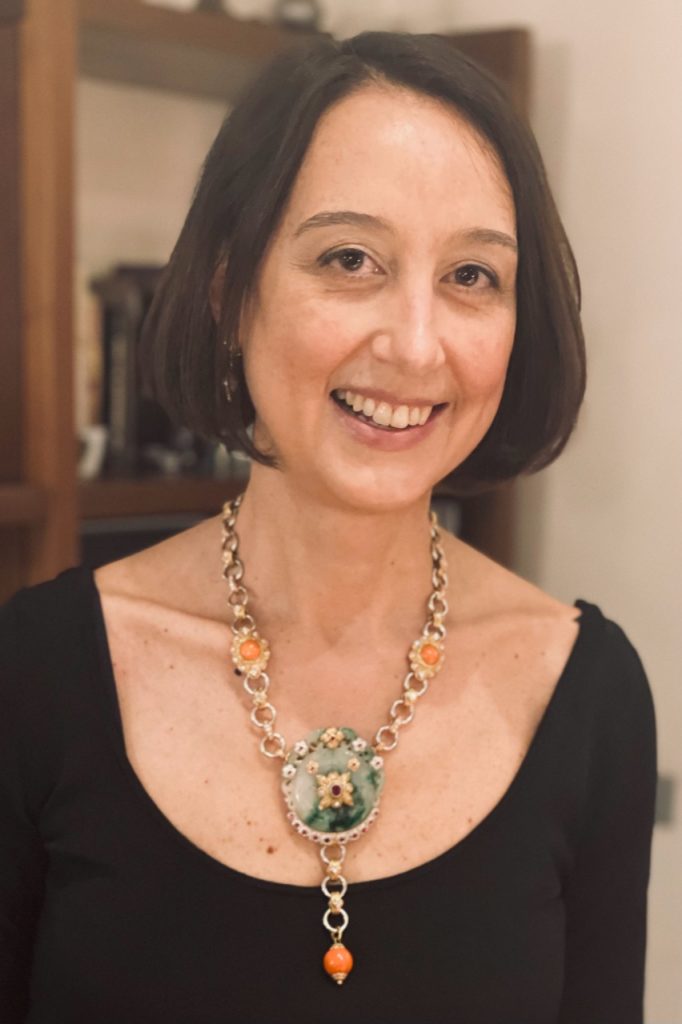 Jamal (who cites Valentino as a favorite inspiration) creates stunning gowns that are as light and flowing as butterfly wings, and constructs jackets fit for a queen (Queen Rania of Jordan is a client, as is Sharon Stone). If you are a collector of couture clothing, this soft-spoken talented designer, who immigrated from Palestine, is worth looking up when you travel to Rome. The detailing ranging from beading to embroidery to leather applique and cut out designs is truly mesmerizing. His design process begins with meeting the client either in person or remotely to assess her needs, so that the garment is designed to enhance her beauty, not just showcase his personal esthetic.
After our guided tour, Walt and Art dashed off to order made-to-measure shirts and shop at a couple of their favorite "under-the-radar" haberdasheries: Boutique Gaetano Aloisio and Guarino, both off the beaten tourist track. Italian fine tailoring, craftsmanship and customer service intact, their orders (custom shirts and cashmere sweaters) were delivered to the hotel, presto pronto!
Sandals trimmed in what looked like shag carpet; stilettos somehow held on with curly telephone cords (remember those?) and patchwork sweaters that I'd probably pass over at my favorite thrift stores filled my eyes and senses at boutiques with doorbell private entrances.
If you don't want to or can't travel to Rome, Saks Fifth Avenue in Beverly Hills features most of these designer goods for sale — and then some.
Visit With a "Wild and Crazy" Jewelry Designer
Women (and men) cannot live on dresses, suits, shoes, and handbags alone and Italy is also famous for jewelry design. Buccellati and Bulgari may be among the most well-known names/brands, but if you want a stunning one-of-a-kind bauble for yourself or your beloved, I recommend a visit to the atelier of luxury jeweler Cazzaniga.
Giorgio Cazzaniga, our host for the evening and adult grandson of the founder, welcomed us (who had to pass through two secure doors) with a huge smile, open arms, and wide-open bar for a private showing and rousing cocktail party. Flirting, which is a pastime that Italian (actually, most Latin men) excel at, is good for the blood. When it is done correctly, it brings a smile to one's face. There were a lot of smiles that evening, as Giorgio kept the tradition of flirting alive, making his country proud. His lovely fiancée — an attorney who practices antitrust cases throughout Europe — like all Italian women who stick with their own, seemed to be used to the jovial, warm kind of man who makes a guest feel immediately welcome in his huge embrace of a smile.
Upstairs, we were introduced to a tough-looking, handsome doorman/security guard/former rugby player. The "guardian of the jewels" was quite intimidating, but thankfully loosened up with the crowd in the later hours — before all being invited to gather, stand, or be seated in a semi-circle around a huge desk that belongs to Giorgio's octogenarian father, Paolo, who sat patiently waiting in another room for us to descend after Giorgio's grand presentation.
Out came a tray, and one couldn't help feeling like imitating Julia Roberts, anxious to grab, try, and squeal in delight each opulent, finely crafted bauble. I resisted. Briefly.
The maestro of joie de vivre and jewelry designer let us try on rings, bracelets, earrings, and our new friend Sabrina Isabel Miniero (daughter of a former Italian ambassador) modeled a 100,000 Euro necklace Giorgio brought out, while letting me hold the still-warm diamond Cazzaniga necklace she had worn to the gathering. This sure beat my childhood dress up parties.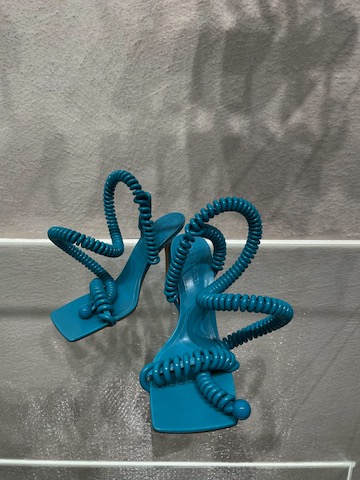 The jewels were all safely tucked away for the night, while visions of baubles danced in our heads. We descended downstairs for more cocktails and passed sandwiches. Our host had a special drink created for the party by Agostino Musichini, head bartender at Hotel de Russie, Rome. The drink was named the "Fracico" (the Roman sybarite) and the double version "Fracicone," of which he imbibed several. A number of chic Roman pals had arrived, and the party got underway with much frivolity and dancing by Giorgio and any willing ladies.
Several Negronis later, we left under another spectacular Roman downpour. The entire evening felt like a scene from a Fellini movie.
"If we contract COVID, it's going to be from Giorgio's heavy breathing when I was dancing with him panting down my neck!" I said to my friend as we left the party.
"Yes," she replied, "he told me I smelled like freedom!" (Actually, it was her Chanel #5, who knew?)
We both laughed.
Fortunately, I didn't contract COVID there, nor in any of the fully masked museums, unmasked restaurants (Italy has a very high fully vaccinated rate of more than 70%) or after traveling 20 hours home (car/airports/planes/taxi) with a mask on most of the time.
Cazzaniga was a great host and party animal. While I may not own a piece of his gorgeously baroque jewelry to remember him by yet, I will never forget his indelible style and exceedingly warm welcome to bella Roma.
Our shopping tours and private visit to the jewelry atelier and cocktail party was arranged by the fabulous concierge team at Sofitel Rome Villa Borghese.
You might also be interested in...