Hone Your Shopping Craft by Going Local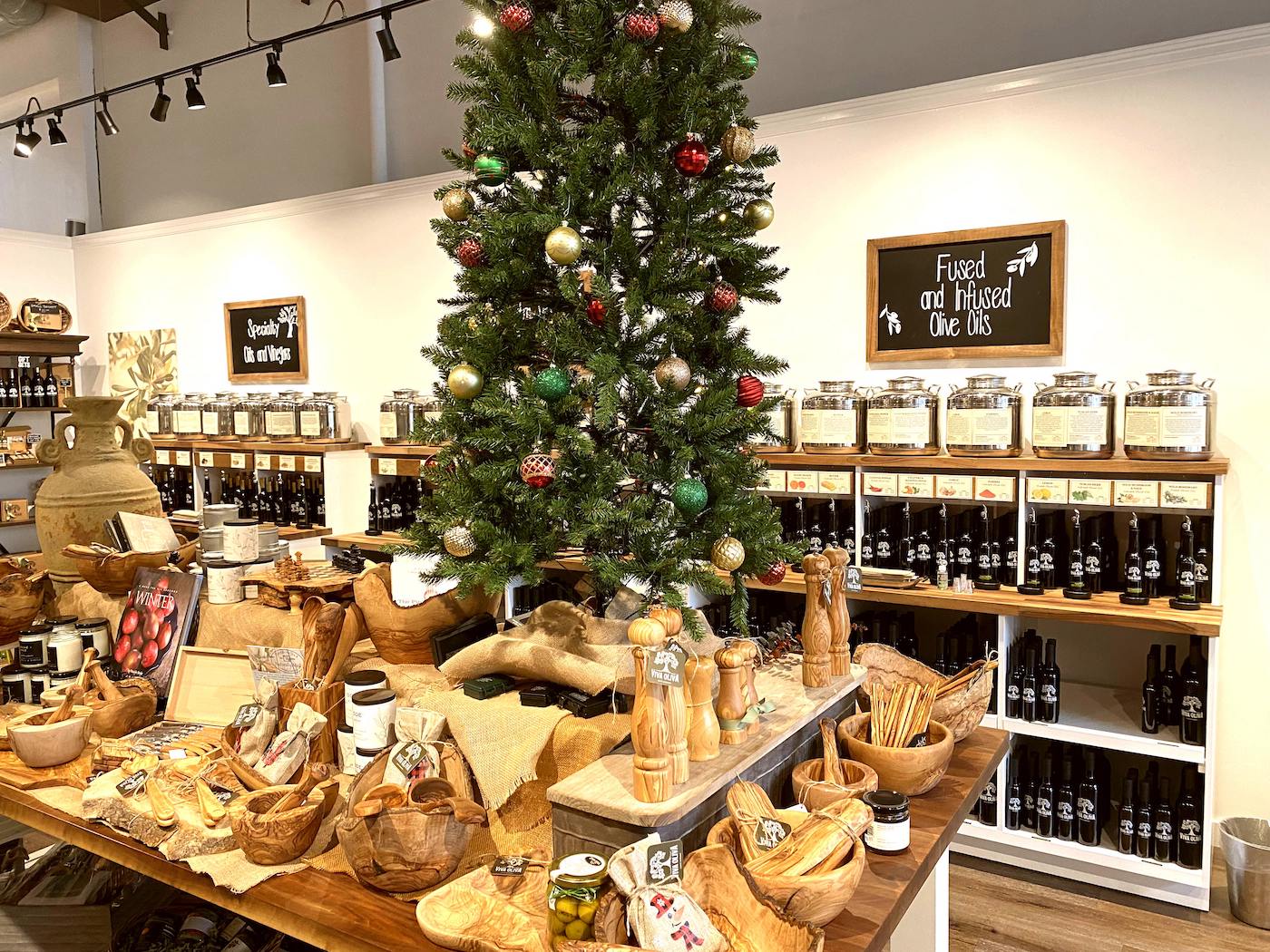 The pandemic has brought about a lot of changes to people's everyday lives, with eating out replaced by delivery services, while brick-and-mortar shopping took a temporary backseat to online services.
But, along the South Coast, small business is the spine of our community, the glue that keeps us all together.
And that has never been truer for the arts and crafts community, one that has blossomed as more people have spent time at home, looking for new hobbies — and potential new businesses.
In this week's Home for the Holidays, we look at some of these options, while also featuring some businesses that you can snag a last-second gift at, from bookstores to a cannabis outlet:
Folio Press & Paperie
301 Motor Way | 805-966-1010 | foliopressandpaperie.com
Talk about a one-stop shop, as Folio Press & Paperie offers fine stationery and a gift store, plus an in-house designed and printed letterpress line that is sold in more than 400 stores across the United States. FP&P also does custom design and printing for a plethora of clients, ranging from wedding invitations to holiday cards.
FP&P doesn't just display its own work — which is printed in the pressroom at the rear of its store — but also houses work from other small design studios. Patrons can find European stationery and handmade papers, as well as fine writing instruments.
FP&P also sells wax seals, journals, puzzles, calendars and day planners, wrapping supplies (paper, tissue, ribbon), books of interest for almost everyone (from babies to most all adults), fantastic hostess gifts, kitchen items, candles, bath salts. FP&P also features many local items, including Santa Barbara Cutting Boards, Santa Barbara Hives Honey, and Sideyard Shrubs Vinegar.
And it all comes with complimentary gift wrapping for in-store purchases.
Art From Scrap
302 East Cota Street | 805-884-0459 | exploreecology.org
Patrons will need to act quickly to take advantage of Santa Barbara's favorite reuse store, as it will close on December 19 through January 2 for a holiday break.
But the store that focuses on eco-friendly gift wrapping is open Wednesdays through Saturdays from 11 am to 4 pm, with plenty of gift items, arts and crafts supplies, as well as fabric.
The store is focusing efforts on educating patrons on how to use tea towels, produce bags, newspapers, sheet music, and maps to "make your entire present, wrapping and all, be enjoyed well past the holidays."
Riviera Towel Co.
17 West Gutierrez Street | 805-560-1571 | rivieratowel.com
Some of the most popular towels in town will be on display from 4 pm to 7 pm at Sevilla Square during the venue's annual Shopping Night.
Riviera Towel will be offering special discounts on its warm winter blankets and throws — perfect as the South Coast starts to see some much-needed rain.
Viva Oliva
927 State Street | 805-886-4342 | vivaoliva.com
Things are quite hectic at Viva Oliva, as it is shipping out more than 100 parcels per day, setting daily records this holiday season. What's so popular? Olive oil and balsamics — perfect for the influx of home cooking going on amid the pandemic.
Viva ships all over the United States, doing so for free with purchases of more than $75.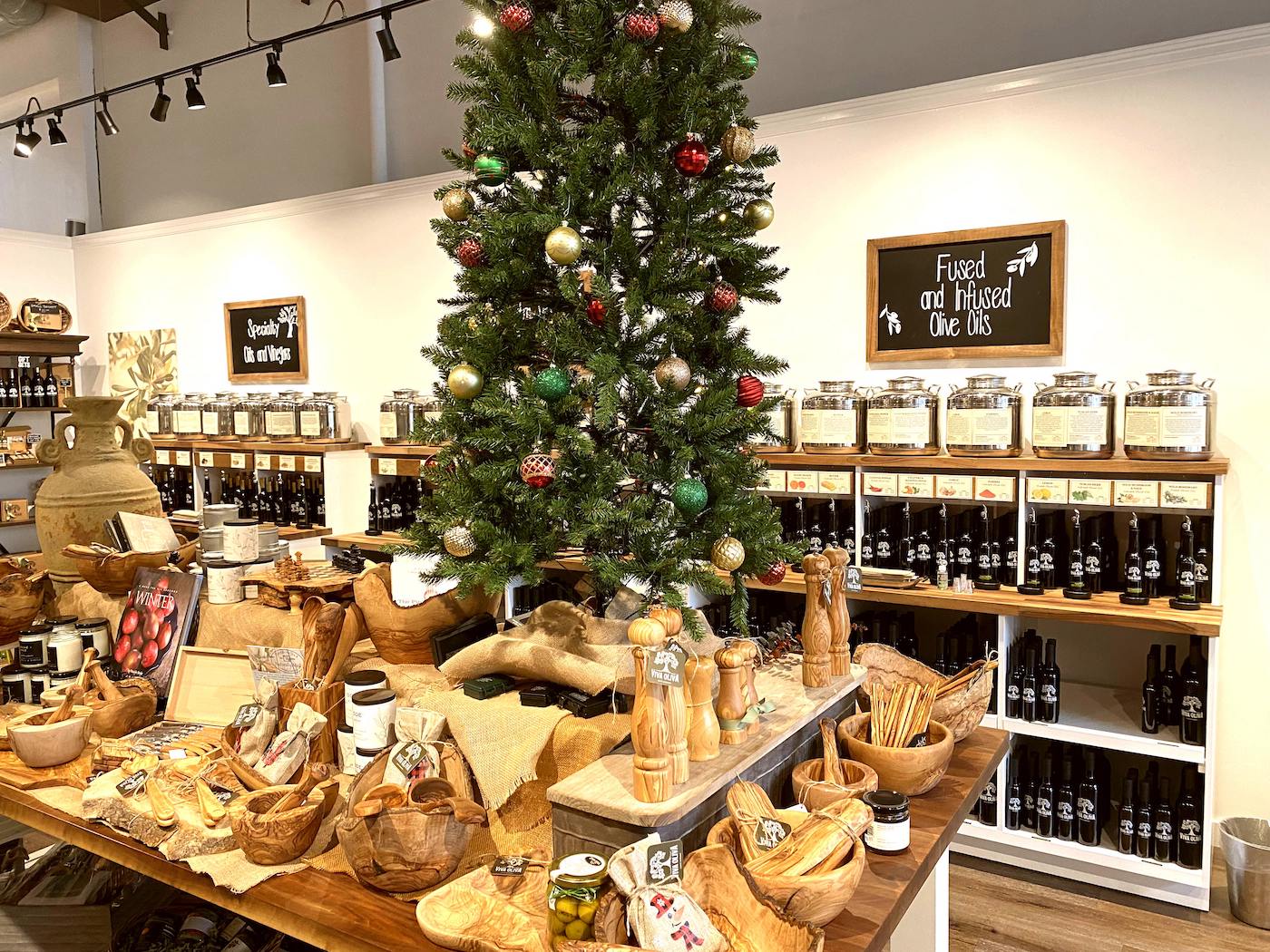 The Farmacy
128 West Mission Street | 805-880-1207 | thefarmacysb.com
The pandemic has been good for the cannabis business, particularly along the South Coast. Santa Barbara's first dispensary has a few holiday gift bundles that lower the retail price by a discounted 20%, with complimentary gift wrapping. Also, gift cards are 10% off all December, with the outlet offering them in $25, $50, and $100 increments.
And, for just December 17, the Farmacy is offering a storewide major discount (patrons have to show up to find out… but we can tell you, it's big), and it'll be complete with brand demonstrations and a gift-wrapping station.
From December 18-24, there will be category specials, including flower, edibles, vape, pre-rolls, and beverages.
Chaucer's Books
3321 State Street | 805-682-6787 | chaucersbooks.com
Just good, old-fashioned bookselling going on here, but it's important to remember that Chaucer's has more than books, as patrons can find puzzles, games, cards, journals, and more.
The store is open from 9 am to 8 pm every day, and welcomes orders by phone or through their website, although Chaucer's loves in-store visits.
Becker Studios
412 East Haley Street, #3 | 805-965-9555 | beckerstudiosinc.com
Looking for that little extra zing to your holiday party, or just want to show off your home? Becker Studios loves sprucing up clients' homes with custom garlands, trees, and lots of lights.
Becker also does tablescapes, particularly for clients that are getting to enjoy their recently completed homes for the holidays.
La Arcada Plaza
1114 State Street | 805-966-6634 | laarcadasantabarbara.com
This outdoor shopping delight has turned into Holiday Central, including a winter wonderland complete with Christmas trees and some inquisitive turtles in the fountain at the heart of it all.
There are a few upcoming events that patrons won't want to miss, including Santa Barbara Arts highlight Randy Meaney spinning yarn on an old-fashioned spinning wheel on December 18. Meanwhile, Ace Rivington is hosting Six Days of Christmas with six-hour flash sales that will help patrons finish their holiday shopping.
The Waterhouse Gallery is showing small painting treasures by local artists (which can be purchased), while Coast 2 Coast Collection and Lewis & Clark will help patrons find trimmings for that Xmas tree.
The Crafter's Library has hosted a plethora of December events, with the next one a floral arrangement class on December 19 from 1-3 pm, while on December 20 there will be a Macrame Wall Hanging session.
And if it's one's belly that needs some attention, Andersen's Danish Bakery has plenty of cookies to choose from, while there is wine tasting at Barbieri + Kempe and a new game room at 1114 Sports Bar & Games.
Letter Perfect
1150 Coast Village Road | 805-969-7998 | letterperfectsantabarbara.com
Looking for stationery and gift cards? Maybe a custom Santa Barbara ornament for that holiday tree? How about a puzzle to share with the family? Letter Perfect has it all.
The longtime Santa Barbara staple is well known for its custom wrapping, while also making custom sachets with local lavender — all hand-stitched.
Anne Luther Antiques
Various locations | anneluther.com
With global supply chain problems causing shortages of the season's "it" gifts, it might be time to turn to home accessories, art, or handmade crafts.
Enter Anne Luther Antiques, which can be found at the Summerland Antiques Collective, The Antique Center and sbmidmod, the latter a new store in Santa Barbara's Funk Zone.
Santa Barbara Museum of Art
1130 State Street| 805-963-4364 | sbma.net
The museum's shop has been hopping all season long, particularly its Global Bazaar Collection, as well as its Artful Gifts Collection.
If you're looking to grab a piece of the museum's popular jewelry collection or a piece of art for the holidays, visit sbmastore.net.
Occhiali
1046 Coast Village Road #H | 805-565-3415 | occhialieyewear.com
Enter a holiday wonderland with a store completely decked out for the holidays, including a beautiful window — a sight to be seen considering it's an eyewear store.
And, if you've got a sweet tooth, there are holiday cupcakes available from the Violette Bakeshop.
You might also be interested in...