On Foot and by Paddle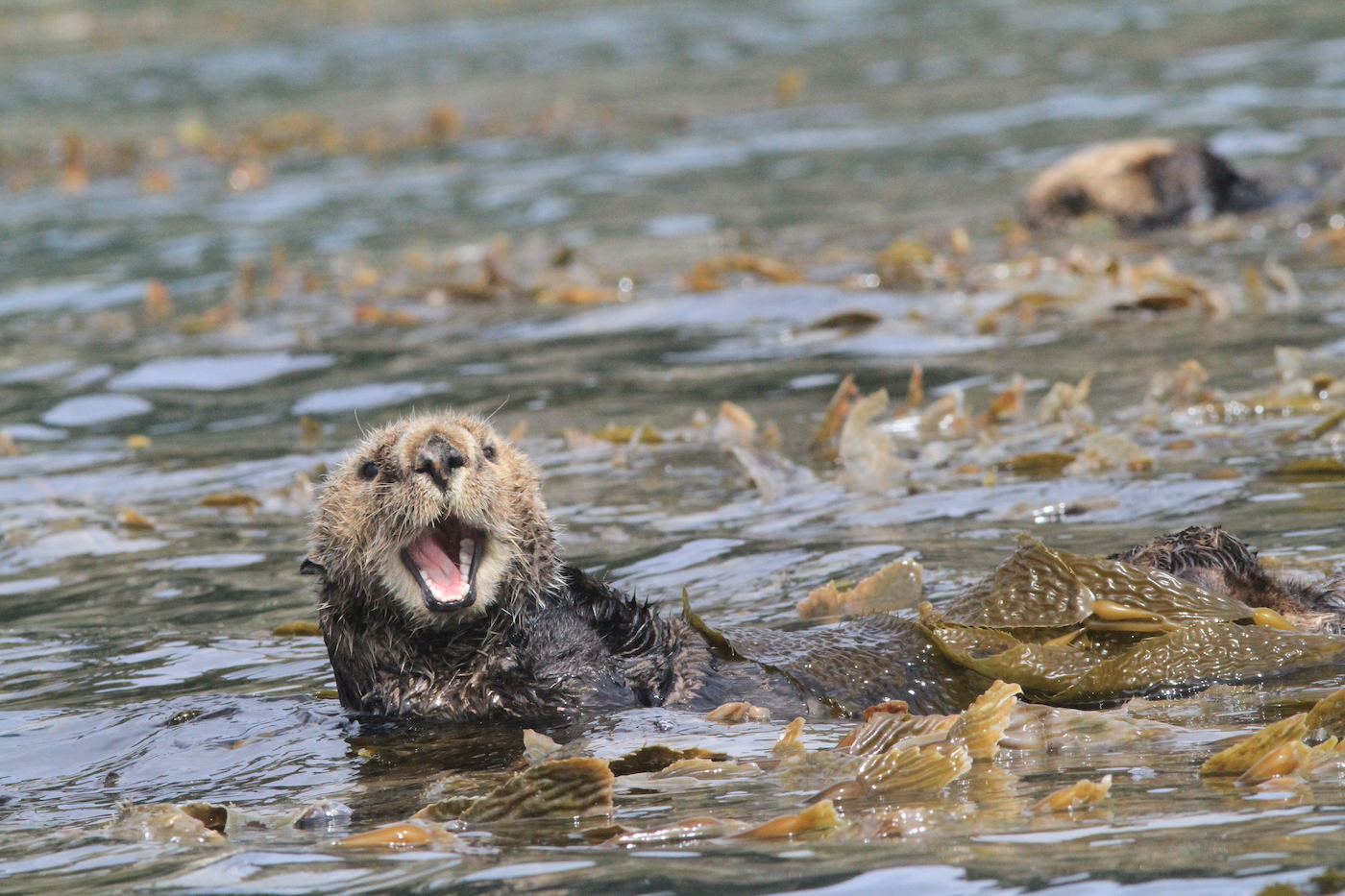 Timing the surge of an incoming tide took me to the backend of the Morro Bay Estuary. Paddling my standup paddleboard, I glided effortlessly through serpentine-like channels choked in colorful pickleweed. Flanked by massive Morro Rock to the north, the rest of the seven sisters lied ahead, prominent rocky spires that fortify the backend of the estuary overlooking its teeming wetlands.
From Morro Bay south to Los Osos, the estuary spans 2,300 acres of marshes and mudflats, housing over 250 bird species, harbor seals, and sea lions and rafts of southern sea otters, a marine mammal boasting the densest fur in the animal kingdom.
Protected by a lengthy, dense sandspit of wind-groomed sand dunes, exploring its sheltered waters by kayak or standup offers intimate encounters with all its inhabitants. Launching is effortless at various locations within the estuary offering boundless opportunities throughout one of the few remaining coastal wetlands on the West Coast.
Keystone Species
There are not many places in Central California to see sea otters, but Morro Bay is one of the best locales. You can literally drive right up to them just below Morro Rock. A reliable canopy of giant bladder kelp houses 20 to 25 otters on a good day. It's a great observation point to watch these fastidious groomers and mothers tending to their kits.
However, the best vantage point is from a kayak at surface level seeing these keystone critters up close feeding on clams and crabs, continuously rolling, somersaulting in the kelp. And after it is all over, the otters wrap up in the kelp, that natural anchor keeping sleepy otters in place.
Highly sought after for their dense fur, southern sea otters were thought to be completely extinct up until 1938. However, 50 animals were discovered below the Bixby Bridge along the rugged Big Sur Coast. Protections went into place and from that small gene pool the population has climbed to just over 3,000 animals, still a far cry from when their population hovered around 250,000 otters.
Avian Retreat
While scanning with my binoculars, I reflected on a wind-driven spring day going back at least 10 years ago. A broad raft of pickleweed crept into the estuary on a medium tide. It was thick enough to allow a flock of maybe 20 migrating American white pelicans to roost and preen their pearly white feathers while floating into the back bay.
White pelicans are North America's largest pelican. They mostly breed in Montana but come fall and winter they fly south picking spots along the Central, Southern, and Southeastern portions of California. Morro Bay offers a safe haven for resident birds, but for many migrants too.
Several serpentine channels weave their way through the "forest" of pickleweed, and from many vantage points and with a good pair of binoculars, hundreds of birds can be spotted around the estuary.
Coastal access points can be had around the Baywood region on the southeast side of the estuary. My birding excursion revealed greater yellow legs and greater scaups, semipalmated plovers, long-billed curlews, blue-winged teal, and western sandpipers.
From a kayak, you get a unique perspective that is level with the birdlife but also the harbor seals. It makes it easier to approach with a camera from a safe distance. It allows intimate encounters and observations revealing the behavior of so many species in this vital wetland habitat.
Dwarf Forest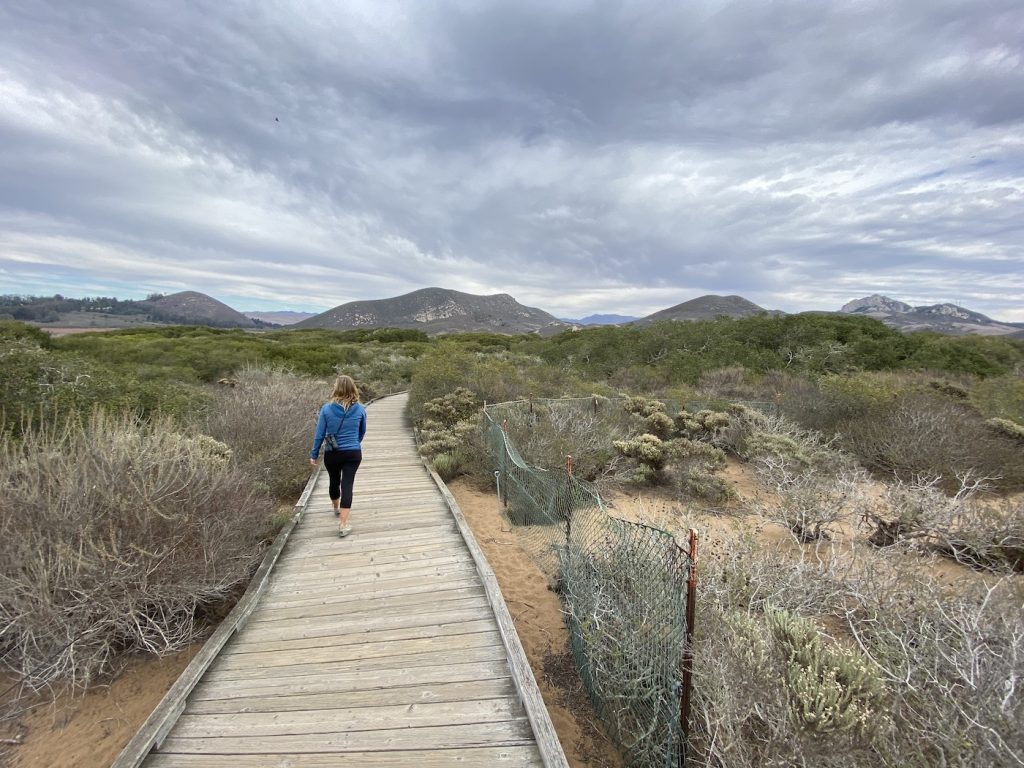 One of the more interesting preserves surrounding the Morro Bay Estuary is the El Moro Elfin Forest accessed from Los Osos.
Along the four- to five-mile boardwalk loop natural area are a throng of habitats highly concentrated in the 90-acre preserve. Eight separate habitats provide homes for a multitude of flora and fauna. Those include coastal dune scrub, maritime chaparral, coast live oak woodland, manzanita complex, riparian areas, brackish water, and salt marsh ecosystems. The raised boardwalk is ideal for viewing, but more importantly it protects these sensitive habitats.
The Elfin Forest supports more than 200 species of plants, 110 bird species, 22 species of mammals, and 13 species of reptiles and amphibians. Evidence left by Chumash Indians are hidden within the preserve.
Elfin Forest is not just another pretty place to experience Morro Bay. It is also educational. Periodically along the boardwalk visitors will find placards naming a specific plant. The placard also has a place to scan with your phone. Simply hold your cell phone over the scan and it will reveal a detailed drawing of the native plant and specific information about it.
Sweetness
Another sweet little preserve worth exploring is the Sweet Springs Nature Preserve. It is also located in Los Osos. Acquired in 1989 and managed since then by the Morro Coast Audubon Society, the 32-acre preserve is tucked away in the southerly corner of the Morro Bay Estuary.
The region has been restored with native plants, shaded pathways, bridges, and overlooks with stunning views of the estuary and Morro Rock. It is a peaceful preserve where time slows down. It is another good spot to bird watch and enjoy the sunset with ever-present Morro Rock as a stunning backdrop.
You might also be interested in...