Let's Get Away From It All: The Endless Summer in Laguna Beach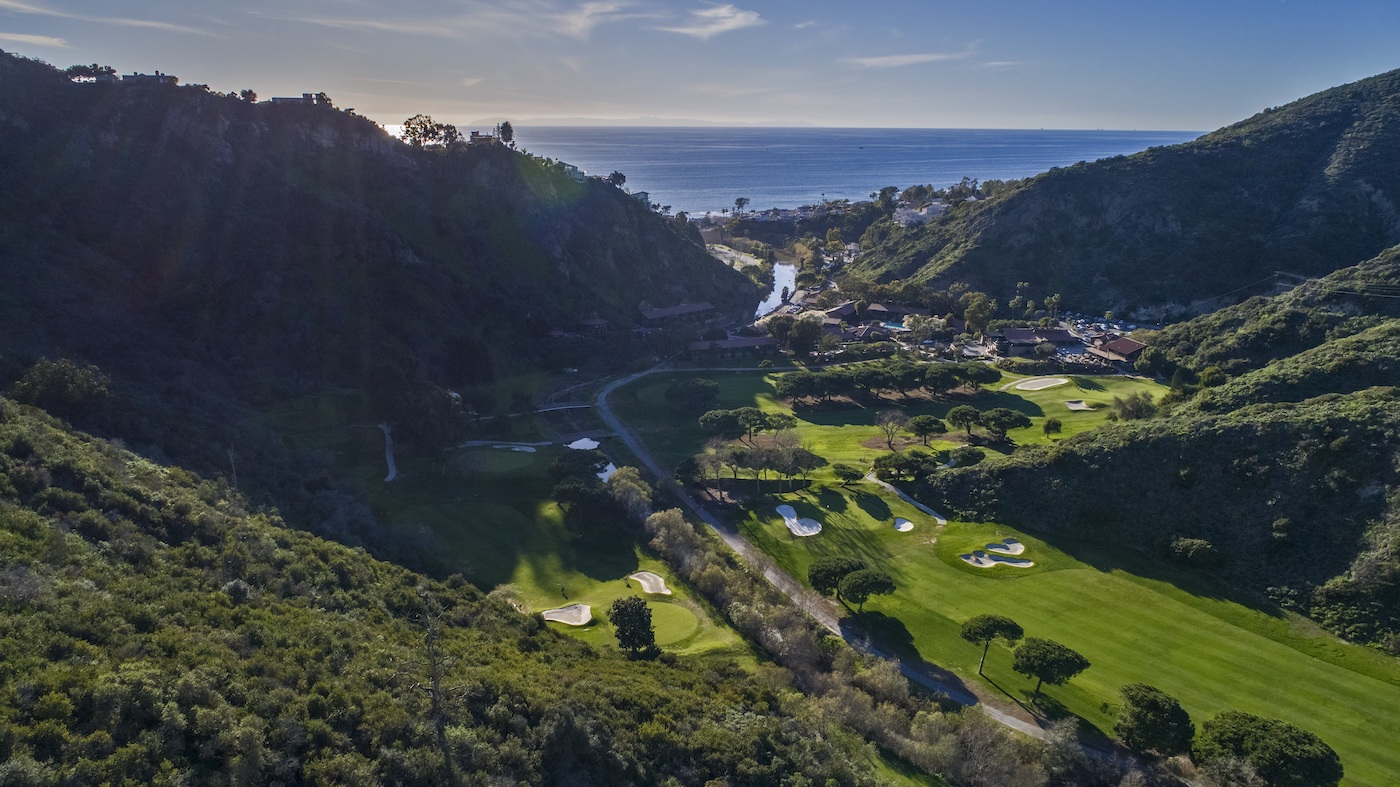 "Let's motor down to Miami
Let's climb the Grand Canyon Wall
Let's catch a tuna
Way out in Laguna
Let's get away from it all"
– Lyrics from "Let's Get Away From It All" (music by Matt Dennis and lyrics by Tom Adair, published 1941) commonly associated with Frank Sinatra
One of my best female friends and I have traveled together over the decades – often "in between" boyfriends – to get away from it all.
She snores; I'm bossy.
She likes to close all the windows and curtains at night and lock everything up.
I often wake up pre-dawn and prefer open windows and morning light.
The best way we've solved this travel buddy dilemma is to either book two separate hotel rooms, or a cottage or room with two bedrooms. (My mother, also a good traveling companion, wakes up and reads during the middle of the night – so the bedside lamp becomes an issue.)
Sometimes we bicker, but mostly we have fun.
Sound familiar?
So, our two-story, two-bedroom unit at The Ranch at Laguna Beach, a tranquil golf resort getaway tucked into a canyon that reaches down to the Pacific, made for a perfect retreat and excellent slumbering on comfy beds where we each had our own lovely bedrooms, with blackout drapes to open or close at our own discretion.
I hadn't been to Laguna for a zillion years, but the town holds lots of memories for me, beginning with occasional childhood visits. My Great Aunt Josephine, who lived in a huge house in Pasadena with her rich husband, Artie, had two houses or "summer cottages" (popular then and now with Pasadena families) in Laguna that we visited when I was little. Many decades later, my first fiancé and I took our first "trip" here and stayed at the old Surf and Sand Hotel (now much fancier and larger, I believe). I've been to the amazing Pageant of the Masters and Sawdust Festival and have enjoyed contemporary exhibits at the Laguna Museum of Art.
This trip, the beaches (a friend thinks they are the best in California), the cozy town with charming boutiques and galleries and a new-to-me (but not to others who know the golf course well) charming six-year-old Ranch at Laguna Beach were added to my memory bank.
First Stop, Lunch by the Sea
We kicked off our two-night getaway by meeting a friend and his darling two-year-old son at a lunch spot smack dab on the ocean called Driftwood Kitchen. Two old houses strung together on a couple of levels offer indoor ocean-view dining and veranda dining, an indoor clubby bar, and a steps-from-the-beach patio called The Deck. We moved from our original upstairs spot down to The Deck, where a gal swimming just moments earlier in the jade green Pacific Ocean waters popped onto a bar stool in her bikini. Very SoCal. Lunch was delish: we all opted for the lobster salad; wee Alex had a nice stretchy cheesy quesadilla which he had fun playing with, as we sipped rosé prosecco.
After lunch (we left our cars with the valet where it's $9/hour to park) we all walked down to a beachfront playground where Alex enjoyed the swing and slides, and I peeled off for a little retail therapy on Forest Street. There's a lot of hokey art here (although the Laguna Museum of Art does have tasty shows), but I did admire the canvases at the eponymous Marc Whitney Gallery. I stumbled onto the Hobie Surf Shop jam packed with fun surf wear (I hit the sale rack) and a nice home furnishings store called Tuvalu. Turns out that those two shops are also owned by major investors in our lodging retreat. I also discovered a delightful children's clothing and gift shop called Little Bohemian.
A few minutes down the road, we turned off the PCH and were swiftly checked into the Ranch (the staff is wonderful here by the way, everyone is eager to please and help). I jumped in the pool after unpacking and met two nice couples – one a pair of scientists from South Pasadena, who are regulars ("We like three things on the menu: the club sandwich, the wedge salad, and the scallops," they opined). Another couple, from nearby Seal Beach, celebrating a birthday also said they frequent the Ranch.
Rather than room service, we opted to order Asian food from Uber Eats for dinner in our lovely abode since we had a hankering for the recommended club sandwich that wasn't on the dinner menu.
The next morning, we put on our workout clothes and took a walk along Aliso Creek, down to the bustling PCH, then under the PCH tunnel to the beach for breakfast oceanside at Lost Pier Cafe. Guests can charge breakfast or lunch there to your room (we opted for avocado toast with an egg; we could have split the large serving); a golf cart will meet you at the base of the canyon if you don't feel like walking back up.
Spa Time
After an amazing, outdoor "Canyon Calming Massage" in a lovely tent and a few minutes in the infrared sauna in the cozy and calming Spa by Hudson, I went back to my very quiet and tranquil room. Should I relax, read, and nap? Or go back into town for lunch and exploring? A hard choice, but after my back of a thousand knots was unraveled like a Chinese rope trick by the fantastic masseuse, I opted for a good book that I highly recommend by longtime Montecito resident Joan Easton Lentz, the most engaging and beautifully written memoir Story of a Santa Barbara Birder – the canyon is a haven for bird watching by the way, as well as deer spotting.
Dinner was a feast fit for royalty. We started with a delish hummus appetizer at Ben's Pantry and listened to David Allen Baker croon some songs and whistle along to songs from the 1970s – but I'd happily return for Sunday afternoon jazz performed By Modern Times.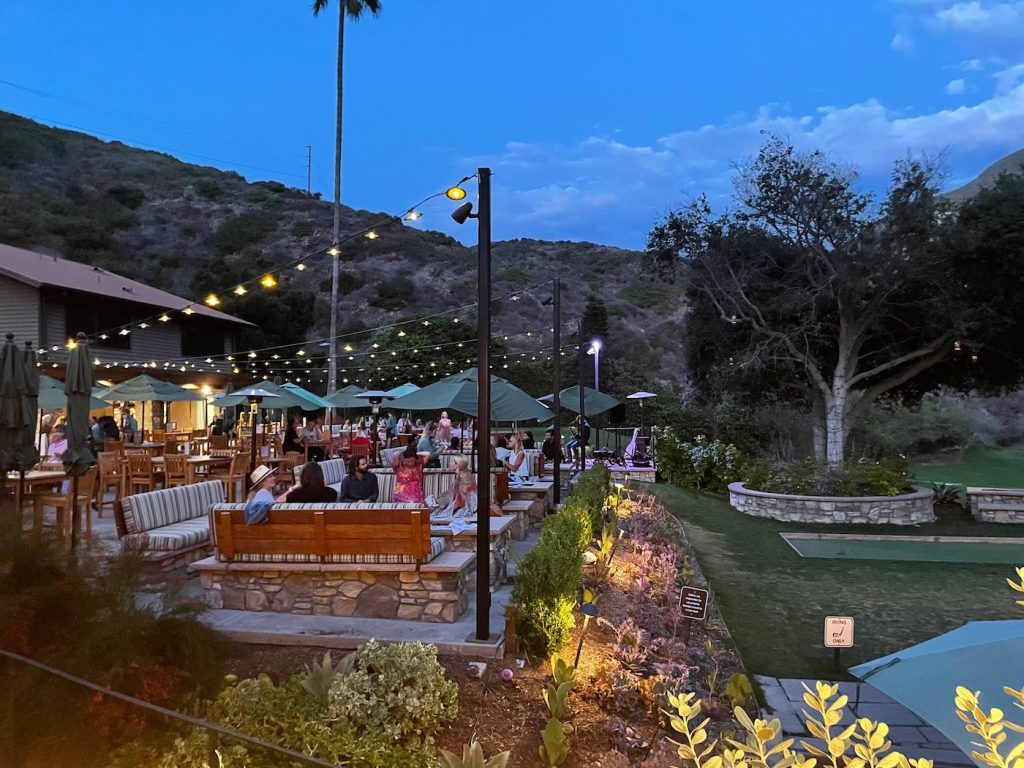 The open-air dining room at adjacent HARVEST, the main dining room with a terrace overlooking the greens, as well as a huge stone fireplace that would certainly be appreciated on chilly or rainy fall or winter evenings, did not disappoint. Our dinner was an embarrassment of riches: a great wedge BLT salad, terrific crispy Brussels sprouts with toasted pecans, green apple, and radicchio in a sweet chili sauce that would make a great Thanksgiving/turkey accompaniment; homemade fettucine with grass-fed beef and pork and huge braised pork shanks – with plenty of leftovers to take home the next day, as portions are huge, just like the Pasadena couple had forewarned.
Back in our aerie, I could hear the crickets sing. We'd spotted deer on the greens; that afternoon I'd helped put the chickens to bed with delightful Farmer Leo who grows organic veggies, flowers, and herbs (his lovely wildflower arrangements adorn the public spaces) and a low-hanging fingernail moon perched in the last of summer sky topped it all off.
It was a perfect two-day getaway, although I'd recommend staying three nights so you have two full days to do things I didn't have time for including more time exploring tidepools, the beaches, and seeking out Pirate Tower at Victoria Beach, which will have to wait for future adventures in Laguna. Oh yeah, and maybe I'll even return to try and catch a tuna!
The Details
Getting there: From Montecito, it's about a 2.5-hour drive – if you time it right – a straight shot down the 101 to the 405 to the 73 turn-off that leads to the coastline and the artsy town of Laguna. We broke up the drive on the way back with a stop at Bergamot Station in Santa Monica to see the stunning Sebastião Salgado "Amazonia" photo exhibition at Peter Fetterman/Danzinger at Fetterman Galleries and took the more scenic and relaxing coastal route through Malibu home.
The Ranch at Laguna Beach: Among other attributes, the Ranch is a sustainable pioneer and features several planet-forward programs, from recycling glass bottles into sand for its golf course bunkers to saving 20 million gallons of water annually by irrigating with reclaimed water.
Rates start at $450 for a studio and up to $2,500 to $5,000, depending on the season, for the very cool Treehouse that sleeps up to six guests. www.ther anchlb.com
Driftwood Kitchen: www.drift woodkitchen.com
Lost Pier Cafe at Aliso Beach: www.lostpiercafe.com
Shopping on Forest Avenue
Hobie Surf Shop: Classic SoCal surf wear where they "want you to be stoked." www.hobiesurfshop.com
Tuvalu: Home furnishings store. If you like the décor at the Ranch, you will like Tuvalu and vice versa. www.tuvaluhome.com
Little Bohemian: Darling children's clothing and gifts. www.littlebohemianlaguna.com
Marc Whitney Gallery: www.marcwhitney.com
You might also be interested in...