Escape to the North: A Look at What San Luis Obispo Has to Offer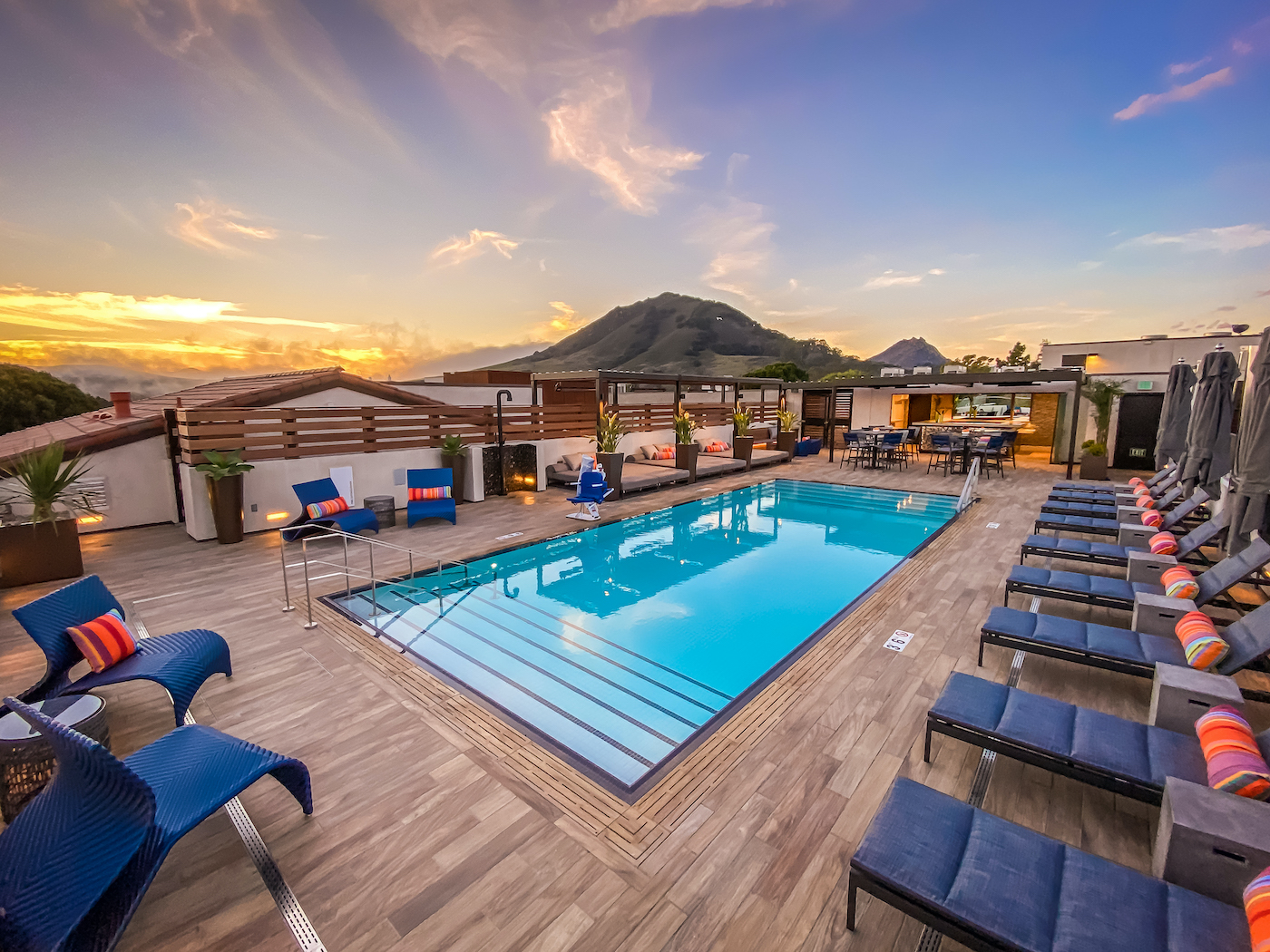 After having been locked up for more than a year, there is a real need among many Montecito residents to just get away — anywhere. The nice thing about choosing San Luis Obispo is that one needn't go very far to feel very far away; it is a mere two hours by car, yet it throws off a completely different and pleasurable vibration.
Firstly, it's a college town, so it is younger than Santa Barbara, certainly a younger crowd than one will find in Montecito. For example, the weekend (a Thursday/Friday actually) I spent there included market day, which is Thursday. The entire city of San Luis Obispo (we'll refer to it as SLO from here on out) takes part in not only the market on Thursdays, but also in the giant bike ride that takes place directly after the market closes at 10 pm. Try that in Montecito, where not only sidewalks but also stray residents with the effrontery to want to do something after the bewitching hour of 10 pm are rolled up.
I tried to count the number of pedalers on bicycles and other wheeled contraptions hooting and hollering through the city streets after the Thursday market closed; I'd say at least 2,000, maybe more, but it was hard to tell. We were on the top floor of the Cerro Hotel, right in the heart of SLO, and had a vantage point that allowed us to watch as those thousands of bicyclists noisily and joyously sped through the city streets.
Simply strolling down the streets of SLO is a joy, in that the fully grown trees on both sides offer a pleasant, shaded canopy, and the shopping is exceptional: Except for the one downtown mall, all the stores are individually owned and feature many one-of-a-kind products from fashionable clothing to toys, antiques, and bicycles, along with art galleries, bars, restaurants, and, well, lots more.
You may recognize the names of the 65-room Cerro Hotel's founders and owners — Pat Smith, Hamish Marshall, and Alex Pananides — as they live in and are active in Montecito. Pat and Alex have been business partners for more than 30 years; Hamish is from Australia and worked with Smith and Marshall before getting his business degree at Cal Poly San Luis Obispo, the school Pat attended beginning in 1973. They branched out into real estate development beginning with Arroyo Grande, Atascadero, Paso Robles, Lake Nacimiento and then on to Arizona, New Mexico, and Colorado, and many more states. His group developed, for example, the Residence Club Little Nell in Aspen and the Viceroy Hotel in Snowmass, both in Colorado.
Hotel Cerro takes up about 7/8ths of a city block and makes an ideal location for your weekend getaway. The ocean isn't that far off, golf courses abound, and there is much to do, including, naturally, touring some of California's best wine country and its wineries.
The hotel is unique, as it is partly in a 100-year-old-plus brick building that's been completely reinforced with steel trusses. It'll last another 100-plus years. The rooms are a mix of lofts with 14-foot ceilings, the kind one might find in San Francisco or even SoHo in New York City, along with garden suites, and more traditional rooms (all with high ceilings). Our garden suite featured an outdoor patio with a firepit, an indoor fireplace (under the TV set), and — for those wishing to reveal their hidden extrovert — a bathtub, exposed on all sides, into which hot water spills from the ceiling. It's unique and not a drop of water splashes on the floor as the tub is being filled.
The rooftop bar and swimming pool are a treat all their own. The garden suites are so named because just outside one's suite is the garden from which Brasserie SLO's chef pulls his herbs. There are also eight privately owned individual condominiums. They too are available for rent, but by the month only.
The full-service spa (it may be the only full-service spa in all of SLO) features eight treatment rooms, two of which can accommodate couples. Offerings include seaweed wraps, a steam room, deep tissue massages, and all manner of amenities.
Having taken 10 years to put together, the hotel finally opened in February 2020. A month later, it had to close because of the pandemic and has only recently reopened.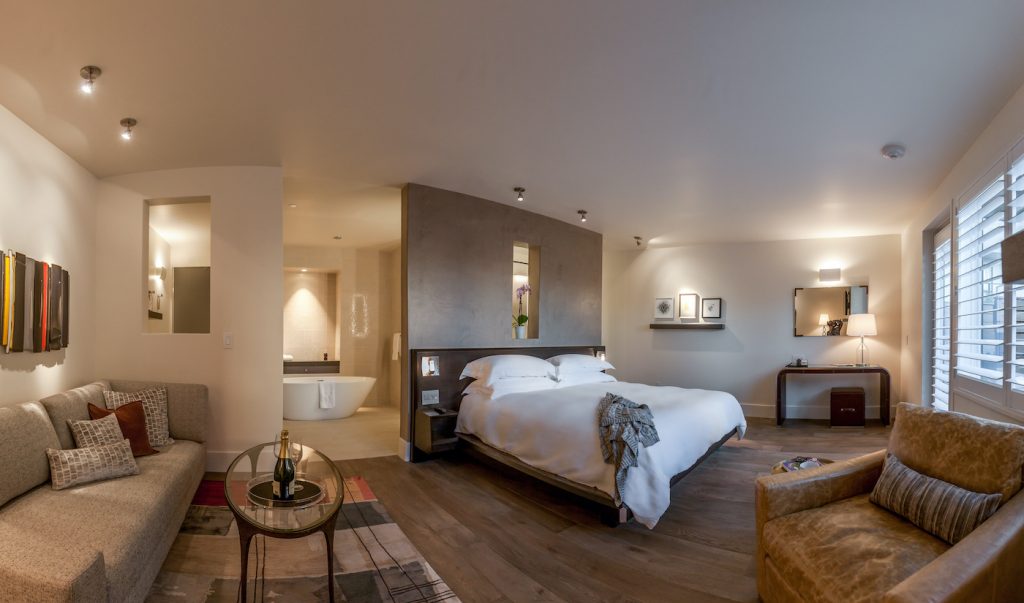 Our hosts, Pat and Jennifer Smith, were off on an extended hike up Madonna Mountain, which is walking distance from the hotel and is a climb of about 1,200 or 1,300 vertical feet. There is also Bishop's Peak, two miles away (a vertical climb of about 2,000 feet). SLO is known for a plethora of hiking and bicycling trails, and of course the vineyards and its well-known Chardonnay and Sauvignon Blanc regions, kissed as they are by afternoon ocean breezes.
A visit to the San Luis Obispo Mission (founded in 1772) is not to be missed.
Other attractions at the hotel are the honest-to-goodness German-made still in the window near the lobby (helpful in getting the hotel's liquor license), a real Parisian bar direct from Paris, the open-fire pizza oven, and a glass wall filled with Hotel Cerro's prized wine collection from local vintners (many of whom are friends and acquaintances of the hotel's owners).
Hotel Cerro's popular Brasserie SLO was crowded for a Thursday night and since this was April and California was still in the throes of a partial lockdown, the only customers — and there were quite a few — were residents of San Luis Obispo; the eatery has become an integral part of the downtown scene. This summer's guest chef is Vartan Abgaryan, whose background includes stints at Lutece in New York City, Red Pearl Kitchen and A Restaurant in Newport Beach, and the Public Kitchen & Bar at the Hollywood Roosevelt Hotel. Most recently he was Executive Chef at Silver Lake's Cliff's Edge and later, 71Above, named because it is on the 70th floor (there is no 13th floor) of the U.S. Bank building in Los Angeles ("the highest restaurant west of the Mississippi"); Los Angeles Magazine named it "one of the Top Ten New Restaurants of 2016."
Take my word for it: you'll have an excellent meal at Brasserie SLO.
Golf and Other Diversions
Bring your clubs and if your spouse isn't a golfer, drop her (or him) off at Hotel Cerro's excellent spa and head out to the links. You can start with Monarch Dunes or Hunter Ranch, the two that I'd say are the most challenging and in the best shape. Avila Beach has an interesting layout, and it plays more like a European course, in that the public shares many of the holes and on a busy Sunday, it can be crowded with picnickers and strollers that you may have to wait for before taking a swing, adding a dimension to the game. Other courses include Morro Bay, Black Lake Resort, Cypress Ridge, a couple smaller, shorter courses and an excellent practice facility at Dairy Creek.
Hotel Cerro is located at 1125 Garden Street, between Marsh and Higuera Streets, in the heart of downtown San Luis Obispo. For more information and reservations, please call 805.548.1000 or visit http://hotelCerro.com.
You might also be interested in...