Some Like it Hot! Water. Food. Sun. Art… Not Necessarily in That Order A travel dispatch from greater Palm Springs
I recently fled the post-COVID couldn't-wait-to-travel-again-May-gray blues for a five-day escape to the Coachella "sink." It's not really a valley (this is a misnomer), but a geological basin, I learned on a lively San Andreas Fault Red Jeep Tour.
I went to visit a few friends, have a little R&R with pool time, learn more about the area, and get into a little hot water, literally, not figuratively (I left that up to my traveling companion, but that's another story!).
About a four-hour drive from our area (or book a quick charter flight, connecting flights out of SBA take just as long), it's no secret that summer temperatures soar in the Coachella desert and that some do like it… HOT! The thermometer hit 99 during the mid-May four-night escape, yet humans — whether local desert rats or visitors — have learned how to adapt. Thank goodness for air conditioning, ceiling fans, cooling misters, and, most importantly, swimming pools.
The highlight of my trip – and there were many – had to do with soaking.
Soaking in the art, soaking in the sights, and soaking, of course, in water.
A visit to the lovely Palm Springs Art Museum is always de rigueur to "soak in" the fine art. I was excited to view two excellent exhibitions: transcendental paintings by Agnes Pelton (through September 6) that have a fascinating Santa Barbara connection, and a one-man show of activist artist Gerald Clarke (now replaced with Helen Lundeberg).
In Palm Desert, a visit to the impressive Heather James Gallery (time to visit their Montecito outpost!) also nurtured my soul with museum-quality art available to purchase. What a joy to absorb great art again!
More obvious soaking was front and center in the mineral waters in funky Desert Hot Springs, as well as in resort swimming pools, where human interaction, once again, was as refreshing as the water.
What Would Marilyn Think?
There's been a lot of hubbub about a kitschy ginormous Marilyn Monroe statue being installed in front of the Palm Springs Art Museum (Christopher Knight of the Los Angeles Times rightfully slayed it; so did The Guardian in London); but her fate remains to be seen. The potential installation of the super controversial 26-foot statue is "up in the air" just like Marilyn's skirt that exposes her panties to gawking tourists and potentially also to school children departing the fabulous Palm Springs Art Museum. One has to wonder what the Hollywood icon would think in today's atmosphere of the #MeToo movement, or as my friend Divya in Connecticut (where the same statue appeared) noted, "Marilyn would be appalled. Especially as she aspired to be a poet and be accepted by the local literati."
In other news, the sink is abuzz with Larry Ellison's new project Sensei Rancho Mirage, scheduled to open sometime in 2022. Rumors abound about the "six-star" retreat that was just approved by the Rancho Mirage City Council. Reports to come, on the former Porcupine Creek which has a nefarious history, when I know more.
On the Road Again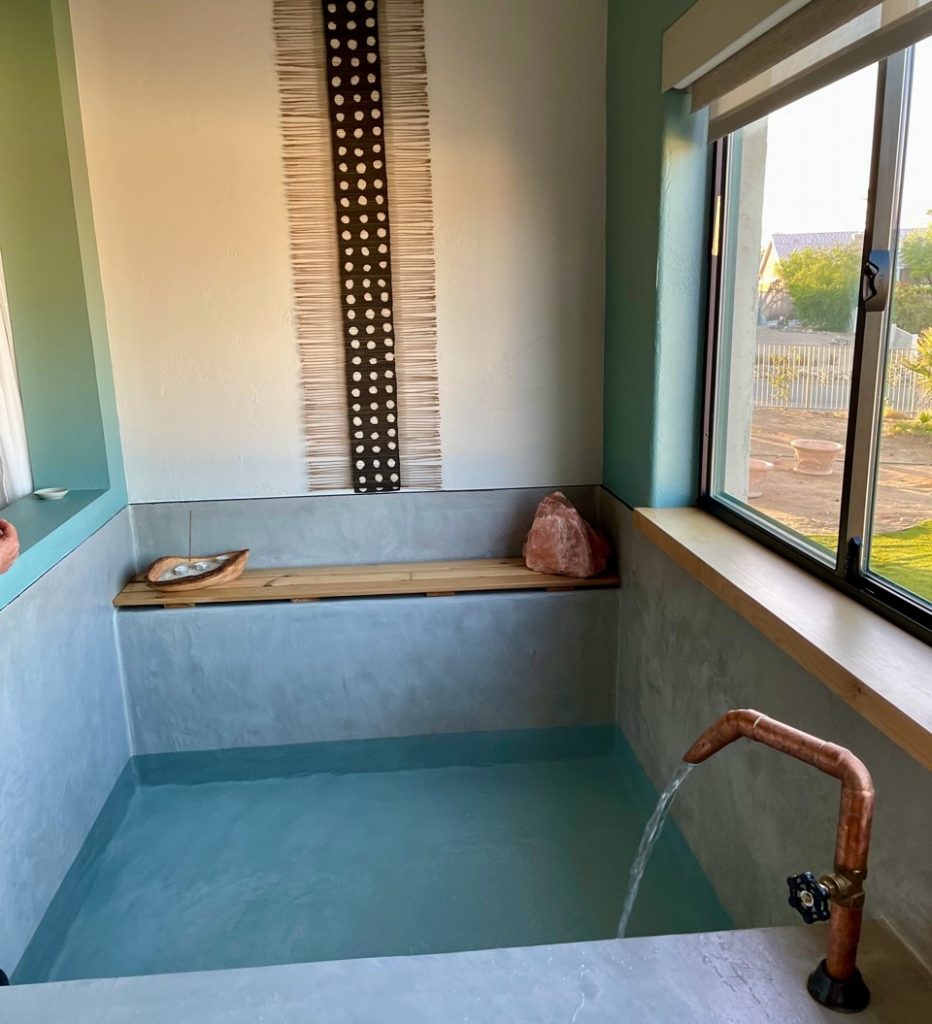 Despite a doomed stop for Tesla charging and lunch at the historic Mission Inn in Riverside (founded by Montecito's J'Amy Brown's stepdad Frank Miller) due to the hotel operator telling me that on the drive in that "no rez" was necessary for lunch, the joys of unexpected travel discoveries prevailed. My friend searched for a "super charging" station; I ambled through downtown Riverside and discovered a killer Ensenada-style fish taco piled with guac for $4 at a hole-in-the-wall called Doña Timos La Cascada.
Back on the road, we landed at the historic and lovely La Quinta Resort & Club (a Waldorf Astoria Resort) by late afternoon. If you think "old school is cool" — and I do, then La Quinta Resort is hard to beat. It's sort of the Santa Barbara Biltmore of the desert, with red-tiled roof cottages, great history, and a refined ambiance. Despite a rowdy group of Floridian ex-military pals smoking cigars and drinking Budweiser beers at "our pool" (one of 44 on the resort – so no problem finding quieter ones), the spacious air-conditioned room was a welcome retreat from the heat.
A light supper of shared tapas at a popular little spot called Cork & Fork in La Quinta with great wines-by-the-glass list and we were "in the zone."
The next morning, my travel pal and I took a nice hike in "The Cove." I explored La Quinta's grounds and decided a cottage or "villa" is definitely the way to go. Then, I spent the good part of the morning "all wet" in one of the many pools trading family "war stories" with a Pasadena couple who visit regularly, which made me seriously think about coming back and/or renting a place for a longer period of time. La Quinta villas are for sale as well as for three-day or longer rentals.
Got Kids?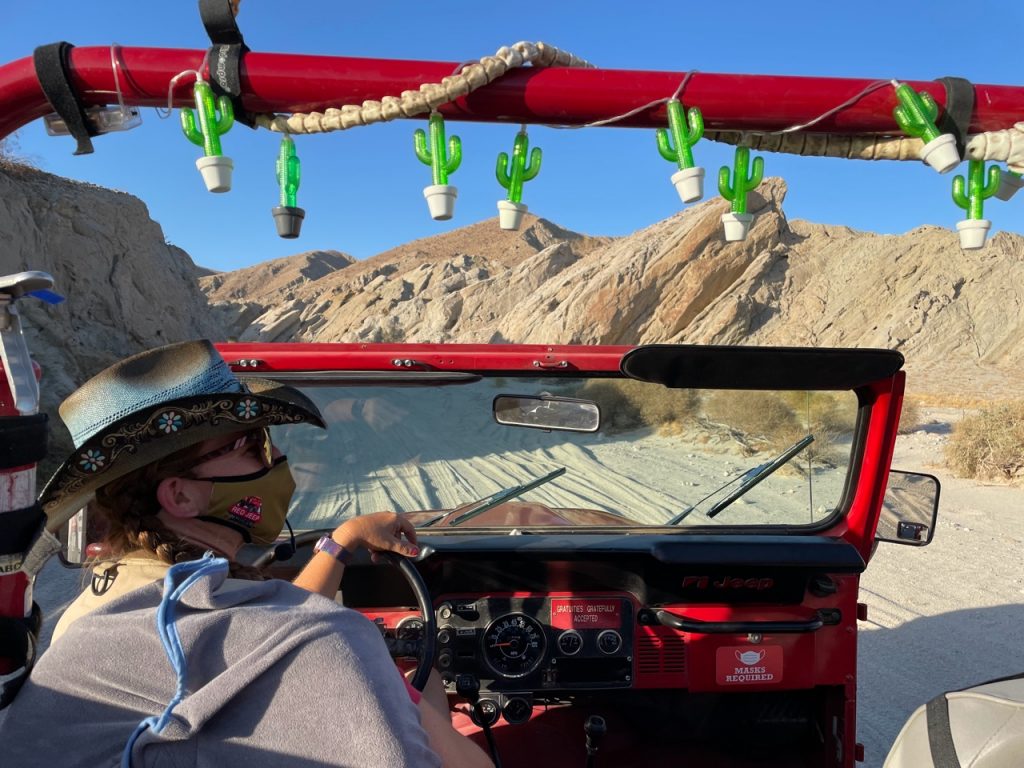 Our next stop, the Hyatt Regency Indian Wells Resort and Spa, is very family friendly. If I didn't know better, I'd think I was at a Hawaiian resort, sans the beach. We stayed in a spacious villa, with a large private outdoor area with private jacuzzi and BBQ — perfect for balmy evenings and stargazing. Leave the kids at the water slide and new splash pad while you get pampered in the Agua Serena Spa that reopened recently. The 30,000-square-foot spa is one of the largest in the valley. I enjoyed a phenomenal facial by Tsege who hails from Ethiopia, whose husband taught at USCB and remains an adjunct professor at the university.
In another SB moment, my Carpinteria optometrist Dr. Steven Kleen was staying next door at the Marriott with his wife and five kids that same week. He reported they had to wait 25 minutes in line to use the pool. Still, he said, they had a blast and were happy to escape to the desert sunshine.
Both resorts handled COVID travel re-entry thoughtfully and safely with spacious registration; masks required and worn by all staff; food to go or ordered and delivered outside rooms. No room service yet folks, sorry!
Nature and Nurture
Shopping and nature, the perfect combo, right? A Desert Adventures red jeep tour of the San Andreas fault "revealed" another Santa Barbara connection. Owner Kimberly Renée, former Santa Barbara/Goleta resident who took over the business from her mother, is a lovely hostess should you want to plan a magical wedding, family reunion, party, etc. here. The Metate Ranch, set within the 800-acre Indio Hills preserve, was completely re-done after a flash flood and now offers stunning views, bells and whistles for private soirees. This is a beautiful part of the "sink" that I'd never traversed and only admired from a distance over the decades. Our enthusiastic tour guide Jenny was well-informed and provided a customized design soundtrack and friendly banter as we jostled over hill and dale. I can't quite get the image of the nudist landowner who, Jenny told us, visits his ranch on the land and mooned a pack of Jeep tourists and probably trespassers!
Grown-up Fun
A casual, al fresco lunch on tony El Paseo shopping avenue (the Rodeo Drive of the desert) at Kitchen 86 was extremely pleasant thanks to the overhead shade and misters. You don't have to spend a fortune for great pizzas or a super kale (yes!) Caesar salad. The homemade cannoli are stuffed with cream filling that Italian American restaurateur Joe Morano sources from his native New York.
A little retail therapy at The Body Deli, where the organic skin care and body products are so yummy you want to eat them! Coachella honey date scrub anyone? We also heard good things about boutique Rancho Relaxo in Rancho Mirage.
Montecito's Chuck and Barbara Farish have a second home in the desert, and they have some favorite restaurants in the area.
"Wilma & Frieda's for breakfast, French Corner Café for breakfast lunch or dinner, Il Corso for Italian, all located on El Paseo in Palm Desert. All delicious and never disappoint!" Barbara wrote me, "Our favorite restaurants in Palm Springs are Tac/Quila, for modern Mexican and sister restaurant, The Farm. For fine dining, Le Vallauris."
I also have enjoyed Copley's on Palm Canyon (part of Cary Grant's former pad), dining in the patio at Spencer's and the huge Dutch baby pancakes at Elmer's in Palm Springs.
There is fun to be had from dusk to dawn. An 8:30 am win at the roulette wheel at the Agua Caliente Resort Casino was followed by a delish Moroccan-style breakfast at the Pink Cabana restaurant in snazzy Martyn Lawrence Bullard-designed Sands Hotel & Spa. Miracle of miracles, my hot pink watermelon, jicama, and mint juice drink, the Instagrammable "Marrakesh Refresher," bubbled to the beat of jazz tunes from the sound system.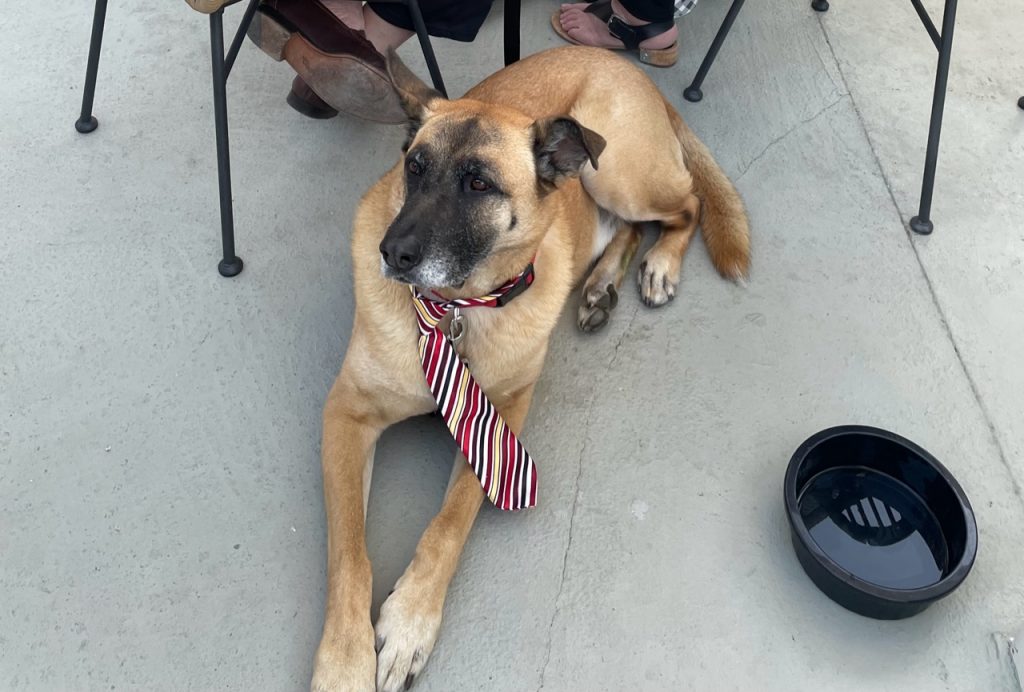 Like a little bite (as in food) with your bark? I love how the owners and their team at Boozehounds democratically pamper four-legged besties and their human owners alike. Evening revelry abounds. Palm Springs artist/designer Ron Ysla brought his well-behaved and best friend Huck to meet us at Boozehounds. This recently opened super dog-friendly restaurant and bar not only treats pooches like royalty, but the human food is also spot on. I'm still dreaming about the burrata in a mushroom wasabi brodo with roasted okra, basil, toasted pepitas, and chive oil served with focaccia for dipping into the broth. Refreshing cocktails are served against a great design backdrop in a cavernous space with the outdoor "dog" patio spaces and an atrium with misters.
Palm Springs' "hottest spot" of the moment is a small, hip restaurant called Bar Cecil in, like many places, a strip mall. Try and get a reservation. In August. You can't. Book now if you're coming for the season (which runs October to May). Our server Amanda was a delight — we went after dinner drinks after Boozehounds and ogled the bit-too-close-for-comfort crowd. A local who dined there told me she thought the food was good, but portions small. I missed the $50 martini (Beluga Vodka, Alessio Vermouth, Deviled Egg with Caviar. Icey Ketel One Shot Vodka). Next time!
What's "Hot" in Lodging
If you want to get into "hot water," head to Desert Hot Springs. Sure, I love Two Bunch Palms as much as Al Capone and George Clooney, but the new Azure Palm Hot Springs Resort and Day Spa Oasis (which is so new the landscaping is still being put it) has a lot going for it and the place grows on you. The huge, heavenly (not stinky) mineral pool is open 24 hours, which is nice for star gazing. The dedicated owner Maria Lease is adored by her staff (a number of defectors from Two Bunch Palms work here now). I had my feet massaged by the same person who gave George Clooney a massage at Two Bunch. (He talked a lot, too, apparently.)
Zen-like rooms are spacious, tastefully and minimally appointed, and blissfully have no TVs. You can book one with your very own concrete mineral soaking tub, which are awesome. The gift shop is thoughtfully stocked with reasonably priced, tasteful ways to spend your casino winnings. There's a salt room and an ice room should be open by the time you read this!
There are many reasons the desert has attracted desert rats, the Rat Pack, movie stars, and nature seekers, but my pop, who grew up in a small country town less than an hour away, used to refer to the area as "The Springs." I wonder if he knew that a restorative visit to the desert can really put the "spring" back in one's step? It sure did mine.
Plus, it sounds a lot better than saying, "I'm heading to the sink."
FOR MORE INFORMATION
Check out the "Check in, chill out" deals via the Greater Palm Springs Convention & Visitors Bureau (CVB) at www.visitgreaterpalmsprings.com.
For Deals
There are lots of great summer deals in the "sink" during the "hot" season. For example: La Quinta Summer Experience package includes $40 daily spa credit per person (maximum two adults); $100 per stay resort credit for tennis/pickleball/dining, inclusive of an upgrade to a poolside casita and reduced resort charge from $35/day to $20/day). You must book by August 31, 2021, and stay by August 31, 2021.
You might also be interested in...