To be Revered: New Miramar Restaurant Perfectly Combines Great Food, Old Memories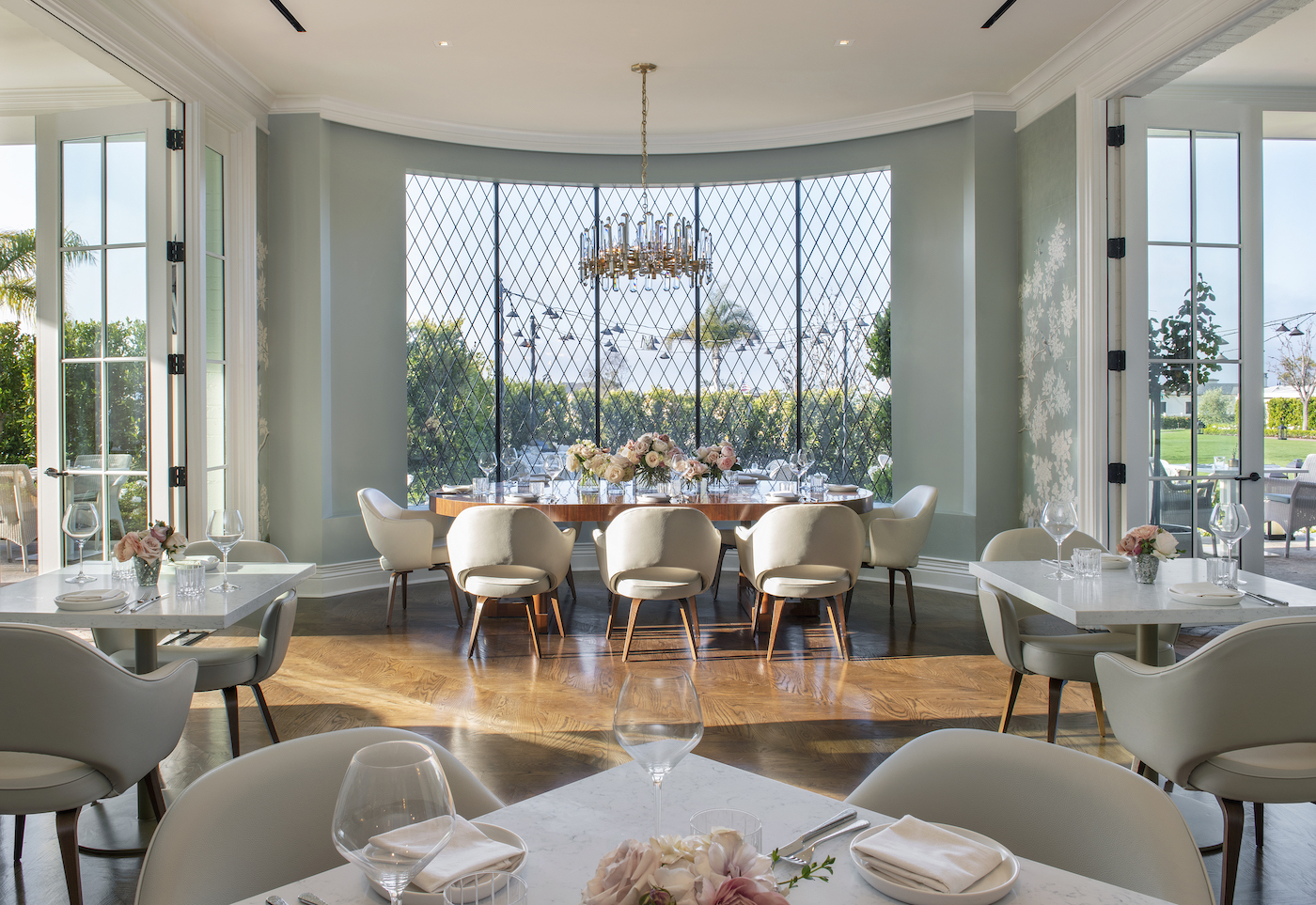 Now that I'm fully vaccinated, after "Our Year of Perpetual and Unusual Confinement," I'm gearing up to hit the road again. Living on travel memories has been OK, but there ain't nothing like the real thing. I'm ready to fire up my jets and dust off my suitcase, beginning with some weekend escapes. 
What's a weekend, you may ask, after a year when all days of the week seemed to have merged into a blur.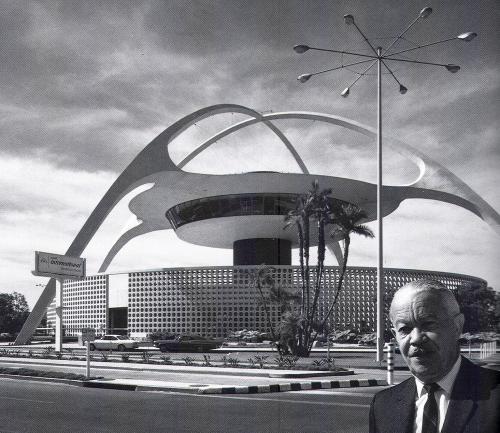 I began to emerge, slowly, cautiously, and full of excitement to explore our own fine town. As Dorothy said, in The Wizard of Oz, "If I ever go looking for my heart's desire again, I won't look any further than my own backyard. Because if it isn't there, I never really lost it to begin with."
It's no secret that we are a tourist town. There are times when I am sure many of you, like me, want to bolt when the crowds arrive. But if you can't beat them, why not join them and revel in Santa Barbara and Montecito's delights?
You've heard of staycations, right? Many hotels and resorts, that lure with the idea of slipping between freshly made hotel high thread count sheets and swimming in sparkling pools, are also great foodie and wine destinations.
I often feel like I am on vacation when I visit some of Santa Barbara's stellar hotels or resorts for a meal. From cocktails and dinner or lunch on the terrace with breathtaking views at Belmond El Encanto (welcome back to town to General Manager Janis Clapoff!) to the cozy ambiance of the rústica elegante San Ysidro Ranch, or Cabrillo Boulevard oceanfront dining with a view at Convivo at the Santa Barbara Inn, we are lucky these five-star venues are part of "our town."
People drive and fly in from all over the globe to check-in, but we can relax over a meal, stroll the grounds (sadly, the Four Seasons Biltmore remains closed) and people-watch — and then drive or take an Uber home.
I recently ventured to the Rosewood Miramar Beach hotel and resort, where I enjoyed a fabulous dinner with a friend at the newly opened all-day dining venue, The Revere Room. Masks are required throughout the resort, and everyone, with the exception of those eating or a few guests I passed by while walking the hotel's perimeters, complied.
While the jewel in developer Rick Caruso's crown is like walking into a Hollywood Regency TCM movie, the hotel certainly ain't what it used to be in yesteryear.
Let's begin with the name.
The newly reimagined dining venue — originally launched as the Malibu Farm, which was mediocre, at best, in my estimation, when a ladies' luncheon group of eight tried everything on the menu — is not named for the man who warned our early colonists that the British were coming. It's a nod to the "revered" Los Angeles Black architect Paul Revere Williams (1894-1980), who, with the exception of designing a small house for a contest in Santa Barbara, had no other real connection that I could discover to our town. He did, however, design the stunning Theme Building at LAX, as well as many homes for Hollywood stars.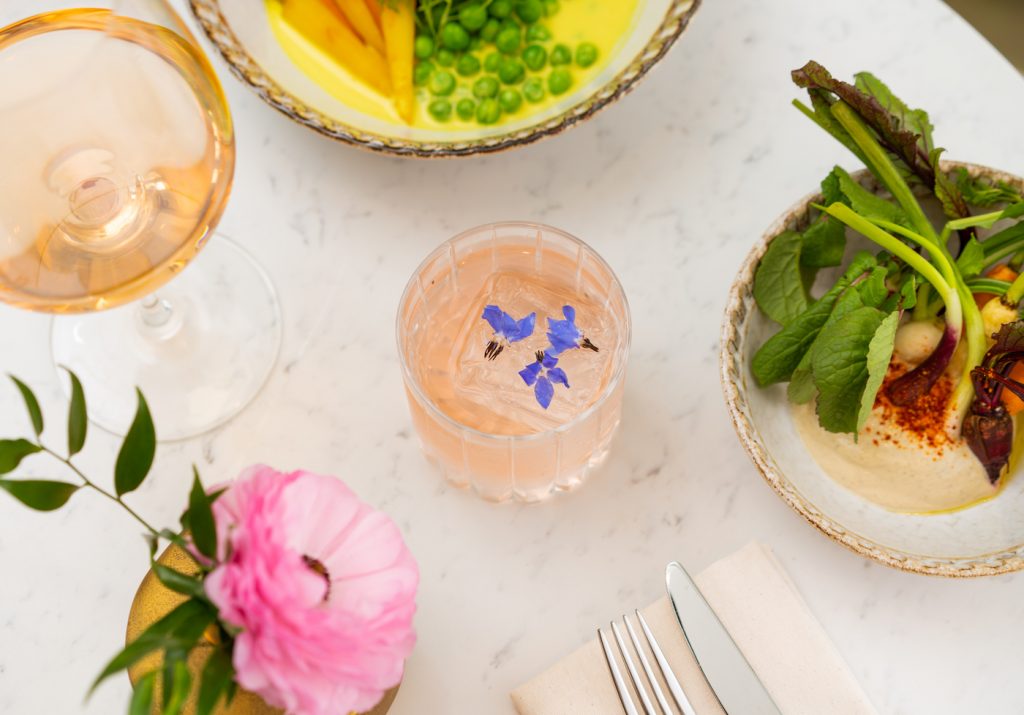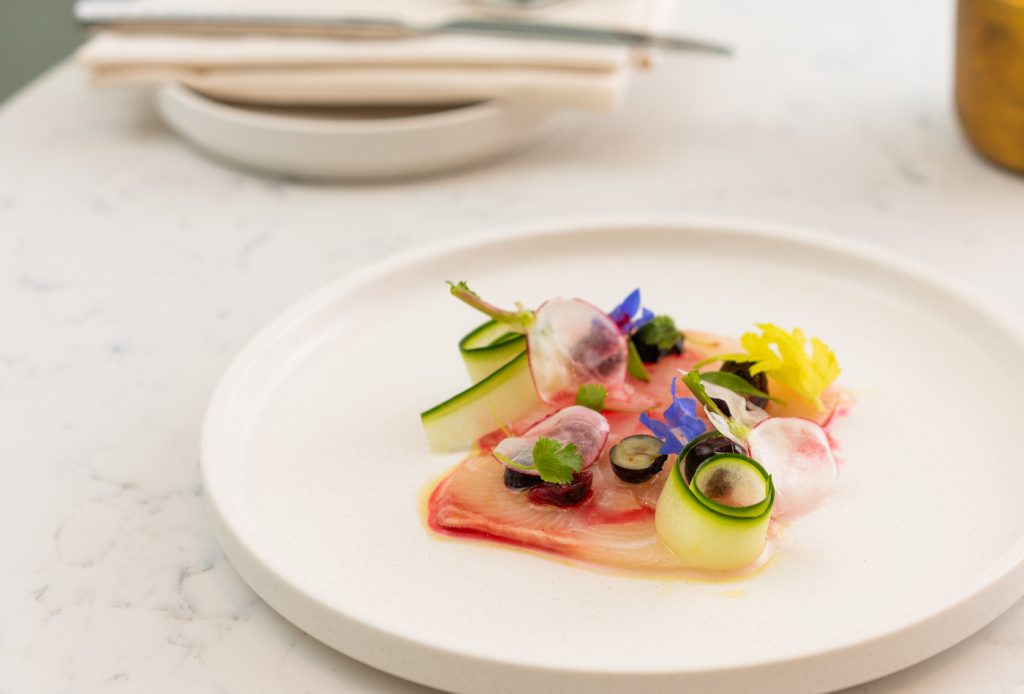 The dining room is quite lovely, with hand-painted bluebird wallpaper that makes one feel as though they are dining inside a fancy birdcage. However, it bears no resemblance to the flying saucer-like, legendary airport design at LAX that Williams is known for.
While The Revere Room is named as a "subtle nod" to Paul Revere Williams, the architectural and design inspiration was built around the exquisite hand-painted wallpaper from Gracie (founded in 1898) that wraps the walls of the restaurant, rather than Williams' iconic style. The design was handled in-house by the Caruso team.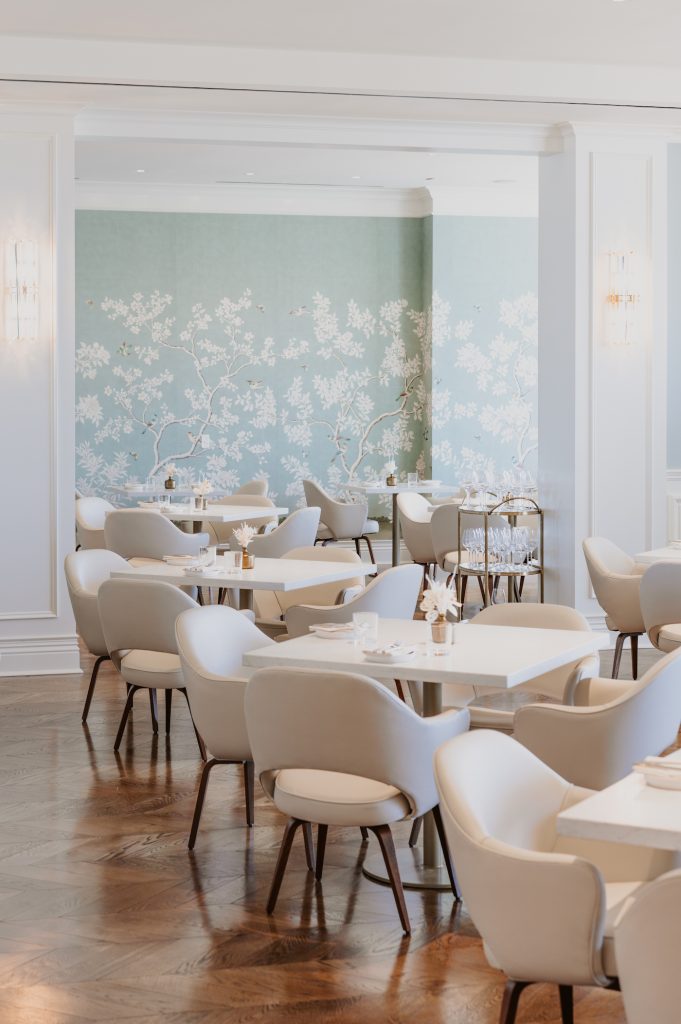 My dear friend Lisa Blades — yes, she was married to the amazing Panamanian musician Rubén Blades in her former life — joined me for a stellar meal and to celebrate the month of her birth. We chose to dine outdoors not only due to lingering COVID concerns and for the fresh air, but also the straight shot view across the lawn, past the train tracks and to the Pacific in the distance.
There is much good news.
First, Mr. Caruso has wisely handed the dining room reins over to the talented Roman-born Chef Massimo Falsini, who also oversees Caruso's, the terrific waterfront dining room on property. (Massimo needs a restaurant with his name, in my humble opinion – but chefs can be peripatetic, so I get naming a place for a notable who cannot object.)
Massimo is "molto pazzo" for Santa Barbara's farmers' markets. He visits three times a week to gather ingredients from local growers and foragers that he showcases in his creative dishes and molto attractive plating arrangements. A plate is a chef's canvas, they say.
Secondly, I was thrilled to hear good jazz on the sound system softly playing in the background, it's essential to a relaxed, fine dining experience. I was equally enthralled that our waitperson, young left-handed Philip, had first-hand knowledge of the menu items and made excellent recommendations. He also graciously offered wine "tastes," so we could choose wisely.
We began our leisurely meal with a half-dozen succulent Morro Bay oysters ($18) – accompanied by a mignonette sauce and a Fresno chile hot sauce in a glass dropper bottle that would blow the bargain bin socks off Prince Harry. There was much discussion about whether or not we should eat our California state bird – but the tiny, crispy fried quail breast ($20) sitting on a nest of greens with thinly sliced pickled green apples, were finger-licking good. (Apologies to our bird friends.)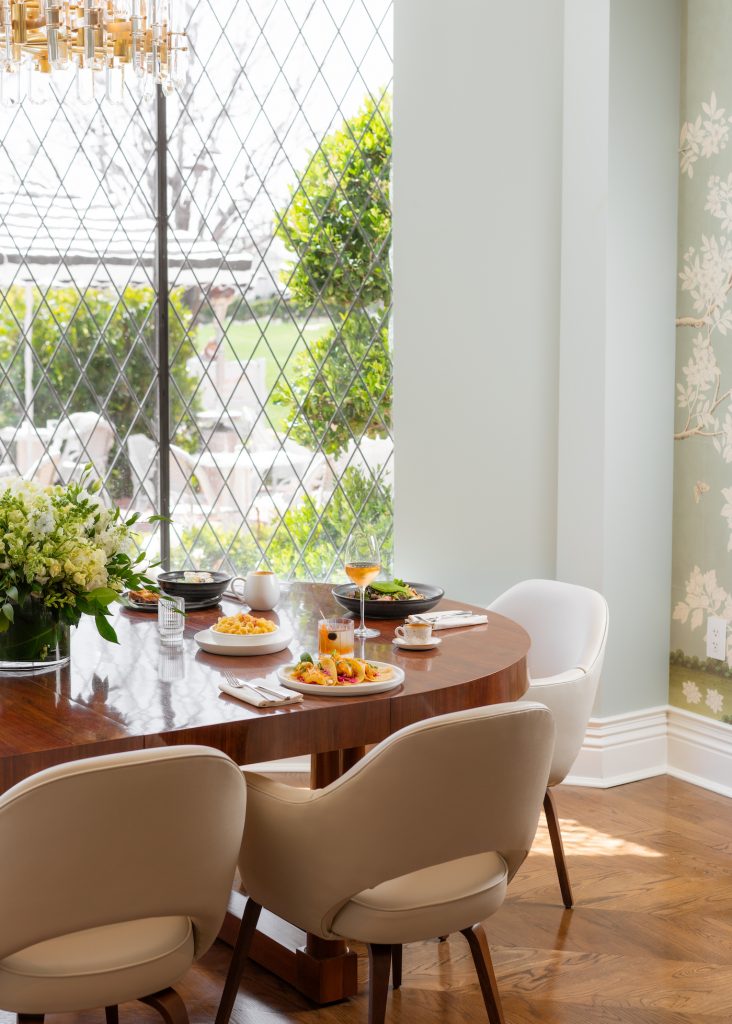 We shared a generous little gem and kale Caesar salad ($22) topped with generous Parmigiano-Reggiano chunks and shavings, before exploring the ocean section of the menu. I settled on succulent lobster cooked on the spit atop a sweet cornbread pancake accompanied by small roasted bacon potatoes ($55), while Lisa chose oak-charred Vermillion with broccolini ($52).
Lovely French wines by the glass, a French Sancerre from the Loire Valley for me ($20) and a Côtes de Provence Rosé ($19) for the birthday girl paired nicely with our food choices. With no room for dessert, a slice of pretty lemon cheesecake, packed to go, was slowly devoured the next day. We strolled the grounds after our meal, enjoyed watching the guests – from a safe distance – while recalling the old Miramar of yesteryear.
The sign of a fantastic resort, restaurant, country, museum, or landscape visited is the urge to return. I would happily rebound to The Revere Room to savor the succulent deep fried breaded quail or to try the oak-charred pork chop (also recommended by our waitperson Philip), as much as for the atmosphere and fine service.
While my foray was not quite a staycation (I've yet to see the rooms at the Miramar) it certainly qualified as a refresh-acation. Should you or someone you know choose to check-in for the night, the resort has cut down the number of available guest rooms for COVID safety.
As we walked, Lisa and I remembered a really fun Mardi Gras party I threw in one of the cottages once upon a time in the 20th Century. On another stay a long time ago, while deeply slumbering in one of the oceanfront rooms, I was awoken by the train and yelled out: "Is the world coming to an end?"
Many old-world memories of the Miramar have gone the way of time and yes, the old Montecito has come to an end. Still, the Miramar's reborn Revere Room and patio offers a lovely respite for a meal or fancy cocktails with a view. And it is the pitch perfect place — with a jazz soundtrack in the background — to reminisce about the good ol' days.
You might also be interested in...