Hot Diggity Dog! Adventurous flavor combos elevate an American classic at Dave's Dogs
Ask a New Yorker about the ideal hot dog and they'll likely say it's a Nathan's dog slathered in mustard and covered in sauerkraut, wrapped in tin foil. Another extreme might be the kind of exotic sausages – rabbit and rattlesnake, anyone? – served at hipster-friendly eateries like Wurstküche in Los Angeles. Whatever your passion might be, you will have a hard time beating the arsenal of creative toppings at Dave's Dogs, on Milpas Street and in Goleta.
Each grilled frankfurter has its own unique combination of flavors. Take the Hawaiian Dog, for example, which combines pineapple, grilled onions, teriyaki sauce, bacon, and cilantro ($5.50). Or my personal favorite, the Western Dog with bacon, grilled onions, jalapeños, spicy mayo, and barbecue sauce ($5.25). The Buffalo BBQ Chicken Dog is like taking all the best parts of a sauced-up buffalo chicken wings basket and combining it with the smoky flavor of a wiener.
Every frank assembled here is grand stander, and there's no shortage of protein. Choose from 100% all-natural beef, chicken sausage, polish sausage, bratwurst, veggie sausage, hot link, and jumbo dog. Each wiener comes cradled in classic white bread buns baked fresh at a mom-and-pop bakery in San Luis Obispo and delivered daily; gluten free buns are available.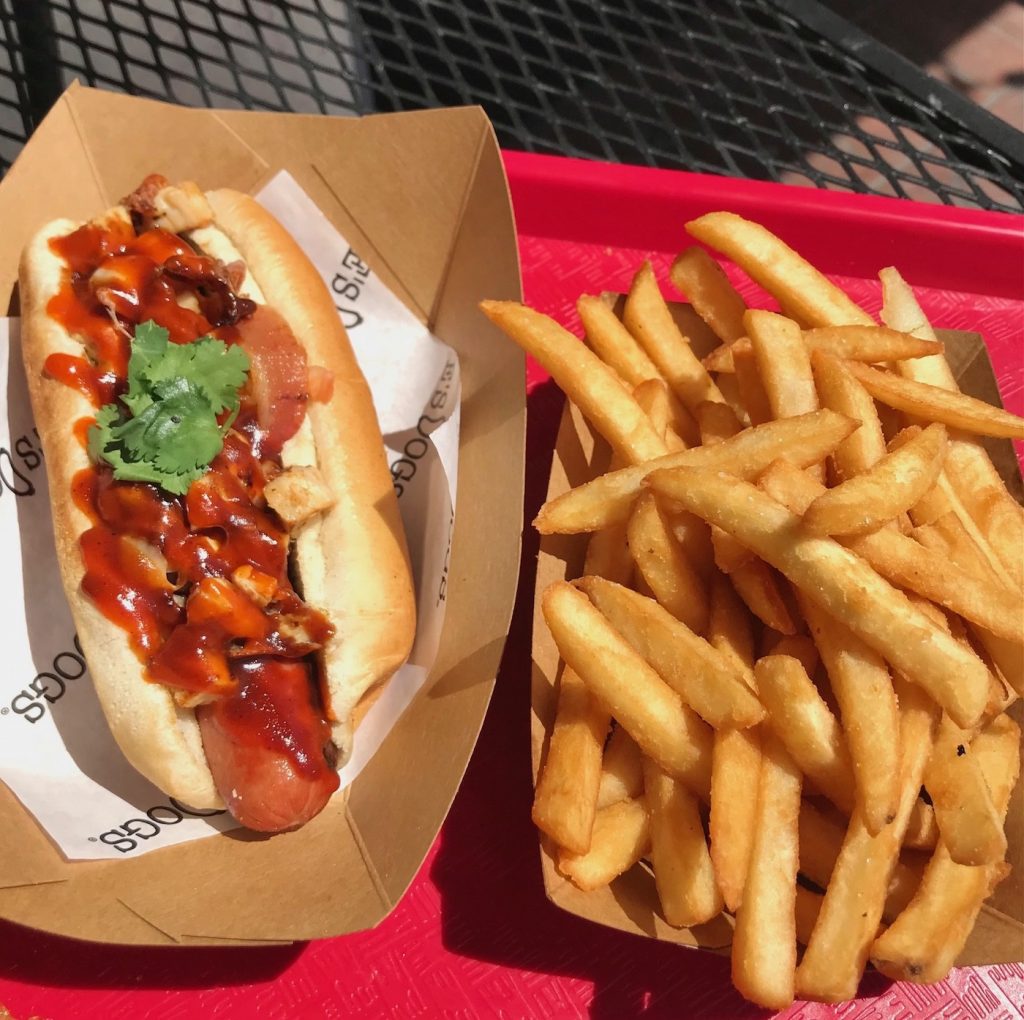 Owner David Reynoso, a 35-year-old Goleta native, began satisfying the cravings of locals and visitors drawn to his food cart on Milpas Street in 2014. His decked-out hot dogs became an Eastside fixture three years later, when new food trends spurred the opening of eateries along Milpas' cross-cultural strip. The Montecito Journal recently caught up with Reynoso to discuss his dogs.
Q. What did you do before Dave's Dogs?
A. I opened my brick and mortar in September 2017, but prior to that I was running Dave's Dogs out of a food cart, New York style, in a parking lot on Milpas Street from November 2014 until the end of 2017. Prior to that, I worked as a buyer for a local food service company in town, Jordano's. It was a nine-to-five desk job that I enjoyed, but I knew it was not where I wanted to retire from. I desired to do more with my free time and now here we are, no more free time at all.
Why hot dogs?
I loved hot dogs and I noticed that it was difficult getting a delicious grilled hot dog anywhere in town and I decided to make it a hobby that then turned into a business.
What's the concept behind Dave's Dogs?
The concept behind Dave's Dogs is to show people that hot dogs can be fun and tasty. There are so many ways to dress up a dog and make it fun and I wanted to bring this to our community. Not only are hot dogs a comfort food but I have shown how creative one can get with this American classic.
What are your hot dog inspirations?
I love trying new foods and flavors and when I have something that I enjoy I tend to get a flashing light to try it on a dog. Many times, it works, other times it doesn't. But that's part of the fun with these hot dogs. For example, the Chicken Alfredo Dog was inspired by my favorite Italian dish of Alfredo pasta and surprisingly it worked on a dog. 
What are the most unusual toppings offered at Dave's Dogs?
Some of my most unusual dogs that I offer are the Hot Cheetos and Cream Cheese Dog ($5.25) and the Mac N Cheese Dog ($6.00). Every time people see this on the menu, they get a surprised look on their face. They can't believe that we are putting these toppings on top of a dog.
I love to offer people these dogs and 95% of the time they come back and continue ordering them. These dogs sound so crazy, but are surprisingly delicious. And my goal with Dave's Dogs is clearly this, to make hot dogs fun and to get people out of their comfort zone.
Have you seen a resurgence during the pandemic, with the move to outdoor dining? Hot dogs and outdoor dining are almost synonymous, right?
Yes, I feel that with the pandemic we did have a bit of a resurgence. We saw a lot of new faces, but I am not sure if it was because hot dogs are so easy to take on the go and eat outdoors or if it was because Santa Barbara is so huge on supporting locals. Regardless, we definitely had a bit of a revival during this period, and we definitely feel very blessed.
What is your best-selling hot dog?
Our best-selling hot dog has to be the Santa Barbara Dog. It's a simple dog, with grilled onions, tomatoes, bacon, mayonnaise, mustard, ketchup, avocado, cilantro, and a drizzle of sour cream ($5.75). It's also a very easy dog to substitute for a vegetarian or even vegan option.
Dave's Dogs has two locations: 900 North Milpas Street, Santa Barbara and 149 South Turnpike Road, Goleta. Hours: noon to 7 p.m. Monday through Saturday. For more information call 805-869-6583 or visit davesdogs805.com.
You might also be interested in...