Flash of Blue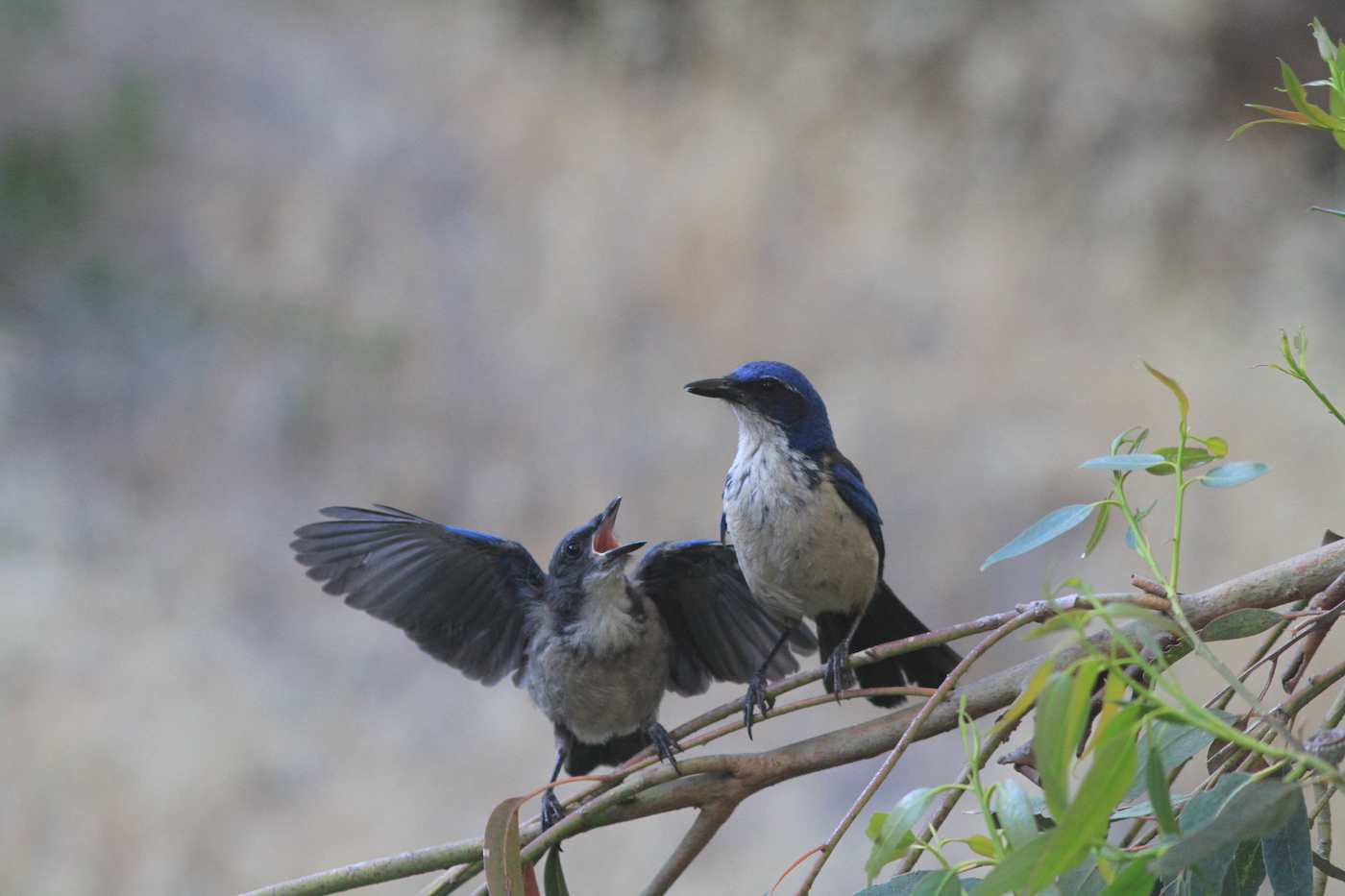 From my kayak I could hear the distinctly harsh shek-shek-shek of the island scrub jay, a songbird that has the smallest range of any bird in North America. As I paddled west along the tranquil northerly shore of Santa Cruz Island, my periphery caught a flash of blue through my 300mm lens streaking through a grove of endemic island oaks hovering above the cobalt blue of the Pacific Ocean. The largest, most biodiverse isle off the California Coast is part of the Channel Islands National Park. The craggy, mountainous islet is the only place in the world where the endemic island scrub jay is found.
Biologists who have studied the jays for years refer to them as "Cache Kings" of the island. During the recovery of Santa Cruz Island as it transitioned from a long era of ranching that stretched from the 1820s and finished in the late 1990s, the jays had a hand in returning the island to a natural balance. The brilliantly blue birds were responsible with restoring island oak woodlands across the entire windswept, volcanic isle. However, it is a task they will never finish. There are roughly 2,000 island scrub jays on Santa Cruz Island, and they will cache anything of interest such as empty snail shells, insects, and island cherries. Their favorite item to cache though are acorns. Each adult jay caches anywhere between 3,500 to 6,000 acorns per year!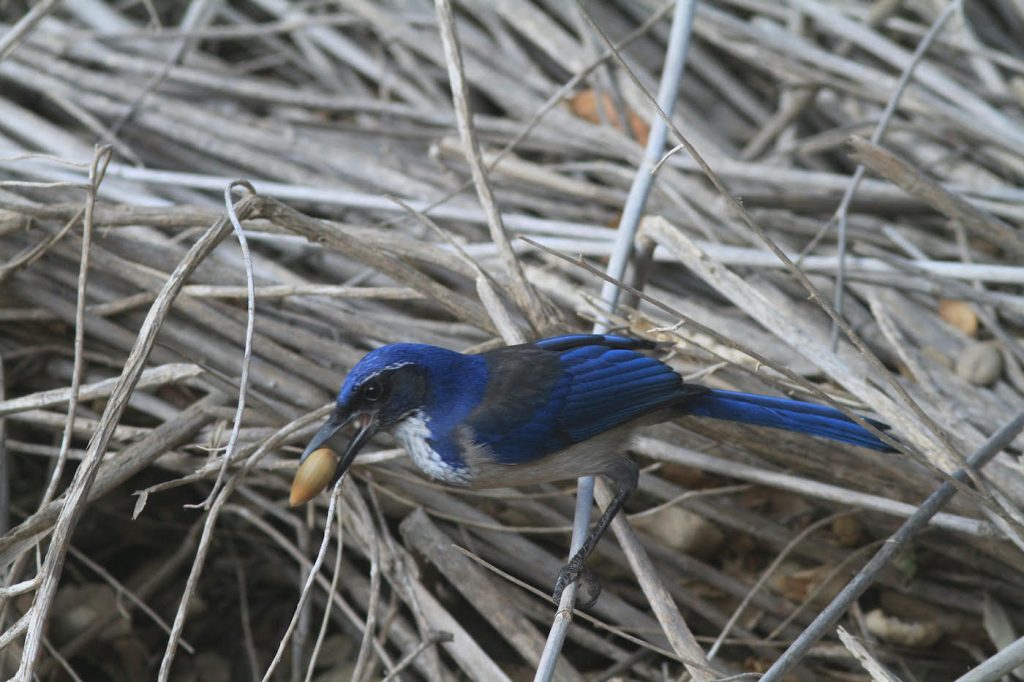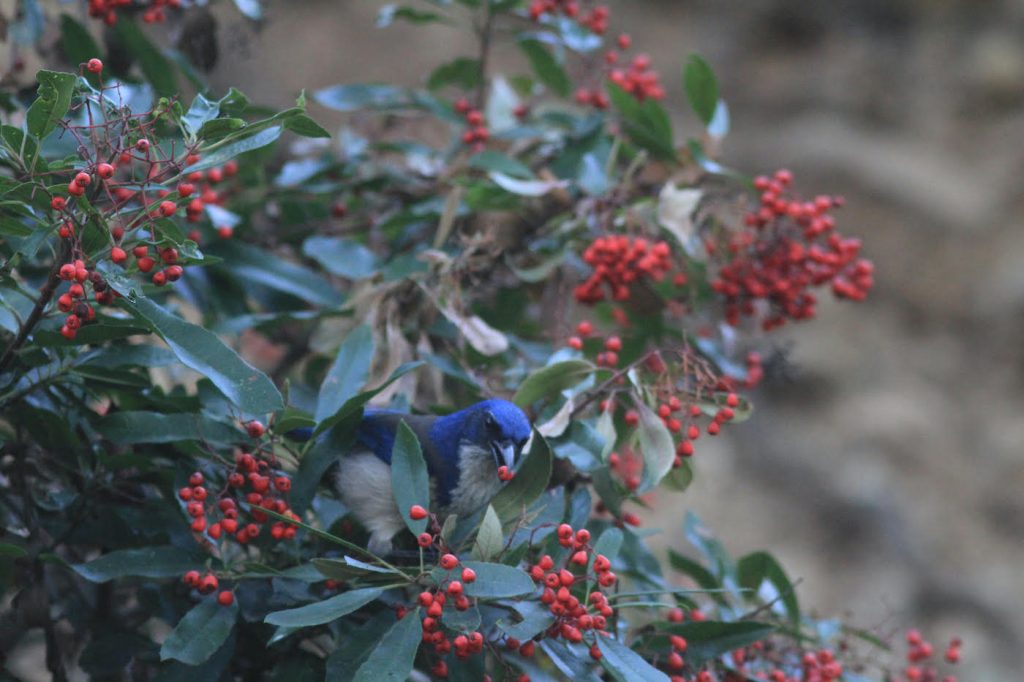 As I paddled on from one breathtaking cove to the next, I found several other jays caching their acorns with the innate ability to cache their bounty point down and up-slope. Fog drip is the largest water input across the archipelago, and by caching acorns up-slope it allows the new oak seedlings to capture the perpetual moisture that cloaks the rugged hillsides and ridgetops. That much-needed moisture runs down the spindly stems and leaflets of the island oaks. Ultimately that moisture seeps into the groundwater and seasonal creeks that eventually feed the diverse island ecosystem. Hence, island scrub jays are also known amongst biologists as "Eco Engineers."
As a frequent islander I have been fortunate to be in good company among the jays, especially when considering that this unique island utopia can feel faraway, yet it is not far at all from the megalopolis of Los Angeles, only 60 miles to the east. Still, their isolation has allowed for 150 thousand years of evolution, the phenomena of gigantism finally granting this class of corvid its own species in 1994. Their mainland cousin is the western scrub jay, but island solitude has afforded the island species to become a third size larger, with a beefier bill and a deeper blue than its mainland counterpart. Predators of the jays are few: tree-climbing island foxes and crafty ravens. Bird watchers from around the globe travel to Santa Cruz Island each year just to catch a glimpse of these gregarious passerine birds and add it to their life lists.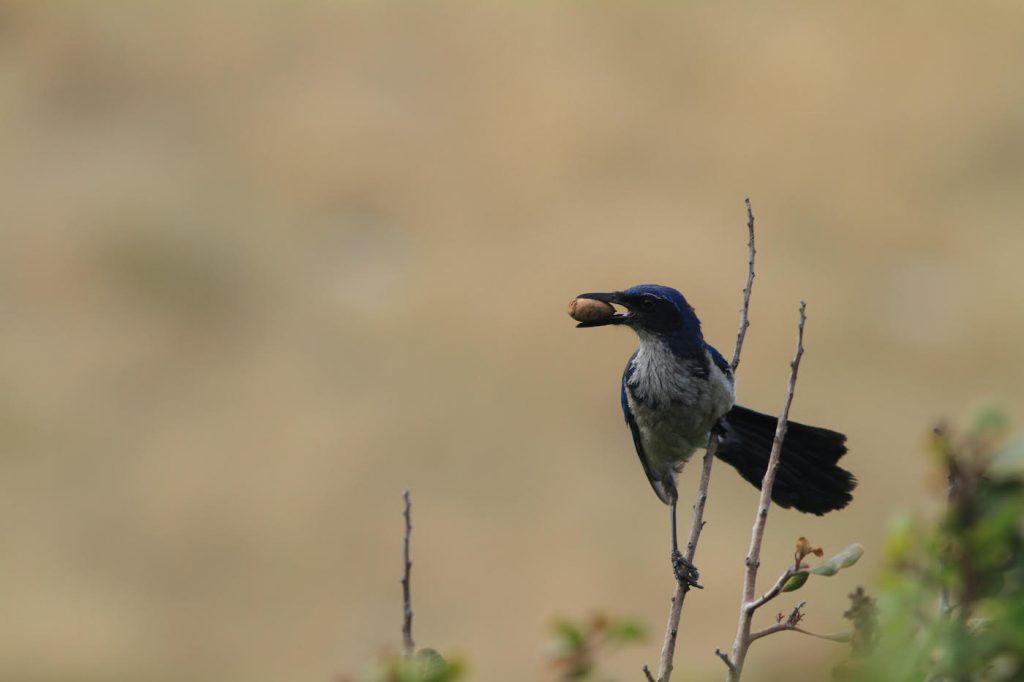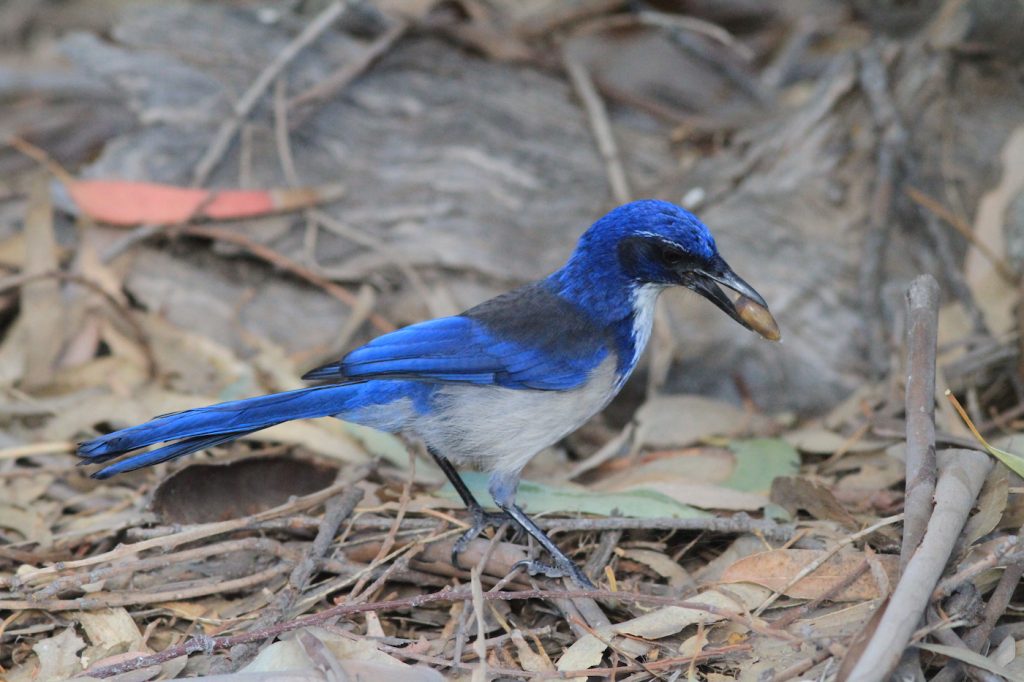 After leaving my blue kayak along a remote cobbled shoreline, I hiked my camera gear up a steep, rocky game trail that led to a sweeping marine terrace. A gentle northwest breeze blew off the Santa Barbara Channel, where rustling leaves competed with that raspy, ever-familiar shek-shek-shek. Standing watch on the marine terrace were groves of weathered island oaks, handsome manzanita, and brawny ironwood trees.
It is a favorite place of mine tucked away on the southeast fringe of Santa Cruz Island. It has often proved to be an active location indeed. A bevy of island scrub jays were busily scouring the dampened leaf litter as they often do for acorns, thus continuing their never-ending pursuit to replenish their isolated island habitat. After firing off a few frames, I relaxed in the shade of the canopy. It is a sanctuary that always feels worlds apart but is only a stone's throw away from the real world.
You might also be interested in...